News
The amazing story of Kyle Miller overcoming cerebral palsy to play in a pro event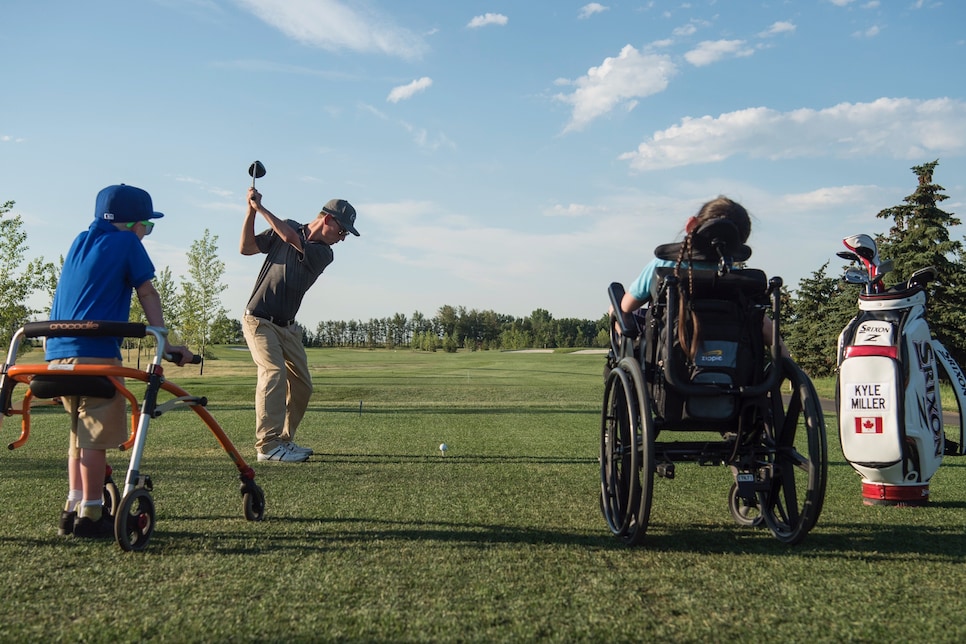 Kyle Miller picked up the phone in his office at GolfTEC Calgary Midnapore a few weeks ago and called Colin Lavender, tournament director of the Mackenzie Tour-PGA Tour Canada's ATB Financial Classic. Miller had already written a letter to Lavender requesting a sponsor's exemption into the tournament. Having been rejected 14 previous times for spots into other events—and told all his life as someone with cerebral palsy that he couldn't achieve things—Miller figured a call would go a long way.
It did. Three weeks later, on the same day he had turned professional in 2013, Miller found out he had been given a spot in the field. On Thursday, at 2:30 p.m., the 26-year-old will tee it up at Country Hills Country Club in his hometown of Calgary, becoming the first golfer with cerebral palsy to tee it up in a PGA Tour-sanctioned event.
"In that conversation, I pled my case for an hour and a half," Miller said in a phone interview on Wednesday. "And I think that time, rather than trying to get a 'Yes,' I just made it clear that I wanted to know why he'd say 'No' in this point in my career."
Miller, who is also an instructor at GolfTEC, wouldn't hear "No" as an answer. So as Miller sat in his car, digesting the email that officially offered him a spot in this week's field, he read through it at least five times front to back. His mind wandered through the seven or so years since he left a classroom at Athabasca University in Alberta and hopped on a plane to Florida to chase his dream of becoming a professional golfer, despite what others advised him to do—or what his bank account might've suggested. In 2013, Miller passed his PGA Playing Ability Test, and since then has given thousands of lessons, helping to inspire others to overcome their golf obstacles as the sport has allowed him to do.
Born a month early and suffering a stroke during birth, Miller's left hand was rigidly curled and he had to limp on his toes. He and his mother sought out the Shriners Hospital for Children when he was 9 to operate on Miller's hand to straighten it by transferring muscle from the bottom of his wrist to the top. "I understood there was a chance I might not wake up," Miller penned in a first-person "Golf Saved My Life" column he shared with Golf Digest in 2013. "The decision was ultimately mine, and it was with a deep breath I signed the waiver with my good hand."
Fourteen surgeries in all, including one to straighten his left leg, has allowed Miller to be where he is today. Miller typed out an email to our Golf Digest editors on a lunch break in 2012 while working for $10 an hour at a Golf Town. Eighteen months later, we published his story. Afterward, he received motivation from many voices, including instructor and fellow Canadian Sean Foley, who has become a mentor to the 26-year-old.
"What Sean has given me is hope and belief," Miller said. "Here's someone who has become one of the top teachers in the world, and he's telling me I could make it. So why would I doubt myself?"
Miller recalls meeting Foley for the first time in October 2010 on the range at Florida's Orange County National. Though Foley was working with a top student who had just shot a 63 in the same event Miller was playing that day (in addition to working at the time for Tiger Woods, Justin Rose and Hunter Mahan), he walked up to Miller. "He said to me, You're that Canadian with cerebral palsy, right? I said yes. And he just looked at me and said, I have so much respect for you, it's not even funny." Miller started working with Foley the next day, and they've maintained a friendship over the past seven years.
Miller says he gave out 50 tickets for this week's ATB Financial Classic to those coming out to support him. He said dozens and dozens more, including kids with cerebral palsy would also likely be coming to watch him make history. His goal? He doesn't necessarily care if he makes the cut, though he's encouraged by hitting eight out of his 14 tee shots in his Wednesday practice round more than 270 yards. It's no small feat given that the left half of Miller body is numb, creating a downswing that consists of transferring his weight forward without any feel.
You would think that would make swinging a club tough, and you'd be right. But thousands of hours of commitment to his game, and an unrelenting resiliency to achieve his dream has given him a deep belief in his ability to help others.
"Some guys need to learn how to get knocked down and get back up again, and enjoy it," Miller says. "There's an art to that. There's a genuine art to thoroughly loving failure. I love it. It's the greatest thing that happened to me. And that's what I want to offer to players."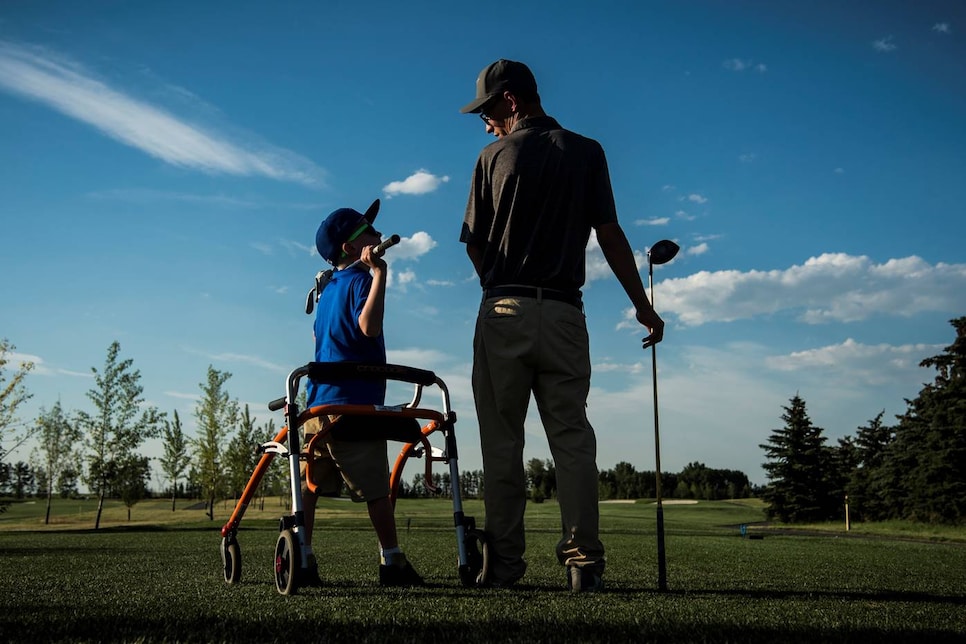 Working with aspiring tour pros, as Miller does in Canada, is his passion. He picks Foley's brain about coaching the world's best golfers. That's his goal: To help pros not only achieve the ideal swing plane and launch angle, but to develop the ideal mind-set to compete without fear of failure.
But for this week, it's all about Miller's game. Others have questioned why he's doing this, telling Miller this golf course is too long for him. Too tough. He gets it. For Miller, as he's lining up his first tee shot on Thursday, he'll have already won.
"It's not a matter of this golf course being too much for me," he says. "I look at this more so as Kyle Miller trying to win the fight in Kyle Miller's mind, the results will probably take care of themselves. Making the cut isn't even a worry at that point if that happens. I've worked my tail off—if I get some momentum going, there's no reason why I can't play well."
To learn more about Miller's charitable efforts for cerebral palsy, click here.