Cerebral Palsy Didn't Deter Me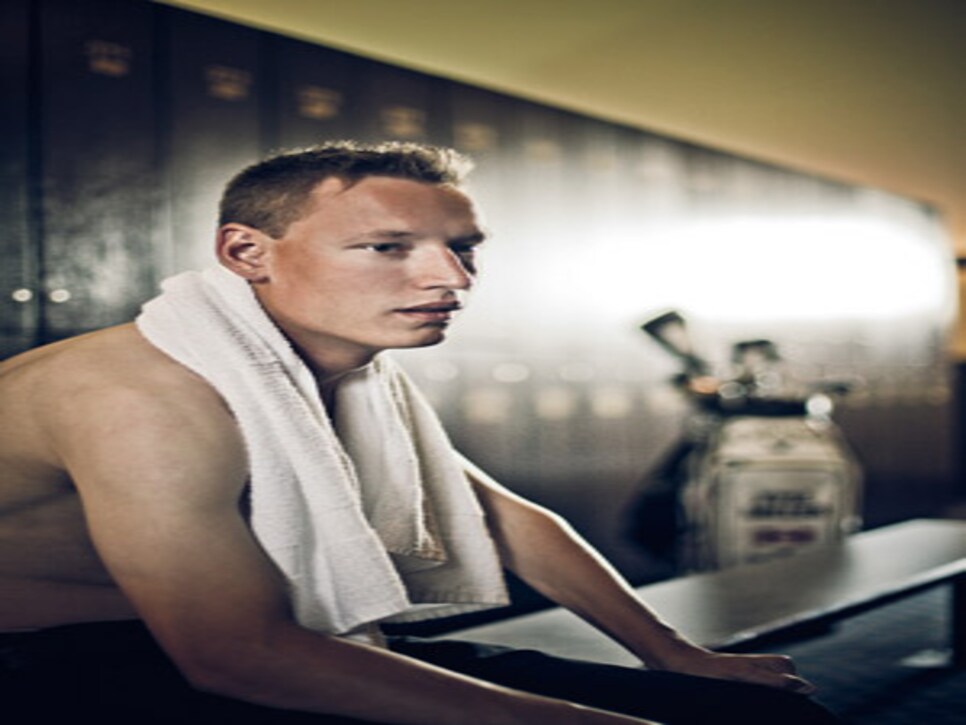 "People said I'd never get good enough to pass the playing test."
I knew I was different even before I went to school. I didn't get dressed like my parents did or use a knife and fork like they could. My left hand was rigidly curled, and I limped on my toes. I asked my mom what was wrong. Cerebral palsy, she explained. When I was born a month early and had a stroke, her life had been in as much danger as mine.
Not that my childhood was miserable. Much like any person new to this world, I took delight in figuring out what I could do. I'd spend hours tying and retying my shoes. It wasn't until bullies began calling me names and doctors listed definitively the things I would never do that I felt isolated and sad. Neither of my parents played golf, and neither can recall the origin of the rusty putter in our garage that would become my favorite toy. I had three plastic balls, and I'd putt around the house, sometimes down the stairs, using one hand.
When I was 9, with help from the Shriners Hospitals for Children, my mom and I finally found a doctor who wasn't resigned to me spending my life in a brace. The surgery to straighten my hand—by transferring muscle from the bottom of my wrist to the top—was risky because that area has vital arteries and veins. I understood there was a chance I might not wake up. The decision was ultimately mine, and it was with a deep breath I signed the waiver with my good hand.
It was a worthwhile gamble. The most exciting prospect after the surgery was that I could grip a golf club somewhat normally. With my bag on a pushcart, I proceeded to grow up on the golf course. Marty Desmarais, a teaching pro near my home in Calgary, Alberta, became a second father to me.
At a follow-up, the doctor was incredulous about the strength in my hand and the straightness of my spine. "What's he been doing?" "Golf," my mom said. "Well, keep him playing," said the doc. "It's saving his life."
And because I was doing so well, the doctor also thought it was a good time to break my left femur and rotate it.
I've had my hamstring and Achilles tendon cut, but the worst pain I've experienced is the machine that moves your leg after they break it. You have to control your breathing so you don't tense up, which is something I'd later apply to golf.
Despite strides, at 14 I almost quit. Why continue frustrating myself with this game in which success so often eludes bigger, healthier people? Why not find some menial task I was better suited for and master it so I could at least one day make my living? Many people, including some PGA of Canada professionals, said I'd never get good enough to pass the playing test.
Technically, I swing a club probably much like you. I pay attention to the same basic principles of posture, alignment and speed. The only difference is that on the downswing I shift to a dead side. The left half of my body remains numb. Finding the consistency of how it reacted through the hitting area took a lot of work. My finish position is based on trust and commitment to the shot. It's not a bad way to play.
It wasn't my best golf, but I shot 75-80 in tough conditions to pass the ability test to join the PGA of Canada. As a teacher, I believe I help students just as much with their mental strength. I also believe my condition removes some of the shame and embarrassment that comes with trying to get good at this humbling game. I routinely have more students than I can fit in my lesson book.
My doctor says I'll stop growing at 25 or 26. I'm 22 now and curious how much better I might get if I add some inches and fill out. I haven't discarded the possibility of playing professionally, though I think my calling is to teach tour players. There are so many out there with amazing physical capabilities who just can't seem to get out of their own way.
Maybe they could benefit by having a conversation with me.