Backstory
The adoptive family that played a vital role in Wyndham Clark's path to the U.S. Open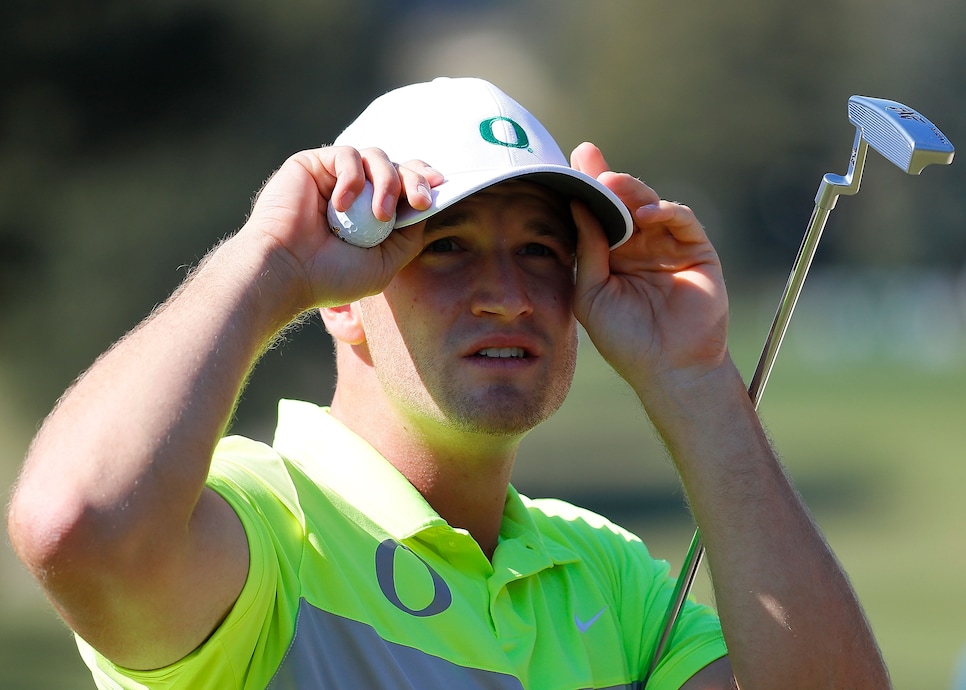 When Wyndham Clark transferred to the University of Oregon, he lived with Jeff and Jamie Gaskill.
Kevin C. Cox
"He looks like Dustin Johnson except 30 pounds bigger, and she looks like an Eastern European decathlete. Go find them."
This is how Casey Martin describes the two most important people in the Wyndham Clark victory party materializing around the 18th green at The Los Angeles Country Club. Martin is in Eugene, Ore., watching the U.S. Open trophy presentation on TV with his dad, because attending majors is difficult now that his balky leg has been amputated above the knee. Martin, who famously and successfully sued the PGA Tour for the right to use a cart in its tournaments, coached Wyndham Clark at University of Oregon for just one season in 2017.
"I didn't coach him," Martin says. "Wyndham knew more about golf than me. His talent was off the charts, and the only issue was getting him to recognize that. All I did was help put people in place around him. You can't separate the success of Wyndham Clark from the support he received from Jeff and Jamie Gaskill."
Jeff is a successful contractor and Jamie is an assistant cheerleading coach at the university. They have three daughters, who were just babies when the couple first hosted a 13-year-old phenom from Denver who needed a place to stay when competing in an elite junior tournament at Eugene Country Club, where they were members. Recall how Matt Fitzpatrick stayed with the same host family from The Country Club in Brookline for both his 2013 U.S. Amateur and 2022 U.S. Open wins? That story pales compared to this.
"We just fell in love with Wyndham," Jamie remembers. "He had such good manners, and it was hard to believe the confidence of this young boy traveling alone across the country trying to win tournaments." They stayed in touch.
Martin wanted to know who hosted the Colorado kid, which led him to the Gaskills.
"I watched him play at the Junior America's Cup in Vancouver when he was maybe 14," Martin says. "I was recruiting Patrick Cantlay and him. Didn't get either one but I was watching the right guys. Wow, was [Wyndham] intense. It was clear this kid was not like the others, which was both good and bad."
Wyndham accepted a scholarship to arguably the best college program in the country at Oklahoma State, but his golf and spirits sank after the death of his mother to breast cancer in 2013. At the NCAA Championship, Casey Martin was curious why he didn't see Wyndham in OSU's lineup. After he learned why, in time he asked if he might like to come to Oregon.
As Wyndham told me in 2019, "Not to sound arrogant, but I wanted to transfer to where I'd be the No. 1 player. The head coach, Casey Martin, had gone through so much adversity with his leg in his playing career, I thought he'd be a good mentor in resilience."
Plus, he knew the Gaskills. Martin's first move was to get permission from the university for Wyndham to live not in a dorm, but with the couple in their early 40s. Home-cooked meals, games of pool and gin rummy with Jeff, three young girls to adopt like sisters–this is what Wyndham needed more than college parties.
The other key guy was John Ellis, who Martin hired as assistant coach. "Immediately it was clear John had a way with Wyndham, always teasing without being heavy. John would say stuff like, 'I need a psychology degree if I'm going to deal with Wyndham,' and the whole team would laugh together."
Of course, Ellis would leave the Oregon Ducks to caddie for Wyndham when he turned pro. Even when things were going badly, Ellis turned down offers to caddie for top-20 players.
Which all leads to the party kicking up in front of the LACC clubhouse. Parting the sea of police and blue-coated USGA officials holding ropes is a giant of a man carrying the pin from the 18th hole like a walking stick. That's Jeff Gatskill. Wife Jamie is cheering in front, and they're making a beeline to the U.S. Open champion.
It's not your classic Father's Day story, but he's like a son to them.