The Loop
The (absurd) golf anniversaries we'll be celebrating in 2021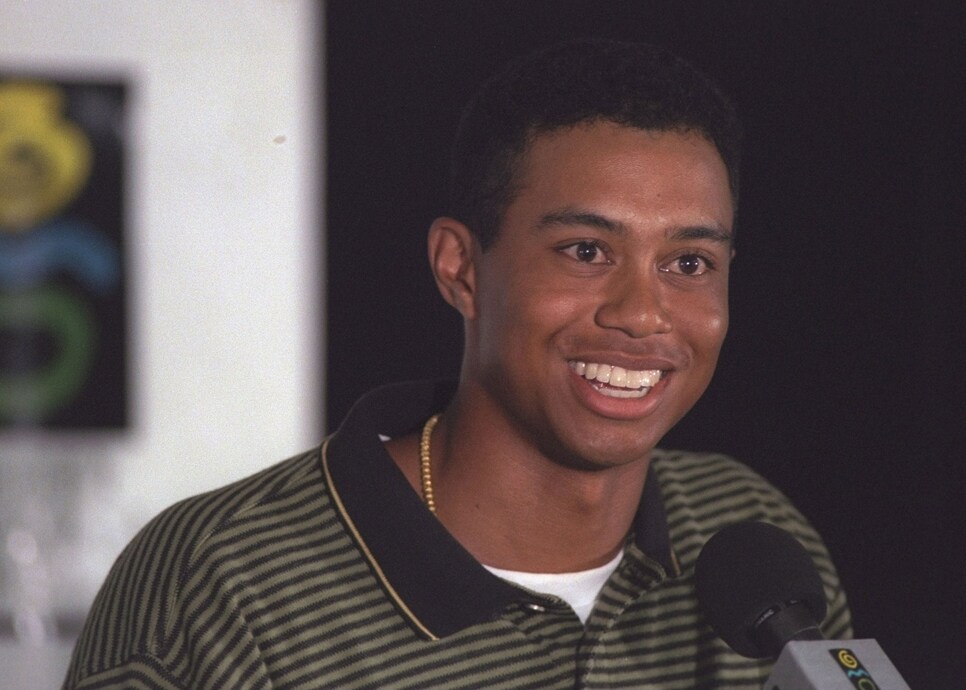 Tiger Woods announces the start of his pro career ahead of the 1996 Greater Milwaukee Open.
J.D. Cuban
Time passes, seasons change and things that once felt new are now alarmingly old in ways that whisper to you, "Guess who's also old? YOU." That's the real function of an anniversary, or at least the de facto effect it has on the psyche.
And yet, who are we without our memories, and what better way to honor the best memories than acknowledging the time that stands between us and them? The list that follows highlights a few things we'll never forget, a whole bunch of things you never knew you wanted to remember and also some things you definitely didn't want to remember, but now you do, and you're mad about it. Welcome to 2021, baby … and now, journey with me to the sweet embrace of the past.
100 years ago: Jim Barnes inches closer to the career slam
We'll never forget where we were when "Long Jim" Barnes, Cornwall's finest, won the U.S. Open to add to his two PGA Championships and put him just one Open Championship away from the career slam (the Masters was a cow pasture at that point). Personally, I was churning butter when news came over the victrola, and I began to churn so wildly with excitement that it ruined the batch. We'd have to wait four more years until he completed the slam at the '25 Open Championship, and he got beat to the job by Walter Hagen, but I still have the words "Long Jim" and the Union Jack tattooed into my chest in squid's ink.
75 years ago: Herman Keiser wins the first Masters after World War II despite having a first name and a last name that are associated with famous German military leaders
50 years ago: Charles Coody becomes the most famous Masters winner
Etched in our collective golf memories is that famous Sunday when Charles Coody defeated a pair of men whose names are mostly lost to history—Jack Nicklaus and Johnny Miller—to win the green jacket and capture the minds of the golfing public in a way that persists even today, 50 years after the magical day. That wasn't Coody's only great accomplishment, either. He's also very well known on school playgrounds as the first man to have a unique kind of germ that can only be spread to members of the opposite sex.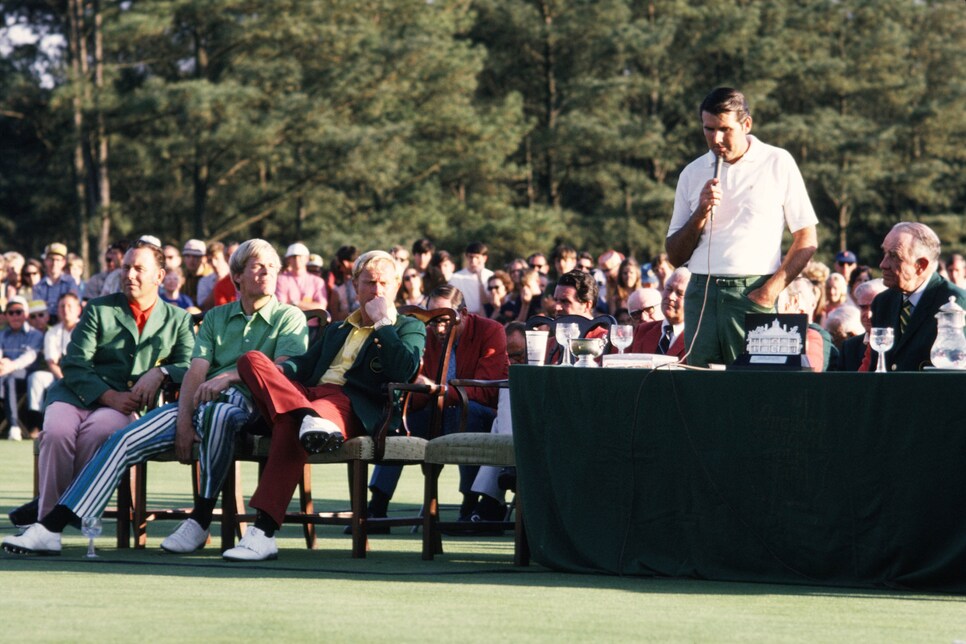 1971 Masters champion Charles Coody speaks at the Presentation Ceremony with (from left) Billy Casper, Johnny Miller and Jack Nicklaus.
Augusta National
30 years ago: The year of the Ians
There have only been two men named "Ian" to win a major championship, both won just a single major, and they won it in the same year. It was 1991 when Ian Woosnam, a Welshman, took home the Masters title, followed by Australia's Ian Baker-Finch winning the Open Championship a few months later. Following these triumphs, parents all over the world began naming their children "Ian," which is why it's the most popular name for both men and women among 30-year-olds today.
25 years ago: Tiger Woods turns professional
On Aug. 29, 1996, a much-ballyhooed youngster named Eldrick (Tiger) Woods officially became a professional golfer. He failed to make anything of himself for months and months, simply winning normal PGA Tour events, before finally breaking through at the 1997 Masters—a gap of seven endless months after he turned pro. Since then, he's won less than 18 percent of all majors he's played in, and seems likely to never win 500 events on the PGA Tour. Still, we can't forget how promising he seemed, once upon a time.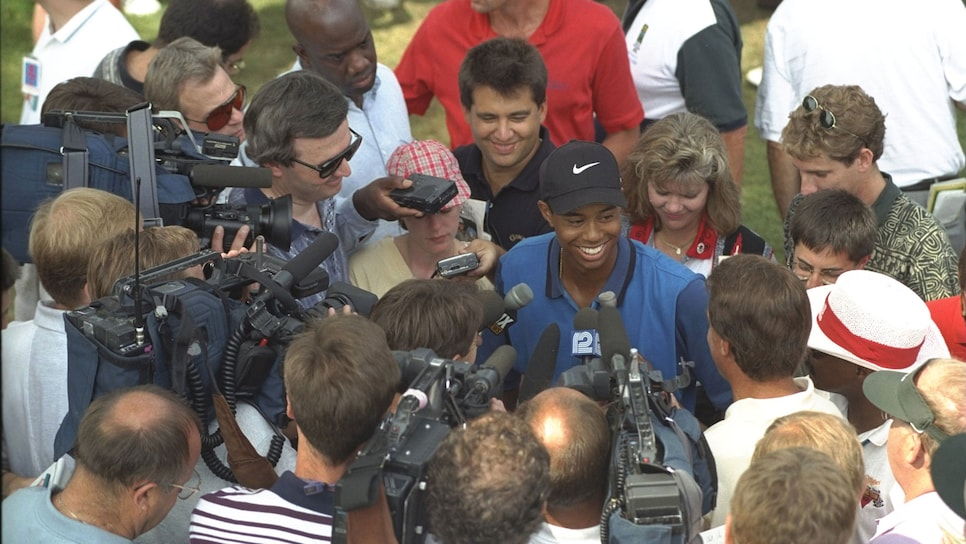 So much hype greeted Tiger when he made his pro debut in Milwaukee in 1996. Too bad he only managed 82 PGA Tour wins and 15 majors.
21 years ago: Ian Woosnam carries too many clubs, blows chance at Open Championship
Speaking of Ians, you can imagine the distress when Woosnam, tied for the lead on the final round of the 2001 Open Championship, was approached by his caddie with a devastating message: He was carrying two drivers. That meant a two-stroke penalty, and a psychological blow that made it all but impossible for him to win. (He eventually lost by four strokes.) Woosnam's blunder lives on in infamy, and—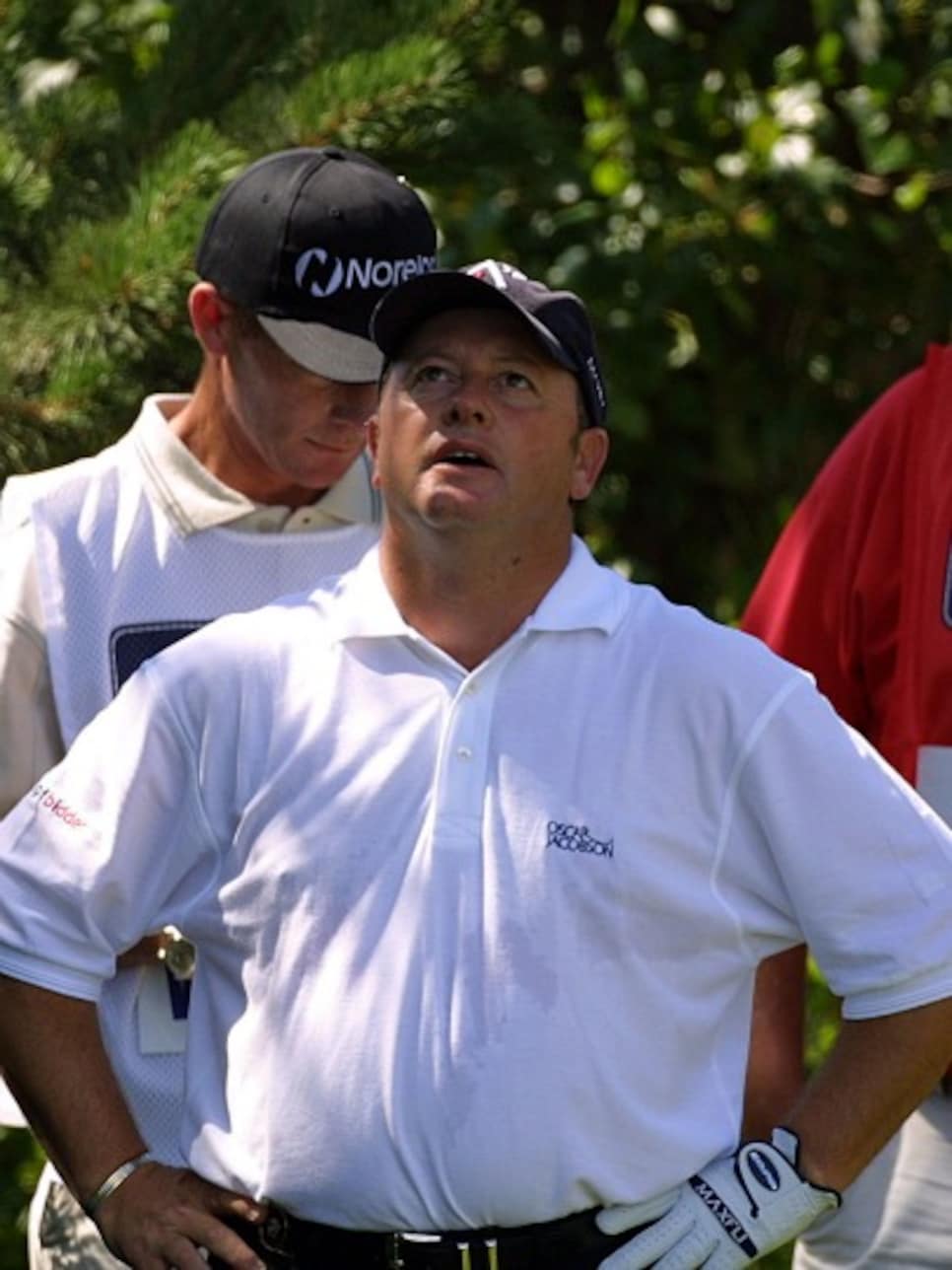 Ian Woosnam does a great job of masking his frustration after learning of his two-shot penalty to start the final round of the 2001 Open Championship.
Getty Images
Sorry, hold on a moment, my editor is calling and he says it's important. I've got to take this. Back in a second.
It was 20 years ago. Not 21. I had one too many years. I was in contention for golf article of the year up until this point, and now there's absolutely no chance. I've blown it. This is the worst moment of my life, and I don't even have a caddie to fire.
12 years ago: Henrik Stenson strips to his underwear to hit a shot
In a triumph of Swedish engineering, Stenson correctly ascertained that in order to truly be free to swing the club as he wanted at the WGC-CA Championship, he must shed as much clothing as legally possible. The result:
Actually, this might just have been about trying not to get his clothes too muddy. But how long can it be until Bryson DeChambeau gives it a go for scientific purposes? The naked revolution will soon be upon us.
10 years ago: Rory visits Masters cabins, but too early
It's the shot that inspired a thousand jokes: Rory McIlroy, holding a four-shot lead heading into the final round of the 2011 Masters, managed to hang onto that lead for nine holes despite some unsteady play. Then, on the 10th, he managed to hit a ball beside the cabins left of the fairway (way left). Of course, Butler Cabin is the place where the winner is famously presented the green jacket. Alas, he made his visit to one of Augusta National's residences about nine holes too soon, and a triple bogey on 10 ensured that it would be his only trip that day.
Eight years ago: Sergio climbs a tree, hurts himself
Situation: You're playing in the final round at Bay Hill with absolutely no chance to win. Your ball lodges in a tree. As you look up, you see that you could maybe climb up and hit it out, at great risk to yourself and with nothing to gain. Do you do it? If you're Sergio Garcia, the answer is an unequivocal sí.
The post-script is that, after accomplishing one of the bravest feats in the history of sports, he did indeed hurt himself—achilles and shoulder—and then withdrew from the tournament. If there's a better metaphor for this man's career, I haven't seen it.
One year ago: A guy wins the Wyndham Championship
The word "unforgettable" gets thrown out a lot (especially in the song "Unforgettable" by Nat King Cole), but this is truly one of those cases where it will be impossible to forget the man who won the 2020 Wyndham Championship on that historic weekend in Greensboro, N.C. His name, of course, was … John something. Or was it Jed? Jed Pearlman? It's something like Jed Pearlman. I remember he had a hat. This is embarrassing, because I usually go to the tournament and I actually wrote about it this year. Jug. Jug Candyman. Can't be that, doesn't sound real. Jello Hang-ten. Hey, where are you going? It's on the tip of my tongue, just give me a minute. Jib Cartman. Jub Lindham. Do not walk out that door! Jog Dougden … Jibs Horton … Jinks Downton …