Another PGA Tour season has come and gone, glory and riches have been bestowed, and now it's to delve into the numbers and see what gems we can unearth. From the big important number to the obscure oddball stats, here are ​10​ of the most eye-popping figures from a wild year in golf.
Will Zalatoris is Mr. Approach
Rick Gehman and I once set out to find what individual statistic correlated the best to success on tour—in other words, what's the best individual component of the game to excel at—and the answer was the approach. Driving, putting and around-the-green play all matter, but nothing matters as much as your approach to the green. So it's with increasing interest that I check the approach stats each year, especially once a season ends, to see if it correlates as much as expected, and if the top ​10​ list looks as predictably stacked as it has in the past.
It's long been the case that Collin Morikawa seemed to be the best iron player of his generation, and indeed he was in the top five on tour in SG/Approach for the third straight year, but the winner this year was Will Zalatoris, the only player to gain more than one stroke on the competition per round with just this part of his game. Yet again, this correlated strongly to success; not only was Zalatoris in the hunt at multiple majors, but he fought his way into the world top ​10​, nabbed his first victory in Memphis, and would have had a chance to fight for the FedExCup title if not for a late injury. When it comes to ball-striking, nobody was better.
Bryson DeChambeau's reign as the king of the drivers is over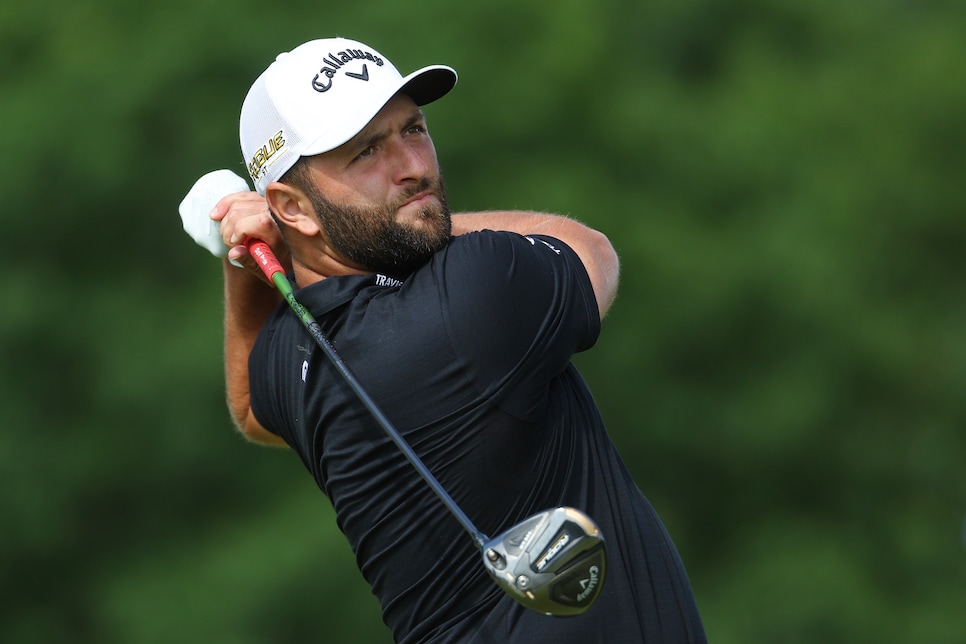 In a year when more than half of all tour players averaged more than 300 yards off the tee for the first time, the competition for the game's best driver was always going to be stiff. As it happened, the two-time defending "champ" in SG/Off the Tee, the most comprehensive metric we have for which player gains the most on his competitors with the driver. As with the approach category, there was only one man who profited by an average of a full stroke per round in this part of the game, and that was Jon Rahm.
That should come as no surprise—Rahm hasn't been out of the top five in this category since he was first eligible in 2017. He's been second twice, and now, with DeChambeau off to LIV golf after two years of holding down the top spot, Rahm finally ascended to no. 1, just beating out Cameron Young and Rory McIlroy. He also, at one point, managed 17 consecutive birdies on par 5s, and you don't pull off a wild stat like that without a great driver.
(It's instructive to look at the top-10 list, because while it includes a stellar top three, there are also a good number of names who haven't been as successful, which makes a big contrast to the approach list. More proof that when it comes to winning, nothing beats a good approach game.)
Denny McCarthy falls just short of yet another putting crown … or does he?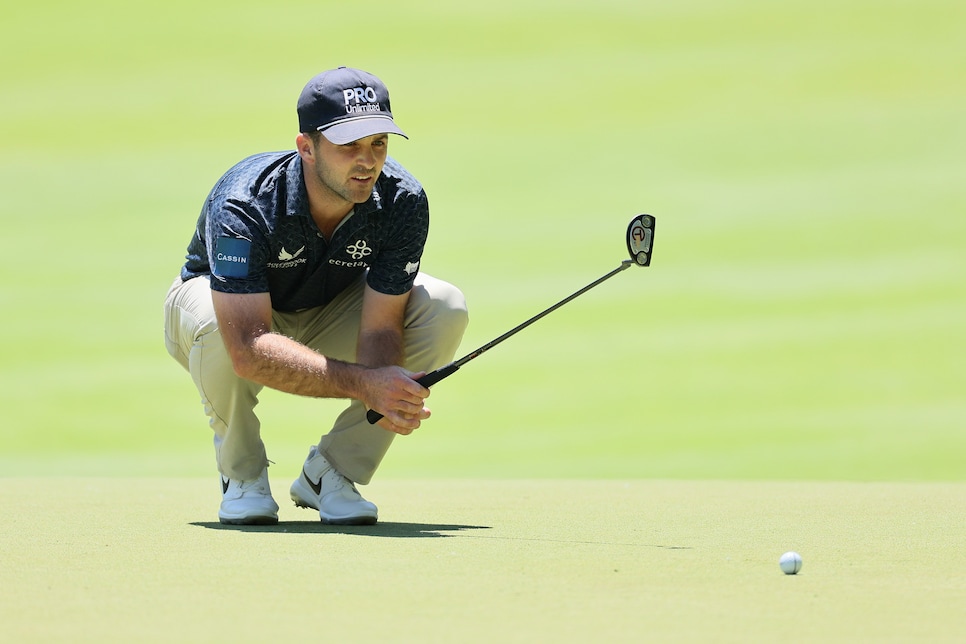 I have witnessed in person what it's like to see a Denny McCarthy flat-stick heater, and it's pretty wild. Aside from the hot streaks, though, the man is just consistently great; in a part of the game that feels like it should be more volatile than your usual ball-striking metrics, the 29-year-old has managed to win the SG/putting crown twice in four eligible years. This year, though, he finished second, trailing Lucas Herbert by percentage points.
BUT. I've written before about the occasional sample size issue inherent to strokes gained, and while most season-long stats are pretty accurate once the season is over, it's hard not to notice here that Herbert has only 40 measured rounds to McCarthy' 87. When you're No. 1, as Herbert is, your regression is almost certainly bound to be downward, and if you gave him 40 more rounds to play, it's a fair bet that he would have fallen below McCarthy. In other words, if you're inclined to give McCarthy his third SG/putting crown here, I would say you're not necessarily wrong. Regardless of where he finished, though, it's more evidence to me that there isn't a better putter in the world than McCarthy.
And now that we've rounded out the "Big Three" statistical categories, let's have some fun.
Enter Sandman: Shane Lowry
It is very, very, very hard to finish a full season with a sand-save ratio higher than 2-of-3, and the proof is that in this millennium, only six people—Fred Couples, Franklin Langham, Tim Clark, K.J. Choi, Rickie Fowler and Bud Cauley—have pulled it off, and none of them have done it more than once. Well, now we can add a new name to that list, and it's the Irishman Shane Lowry, whose 67.09 percent mark was the best since Fowler's 2017 campaign. (For what it's worth, Kevin Tway had the most consecutive saves, with 14.)
Three-Putt Misery Man: Keith Mitchell
There is joy in po​u​ring through the tour's stats page, and it's mostly because you can find very weird stuff like "total three putts > 25'," which delves into truly arbitrary realms. This stat in particular is hard to parse for meaning, because it's a measure of pure volume, but does it measure whether you stink at putting from distance, or whether you stink at the approach game and leave yourself crazy long putts too often? In any case, Keith Mitchell led the tour with 46 three-putts from outside 25 feet, which is extremely relatable. That has to be particularly painful for Mitchell, who was fourth in SG/Off the Tee, making him one of the five best drivers in the sport this season. When it comes to his next shot, though, he falls off a cliff, and was only 111th-best in approach. That, apparently, set him up for a lot of long opportunities, and as we see, he wasn't great at mop-up duty.
Long Putt Golden God: Cameron Percy
Of all the Camerons in the game, Percy got the l​e​ast attention, which is why it's cool that he did something this season that hasn't been done in 15 years. Warning: it's arcane … when Percy hit a green in regulation and left himself more than 35 feet for birdie, he made the putt more than 1 percent of the time. That's right! It may not sound like much, but his 8-68 mark this season put him over the 1 percent threshold, and we haven't seen that since 2007, when it was pulled off by Oklahoma's own Taggart Twain Ridings. What's really weird about this stat is that it's only been kept since 2002, and from 2003 onwards, only three people pulled it off. But in 2002? Seven people did it!
The GIR duel you never knew existed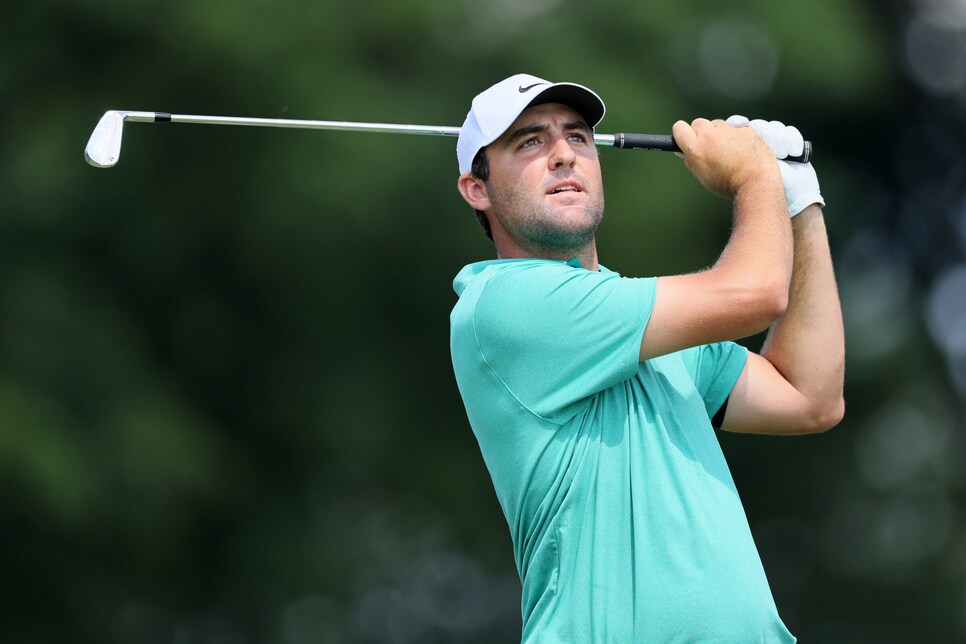 When it comes to consecutive stats, greens in regulation might have been the most secretly interesting of the year, in that Jon Rahm and Scottie Scheffler each managed 34 in a row to lead the tour. These are two of the game's best players, and here they were in a battle that 99.999999 perecent of humanity, myself included, never knew was happening.
Steady Sungjae, foot loose and bogey free
Sungjae Im is a marvel, and a guy we don't talk about nearly enough. It's easy for him to be overshadowed, particularly in a dramatic year like this one, but he put together another incredible year with just four missed cuts (and this guy plays a lot of events) and a slew of top-15, top-10, and top-five finishes. He couldn't quite get his big win, though he almost managed it at the Tour Championship, but he did lead all players in bogey avoidance, making just 195 bogeys in 1,584 holes, for a stellar rate of just 12.31 percent. He also led in one of my favorite stats, "reverse bounce back," which measures how infrequently you make a bogey or worse after making birdie or better. There are no letdowns with Sungjae.
Rory is the early bird and almost the late bird too
Round 1 scoring average is kind of a fraught one, in the sense that while it's obviously good to be the tour leader, it also comes with the potential danger of implying that the honoree is good early, poor late. Rory led everyone with a flat 68, then dropped to 70 for round 2, 69.5 for round 3, and then back up to 68.07 for round 4. That puts him first in the first round, and second (behind Tony Finau) in the closing round. So if you wanted to go full shrink on Rory, maybe you could use this as evidence that he's best when the excitement is hottest, at the start and at the end. Although you know that he, and all his fans, wish that one final round in particular, at St. Andrews, could have gone a lot better.
The extremely prudent lad: Brian Stuard
Finally, though we often praise going for the green in two on par 5s—another metric Rory led, taking a crack 72.04 percent of the time—why not also give some props to a quality that's not as flashy or fun, but should be honored nonetheless? Brian Stuard went for the green with his second shot just 25.68 percent of the time, the lowest among 195 players measured. As it happens, he was also dead last in driving distance. There's wisdom there, too, because when Stuard did go for it, he very rarely succeeded, pulling it off in just 15.29 percent of all attempts, close to dead last on tour. Knowing our limitations is so important in life, and I think we should give praise to the tour's most sensible fellow.