The Loop
The 5 worst, gambling-retirement-worthy bad beats of the weekend in college and pro football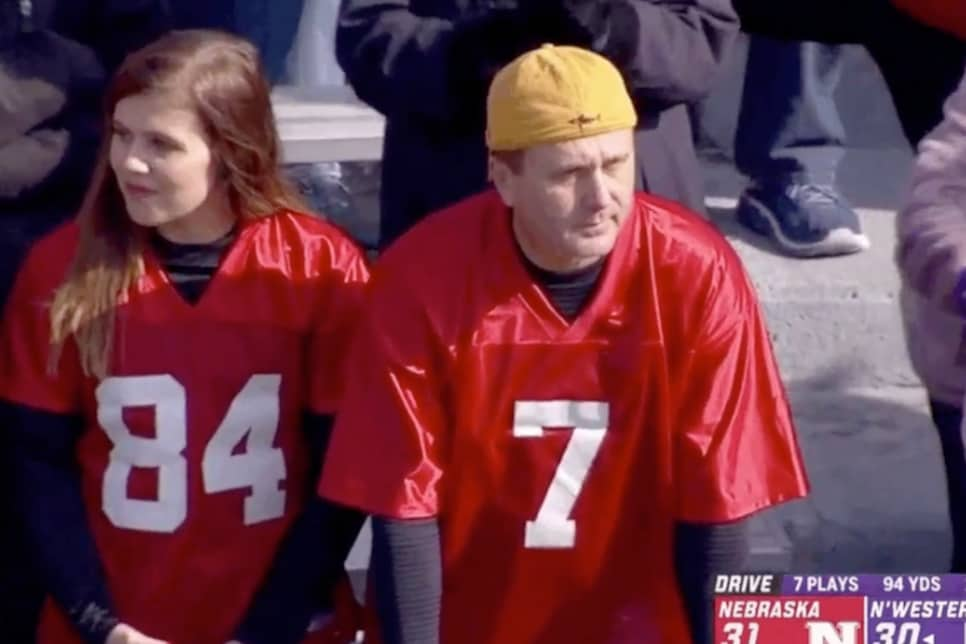 Every football gambling season has a similar feel to it. You start off by winning a decent amount in week 1, then you keep it rolling in weeks 2 and 3. Suddenly, you're the next Billy Walters, wheeling and dealing, hitting every bet left and right. The board starts lighting up like a Christmas tree, and you simply cannot miss.
Then, in one week, it all comes crashing back down. It happens so quickly that before you blink you're back at zero. One loss turns into two, two turns into four, and four turns into you dialing 1-800-GAMBLER to seek help. I've seen it a hundred times.
I regret to inform you that for many, this was that week, and it wasn't a bunch of bad beats that killed you. It was more a case of just being completely and utterly wrong in every way imaginable. That being said, there were still some daggers in week 7 of college football and week 6 of NFL. Let's take a look, shall we? (dies a little inside)
Nebraska (Money Line) @ Northwestern
To bet on Nebraska to win a game this season took some stones, but that's why it's called gambling! The 0-5 Cornhuskers were a sneaky good underdog play on Saturday against Northwestern, a team that was 0-3 at home on the year. A desperate Nebraska team was playing like it all day, leading by as many as 14 points early in the fourth quarter. After a Northwestern score cut it to seven, Nebraska tacked on a field goal to go up 31-21 with under six minutes to play. A 15-play, three-plus minute drive for Northwestern ended in a field goal, leaving them 2:27 to make a stop AND score a touchdown since they trailed 31-24. This thing was OVER. Even after Nebraska went three-and-out, taking just 25 seconds off the clock, the Huskers downed a punt at the Northwestern one-yard line with 2:02 to go. Two plays later, this was their win probability:
As long as Nebraska didn't choke to death, there was no way they could lose. SPOILER ALERT: They choked to death.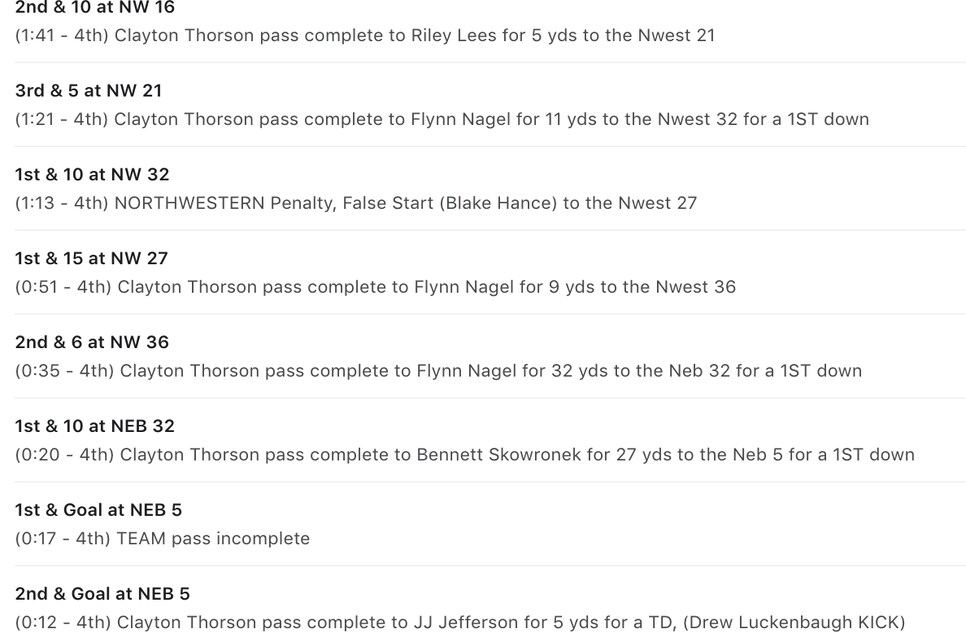 So we go to overtime with the score tied at 31-31. Still a chance, but Northwestern had all the momentum. Nebraska got the ball first, and on 4th & 1, rather than attempt a 33-yard field goal, Scott Frost had his offense go for it. It did not go well:
Northwestern went on to end it with a field goal, defeating Nebraska 34-31.
Florida @ Vanderbilt (+9.5)
Before you even got settled in on the couch, this bet was cashed, as Vandy stormed out to a 21-3 lead on a sleepwalking Florida team that was coming off an emotional, upset victory against LSU. Hell, if you bet the Commodores to win outright you were in GREAT shape. Then, it quickly became the game of the weekend, and the Gators rallied around their coach and outscored Vandy 34-6 the rest of the way to win 37-27, covering the spread by a half a point. If you had both Nebraska and Vandy in the 12 o'clock hour, you should have just quit on this weekend. But nahhhhhhhh.....
Unfortunately for Georgia fans, this was never a fair fight, as LSU and quarterback Joe Burrow bullied them into submission by converting 300 out of 300 4th & 1s on QB sneaks. But at least the game was an under bettor's dream, with the Tigers leading 16-0 at half and Georgia's offense showing no sign of being able to even score three points. Even when the Bulldogs finally did put points on the board in the form of a TD and a field goal, they still trailed 19-9 heading into the fourth quarter. At 28 combined points, it would have taken a literal fourth-quarter explosion for the under not to hit. Whoops!

Boise State @ Nevada Over 58.5
You thought those first three beats were painful? How about if you had the over in the Boise-Nevada game? In the first three quarters, the Broncos and the Wolfpack combined for 58 points.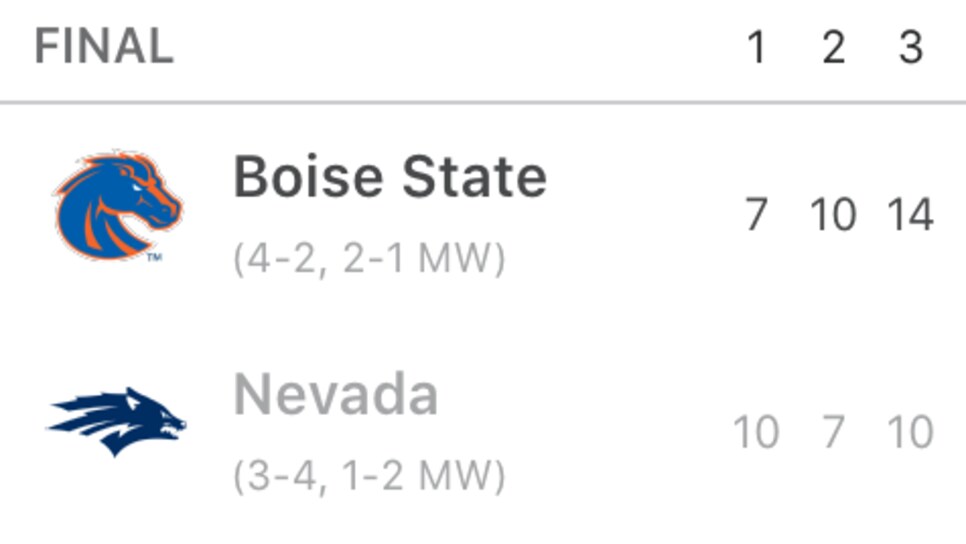 Incredible! ONE MORE POINT! ONE MORE POINT!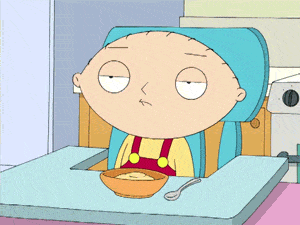 Tampa Bay Buccaneers (+3) @ Atlanta Falcons
Last but not least we go to Atlanta, where the points were racking up in what everyone expected to be a shootout. After taking a 6-0 lead, the Bucs suddenly found themselves in a 21-6 hole, but fought all the way back to make it a 31-29 game with 3:47 to play. The Falcons ran as much clock as they could, but got stopped at the Tampa Bay 39 with 1:10 remaining. On 4th & 2, coach Dan Quinn had a lot of options, but let's just say he's not known for great decision making. Go for the jugular and end the game? Nope. Punt it, try to pin them inside their own 10 and make them drive down and beat you? Nope! How about a 57-yard field goal that you could possibly miss and give the Bucs PRIME field position? Yup! That's the one !

To be fair, Quinn did have Matt Bryant, a kicker a lot of guys would trust with a 60-yarder let alone a 57-yarder. This gave the Falcons a five-point lead, a crushing blow for Bucs +3 backers. But Tampa still had life, as Jameis Winston led a charge down the field and put the Bucs in miracle touchdown range against a 1-4 Falcons team that has found so many amazing ways to lose this season. They nearly topped all of them on the final play:
If this play is executed properly, Desean Jackson walks in for a touchdown, and even when the play broke he STILL had a chance to score. The 57-yard field goal to cover was the real nail in the coffin, but to have another chance added a whole lot of insult to injury.