The Loop
The 13 most random, sometimes angry, tweets shared during Tiger's comeback on Thursday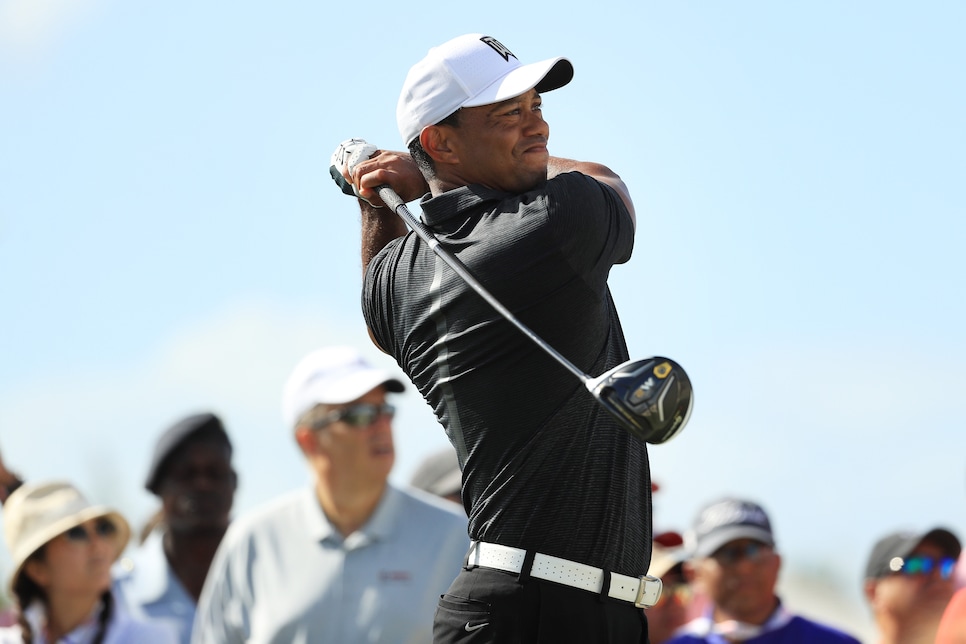 Tiger Woods returning to competitive golf, albeit in an 18-player exhibition tournament in the Bahamas, sent social media into a frenzy. Thursday was yet another reminder that Tiger doesn't just move the needle, but he is the needle in golf. And his reach transcends more than most any athlete of our generation.
Even before his first hole at Albany, Tiger was trending on Twitter in the United States. And as the day went on, it seemed as if the entire sports world stopped to appreciate Tiger's return. Amidst all of the armchair-quarterbacking and fanboying for Tiger—if you searched Tiger Woods on Twitter—you got some pretty hilarious reactions from random people.
We thought you'd appreciate what we saw. We're not sure who these people are, but we're thanking them for these very random, sometimes angry, tweets they shared on Thursday as Tiger made his comeback.
Hmm, not sure most golf fans would necessarily put doing laundry and watching golf on their list of favorite activities. But if you have to do laundry, watching golf definitely makes it much better.
This guy wins. You've successfully stumped us.
Apparently Tiger's comeback is affecting the climatic tidal levels on Earth? Thanks for putting that in our brain.
C'mon, Rhett, that's extreme. We're excited about Tiger's return, too. But you're in college, buddy. We're sure there's something that can make your semester a little more interesting.
You might've stumped us there, Ashley. Perhaps it's time for a rebranding here at Golf Digest. Is Vacation Digest more appropriate?
Today, my co-workers would all agree with this statement.
Even though it seemed like everyone was following Tiger's return today, we'll still talk to people who didn't. It is, after all, an exhibition in November.
Mr. Vet, you're right about that. Let us know when you have the petition drafted up. We'll be your first signature.
Why sea of blue? But OK, fine, twist our arm enough and we'll agree!
That's a little extra. But co-sign, we think?
OK, it's easy to rip on Tiger being a dork and nerdy. I mean, have you seen the jeans he continually rocks in public? It can be embarrassing. But it's part of what makes Tiger who he is. Tiger will forever be a cornball.
Don't make us answer that. The holidays are the best times of year, but seeing Tiger back competing with the best in the world is pretty comparable. We'll take both.
You might as well change your Twitter name to @TigerTaughtMe, because Tiger showed us why he hasn't quit yet. The dude can still compete at the highest level when his back will let him.