News
That's more like it for Jordan Spieth, whose Friday 69 pulls him back into the Masters hunt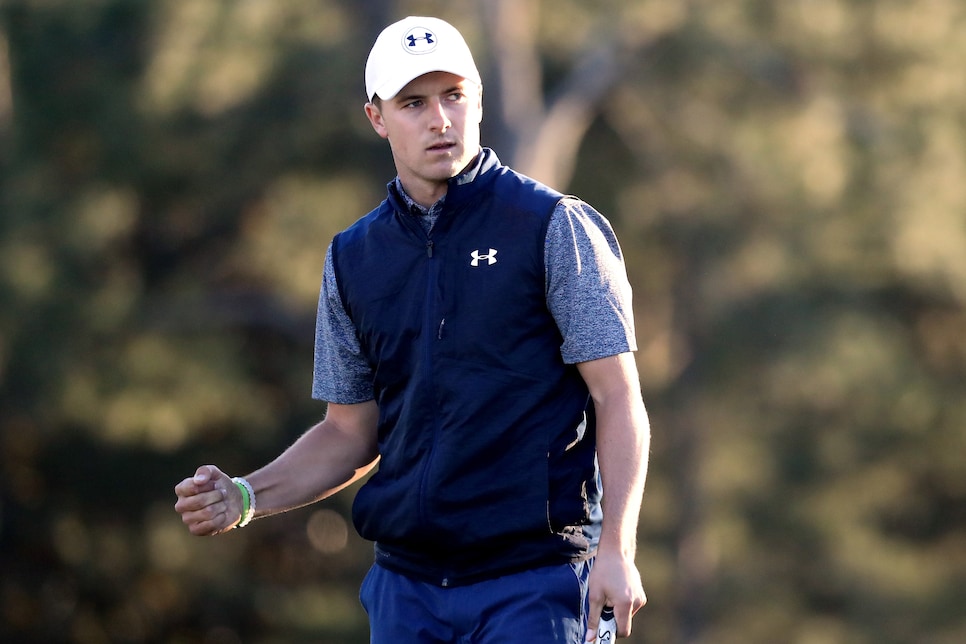 AUGUSTA, Ga. – Jordan Spieth returned to the land of relatively clean scorecards Friday, and as a result, he also moved into contention in the 81st Masters.
Avoiding big numbers and converting some clutch birdie putts down the stretch enabled the 2015 Masters champion to cobble together a three-under 69 and fight back to level par for the tournament at 144, good for T-10 and only four strokes behind the quartet of leaders Rickie Fowler, Thomas Pieters, Sergio Garcia and Charley Hoffman.
After Thursday's 75, Spieth found himself 10 shots behind Hoffman.
After bettering par in eight of his first nine Masters rounds, Spieth ended a string of four straight rounds over par. In his last two, the final round in 2016 and Thursday's opening round, he had recorded a quadruple bogey. This time, he slipped only twice and only slightly, with measly bogeys at Nos. 2 and 4 that he offset with five birdies.
"Yeah, significantly better. From yesterday at this point in time, drastically," said Spieth, 23, whose foray into disaster at the 12th hole last year cost him a second consecutive green jacket. "So, it was a really good day today at Augusta National. I'm very pleased with the second round of this Masters and we're in a position now where we, I think, can go out there and win this thing and certainly make a run."
Spieth will begin his third round at 2:10 p.m. EDT with three-time champion Phil Mickelson in what will surely be one of the most watched pairings of the day.
No player has suffered a quad and went on to win the Masters. Spieth, who has finished T-2, first and T-2 in his three Masters appearances, has produced some clutch golf after making a 9 on the par-5 15th hole Thursday to put himself in position to change that.
Spieth bounced back, as he often does, with his putter. Though he has 61 putts through two rounds, he converted tricky birdie tries from 20 and 15 feet at Nos. 16 and 18, respectively, to get back into the hunt. He also survived a potential rules infraction on the 13th green when his ball wiggled after being hit by a gust of wind as he addressed it. After being assured there was no penalty, he converted the birdie.
While still disappointed with his messy 15th hole Thursday—he made par on Friday—Spieth at least had a feeling of acquiring some momentum instead of watching it drain away.
"That right there [being in contention] just kind of gives me chills, because after yesterday I was really disappointed in being 10 shots off the lead," he said. "But those last couple putts, I had confidence in them, put really nice strokes on them and I finally got them to go."
And he's finally going in the right direction again, too.