News & Tours
A shot clock (!) and timeouts (!!) are coming to golf as Tiger and Rory's TGL league unveils more wrinkles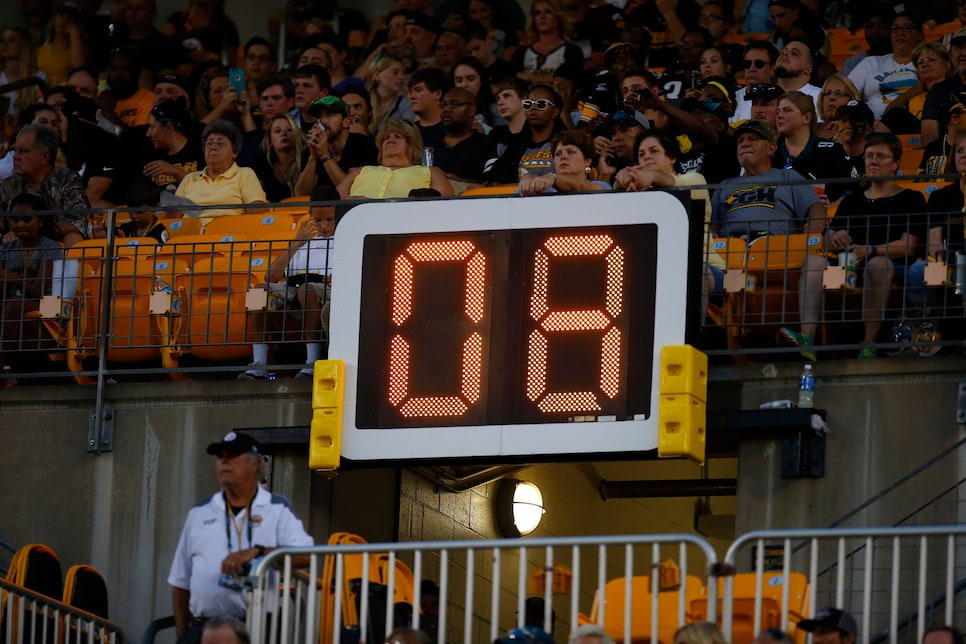 A shot clock in golf? It's been a topic of discussion for a number of years. TGL, Tiger Woods' and Rory McIlroy's new tech-based golf league created, will incorporate one into its competitive framework when it launches its debut season in prime time in January.
Just days after introducing its 15-hole match-play format and points-based scoring system, TGL announced on Monday that it will institute a 40-second shot clock that will be enforced by a referee, though teams will have the opportunity to call a timeout before incurring a one-stroke penalty.
According to Mike McCarley, CEO of TMRW Sports and TGL, the format and technology used for the new indoor league allows it to incorporate elements that are familiar to sports fans from other sports in ways that would not translate on a traditional golf course. "Instituting a shot clock and timeouts will help make matches entertaining, fast-paced, and exciting for sports fans," McCarley said in a press release. "These elements also add another level of strategy for the players in how they approach team decisions similar to other sports."
While a time limit for executing a shot exists on most professional tours and elite amateur competitions, it is rarely enforced. For TGL, the referee, in coordination with a booth official, controls when the shot clock starts and when a team is assessed a penalty.
Each team will have four timeouts at its disposal in a match but can only use two per session, and it cannot call timeouts back-to-back without hitting a shot. TGL announced Wednesday that its 15-match season will feature a nine-hole alternate shot session among three players followed by six holes of singles split into three two-hole matches. A team collects a point for each hole it wins. Ties are broken with an overtime session consisting of a closest-to-the-pin contest.
The season standings also will reflect a points system similar to professional hockey. The top four teams among the six teams in the league advance to the playoffs. The six teams, representing different cities, are composed of four PGA Tour players each. Other than the Boston team, which features McIlroy, Keegan Bradley, Tyrell Hatton and Adam Scott, rosters for the league are still to be filled out. Justin Thomas and Collin Morikawa also have committed to teams from Atlanta and Los Angeles, respectively.
The opening TGL match will air on ESPN and ESPN+ on Jan. 9, following the College Football Playoff National Championship. All matches, confined to two-hour windows, will be televised live in prime time on ESPN or ESPN2 in addition to ESPN+ from the SoFi Center at Palm Beach State College in Palm Beach Gardens, Fla., a specially designed domed venue featuring a giant simulator screen and short-game complex.