News
Texas A&M big-hitter Cameron Champ says timing is right to turn pro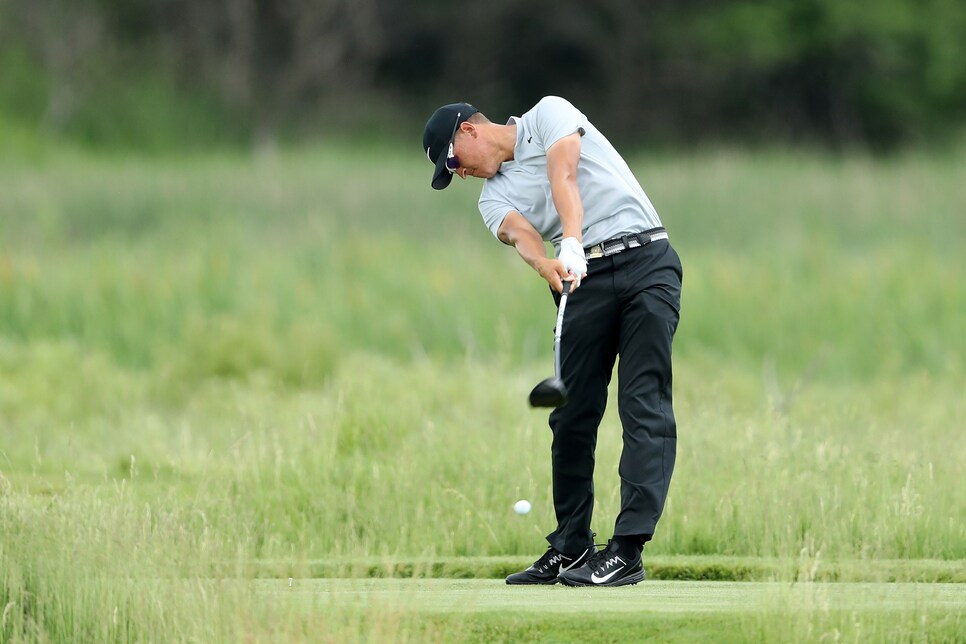 David Cannon/Getty Images
He exploded onto the golf scene this past June—literally—when his massive 350-plus-yard drives at the U.S. Open impressed even some of the PGA Tour's longest hitters. Cameron (Cam) Champ, who was T-4 in that event through 36 holes and finished T-32, says that was the first time he ever really considered turning professional. And now he's done just that. The Texas A&M senior will play in his first event as a pro this week, the PGA Tour's OHL Classic at Mayakoba in Mexico.
"Before the U.S. Open, I wasn't even thinking about it," says Champ, 22, who got into the U.S. Open by holing a 30-foot birdie putt in a playoff at a qualifying tournament. "But when I made the cut at Erin Hills, that changed the whole game plan."
The Sacramento-area native followed his U.S. Open performance, in which he led the entire field in driving distance with an average of 337.3 yards, by playing strongly in several national amateur events including a victory at the Trans-Mississippi Amateur and a runner-up finish at the Pacific Coast Amateur. He also earned a spot on the U.S. Walker Cup team that defeated Great Britain & Ireland, 19-7, at Los Angeles Country Club in September.
"I played well throughout the summer and that helped boost my confidence in turning pro," he said. "I really think the timing is right."
By making the cut at the U.S. Open, Champ was exempt into the second stage of qualifying for the Web.com Tour, where he finished T-11 at Bear Creek Golf Club in Murrieta, Calif., on Nov. 3. The performance gave Champ some options moving forward. In addition to playing on a sponsor's exemption at the OHL Classic, he will try to earn fully exempt status on the Web.com Tour at their Q-School finals, Dec. 7-10, in Chandler, Ariz. He's also hoping to receive other sponsor's exemptions on the PGA Tour as it makes its West Coast Swing in January and February, says his agent, Chris Armstrong of Wasserman.
In preparation for those events, Champ says he'll be spending more time with swing coach, Sean Foley. Among the things they're working on are fine-tuning Champ's swing so it's more reliable—not just powerful—and improving his short game. Despite being 5-foot-11, 173 pounds, Champ hits the ball as far as anyone on the pro tours. One example at the U.S. Open was nearly reaching the 676-yard, par-5 18th in two shots during the second round. Champ describes his action as a "slingshot" move, with his arms and club whipping through the hitting area. Most notable is that his head tilts away from the target and dips as he transitions from backswing to downswing. That helps create the slingshot move, he says.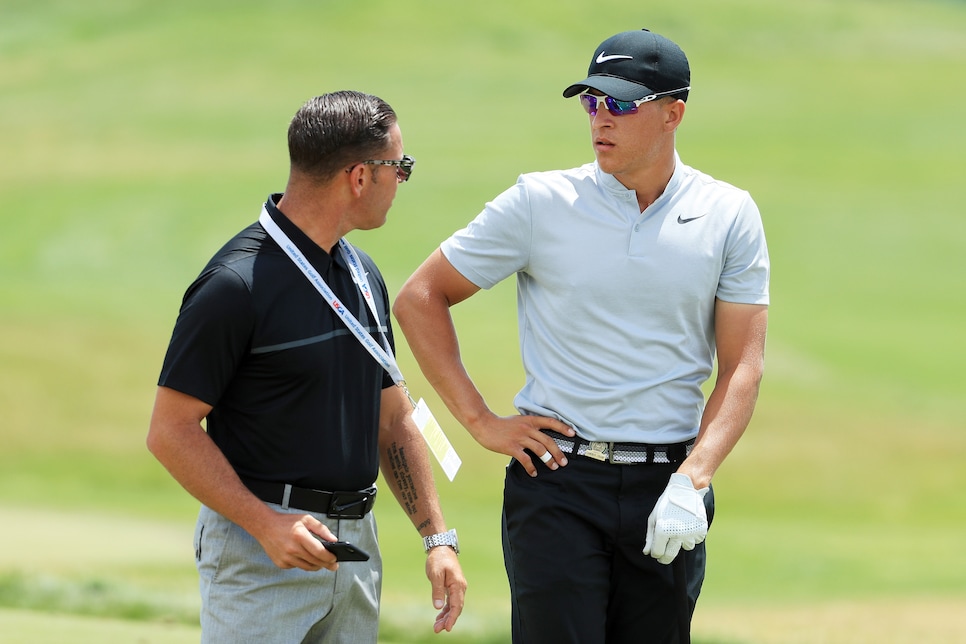 Richard Heathcote/Getty Images
"Sean and I are trying to get rid of some of that move with my head, so I'm not looking at injuries down the road," Champ says. "But driver is key for me. If I get comfortable with that club, it opens up the rest of my game."
Adds Foley, Tiger Woods' former coach who has worked with Champ since was in high school, "He has the ability and skill set to be a Dustin Johnson type of player. Only time will tell, but I can say he's got more weaponry than the Navy Seals."
Champ, who has two semesters remaining at Texas A&M, let his teammates know he was turning pro this past weekend. He still plans to stay in the College Station area part time, going between there and San Antonio. He also says he will earn his bachelor's degree in sports management this spring via online classes.