News
Meet the amateur bomber who's powered his way on to the U.S. Open leader board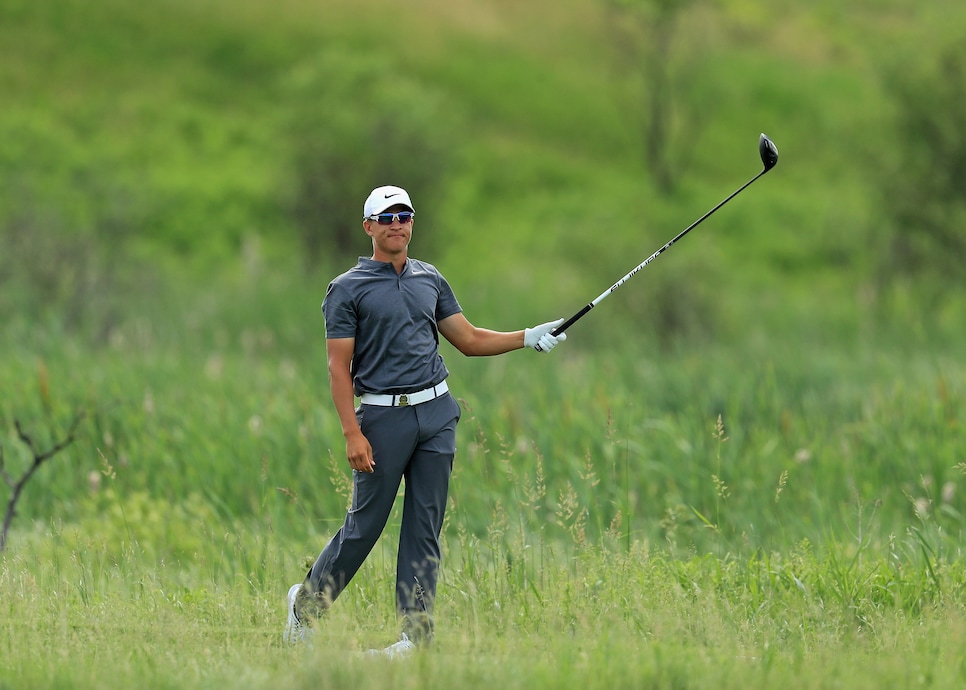 ERIN, Wis. — The number is as startling as the golfer responsible for it. While the field averaged 304.1 yards off the tee during Thursday's first round of the U.S. Open, the player leading in driving distance averaged an eye-popping 349.9 yards.
And he wasn't a professional.
Cameron Champ has always hit the ball a long way, the Sacramento, Calif., native becoming a bit of a folk legend as a junior golfer, taking that rep with him to college when he enrolled at Texas A&M in the fall of 2014.
The number that was even more impressive came on Friday when Champ shot a three-under 69 (while only averaging 329.1 yards off the tee) to move him to five under through 36 holes and earn him a spot on the leader board at Erin Hills.
"The course sets up very well for me off the tee," said Champ, who celebrated his 22nd birthday the day before. "If you hit it off the tee, you can score."
During practice rounds earlier this week, Champ says he was able to shed any nervousness with playing in his first major championship by seeing how his game stacked up with the pros in the field. He played a practice round with Rory McIlroy and Louis Oosthuizen, keeping up with the former and out-driving the latter by 50 yards.
The source of Champ's distance comes from the pretty ridiculous ball speed he creates with his swing. During a recent test session, he was clocked at 190 m.p.h. Impressive for somebody who's six-feet tall but not much more than 170 pounds.
Champ says that distance has always come easy for him. It's accuracy that's been the skill he's needed to learn. "As I've gotten older, I've gotten a little farther, but a lot more straight," he said. "When I was younger it went everywhere. That didn't work out too well."
Helping straighten things out has been Sean Foley, who he started working with in 2014.
Asked where Foley has been the most help, Champ offers a surprising response. "More mentally," he said. "He's someone I look up to, just as far as he makes things simple. He doesn't make things hard. I'm a 22-year-old kid. You're going to make mistakes. You just have to learn from them and improve."
Much was expected when Champ started college as a blue-chip recruit. But in his first college event, he had to pull out with a back injury that turned out to be two bulging discs and a stress fracture. Back woes continued to plague Champ throughout his first two years at College Station. It was only during his junior season this past year that he finally was healthy again, winning the Olympia Fields Invitational while recording four other top-five finishes and a 71.5 stroke average.
Even so, to find himself on the leader board at the U.S. Open was a little more unexpected. While obviously hoping he can stay within reach of the leaders, Champ will be trying to fend off his good buddy and rising University of Texas senior Scottie Scheffler for low amateur honors over the weekend.
"I just want to keep things going, keep having fun," Champ said.
And keep bombing it down Erin Hills fairways.