You Blew It !
This is it, this is the most embarrassing layup attempt in the history of organized basketball
If you believe everything you read on social media, Tennessee vs. Texas Tech at Madison Square Garden on Tuesday night was one of the worst college basketball games ever played. It figures, then, that it would feature what is easily the most embarrassing breakaway layup attempt in the history of organized basketball.
The moment occurred with just under four minutes remaining in a 39-38 game—yes, you read that correctly. This was not a CYO game after church on a Sunday, this was a college basketball game in which neither team had cracked the 40-point mark 36 minutes into the game. Tennessee, the trailing team, was gifted the ball thanks to an ugly turnover by Texas Tech, and junior point guard Josiah-Jordan James was off to the races. All alone. Clean trot to an easy layup to give the Vols a much needed two-point layup, the type that was very hard to come by in this game.
But then, something awful happened. James glitched like a player in NBA 2k21, his body forgetting how to play basketball for a brief moment. It led to what has to be the most embarrassing layup attempt ever attempted on a basketball court:
Now, some of you may be wondering if we're being insensitive. As Jay Bilas quickly said, "I hope he's not hurt." Well, if you notice at the very end of the video, after appearing hurt, James realizes he's not hurt, which was likely stunning given the fact that there should be no other explanation for that botched breakaway layup except "I tore my ACL." James did not, in fact, tear his ACL, though the thought of faking a torn ACL had to have crossed his mind as he laid under the hoop in shame: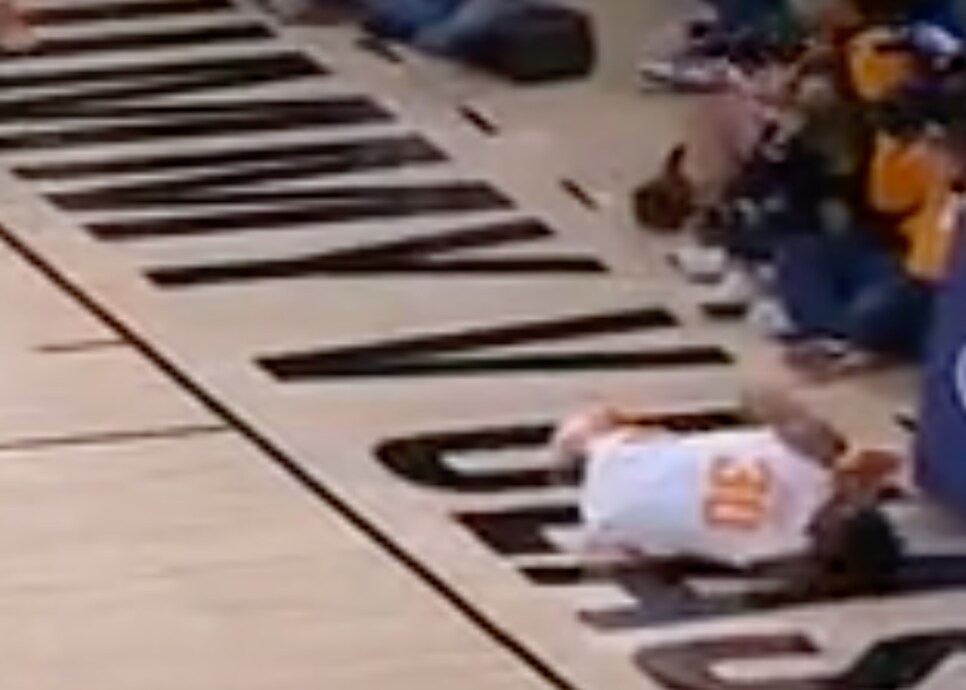 Hmmm, fake an injury and avoid the shame or get back on defense? Ultimately, James got back on defense, and he wound up playing a key role in the remainder of the second half, hitting a late three that sent the game into overtime. So he's doing just fine, folks. The Vols, however, lost the game 57-52 in OT, and should probably flush the tape so no one ever has to see it again.