News
Team USA leads after Day 1 of Curtis Cup, but GB&I doesn't intend to make it easy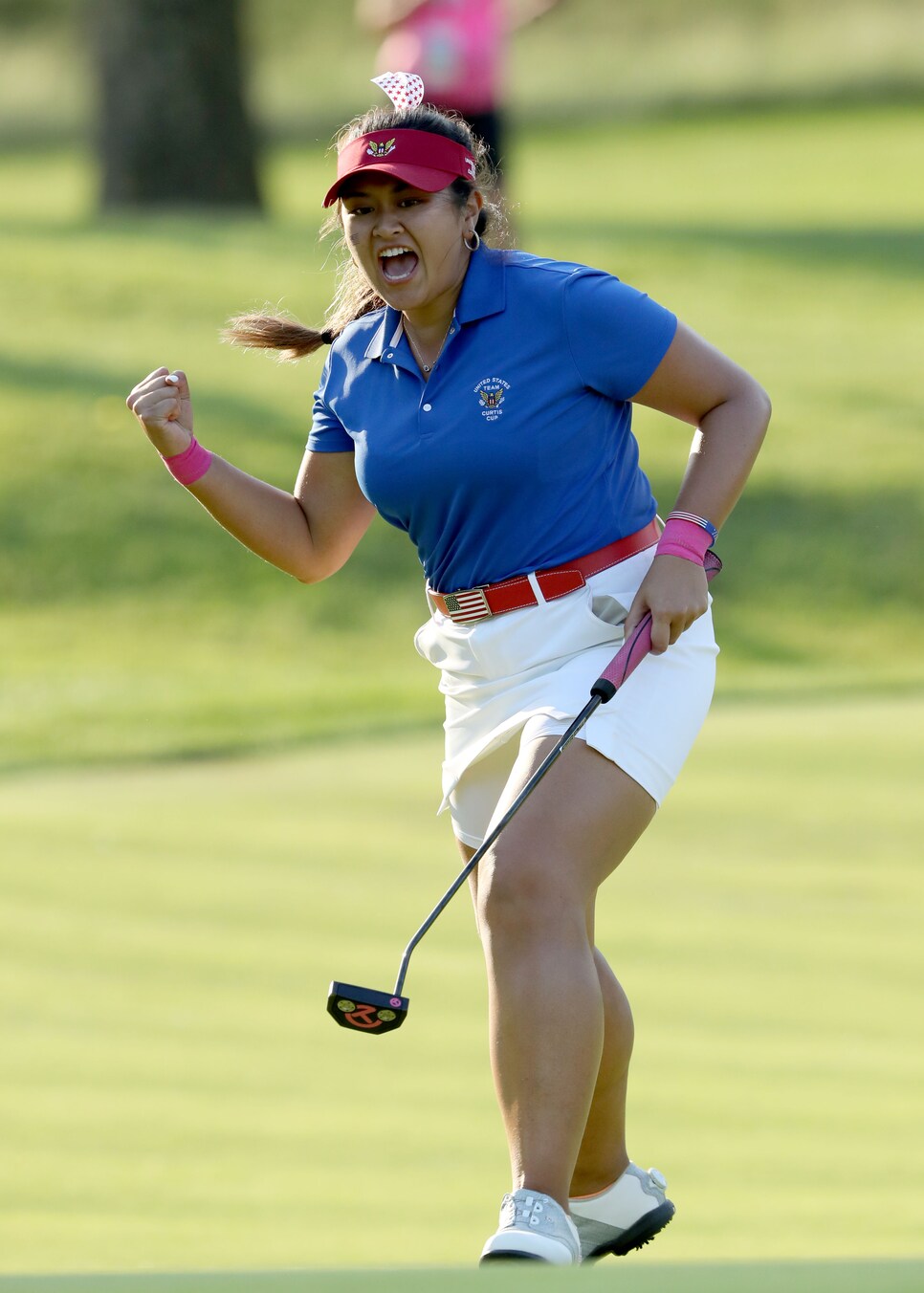 SCARSDALE, N.Y. — A heavily favored Team USA took an early lead, 4-2, over Great Britain and Ireland (GB&I) after the first day of the competition at the 40th Curtis Cup. Although GB&I won in its last matchup in 2016, the U.S. lineup is now significantly stronger on paper for this edition of the biennial match and, for one day at least, it showed.
Kristen Gillman led the charge for the USA at Quaker Ridge Golf Club, winning both her matches. In the morning, she and World Amateur Golf's No. 1-ranked Lilia Vu defeated Alice Hewson and Lily May Humphreys in four-ball play. Gillman and Vu posted eight birdies and no bogeys in their 4-and-3 victory, helping lead the Americans to an early 2-1 advantage. Gillman sealed the match on No. 15 with a flawless 15-foot downhill birdie putt.
Vu and Gillman's strategy was for the first player to putt to go for par and the second for birdie.
"It allowed us to hit our putts fearlessly," Gillman said. "I think that really helped us today."
During her afternoon foursome matches, Gillman teamed with fellow Alabama teammate Lauren Stephenson to win the anchor match against GB&I's Paula Grant and Humphreys. The match was all square through 10 holes, after which Gillman and Stephenson ran away with it, winning four of the final six holes, ending the match 4 and 3 on the 16th hole.
U.S. captain Virginia Derby Grimes, a former player and women's golf coach at Auburn, admitted she even yelled "Roll Tide" to Stephenson and Gillman before they teed off.
Stephenson, Gillman and the rest of the 'Bama squad are coming off a runner-up finish to Arizona in the NCAA Championships a few weeks ago.
Gillman will try to build off her Day 1 momentum on Saturday as she and Jennifer Kupcho face off in the opening four-ball match in the morning against Olivia Mehaffey (who plays college golf at Arizona State) and partner Sophie Lamb.
It isn't likely to be an easy match for Kupcho and Gillman, ranked No. 2 and 8 in the World Amateur Golf Rankings, respectively. GB&I's Mehaffey and Lamb proved a dynamic duo playing together in both the morning and afternoon on Friday. The two came back from a 3-down deficit through 12 to halve the match their morning match. Recognizing the strength of the pairing, GB&I captain Elaine Farquharson-Black kept them together for the first foursome match of Friday afternoon. Mehaffey, a Curtis Cup veteran from 2016, and Lamb won the match, 3 and 2, against the USA's Mariel Galdiano and Andrea Lee.
Mehaffey of Northern Ireland, the highest-ranked player on the GB&I team at No. 16, showed momentum can outweigh rankings when it comes to match play. Rankings-wise, USA has the upper hand, with all eight players within the top 22 of the World Amateur Golf Ranking while all eight GB&I are ranked No. 33 or higher—with the exception of Mehaffey, who isn't concerned with how the teams match up on paper.
"Two years ago USA had every single player in the top-20 in the world, and we managed to win then," Mehaffey said. "If you get fired up and you really thrive off match play, I don't really feel like ranking plays a part."
Mehaffey is one of the five players from both teams coming off playing at the U.S. Women's Open. Mehaffey missed the cut, along with USA's Lee and Sophia Shubert, while Gillman finished T-27 and 15-year-old Lucy Li finished T-55.
Grimes gave Gillman and Li the option to fly in anytime Monday, but they chose the first flight in to meet the team at an outing in Manhattan. The two transitioned nicely into match play with Gillman's 2-0 and Li securing a half point in her morning four-ball match with Kupcho.
Saturday four-ball matches are set to start at 9:25 a.m (EDT), television coverage begins at 11:30 a.m on FS1. The foursome matches will also be broadcasted on FS1 from 5 to 8 p.m.