News
Team USA holds a dominating lead, 9-3, into Sunday's singles in the Curtis Cup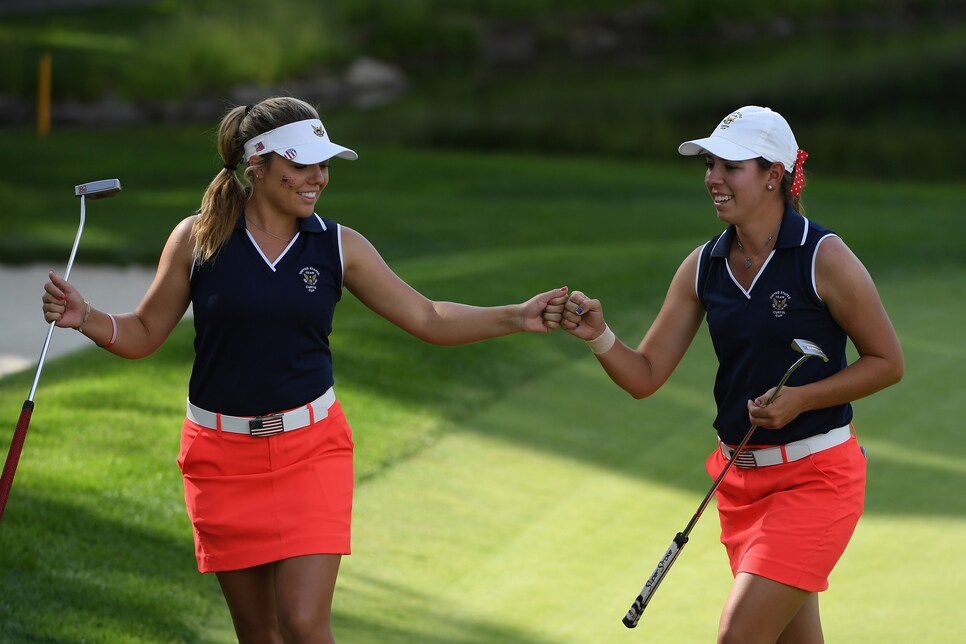 SCARSDALE, N.Y. -- After the first matches, the Curtis Cup looked like it might be a tight competition. Two matches were halved and the U.S. won one, leaving Team USA up 2-1. But then on Friday afternoon, the momentum shifted and the Americans began to dominate. At the end of day one, it was 4-2 U.S.
At the end of day two, the U.S. had increased that lead to 9-3.
The dominance was predicted by many. Looking at the teams on paper, Team USA has the clear advantage, with six players in the top 10 of the World Amateur Golf Ranking. Team Great Britain and Ireland has just one player in the top 20.
When looking at a team with so many dominant indivudal players, the only question was: Can they play as a team? Team USA has answered that question with a resounding yes.
Both teams have quickly acclimated to the group dynamic of the Curtis Cup. The positive energy is palpable. Getting to play with a partner on both of the first two days has only added to the encouraging, team-centric vibe. But on Sunday, the final day, things are going to be different.
The Curtis Cup requires an unusual level of agility from players. They have to shift between three formats: four-ball, foursomes and then individual -- each of which challenge players in a different way. Being able to adjust from format to format to format is a challenge in and of itself. After two days of having a teammate, every player at the Curtis Cup will have to play her own ball.
Yett both sides say they are prepared.
"It's going to be different tomorrow because you don't have a teammate to rely on. You have a partner in case you mess up in better ball and then in foursomes you have someone there reading your putt," said Alice Hewson of England. "It's going to be really different, but it's more what we're used to."
The players felt that the other formats, though fun because they involve teammates, have helped them build individual confidence as they shift back into an independent mindset.
"In alternate shot, you have to work so much with your partner, you have to strategize," said Lauren Stephenson. "Sometimes it's hard to rely so much on someone else, but then it's also fun. You have to hit good shots in alternate shot, and put yourself in the right places. If you can play alternate shot, you can play on your own."
The Great Britain and Ireland team has a huge task tomorrow. If it were somehow able to keep the Americans from scoring the 1.5 points they need for a win, and get to the 10 points it needs to retain the cup, it'd be an astounding and historic victory, one that looks doubtful at this point. But it is going to go out onto Quaker Ridge G.C. and do the only thing they can control.
"We just need to go out and carry on attacking," said Hewson.