There's a piece of Sand Hills in every course Bill Coore builds.
How could there not be? Sand Hills was the closest thing modern course design has had to the Big Bang. The idea of building a golf course in an extreme, rural section of northwest Nebraska where livestock outnumbers humans, hundreds of miles from any significant metroplex, would have previously been considered disastrous (it was the idea, insane as it was, of owner Dick Youngscap). To then apply an architectural practice that was not architectural—that is, simply discovering holes in the myriad dune movements of the sweeping sand hills rather than constructing them as Coore and design partner Ben Crenshaw did—was radical.
By some estimates only 4,000 cubic yards of sand were displaced: Essentially bunkers were gorged, greens were shaped and irrigation was installed—that's it. To predict, in 1995, that people from around the country would sign up for memberships, and that countless others would make, or request to make, the long, strange voyage to a needle-in-a-haystack site near Mullen, Neb. was incomprehensible.
Sand Hills, No. 10 on the latest ranking of America's 100 Greatest Courses, was one of Coore and Crenshaw's first 18-hole designs, and it changed the contours of modern architecture at the highest levels. Coore spent months walking and studying the site to determine the best way to arrange the course on a vast property that had an infinite number of routing combinations.
The naturalness of the holes and the way they connected to the land rekindled an appreciation for more organic forms of golf, as well as for playing the ball along the ground and non-engineered expressions of design. The success of Sand Hills as an aspiration showed developers that if the site was great and the architecture was outstanding, they could build golf anywhere and people would travel. Few courses have ever been as transformational.
Watch Golf Digest's latest "Every Hole At" course videos below:
Another reason it's hard for Coore not to contemplate Sand Hills is because he's constantly asked about it, and specifically how each great property he's worked on compares.
That topic is relatable to one of the courses he's currently building, the South Course at Te Arai Links on the east coast of New Zealand about 60 miles north of Auckland, scheduled to open in October 2022. Like Sand Hills, it's a site of virtually unlimited potential, pure sand with dunes and gorgeous natural movement—as Coore puts it, "it's highly, highly gifted for golf."
"It's one of those extraordinary sites where, if you're in the golf business, you could only wish for," he says. "Obviously, Ben and I have been so fortunate through the years to get truly special sites to work with, and this is without question one of them."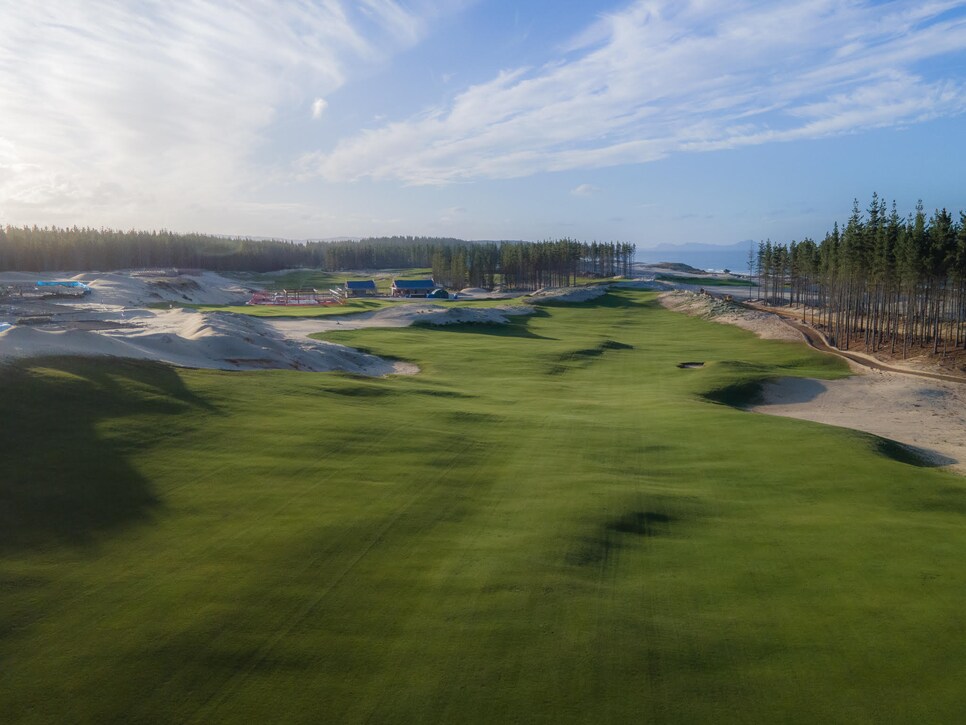 The view looking back toward the first tee at Te Arai (South).
Ricky Robinson
Te Arai (pronounced similar to "T-R-E") is being developed by a group of investors led by Richard Kayne, founder of nearby Tara Iti, the Tom Doak-designed private course that's ranked No. 2 on Golf Digest's World's 100 Greatest (non-U.S.) Courses list, and Jim Rohrstaff, a golf-industry veteran and Michigan native who relocated his family to Auckland. They are now New Zealand citizens.
The investment group originally purchased approximately seven miles of coastland in 2012, and the ascent of Tara Iti, which they built on the north end of the roughly 3,400-acre property, prompted Kayne and Rohrstaff to explore new opportunities for golf in that landscape. The result is Te Arai Links, a resort club located on the property's south end that will have two 18-hole courses, as well as restaurants, suites, cottages and villas. There will be a membership component, but the courses will alternate between private and public tee times on different days. Doak will begin building the North Course in January 2022; Coore broke ground on the South course last fall.
Like Sand Hills, it's scarcely possible for someone who plays the game to look at the property and not see golf.
"We talk about it all the time—this is what God meant by golf land," says Rohrstaff, who oversees the day-to-day development of the project. "It is absolutely pristine, sand-based land on the Pacific Ocean, with good weather and great topography. It's not like it's coming off the fore-dune and then it's flat."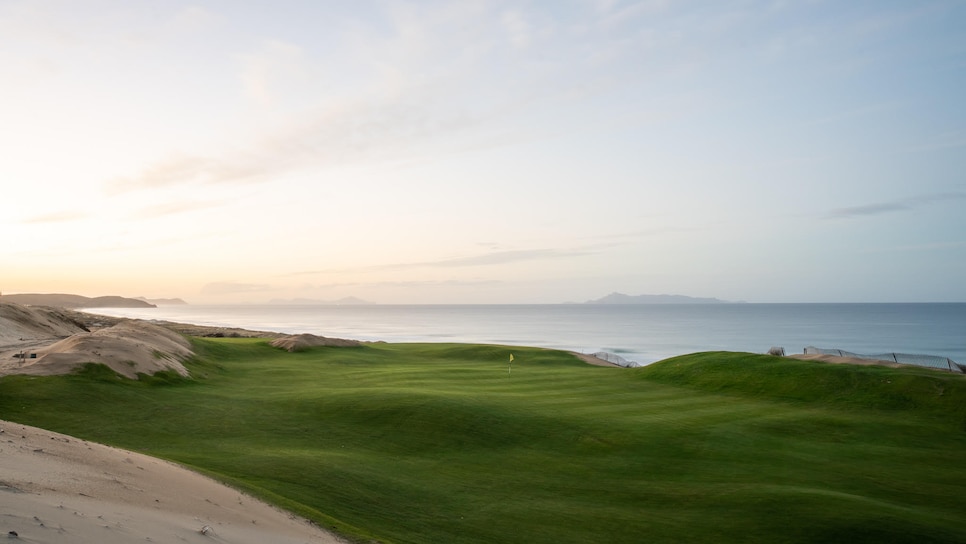 The South course's sixth hole.
Ricky Robinson
Kayne and Rohrstaff offered Coore the first look at the roughly 600 acres dedicated to the development. Most of the land was covered in pine trees that had been planted years ago, and the more exposed areas near shore were littered with small, springy weed-like pines and other scrub and debris. It still wasn't difficult to envision something spectacular.
Coore walked the property repeatedly, as is his custom, to find the most interesting features and combination of holes that might maximize the "gifted" terrain. The section he chose runs primarily parallel to the coastline between the water's edge and a large primary dune several hundred yards inland with the flow moving north and south. In the routing he assembled, all the holes but one, the par-4 Cape-like second, will have some view of the sea, and most look right down on it.
"Unlike classic links courses, where the closer you get to the ocean the less you see of it because the large dunes close to the beach hide the view," Coore says, "the dune formations at Te Arai cascade from high on down to the water, and you see the ocean from everywhere."
Getting over the high dune from the inland clubhouse setting where the South Course will begin was challenging—there were no natural gaps or ways to flank it as there was at Bandon Trails in Oregon, for instance, where the routing turns sharply around the corner of a steep ridge as it breaks between the sixth and seventh holes. At Te Arai Links, the routing punches through the ridge at the short par-4 third that plays toward the base of the dune, then rises sharply upward where Coore's two primary shapers on the project, Riley Johns and John Hawker, carved out a punchbowl green, effectively creating passage. Players can lay up to the base of the hill and then pitch up to the green over the cornice, or swing away for the green from the tee. Coore says that anything that clears the high, front edge will rattle and roll around the bowl and likely end up on the green.
Another thrilling shot will be the drive on six. Coore found a prominent natural finger of the primary dune, perhaps 15 feet tall, that extended perpendicular toward the water. Johns and Hawker shaped a large Big Bertha bunker into the face of it—the terrifying but rewarding line of play on the drive is directly over the top. Such a strong heroic feature was too good not to utilize. But other parts of the course will be sublime, like the greens at the par-5 seventh and the par 3s at Nos. 5 and 8, which sit low and tie in with the natural grade.
"I remember different folks have talked about great sites, whether it's the Sand Hills or the Bandon sites, and about not just how special they've been but how much fun in must be to work on them," Coore says. "And there's no question it's a great deal of fun. But at the same time, sometimes the site is so good that you know if you don't create something that's extraordinary, you've failed. The potential of the site at Te Arai Links is so extreme that it carries with it a bit of stress and uncertainty. Which is not a bad thing."
Te Arai is in various stages of construction—several holes are completely shaped and grassed, some are being roughed in, and others remain basically ideas on paper. Coore hasn't been able to visit the property as much as he normally would due to New Zealand's travel restrictions and strict quarantine rules. That means that, while he's away for long periods of time, Johns and Hawker have taken on more prominent roles in the South Course assembly, not just creatively but also making important on-the-spot judgment calls.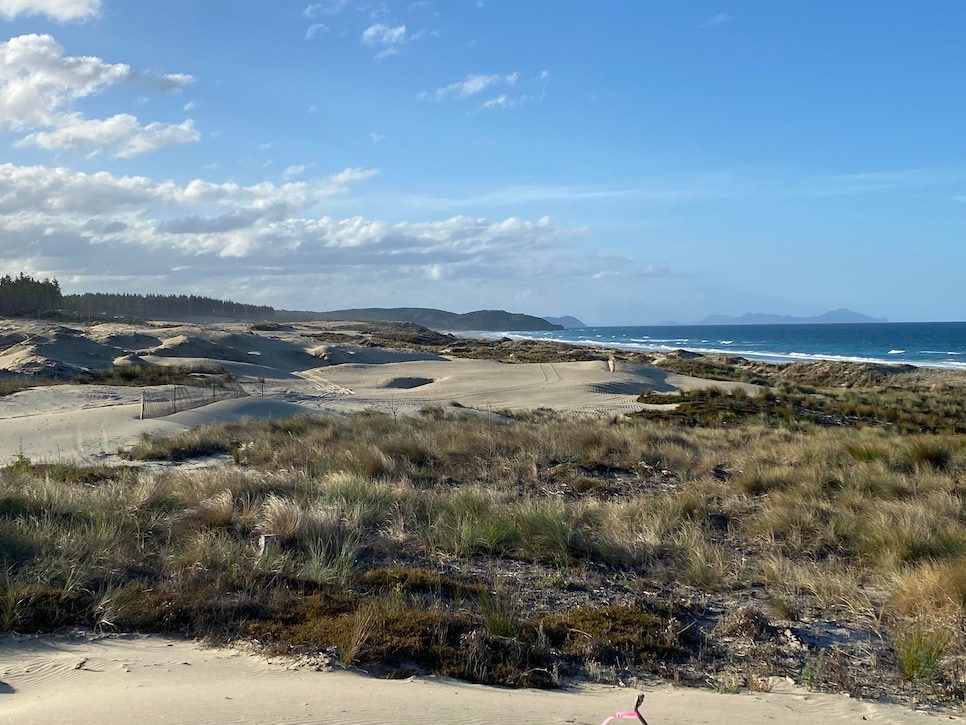 The soon-to-be par-3 eighth hole at Te Arai (South)—waiting to be grassed.
Ricky Robinson
"It's been for me, personally, an awkward yet fascinating thing to watch," Coore admits, noting he typically visits projects far more often than he's been able to get to Te Arai. "It's rewarding, but in a very different way than I'm used to. But it's still very, very rewarding," to see Johns and Hawker pull it off.
Having worked with Coore and Crenshaw, and alongside their veteran team of shapers, many of whom were once younger designers on the Sand Hills job like themselves, Johns and Hawker have enviable training and experience. "The golf course is going to be the beneficiary of their talent," Coore says.
The South Course at Te Arai Links will be the next remarkable, international golf darling. At one point not long ago it would have seemed an unlikely, if not a disastrous idea. But today it can occupy very real, established space in the golf world, embodying all the desires for old-time golf and travel and anticipation that Sand Hills resurrected when it opened over 25 years ago—timeless qualities that had nevertheless fallen dormant for a long period of time.
For Coore, it always goes back to the land.
"You can't help but go to a site like at Te Arai Links and not think about golf hundreds of years ago. If we're not careful the worst thing we can do is diminish it," he says. "We're trying to build a course that's at least equal to the site on which it's located."