Equipment
TaylorMade fires back hard (and humorously) against PXG in legal filings over iron patents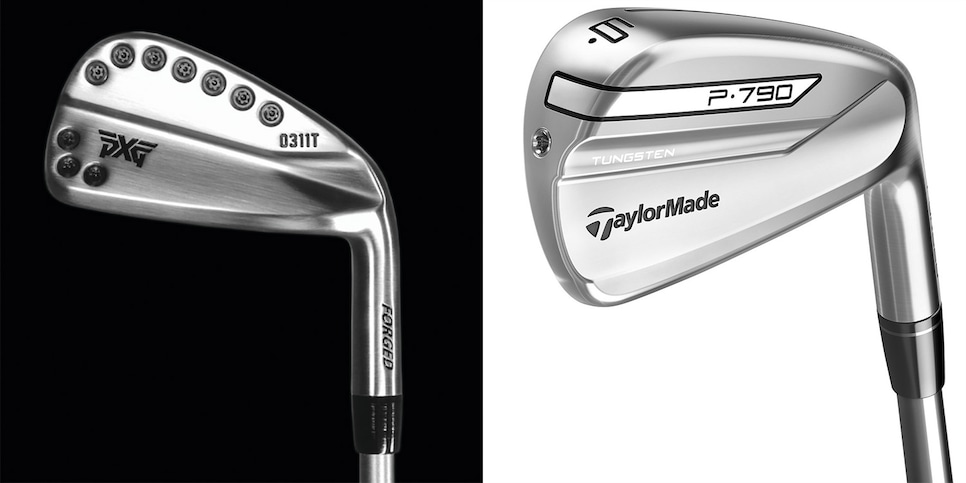 If you were wondering why PXG might have failed to win its request for a temporary restraining order banning the sale of TaylorMade's P790 irons, there are some powerful—and sort of funny—words from TaylorMade's recently released legal filings from last week that not surprisingly make the case the P790 irons do anything but infringe on PXG's patents.   In the lawsuit filed two weeks ago in U.S. District Court in Arizona, PXG asserts that the TaylorMade's irons violate eight PXG-held patents. The patents cover PXG's iron design concepts, which include a hollow design supported internally by an elastic polymer and featuring tungsten weight ports around the iron's perimeter. U.S. District Judge John J. Tuchi denied PXG's request for a temporary restraining order late last Friday, the first day the TaylorMade irons were at retail.   Some of the highlights of TaylorMade's 603-page response to PXG's argument for the TRO:   "...[A]lthough PXG peppers its brief with unsupported accusations of supposed copying by TaylorMade, there is zero evidence of copying. None. The accused product is so different from the patented invention that if, contrary to the facts, there had been any effort to copy, the effort failed miserably."
The TaylorMade response, filed by attorneys from Sterne, Kessler, Goldstein and Fox in Washington, D.C., and Beuss Gilbert in Phoenix, disputes PXG's patents as being valid in the first place, toting out this gem: "PXG describes the claimed hollow-bodied design filled with an elastic polymer, and perimeter weighting, as a 'eureka moment' in golf-iron design. That could have been a 'eureka moment' only for a golf-club designer who had been living in a cave for the past 25 years, for both (1) hollow-bodied designs filled with elastic polymers and (2) perimeter weighting have been well-known expedients in clubhead design for decades …"
TaylorMade's lawyers also cite a number of past clubs it calls "devastating items of prior art." ("Prior art" is a legal phrase in patent law referring to past public examples of products or ideas that pre-date an idea or product and dispute its claim of being an original idea.) TaylorMade's lawyers suggest they found past TaylorMade irons (R9 and RBladez Max) that feature hollow designs with perimeter weights "in just the less than 48 hours since it has had access to PXG's motion papers. The prior art thicket in this area is likely to yield yet more examples revealing that the claimed invention is neither new nor non-obvious."
Furthermore, TaylorMade's lawyers cite a company patent for an iron with "an enclosed cavity" and "a filler material" that was applied for initially in 2009 and issued in early 2012. (The PXG patents in question were granted between February 2015 and June 2017.)
A full transcript of last week's TRO hearing is not yet available, but a redacted version is expected to be released next month.
A PXG spokeswoman declined to comment on the TaylorMade's legal response.
Meanwhile, the hearing for PXG's request for a preliminary injunction against TaylorMade, originally scheduled for Nov. 14, is now a source of contention. PXG is requesting a delay for that hearing until Dec. 20-21 in part because Parsons is traveling internationally in November. PXG's lawyers, from Loeb and Loeb in Chicago and Jenning, Strouss & Salmon in Phoenix, also suggested a lack of full cooperation from TaylorMade. That includes a request from PXG for TaylorMade to provide "engineering and/or manufacturing specifications, final product design specification documentation, final 3D CAD files, etc." for the P970 irons. TaylorMade's lawyers claim PXG has been offered access to prior art clubs to examine on its own, but "PXG has not acted on this offer."
TaylorMade's lawyers responded that while they did not oppose the extension, they still preferred the November date because, in part, "PXG has not explained why it needs the additional information its seeks to establish infringement."
UPDATE: According to U.S. District Court documents filed this week, PXG withdrew its motion for a preliminary injunction against TaylorMade and its request was subsequently granted by Tuchi. This eliminates the questions of scheduling, of course, although it more likely means that PXG will focus on the main patent infringement case against TaylorMade rather than trying to prevent the sale of P790 irons. According to Arthur Gollwitzer III, a patent lawyer at Michael Best and Friedrich who recently was part of the legal team that was successful representing golf retailers in a patent infringement case, PXG may have been swinging for the fences with the initial strategy of a temporary restraining order and preliminary injunction. "Obtaining a TRO or even a preliminary injunction is very rare in a patent case," he wrote in an email to Golf World. "Now that the court denied the TRO, PXG probably has decided that preparing for and conducting a preliminary injunction hearing is not worth the trouble or expense, i.e., this TRO and injunction strategy was a pressure tactic. I suspect PXG knew this was a long shot strategy, like hitting the second shot over the water to the green in Tin Cup, but instead having the good sense to take a drop after it failed." In other words, PXG is removing the risk of losing a second argument for its position (after already losing at the hearing for the TRO). Since the patent case may be many months before it proceeds to trial, PXG will now have more time to prepare its case in the patent infringement argument. Of course, so will TaylorMade. As of Friday morning, PXG officials had not returned requests from Golf World for comment on their motion to withdraw the request for a preliminary injunction.
Stay tuned. This case is either going to get meaner or funnier or both.