PGA Tour
Taylor Moore comes from out of the pack to get his first PGA Tour win at Valspar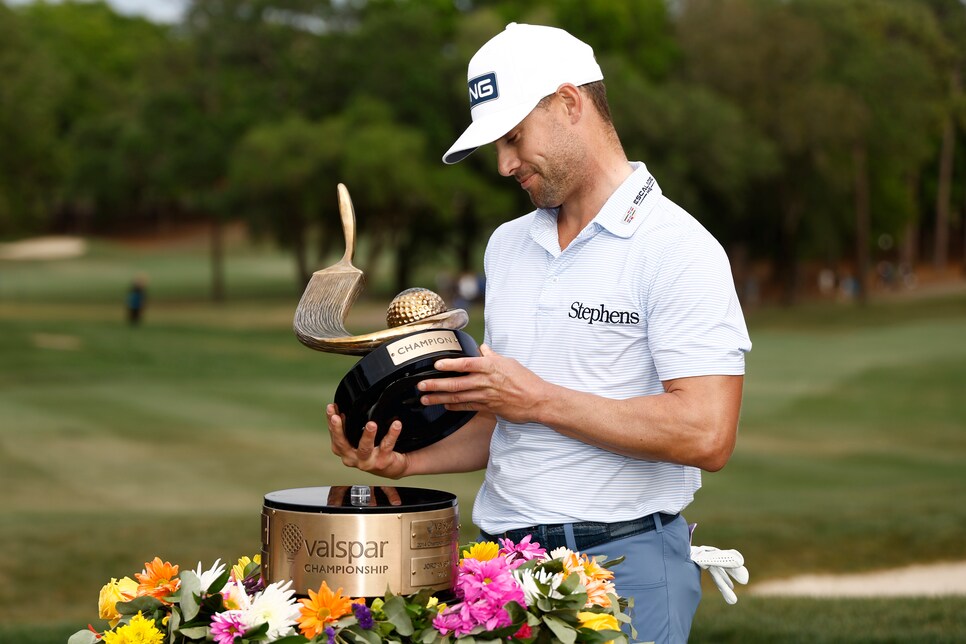 Taylor Moore celebrates with the trophy after winning the Valspar Championship.
Douglas P. DeFelice
Before the final round of the Valspar Championship on Sunday, Taylor Moore's name wouldn't have been on anybody's lips as the potential champion at the end of the day. He is a 29-year-old second-year PGA Tour player who lists in his bio that getting his first college win at Arkansas is his biggest thrill in golf.
The talk was about Jordan Spieth and Tommy Fleetwood and Webb Simpson, and even 54-hole leader Adam Schenk, who had quite the feel-good story in trying to secure his first PGA Tour win before his first child is born.
But in a back-nine thriller on so many fronts on the Copperhead Course at Innisbrook outside Tampa, Spieth and Schenk faltered, and Moore seized his first tour win by shooting a final-round four-under-par 67 to finish at 10 under. He claimed the $1.4 million first prize after earning $3 million over the first 45 events of his tour career.
"It's so cool; it's so awesome. It's what I worked for," said Moore, who birdied four of his last 10 holes, including 15 and 16. "I'm just really excited, not only for me, but for everybody around me."
Schenk, a 31-year-old who was playing in his 10th straight tournament ahead of the arrival of his baby, was one good tee shot on 18 from at least making par to stay at 10 under and force a playoff with Moore. But Schenk pulled his drive left and got the worst of breaks. His ball came to rest dead up against a tree.
After debating with his caddie about what to do, Schenk flipped his club over and hit left-handed—and he got another bad break when his well-played shot scooted through the fairway and into the rough. From there, Schenk's third shot came within a few feet of getting up onto the top shelf of the green, but the ball rolled back to 41 feet from the cup. Again, Schenk gave himself a chance, with his speeding ball hitting the cup before bouncing out.
Schenk did make the bogey putt to shoot 70 and finish at nine under, and when Spieth bogeyed 18, Schenk earned $882,900 for solo second.
"It stinks," Schenk said afterward. "I hit a really bad drive on the last hole. I toed it. Wish I could have lightly hit somebody and stayed where I had a chance to get to the green. But it did not, and I didn't deserve it. I had a chance with the wedge shot that came up short, and then I had a chance with the putt, which surprisingly actually hit the pin and came close.
"But it stinks to get so close, but great week all in all, so I can't really complain. [caddie] David [Cooke] and I did about as good as we could have done with how I hit it today. I didn't hit it quite as good. But very pleased."
Spieth, who closed with a 70 and finished tied for third with Fleetwood (70) again hit some spectacularly good and bad shots. There were both varieties on the par-4 16th hole, where Spieth drove into the water, laid up with his third, but then made an all-world bogey by draining a 14-foot putt.
The Texan then stirred the crowd by striping his tee shot on the par-3 17th to seven feet, but his miss was met with loud groans.
Spieth could still tie with a birdie at 18, but he missed the fairway and came up short of the flagstrick and three-putted for bogey.
He admitted that he thought Moore's run came out of thie blue.
"I thought it was me and Adam," he said. "I thought it was down to us two, and I thought I was maybe going to sneak a tie on 16, and Tommy—I don't know what he did on the end; But I guess [Moore] made a bunch of putts, got up-and-down from everywhere to finish."