Takeaways
RSM Classic leader Talor Gooch confident heading into weekend: 'When it's my time, I'm going to take it'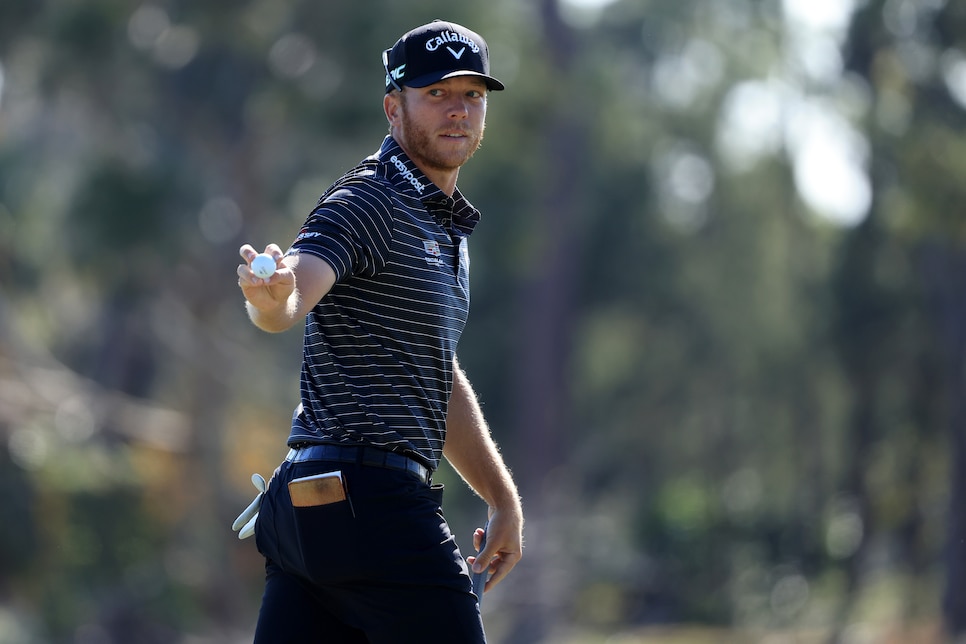 Talor Gooch waves to the crowd after a birdie on the 13th hole during the second round of The RSM Classic.
Sam Greenwood
During the PGA Tour's fall swing, no player has been running more pure than Talor Gooch. Of course, that comes with one tiny little asterisk—he hasn't won.
Considering the depth of talent on the modern PGA Tour, even in these end-of-the-year events, it's unfair to knock Gooch for that. He's had four top-11s in five starts this fall, two of those finishes coming inside the top five. In one of those events, the Fortinet Championship, he shot a 68 on Sunday, which was bested by Max Homa's final-round 65. In the other, the CJ Cup, Gooch carded a Sunday 62, which wasn't enough to catch Rory McIlroy, who closed with 66.
As Gooch found out on those two occasions—and numerous others in his previous four seasons on tour—timing is everything when it comes to winning.
"Guys like Justin Thomas and Tiger Woods and Jordan Spieth and all these guys that have won early and won often," Gooch explained, adding, "they've kind of put an expectation on a different level than what I think the average golfer understands out here. I know I'm going to win, I know I'm going to compete a lot and it's just a matter of when it's my time."
Perhaps his time is at this week's RSM Classic, which Gooch leads after shooting a second-round 65 in blustery conditions on the Seaside Course, which was playing nearly five strokes harder than it did in the first round. If that wasn't enough evidence it might be his week, a 66-footer for eagle at No. 7 certainly might be.
"Any 66-footer, you're just trying to two-putt, right," he said. "But my speed's been pretty good this week and I actually made about a 50-footer yesterday, so I've been comfortable on these greens from long distance. You're always stealing one when you get those to drop though."
It won't feel like he stole one should he go on to win this weekend. This has been building for quite some time for Gooch.
"I've been working my butt off for years, but especially the last six, eight months with driving the ball and working my butt off with putting," he said. "For my game, if I can get in the fairway, as simple as it sounds, if I can get in the fairway, it's just a matter of how many putts I'm going to make.
Confident, not cocky. And, more importantly, comfortable with where his game is at. "You just can't put a value on comfort," Gooch said, "and how much that will do for you.
"Like I said, I'm going to keep working, I'm going to keep getting ready so when it's my time, I'm going to take it and run with it."
Johnny question mark lives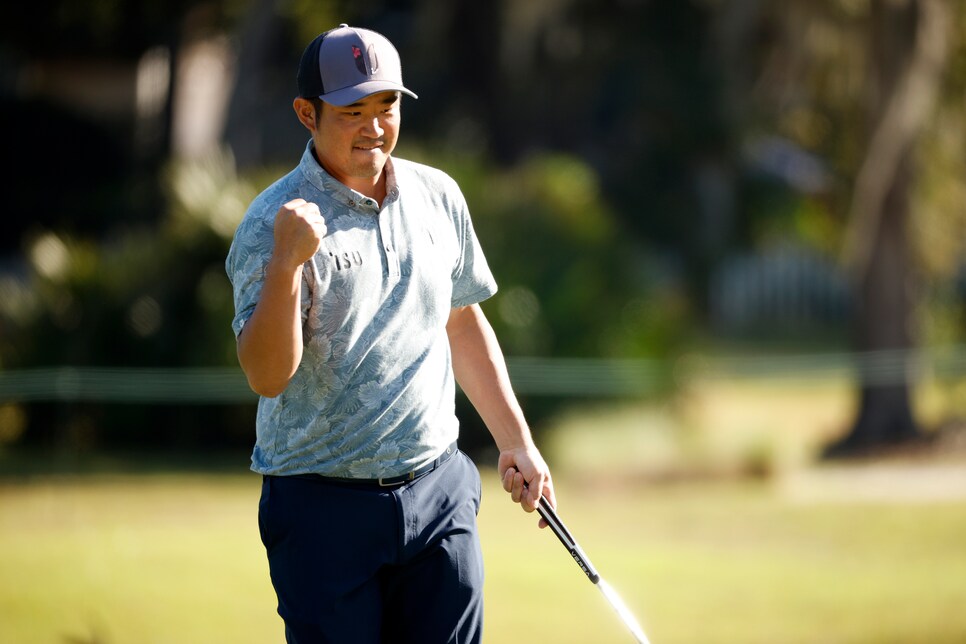 We are of course referring to John Huh, who was once dubbed "Johnny Question Mark" by former CBS analyst Gary McCord. That's right, folks, McCord was still on television back when Huh was at his peak.
The exact year of that peak was 2012, when Huh climbed from 549th in the world to as high as 62nd in just one season. Huh was 22 at the time and an apparent rising star who, in the first five events of his rookie season, tied for sixth at the Farmers Insurance Open, tied for 12th at the Waste Management Phoenix Open and won the Mayakoba Golf Classic. Later that season he added a T-2 at Valero, a T-5 at Colonial and collected six other top-25 finishes. Not only did Huh reach the Tour Championship, he was named rookie of the year.
Outside of a solid sophomore season, every year since has been leaner than the last for Huh. Now 31, he's ranked 323rd in the world, and had fallen to as low as 896th in 2020. It was in this event last year, though, where Huh began to show a pulse, tying for 12th in the 2020 RSM Classic and backing it up with a T-20 at Mayakoba the next week. The early part of 2021 was less kind, but he's come on strong over the last few months, finishing in solo seventh at the Korn Ferry Tour Championship and tying for 15th at Mayakoba two weeks ago.
This comeback of sorts might culminate on St. Simons Island this week, as Huh sits just one shot back of Gooch at 12 under, having shot rounds of 63 (Seaside) and 67 (Plantation). How has he managed to turn it around so quickly? By not being too fancy, it sounds.
"Just basic stuff, alignment, grip, make sure I shorten my swing a little bit," Huh said. "Which I think is really helpful for me so I don't lose balance. Just like to stick with that next two days, it will be fun."
Somewhere, Gary McCord is shouting "Johnny Question Mark lives!" to no one in particular.
An ace? In those winds? On that hole?
Taylor Moore answered YES, emphatically, to all of the above:
The best part was this was no back-of-the-pack hole-in-one. This got Moore to nine under for the tournament, and his back-nine bogey-free 33 on the Seaside Course puts him at 11 under through 36 holes. That's just two behind Gooch, also known as legitimate contention, which will be somewhat foreign to Moore, at least on the PGA Tour. The 28-year-old did have a win and three top-three finishes on the Korn Ferry Tour last season, so he's no stranger to the big moment. On the bigger tour, though, it'll feel a little bit different.
Don't hate this move at all. Got to feel weird for these guys to walk to a par 3 green without a putter or a wedge in their hand, so if this made him feel more comfortable on the walk up, then we endorse.
Respect to Max Homa for calling his shot
Homa won't be around for the weekend, as he missed the cut by three shots. He had a chance to make it on the number on his final hole, the par-4 ninth, though. All he needed to do was hole out for eagle, and he gave it his best effort. After striking a pure iron shot heading directly toward the flag, Homa attempted to will it in, yelling "GO IN!"
Narrator: It did not go in.
Yeah, not quite. It is his birthday, so you'll have to forgive him for thinking the golf gods might have thrown him a bone here. All credit to him for not telling anybody it was his birthday, by the way:
Happy 31st to Max, who has no work this weekend and should celebrate accordingly on Friday night.