LIV Golf
LIV Golf Adelaide turns into runaway as Talor Gooch takes 10-shot lead after 36 holes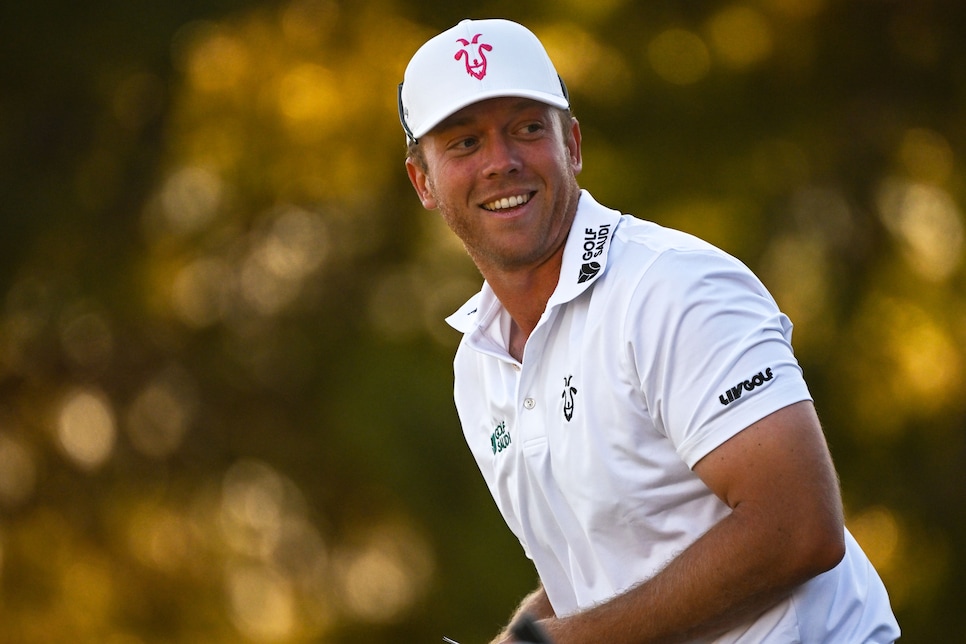 Eighteen birdies, one eagle and not a single bogey. That's how Talor Gooch built a 10-shot lead through 36 holes at LIV Golf's highly anticipated Australian event.
In front of 23,000-strong crowd in Adelaide, the Oklahoma State alum and one-time PGA Tour winner signed for his second-straight 62 at The Grange G.C. to sit at 20 under par heading into the 54-hole event's final day.
Gooch is a whopping 10 shots ahead of a six-way tie for second that includes Masters runner-up Brooks Koepka (65), Louis Oosthuizen and Charl Schwartzel. Local favorite Cam Smith (66) was a further stroke back and in a tie for eighth at nine under par with a group that included Phil Mickelson (65), who tied Koepka for second at Augusta National two weeks ago.
Koepka, who triumphed at LIV's Orlando event the week before he threatened to win a fifth major at the Masters, waved the white flag on Saturday night.
"I don't think anybody is catching him," Koepka said of Gooch. Smith, the reigning Open champion, agreed. "I think [Gooch] would have to help us out a little bit, which I don't really wish on anyone," Smith said. Added Oosthuizen, who like Smith has won an Open Championship at St. Andrews: "To shoot 10-unders in a row around this track is unheard of."
At 6,900 yards, The Grange is short by professional golf standards, but its defences are the myriad doglegs, strong bunkering and slick greens. None of which has been a problem for Gooch, who is chasing his first win since taking out the PGA Tour's RSM Classic in the fall of 2021. Gooch has only missed three fairways and one green in regulation over two days.

"Everything is just going my way," Gooch said modestly. "I'm hitting the ball where I want it to go."
As for putting, Gooch said he had leaned heavily on his Australian caddie, Mal Baker, who has played plenty of golf around The Grange.
"He's been great on the greens," Gooch said. "I'm relying on him more on reading the greens this week than in general because of his knowledge and his comfort here."
It is Gooch's third 36-hole lead in 11 LIV events. He finished sixth and 11th on those occasions. But the World No. 57 said he had learned plenty on how to close from those failures.
"I know I don't have to have my best stuff to win," Gooch, who finished T-34 at the Masters recently, said. "Fortunately, these first couple days I think I've had some of my best stuff. But winning in professional golf, any level on any tour is really hard. I think the thing I can take away from those other opportunities is tomorrow is not given. I've still got to go play good golf, and not only for myself but especially for the team."
So how will Gooch sleep on a 10-shot lead when a $4 million payday is in sights? With the assistance of a little red wine from the nearby Barossa Valley wine country.
"I went and did a little wine tasting Tuesday, and I've got a couple bottles of wine," he said. "We had one last night, so probably going to have another one tonight. Yeah, I'll go get a light workout in after this and then I'm going to go have dinner with a couple people and open a little bit of some Torbreck [winemaker Torbreck Vintners] and then go get some sleep, do the same thing."