News
Talor Gooch gets relief ruling after coming a little too close to an alligator at TPC Louisiana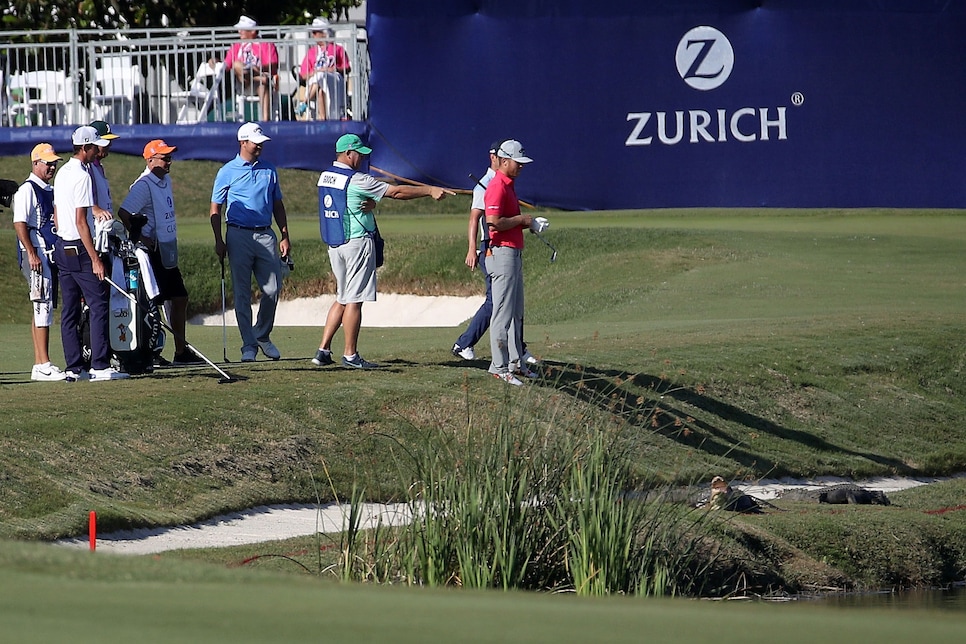 Chris Graythen/Getty Images
Talor Gooch doesn't need us to defend him or the actions from Thursday at the Zurich Classic of New Orleans. Even so, we're here to tell the 27-year-old that we stand firmly behind him and his decision to invoke a rarely used free-relief option when faced with the ultimate hazard at TPC Louisiana.
Gooch, teaming with Valero Texas Open winner Andrew Landry at this week's PGA Tour event, had hit his second shot on the par-5 18th hole, only to see his ball land in a bunker roughly 70 yards from the hole along water that lines the right side of the hole. Once he got to his ball, he noticed three alligators along the edge of the water. No, the gators weren't actually in the bunker, but they were plenty close.
"They weren't happy with us," Gooch said.
While Gooch's odds were better, he still didn't like what he saw, so he called in a PGA Tour rules official, Steve Carman, to ask about getting relief under Decision 1-4/10 that deals with playing a ball from a situation "dangerous" to a player. Carman first tried to scare the remaining gator as well, both with a bunker rake and umbrella. When that didn't work, he relented and allowed Gooch to take the drop, still in the bunker but 10 yards farther away.
"The third one was eating the rake, basically, so we decided that we would not take the chance," Gooch said.
Gooch wasn't exactly exaggerating.
Taking a drop in the bunker didn't produce the best lie for Gooch, who hit his third just shy of the green, chipping up to seven feet and making his par. But he walked away a survivor, finishing the day a combined six-under 66 with Landry in the four-ball format.
Said Gooch: "I like my life. I like it with all my limbs. So I stay away from those things."
Heck yeah, you do! We don't care what John Peterson or Cody Gribble have done in the past. We're with you, Talor. Stay away from these guys at all costs. We don't want another Chubbs Peterson situation on our hands.