News
Talented rookie Sam Horsfield hopes the BMW PGA is the week he finally plays up to expectations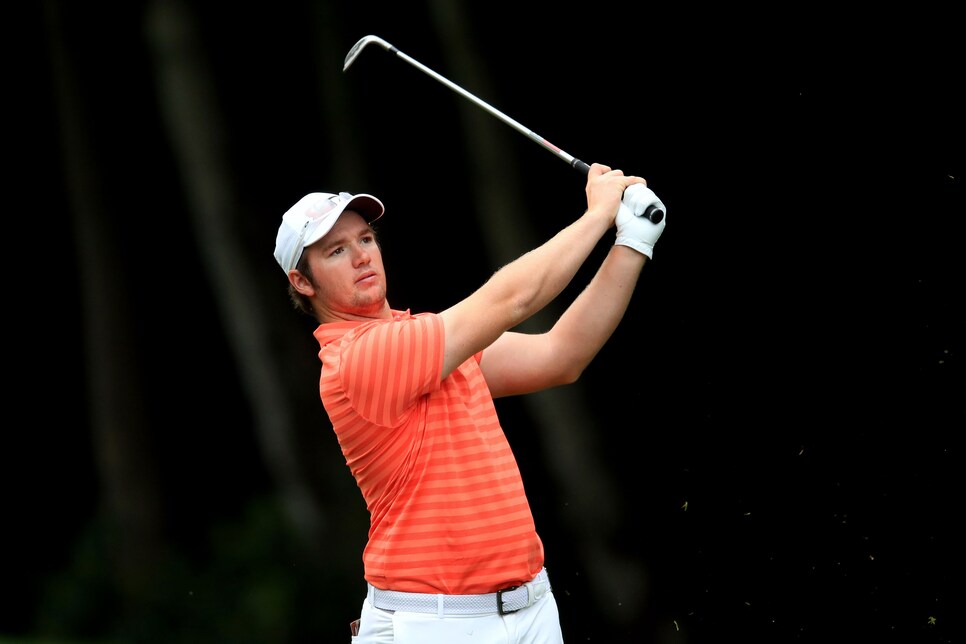 VIRGINIA WATER, England — The European Tour didn't get his surname right on the caddie bib—an extra 'e' intruding in the middle—but not much else went wrong for Sam Horsfield on Friday at the BMW PGA Championship. The Englishman with the strong American accent (his family emigrated to Florida when Sam was 5) added a bogey-free 68 at Wentworth to his opening 67 to reach nine under par and take on the role of nearest challenger to leader Rory McIlroy. Midway through the afternoon, Horsfield was the only man within five shots of the Northern Irishman.
It was a strong performance from the 21-year-old who won the European Tour's Qualifying School by a yawning eight shots last November. Playing partner David Drysdale was certainly impressed. "Sam played great," said the Scot. "He has a great all-round game and, I would think, a big future."
Drysdale is far from Horsfield's only admirer though. But his biggest fan is undoubtedly Ian Poulter. The pair were first introduced when Horsfield was only "13 or 14," since when Poulter has been a huge supporter of his young protege. Most famously, the Ryder Cup star called a then 14-year-old Horsfield "the best young golfer I've ever played with."
"Ian has said some great things about me, so it is nice to be living up to at least some of them," Horsfield said. "It's great to have him in my corner and he has been a great influence on me. He's helped me a lot in getting used to life on tour, on and off the course.
"I've had a few wobbly results. But it is all about learning. Every week I feel like I'm playing on different grasses and in different conditions. Growing up in Florida, I didn't see much other than Bermuda. This week is a lot like an America course though. With all the big pine trees you could put it in North Carolina or Georgia."
In his rookie year on the European Tour, Horsfield has had mixed success. In 13 starts, he has missed eight cuts, but also recorded a second at the Tshwane Open in April and a fourth at the Super 6 in Australia in February, leaving him 57th in the Race to Dubai.
How Horsfield will fare over the weekend remains to be seen, but until he wins on the European Tour he will remain most famous in the land of his birth for his late withdrawal from the 2015 Great Britain & Ireland Walker Cup side.
"The Walker Cup thing does come up a lot," he said with a smile. "But I had just started at the University of Florida. Playing in the Walker Cup would have meant missing a few college events. It's a great event, but I felt like it was right to commit myself to my new teammates. Playing at Royal Lytham just wasn't the best decision for me. Plus, GB&I won anyway."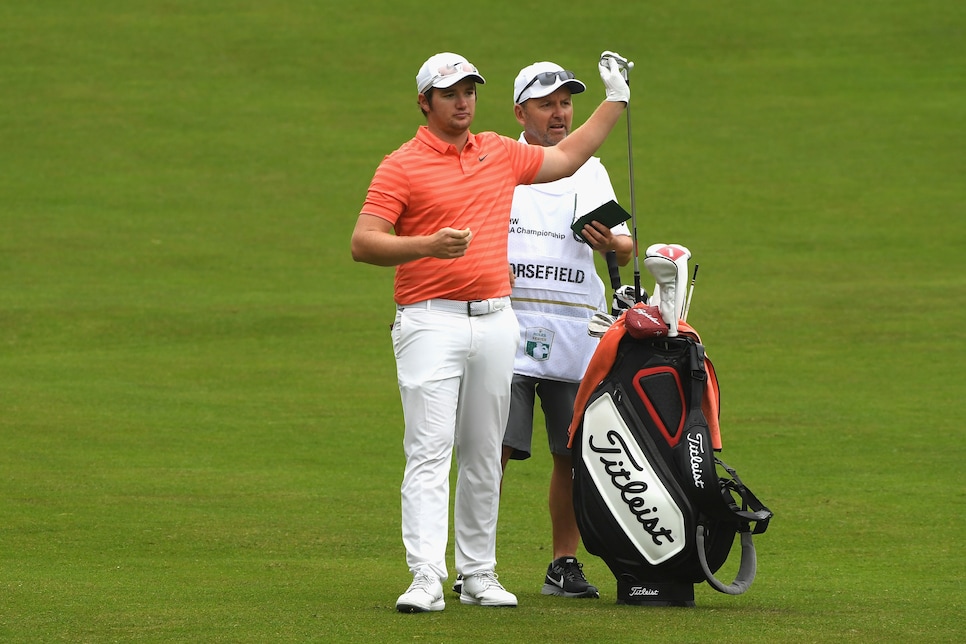 Ross Kinnaird/Getty Images
There will be no such worries if Horsfield progresses as so many expect. There is apparently no doubt about who he will play for in the Ryder Cup.
"I do feel English," he said. "It's nice to play over here. I've had a lot of support. There has never been a question of who I would play for in the Ryder Cup. I had other options last year before I went to the European Q-school. I played six PGA Tour events last summer. I could have gone to the Web.com Q school or Europe. The second dates clashed, and when I got through the first stage here I kept going. And it has worked out. It is one of the best decisions I've ever made. Coming here has made me a better player, a more rounded player."
Those qualities will come in handy over a weekend in which Horsfield will be attempting to run down one of golf's premier front-runners in McIlroy.
"To be alongside Rory tomorrow would be cool," Horsfield said. "But at the end of the day it's just golf. Playing with him on the weekend normally means you are doing pretty well. Whatever happens, I'm looking forward to the next couple of days."