News
Bogey-free 65 from Rory McIlroy has him taking command of the BMW PGA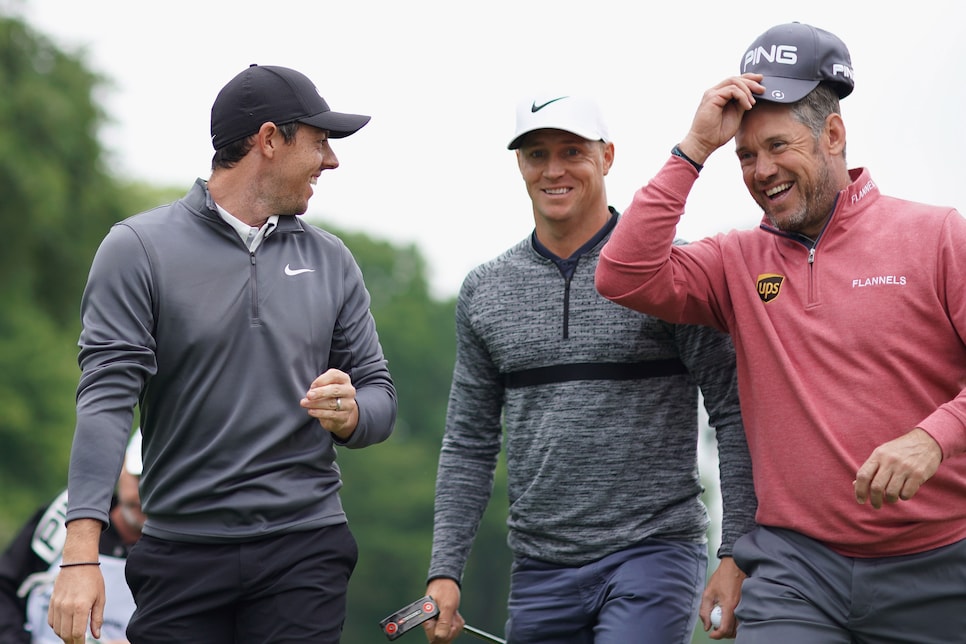 Richard Heathcote/Getty Images
VIRGINIA WATER, England — They formed quite the threesome. Not once on day two of the BMW PGA Championship at Wentworth did Lee Westwood, Alex Noren or Rory McIlroy drop a shot to par, between them making 14 birdies. Half of those were compiled by McIlroy, the undoubted star of this already distinguished show. Even with most of the field still to complete their second trips round the "Burma Road," the Northern Irishman's 12-under 132 looked a strong contender to claim the halfway lead.
It could have been lower too. McIlroy, the highest-ranked player in the field, hit great shots into the first three greens only to miss the resulting putts. Then, for the second day in succession, the four-time major champion failed to birdie either of the closing par 5s.
"I just told myself to stay patient," said McIlroy, who won the European Tour's flagship event four years ago. "The fourth is an easy par 5 and an obvious birdie chance. And there would be more of those coming up. Plus, it was very early in the tournament. There was no point in getting impatient or upset after only 21 holes. Happily, I took advantage of a few of the chances that came my way later."
That he did, the highlight being the four birdies in succession McIlroy reeled off from the 12th. Little wonder he was almost purring with contentment by the close, even if, after pushing his second shot to the final green into a plugged lie, he failed to get up-and-down for what would have been his eighth birdie of the day. Instead he had to settle for a 65.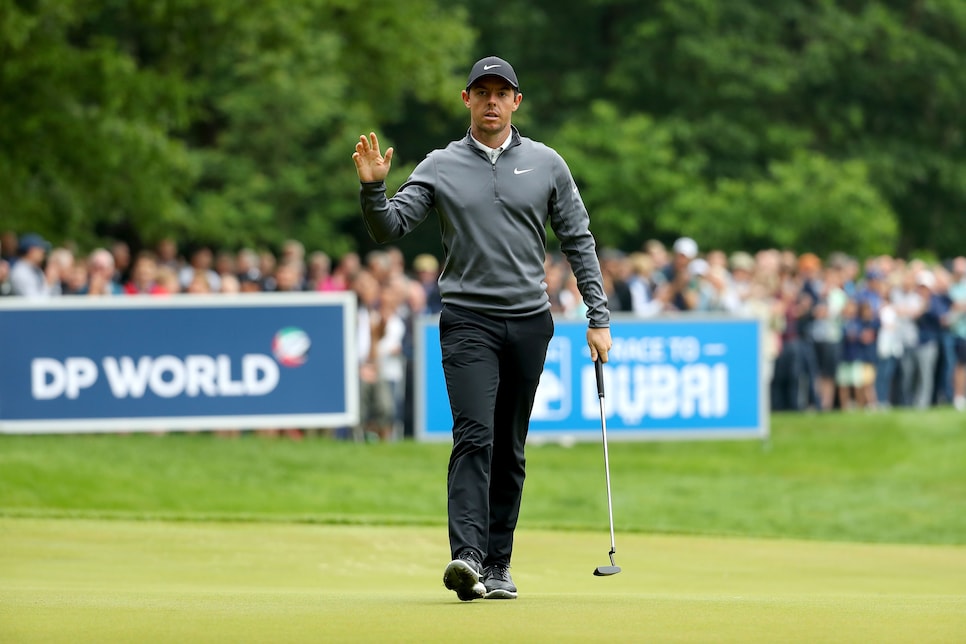 Warren Little/Getty Images
"I think I only missed one green, and that by not a lot," he said. "It was one of the best rounds of golf I've played this year, ball-striking-wise. There were still a couple of loose shots in there, like the one on 18. But overall it was a great round of golf. I had everything firing today. We all did."
Apart from the majestic display of ball-striking for which McIlroy is rightly renowned, Noren called it "the best round I've ever seen."
"I'm about to quit golf I think," Noren said. "I don't think I've ever seen anything like that. It's just shot after shot after shot."
McIlroy's play was marked by a sureness on the greens that has sometimes been lacking this year. Recently spilt from coach Phil Kenyon, he is going it alone—apart from occasional chats with former PGA Tour player Brad Faxon—as far as his putting is concerned.
"I work with Michael Bannon on my swing, but because we have worked so long together, it feels like 'my' swing," McIlroy says. "I have total ownership of it. But I've never had that same feeling with my putting stroke, whether with Phil or [former PGA champion] Dave Stockton. I've never had total ownership of my stroke. I liked working with Dave because he had been there and done it. And chatting with Brad is great. He was one of the best putters on tour. It's more a mind thing. There are so many different ways to putt the ball. So for me it is about getting clear mentally. Once I am in that space, I can hole putts."