News
Wolff, DeChambeau set for another battle and four other takeaways from Day 3 at the Rocket Mortgage Classic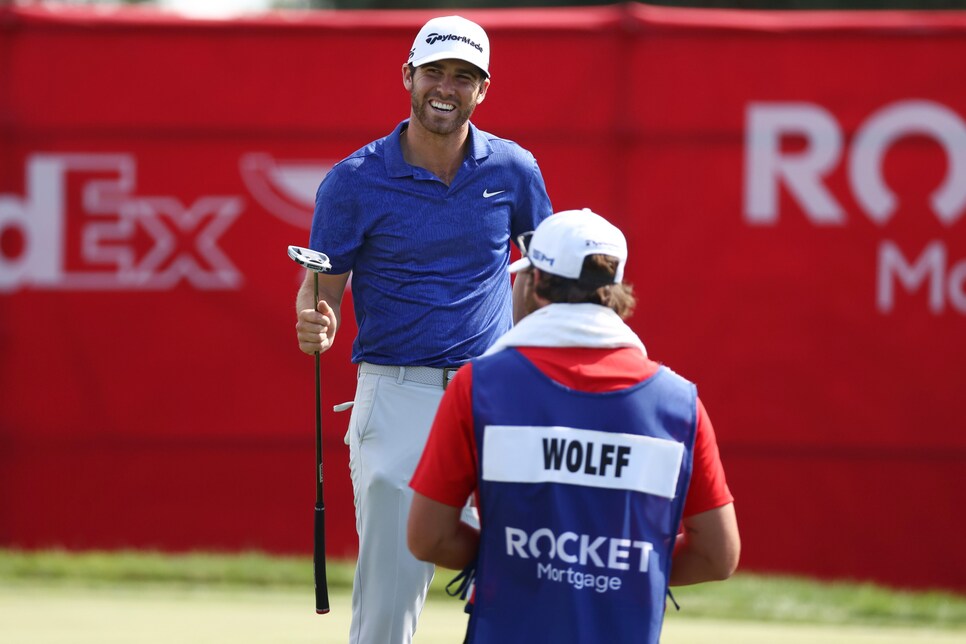 Matthew Wolff reacts to his birdie on the 15th green during the third round of the Rocket Mortgage Classic.
Gregory Shamus
The birdie-fest at Detroit Golf Club, also known as the Rocket Mortgage Classic, continued on Saturday, and Matthew Wolff led the way. The former Oklahoma State standout made nine of them, plus an eagle and three bogeys to shoot a second straight eight-under-par 64. He's alone at the top at 19 under, three clear of the next closest competitors.
One of those guys just so happens to be Bryson DeChambeau, who was stunned and beaten by Wolff this time a year ago on the 72nd green at the 3M Open. Are we in for another DeChambeau dagger?
Here are our five takeaways from Day 3 at the Rocket Mortgage Classic.
Wolff v. DeChambeau, Part II
A year ago this week, Wolff earned his first victory in his fourth PGA Tour start at the 3M Open in Minnesota. If you recall, the man he clipped by one stroke was DeChambeau, who eagled the final hole to reach 20 under, only to watch Wolff also eagle minutes later. It made for one of the great images of the 2019 golf season: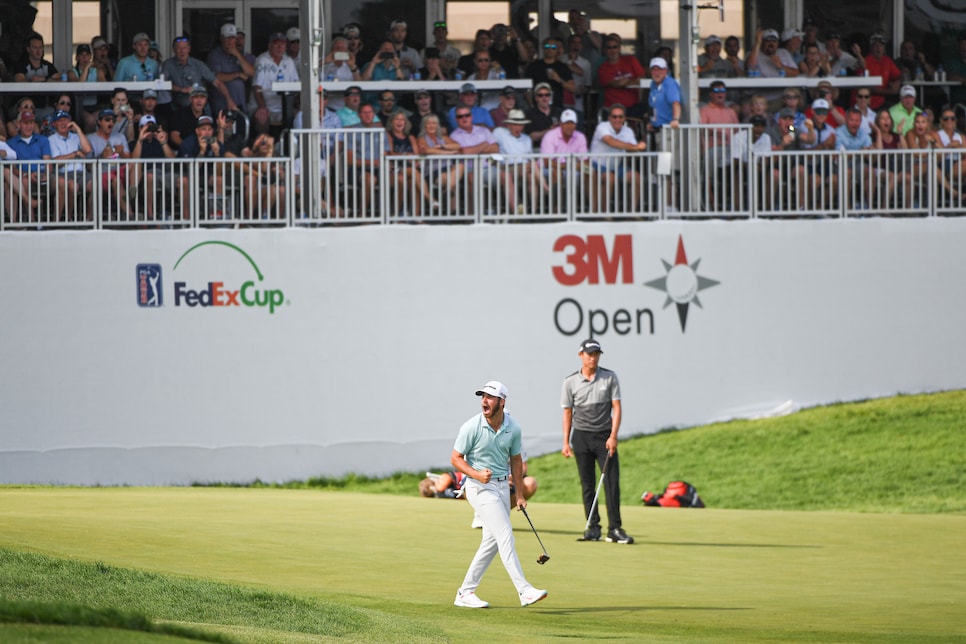 Now, just imagine a year later, and Bryson about 50 pounds heavier, if Wolff does something similar again. After weeks and weeks of top 10s, this week was supposed to be DeChambeau's, especially considering how relatively weak the field is. Other than Webb Simpson, nobody coming into Detroit was playing better than Bryson. Wolff, who missed two of his first three cuts post-lockdown, didn't appear to be much of a factor.
After rounds of 69, 64 and 64, not only is Wolff a factor, but he's the man to beat at 19 under. Unfortunately, we won't see them in the same pairing, but DeChambeau will once again finish before Wolff, just like he did at TPC Twin Cities last July. What a bit of deja vu it would be for Bryson to post a number and then lose by one on a 72nd hole Wolff birdie.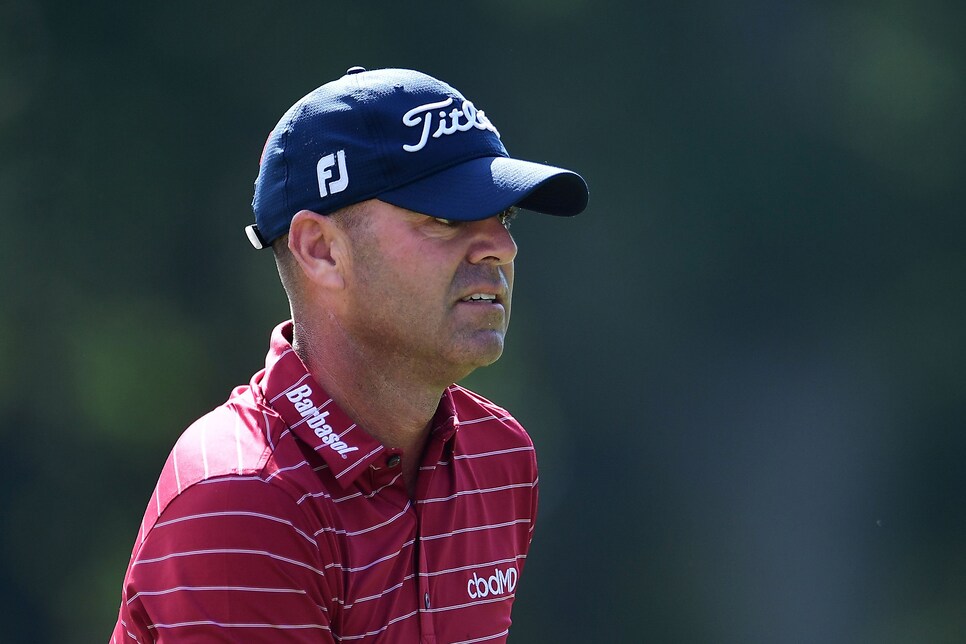 Ryan Armour watches shot during third round of Rocket Mortgage Classic.
Stacy Revere
What a wild finish from Ryan Armour
Heading to the par-5 17th hole, Armour had made only one bogey in his previous 34 holes. He played those holes in 14 under, including making his 14th ace during Friday's second round. All was well.
That was up until his third shot sailed the 17th green, where he left himself with a poor lie and a difficult chip to get up and down. His fourth jumped out of the rough and rolled 25 feet past the hole, and he three-putted for a disastrous double bogey, seemingly undoing two exceptional days of work.
Impressively, Armour bounced back on 18, rolling in a 21-footer from off the green to salvage a five-under 67, which puts him three off Wolff's lead and in the final pairing. Prior to the shutdown, Armour missed six consecutive cuts. The two-month break turned out to be just what he needed.
"When we shut down [March 13], I took three weeks to just let my body heal, and I was able to kind of start over," said Armour, who was going through a grip change before the hiatus. "We were just trying to make the grip a little stronger; it allowed me to get reps. We had a lot of good games at the Dye Preserve [in Jupiter, Fla.], which allowed me to get in the heat of battle a little bit before we got back out here."
It's paying dividends so far. Armour finished T-6 last week and now has a chance to spoil the Wolff-Bryson party on Sunday.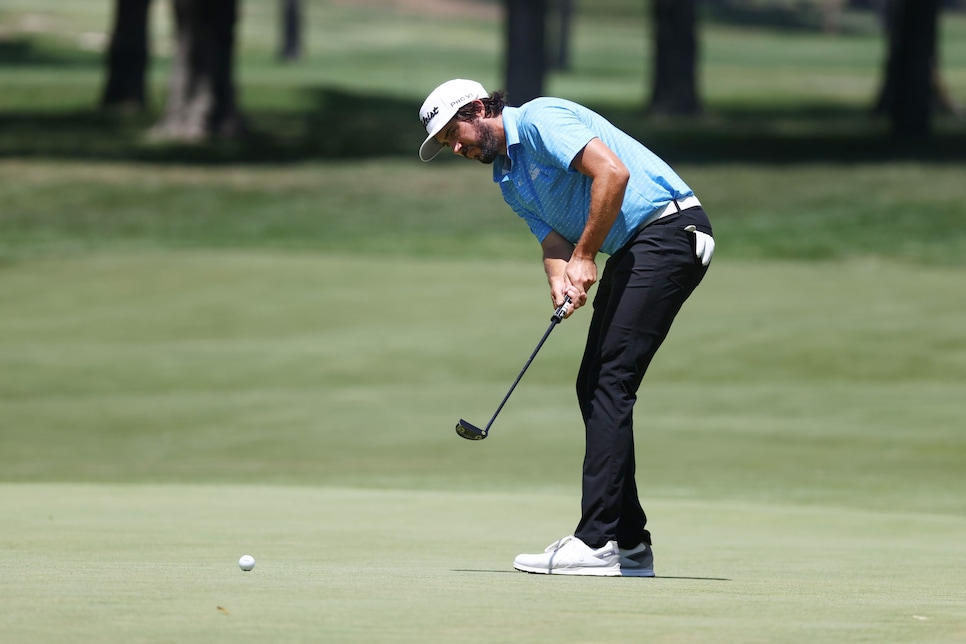 Mark Hubbard putts on the third green during the third round of the Rocket Mortgage Classic.
Gregory Shamus
In addition to Armour, there are a number of guys who can ruin the Wolff-Bryson fun. First up we have Troy Merritt, who is five back and has been known to throw up a few random 61s. He's more than capable of tearing up this Donald Ross track and waiting in the clubhouse to see what happens. Who knows these days.
Next up is Mark Hubbard, who, despite a rough day on the greens, still posted a 69 and is tied with Merritt at 14 under. Hubbard came close to tasting his first victory at the Houston Open last fall, so you know he's hungry to get it done. Rounds in the low 60s are out there, as we've seen.
Finally, there's Seamus Power and Chris Kirk, both also at 14 under. And that's before getting to the group at 13 under, which includes Simpson, Viktor Hovland, Wesley Bryan and Matt Wallace. We would not be the least bit surprised to see a member of that group steal one, though it's going to take something very special.
Oh yeah, how about Wes Bryan?
Bryan shot seven-under 65 on Saturday to be six back and everything this guy does on tour is impressive, given he was once just a trick-shot guy. To come back the way he has after injury might be his most impressive feat yet. On Sunday, he'll look to lock up his first top 10 on tour since [checking notes] the 2017 John Deere Classic. It's been a long road back for this guy. Respect the grind.
Being able to hear everything remains the best
Personally, I can't wait for fans to return to sporting events. Anyone who says golf is better without fans is a prisoner of the moment at best, and flat out foolish at worst. Would Tiger's Masters win have been better without fans? Spieth's walk-off chip-in at Travelers? Gary Woodland's chip on the 17th green at Pebble?
But being able to hear everything these guys say is tough to beat. It wasn't the greatest soundbite, but I really enjoyed a quick conversation between Wolff and his caddie at the 17th hole on Saturday. Wolff pulled his drive into the left rough, robbing him of any chance of going for the green. "I'm expecting this to come up 20 yards short of that right bunker," said Wolff, pointing to the bunker he was aiming at. "Then I'll just chip up from there."
Wolff then went on to execute the plan exactly as he mapped it out, hacking one out short of the bunker, chipping up to two feet and rolling in his ninth birdie of the day.
There was another funny exchange caught earlier in the round when Wolff hit a shot and said with a laugh, "I heard the ice cream truck."
Wolff swore afterward that the music from the truck stuck in his head and helped him.
"I think I have to give credit to the ice cream truck that was circling the property. I'm not joking, actually," Wolff said. "Just had that little like ice cream truck song in my head, and I think that helped me just not think about the speed or the line or anything [on putts]. Just keep my head free, which I've been giving a lot of credit to this week."