News
Robert Streb pulls off multiple hero shots to claim RSM Classic over Kevin Kisner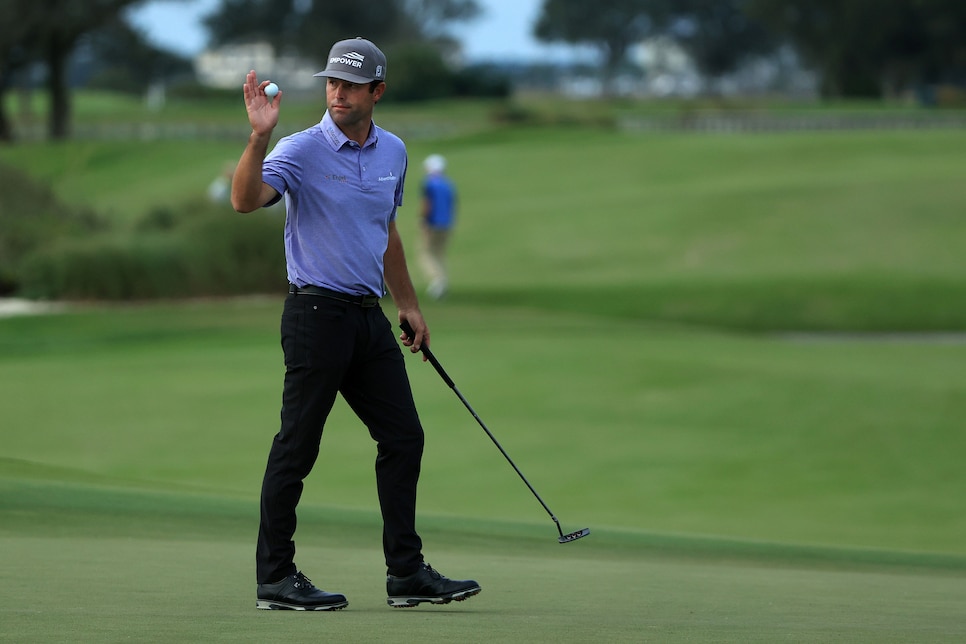 Robert Streb celebrates after putting for birdie on the second playoff hole to win the RSM Classic over Kevin Kisner.
Sam Greenwood
After a crushing three-putt par on the par-5 15th hole, it seemed to be quite clear that this wasn't Robert Streb's day. While the rest of the contenders at the RSM Classic were throwing up 62s and 63s, Streb was plodding along at one under. That wasn't going to get it done on a day when there was virtually no wind on Sea Island.
But Streb stayed in it, even after watching his three-shot lead vanish and seeing that he was now going to have to do the chasing. Up ahead at the 72nd green, Kevin Kisner had posted a 63 to reach 19 under. Streb needed to make something happen.
He did exactly that at the difficult par-3 17th, stepping on a 6-iron and drawing it in to the back right pin. His tee shot came to rest 11 feet from the hole, and he poured in the birdie putt to tie Kisner.
A par at the 18th put them in a sudden-death playoff, and Streb began the playoff by hitting his tee shot in the left fairway bunker. His week appeared dead again, but yet again he stayed within himself, grinding out a par and watching Kisner's birdie effort for the win just slide past the hole. On the second playoff hole, the 18th once more, Streb found the left rough and pulled off hero shot No. 2 to all but end the tournament.
Kisner's approach sailed the green, and when he failed to chip it in for birdie, Streb had locked up his second tour win in style. His first victory also came at Sea Island in 2014. When asked what it is he likes so much about the event, Streb was very matter of fact.
"I don't have a good answer for you," he said. "My finishes here are all over the lot, but I do like it here. Greens are always pure. I feel like if you're playing good, you can do well."
No lies detected there. Play well, do well. Simple as that. Pulling off a pair of hero shots in the clutch usually helps, too.
Here are three other takeaways from Sunday on Sea Island.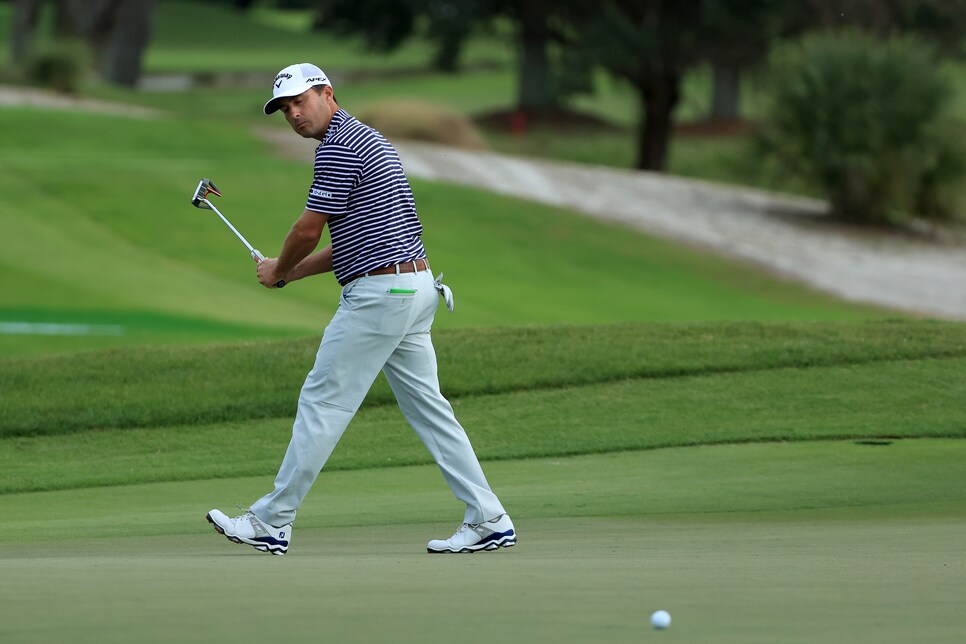 What else does Kevin Kisner have to do?
If Robert Streb's win came out of nowhere (Streb had just three top 10s on tour since August 2018), a Kisner victory would have been one many prognosticators saw coming. Kisner, who also previously won the RSM in 2015, had been playing so well of late. But each time he had a great week, somebody else had an even greater one. Bryson DeChambeau at the Rocket Mortgage. Jim Herman at the Wyndham. Dustin Johnson at The Northern Trust. Each of those events, Kisner was knocking on the door but couldn't quite get it done.
But he'd yet to come as close as he did on Sunday, shooting a closing 63 to get into the playoff after not bogeying a hole since Friday. Which has to make this one the most crushing. Knowing Kisner and his Bulldog mentality, he'll more than likely finish one off soon, but at some point even he has to wonder what the hell else he needs to do to get his fourth win on tour.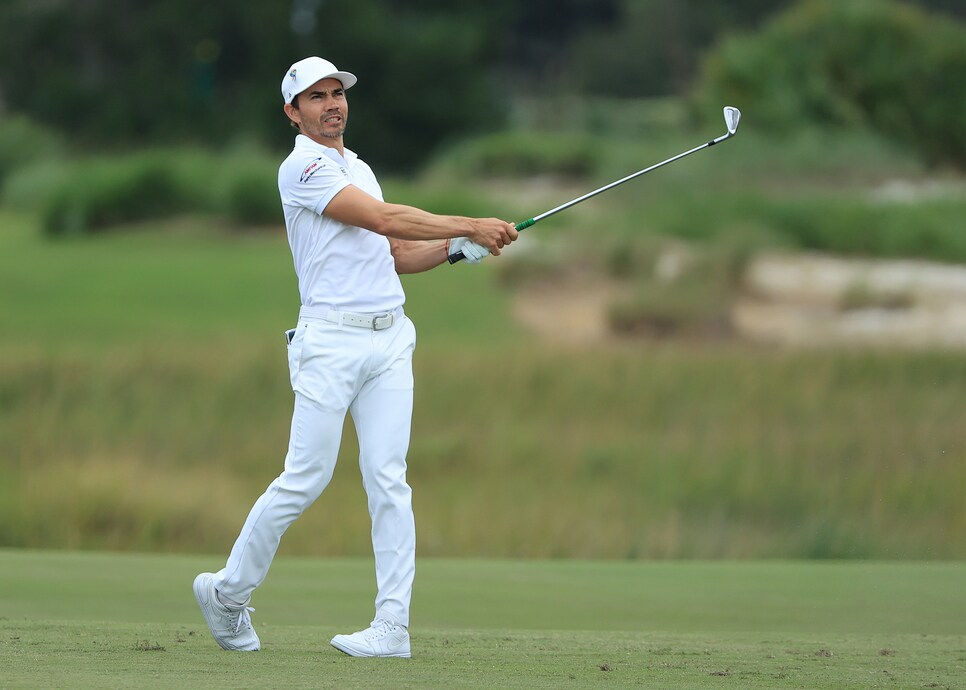 That was still a special week for Camilo Villegas
After he shot rounds of 64 and 66 to get into contention, we couldn't hide the fact that we were cheering hard for Camilo Villegas this week. If anybody "deserved" a win, it was Villegas, who went through a terrible tragedy when his 22-month-old daughter passed away in July. Winning a golf tournament wasn't going to make that any easier to live with, but it would have given the 38-year-old Colombian something to smile about during what has to be one of the worst years of his life.
He was unable to get it done, a third-round even-par 70 costing him a real chance, but this was still a very special week for the four-time tour winner. He wound up finishing with a Sunday 66, which earned him a T-6 finish, his best since the 2016 RSM Classic when lost in a playoff. When you've had a few lean years like Villegas had, top-six finishes are like gold. Still a ways to go in this "Super Season," but Villegas' strong result on Sea Island puts him in position to make a run at the FedEx Cup Playoffs, somewhere he hasn't been since 2017.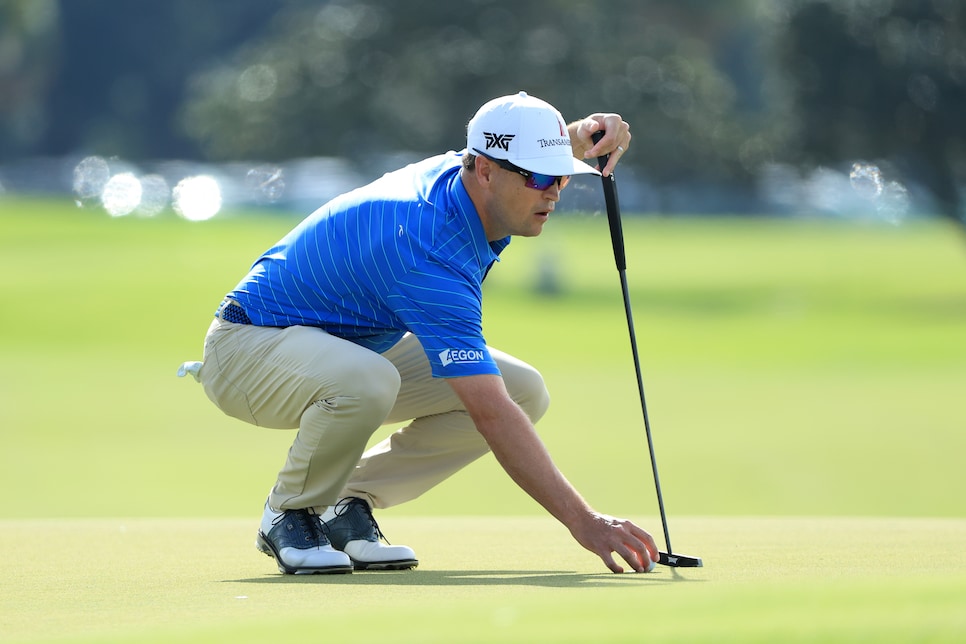 Zach Johnson will have nightmares about the par-5 seventh tonight
All these guys who finished a few back could play the "what-if" game for all 72 holes this week. But for Zach Johnson, there is no more painful "what if" than "what if he hadn't triple-bogeyed the par-5 seventh on Sunday?"
That's right, Johnson finished just three shots out of a potential playoff at the RSM Classic, and that was because of a snowman on the Seaside Course's first par 5 on the scorecard. Making it even worse was the fact he bogeyed it a day earlier, meaning he'd played it in four over on the weekend. Ouch.
"That hole's kind of bitten me both days," Johnson said. "A six there yesterday and an eight today, and it's a par-5, which is very frustrating because those are the ones you usually try to take advantage of, especially today with, well, relatively speaking very benign conditions. Hit the worst shot of the week on the tee. I'm still at that point I'm trying to make a five instead of a four, but got a little aggressive with my next shot, which is my third shot, and it just kind of snowballed from there. How do you make an eight? Well, I missed about a seven-footer for a seven, so I made an eight."
Good to see him laugh it off—he still shot a two-under 68 on the day for a T-6 finish—but we wouldn't blame him if he spent the whole night staring at the ceiling wondering how it all went wrong.