Takeaways
Rory creates 'easy' path to World No. 1, K.H. Lee looks to spoil and Jon Rahm's late rally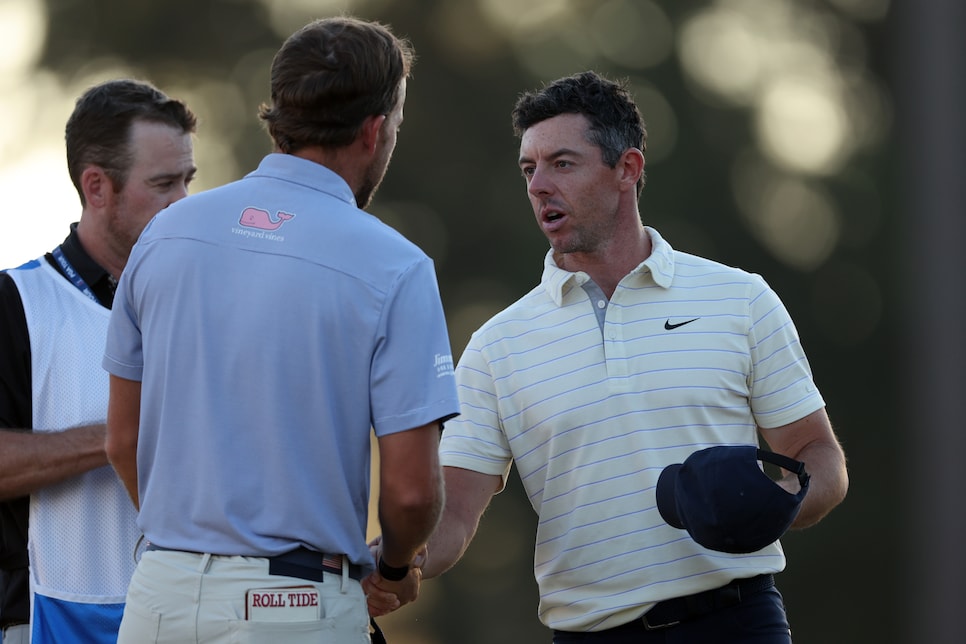 Rory McIlroy shakes hands with Lee Hodges on the 18th green during the third round of the CJ Cup.
Gregory Shamus
Rory McIlroy looked less than pleased with how his third round finished up at the CJ Cup. Understandable, given he bogeyed two of his final five holes, including the 17th after suffering a bad break, with his tee shot finding a rough spot in one of Congaree's waste bunkers.
The ending spoiled what was shaping up to be a runaway affair for the four-time major champion. He eagled two of the three par 5s, and birdied the other, playing them in five under. He wound up shooting a four-under 67, still good enough for solo first at 13 under heading into the final round.
Even better news? He's now created an "easier" path to reclaiming the World No. 1 title, an honor he last enjoyed in July of 2020 before Jon Rahm swiped it from him (Rahm could thwart him on Sunday, but we'll get to that later). Should McIlroy go on to win, he locks up the top spot, so long as Scottie Scheffler does not finish in solo second or in a tie for second. That's a good bet, considering Scheffler's three-over 74 on Saturday dropped him into a tie for 47th.
The other scenario: McIlroy finishes solo second, and Scheffler finishes worse than solo 34th. That's not quite as much of a sure thing, as Scheffler could certainly go low and vault up the leaderboard. McIlroy, of course, would prefer to win and leave no doubt, while also avoiding a Scheffler 59.
"You know, the ranking will just take care of itself if I do what I want to do," McIlroy said. "Ultimately, I just want to win this golf tournament. If I win the golf tournament, then everything will take care of itself."
Jon Rahm makes late rally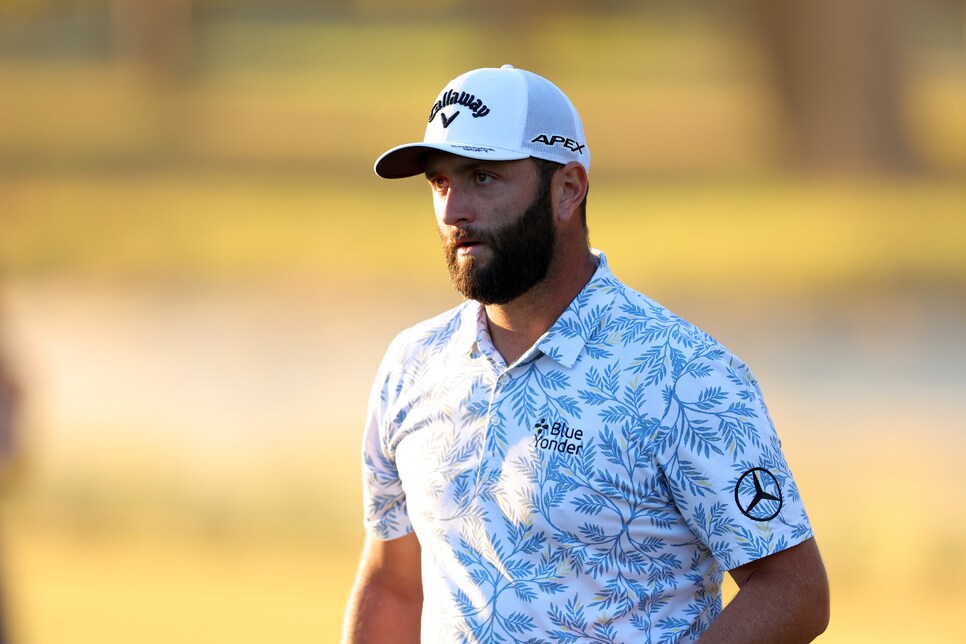 Jon Rahm walks on the 17th hole during the third round of the CJ Cup.
Kevin C. Cox
For a hot sec, McIlroy not only looked poised to run away, but it looked like no one truly significant would be in his rearview mirror (no disrespect to two-time Byron Nelson winner K.H. Lee, but he ain't Jon Rahm). Rahm, meanwhile, was sputtering, having shot an even-par 36 on the front and then going bogey-bogey to begin his back nine. Things, as you might imagine, were beginning to simmer.
A quick birdie at the par-5 12th flipped the momentum, and he picked up two more late birdies at 15 and 17 to climb all the way back to 12 under, putting him one back of McIlroy. First-team, All-Grit.
"A lot of battle today. I'm proud of it, very proud of it," Rahm said. "I'm standing on 12th tee, I think I was four back with people looking at par 5s and the tee up on 15, I thought things could get ugly. But I just stayed on my own game and tried to make some birdies coming in and put myself in position for tomorrow.
"I managed the round and was able to scrap a round of 70, which I guess a lot of what this game is about, right?" he added. "It's very easy when things are going your way. Today, nothing was really going my way and to salvage that 1 under and be one back tomorrow is going to be nice."
Unfortunately, we won't get Rahm-Rory in the final group, which allows Rahm to post a score first and make McIlroy sweat. Advantage, Rahm, who can pick up a victory in his second straight start after he won his national open in Spain earlier this month.
Kurt Kitayama, K.H. Lee look to spoil the party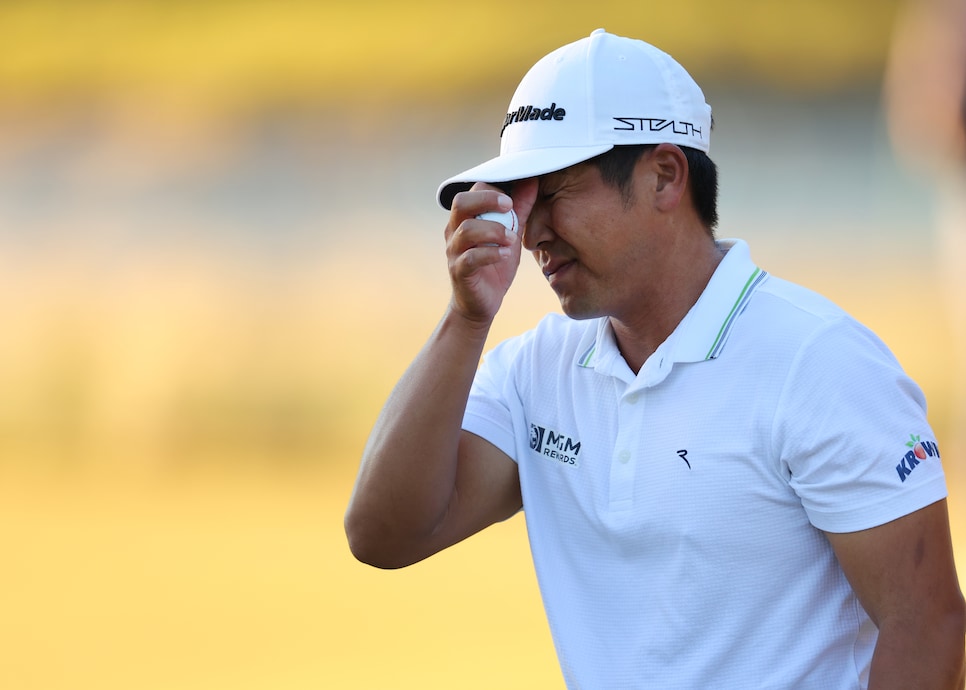 Kurt Kitayama reacts to making a bogey on the 17th hole.
Kevin C. Cox
As nice as a Rahm-Rory duel would have been for us (and the PGA Tour, more importantly), there's a very likely scenario where K.H. Lee surprises for his third tour win or Kurt Kitayama, who didn't have his best stuff Saturday, picks up his first on the PGA Tour. Kitayama, a two-time DP World Tour winner, has had numerous opportunities over the last year, but none as prime as this one as he sits one shot back at 12 under, along with Lee and Rahm.
"Not really thinking about it right now," Kitayama said when asked how he feels about Sunday. "I feel pretty good. I hit it well, gave myself some good opportunities. Just not going to think too much about today's round. Overall, feel pretty good still."
While Kitayama's DP World Tour wins were certainly impressive, Sunday will be a different stage than he's ever been on before. World-class field. World-class course. Rory and Rahm. An intimidating arena, no doubt.
"You want to play against the best and it's a good leaderboard up there," he said. "Going to have to play good tomorrow."