Takeaways
The birdie-fest continues, Spieth enters the fold and a mid-tournament putting lesson powers James Hahn to a 61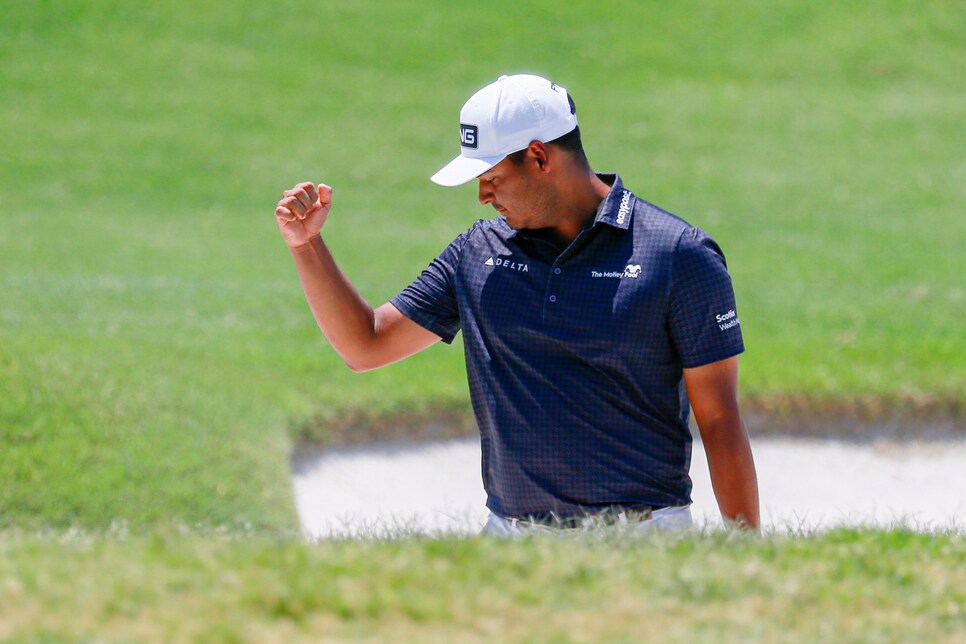 Sebastian Munoz celebrates after making eagle on the sixth hole from a bunker during the third round of the AT&T Byron Nelson.
Icon Sportswire
The post-Masters schedule hangover for the PGA Tour has been very real, though a handful of bright spots like Jordan Spieth's Harbour Town win and Max Homa's victory on a wet and wild week in D.C. have somewhat masked what's been an otherwise "meh" stretch of pro golf.
This week's AT&T Byron Nelson was supposed to spice things up a little, mostly thanks to the strongest field a tour event has had since Augusta National. Sunday could still very well be spicy, with both Jordan Spieth and Justin Thomas lurking at the top of the leader board, in addition to Genesis Invitational winner Joaquin Niemann and World No. 1 Scottie Scheffler.
And yet, even with some studs in contention, it's difficult to shake that "meh" feeling. No disrespect to TPC Craig Ranch, which appears to be in perfect shape and looks like an excellent spectating venue, but it does not challenge these players in any way, hence the bevy of ridiculously low scores. With pristine weather, these guys can tear it up just about anywhere, but this now marks two straight years they've made this course look like a pitch-and-putt.
Sebastian Munoz is certainly not complaining. All he can do is torch the golf course in front of him, which is exactly what he's done, shooting rounds of 60, 69 and 66 to take a one-shot lead into Sunday's final round, when he'll look to claim his second career tour win.
Unfortunately, and this is no knock on Munoz, it hasn't been all that compelling to watch. Part of what made last week so entertaining was the fact that pars were hard to come by and birdies that much harder. This week, pars are like bogeys, and 67s and 68s feel more like 72s and 73s. The aforementioned Scheffler shot a seven-under 65 on Saturday and gained one stroke on Munoz. Defending Byron Nelson winner K.H. Lee shot 66 and gained zero.
The good news is the schedule is about to heat all the way up once again, beginning with next week's PGA Championship at Southern Hills. From there they go to Colonial, to Muirfield Village, to St. George's for the RBC Canadian Open, and then to Brookline for the U.S. Open. It will be a fast and furious, can't-look-away month of golf, and it couldn't have arrived any sooner.
Jordan Spieth is peaking at the right time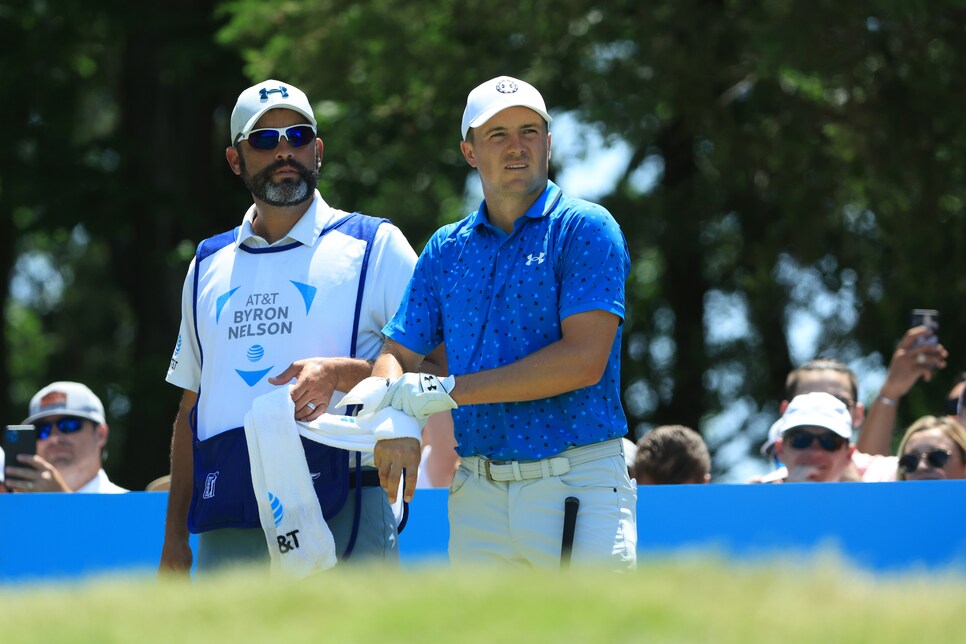 Jordan Spieth prepares to play his shot from the fifth tee during the third round of the AT&T Byron Nelson.
Sam Greenwood
Despite all that "meh" talk, Sunday's final round should still feature some fireworks, which is always the case when Jordan Spieth enters the fold. The best part for him is the course is so easy that he can't even pull off one of his patented final-round high-wire acts. Sunday will be all about who can make the most birdies, which he's done a very good job of this week, yet he still trails Munoz by one after a third-round 64.
"It's weird to shoot five-seven-eight [under] and be down a few shots," said Spieth, who was down a few at the time but saw the deficit cut to one thanks to a late (and rare) Munoz bogey. "It's exciting for the fans. For us, you would like to see the course show a little bit of teeth."
Barring a ridiculously tricked-up setup (unlikely), this course won't be showing any teeth any time soon. But at least Spieth will know exactly what he has to do, as he'll be in the final group alongside Munoz and Niemann, who is two off the lead after shooting a 65. Should Spieth win, it'll be his second victory in as many starts, something he has not done since the 2017 Travelers Championship and Open Championship.
"I'm just really pleased, I've been very patient this year," he said. "I felt like my game's been in a better place than last year and I didn't really have anything to show for it other than a second at Pebble. And then finally got kind of some really good breaks there that may have made up for some lipouts and such this year, figure of speech, there at Hilton Head. So I feel some momentum for sure, but I do feel like I still got some parts of my game that actually need to sharpen a little bit."
If 20 under over three days at his hometown event isn't sharp enough, we're not sure what qualifies as sharp for Spieth. Perhaps he's saving some for next week, when he'll look to complete the career grand slam. For now, though, the only thing on his mind is making birdies, and a LOT of them.
Mid-tournament putting lesson pays dividends for James Hahn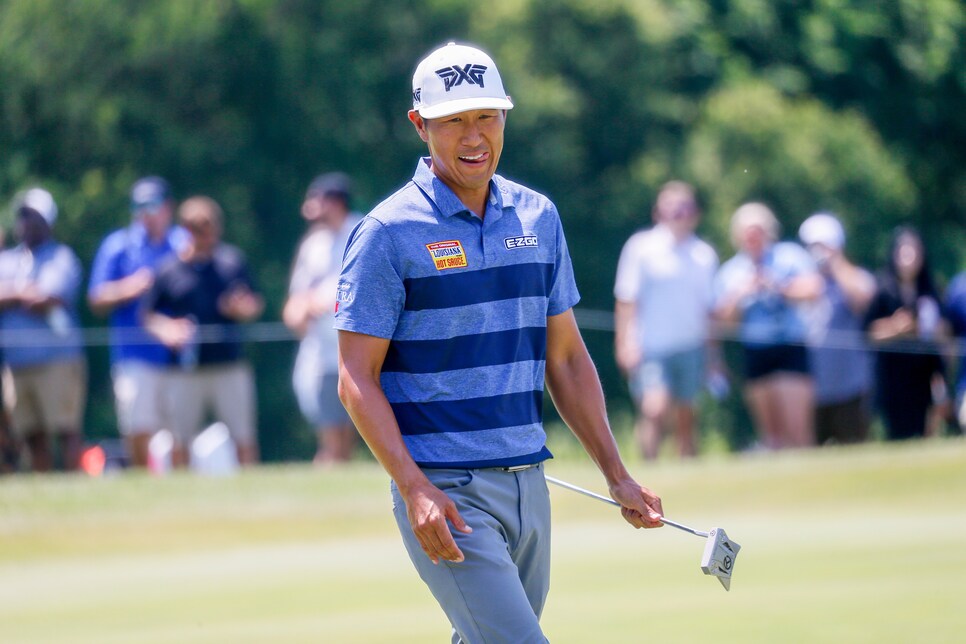 James Hahn reacts after his putt on the 18th green during the third round of the AT&T Byron Nelson.
Icon Sportswire
A certain well-known "burner" account on Twitter might want to look away from this one. Two-time tour winner James Hahn was apparently given a mid-tournament putting lesson from TPC Craig Ranch head pro Ronnie O'Brien at the conclusion of Hahn's second round, and O'Brien had the audacity to not also give a lesson to every other player in the field. Despicable!
All kidding aside, this wasn't just any old putting lesson for Hahn. It could very well save his season. He shot an 11-under 61 on Saturday, the low round of the day by three shots. After losing nearly 2.5 strokes on the greens Friday, he gained 2.362 on Saturday.
"It's nice when the head pro comes down and gives me a little putting lesson after the end of the round yesterday," Hahn said. "That definitely helped out a lot. Felt a little more confident over the ball. And ended up making some good saves and some birdies on the back nine."
Hahn made nine birdies in total, plus an eagle, and not a single bogey. At 18 under, he's very much in the mix, just three off of Munoz's lead. He's running pure right now, having tied for ninth last week at the Wells Fargo and now putting himself in contention in Texas. Prior to last week, he had missed eight of 11 cuts with one finish inside the top 30, which came in the team event in New Orleans.
"I feel like it just played easy out there for me," Hahn said, "but everyone's shooting nine under, 10 under ... so I just felt like why not me."
Sure, why not Hahn, who was 200-1 to win the tournament outright earlier this week. Of course, not built into those odds was the fact he'd be getting a putting lesson from the head pro at the tournament venue during the tournament, a putting lesson that could become the stuff of legend if Hahn is able to win for the first time in exactly six years and one week on Sunday.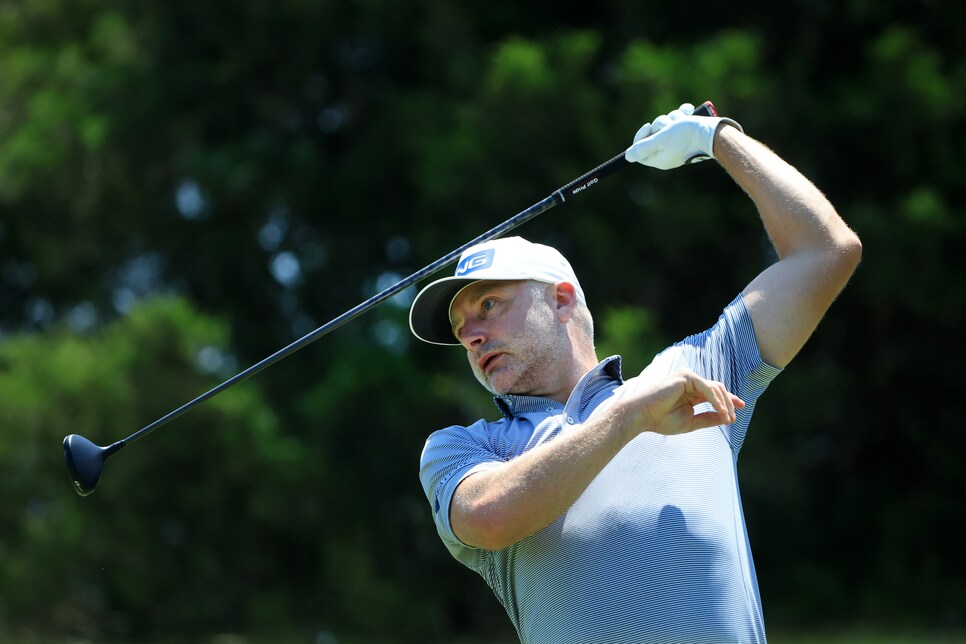 David Skinns plays his shot from the third tee during the third round of the AT&T Byron Nelson.
Sam Greenwood
On a day, and week, that has featured nothing but red figures, David Skinns somehow managed to be the only player inside the top 40 to shoot over par in the third round. As a result, his two-over 74 has put him eight shots back, a virtually impossible deficit to overcome considering the scoring will be similar on Sunday. What was shaping up to be a special story—Skinns is a 40-year-old tour "rookie" with one top-30 finish this season—was spoiled by Skinns' Saturday struggles.
But now Skinns has to focus on the game within the game, which is accumulating as many FedEx Cup points as possible in an attempt to turn his rookie season around. At 208th in the standings, he has a load of work to do to get in the playoff conversation, and because of his Saturday 74 he's currently only projected to move up to 186th. If he's able to go very low in the final round, however, he can make a much larger leap, thus making the rest of his starts this year a tad less stressful. If anybody can bounce back, it's Skinns, who went viral last August when he won the final Korn Ferry Tour event of the season, which earned him his PGA Tour card:
Does that look like a guy who is afraid of a little adversity? Absolutely not. Here's hoping the Englishman shoots 59 on Sunday.