AT&T Byron Nelson
Spieth goes eagle hunting (again), Burns in line for rare feat and Matt Kuchar gets back to Matt Kuchar golf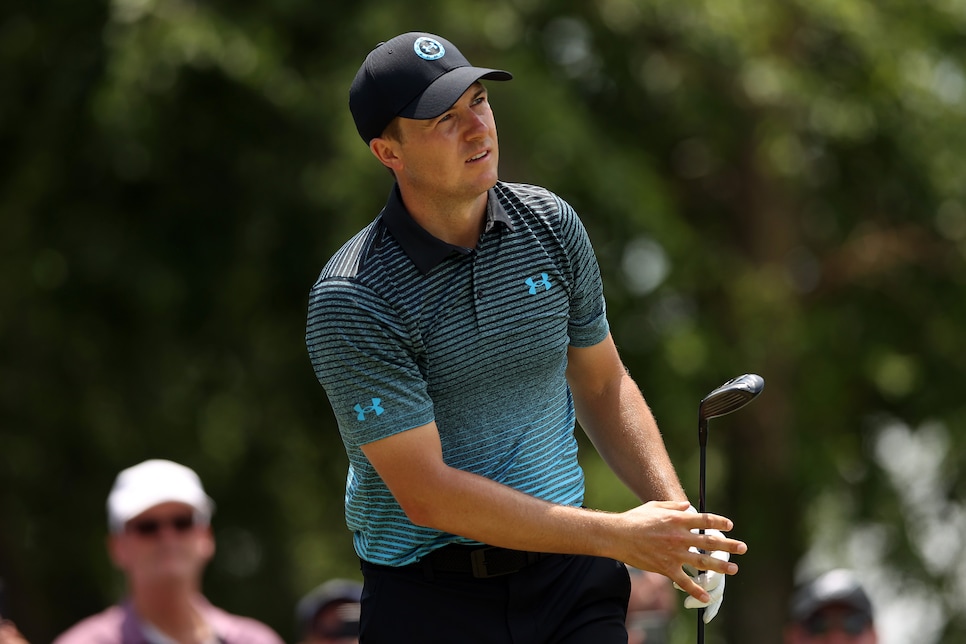 Jordan Spieth hits his tee shot on the fifth hole during the third round of the AT&T Byron Nelson.
Matthew Stockman
Jordan Spieth's 55-foot, triple-breaking eagle conversion at TPC Craig Ranch's par-5 18th on Thursday was going to be an impossible highlight to top this week, especially for himself. But this is Jordan Spieth we're talking about, a man who can fill up half of SportsCenter's Top 10 plays just on the back nine when he wants to.
Not only did Spieth top it, he topped it on the very same hole, once again to close out a low round that has put him firmly in contention heading into Sunday at the AT&T Byron Nelson. This, folks, is what the pros call a zero-putt eagle:
The late-round heroics were exactly what the three-time major champion needed after back-to-back bogeys at the 15th and 16th holes, a rare lapse in an otherwise stellar 54 holes. The finishing eagle gave Spieth a six-under 66, which has him just three off the lead of Sam Burns. Both Burns and Spieth are looking to capture their second wins of the season on Sunday.
"Once it got on the green, it looked good," Spieth said of his final putt. "Started the putter raise and I wasn't positive it was going in because the angle it was coming in at. I wanted to do the no look to the crowd, but, I mean, it was a really cool moment."
Rolling in eagle putts from everywhere and scheming on how he's going to celebrate before they actually drop? Yeah, he's all the way back.
Four other takeaways from Saturday at the Byron Nelson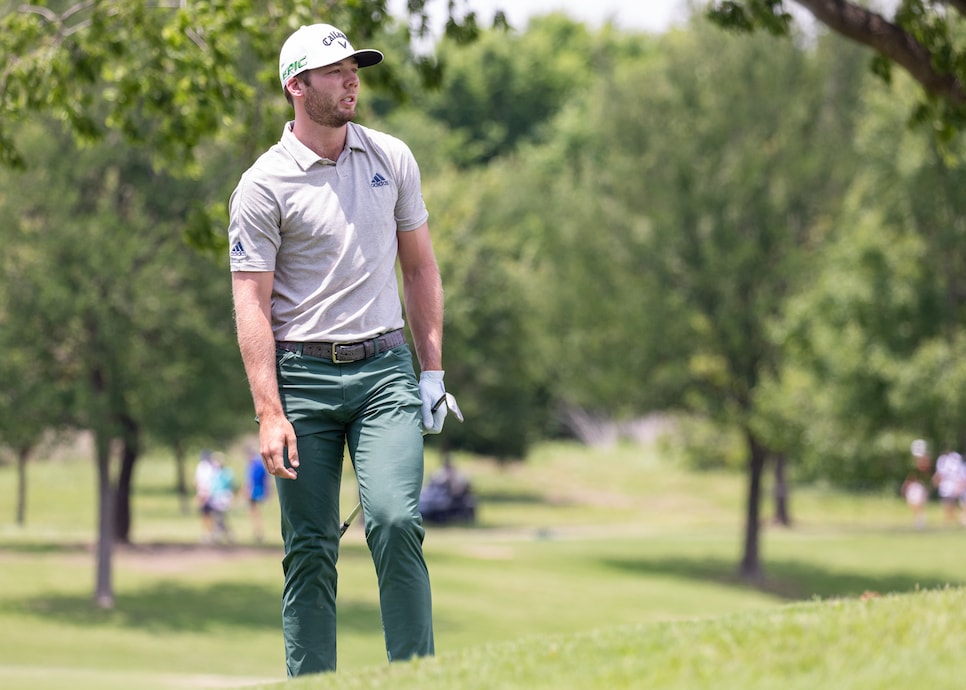 Sam Burns looks on after his chip to the first green during the third round of the AT&T Byron Nelson.
Icon Sportswire
Sam Burns might go 'full Camilo'
A long time ago, going "full Camilo" was an inside Golf Twitter joke for players who would go low in the opening round of tournaments, then either miss or almost miss the cut on Friday, something Camilo Villegas was once notorious for. Fortunately, Villegas is playing much better golf of late, and that's not the type of "full Camilo" Sam Burns is going for.
Should Burns go on to win Sunday (he's three clear at 20 under), he'd become the first player since Villegas in 2008 to win his first two PGA Tour events in consecutive starts. Remarkly, Villegas actually did it in the FedEx Cup Playoffs, winning the BMW Championship and the Tour Championship. For Burns, it would be the Valspar and the Byron Nelson, which would still be wildly impressive, and the type of "full Camilo" we can all celebrate.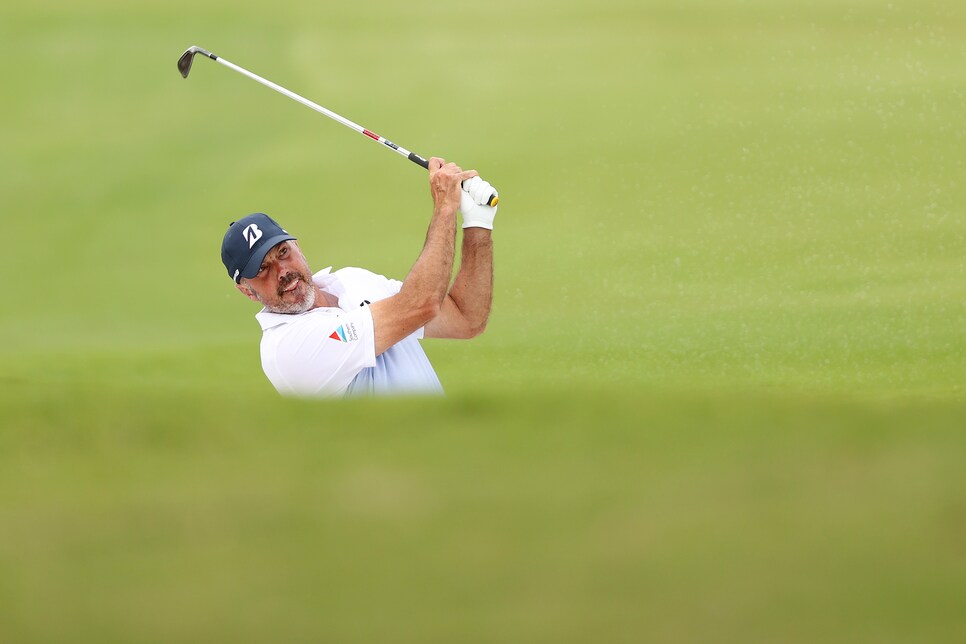 Matt Kuchar hits from the bunker on the 18th hole during round three of the AT&T Byron Nelson.
Matthew Stockman
Matt Kuchar is playing Matt Kuchar golf again
Outside of a brief pop at the Match Play, Matt Kuchar hasn't looked like Matt Kuchar over the last year or so. That has changed of late, however, with Kuchar picking up two top-20s in three starts since the Match Play, and now with him reaching 17 under through three rounds in Dallas. The secret? Kuch is Kuch again.
"Thankfully it's turned the corner," Kuchar said Friday evening. "It was a frustrating stretch with the COVID restart. My game was not where I wanted it to be and it's taken a little while to find form again. Thankfully as of kind of the week in Austin, Match Play tournament, things have rounded back into kind of playing Matt Kuchar golf again.
"It's been a whole lot more fun. It's a whole lot nicer when you somewhat know where the ball is going to go when you're standing over it."
Matt Kuchar golf has been very good to Matt Kuchar over the years. If Matt Kuchar can play some more Matt Kuchar golf on Sunday, Matt Kuchar has a legitimate chance to end a two-plus year win drought (Matt Kuchar's last win came at the 2019 Sony Open).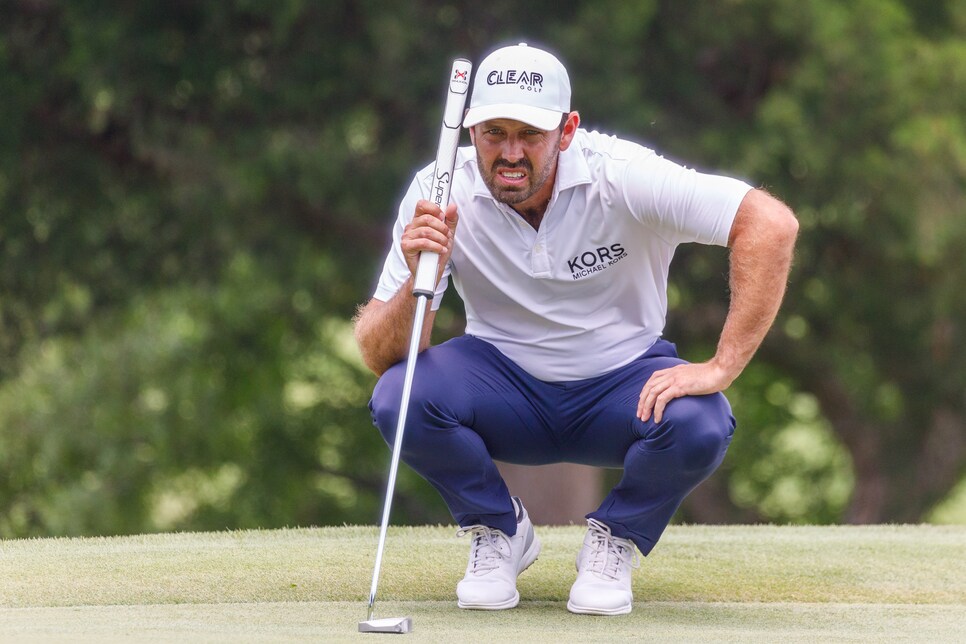 Charl Schwartzel lines up his putt on the first hole during the third round of the AT&T Byron Nelson.
Icon Sportswire
There's some serious spoiler potential
Given the volatility of the scoring, and the quality of players chasing Burns, there's a good chance somebody goes crazy low and comes from a few back to win this thing. Charl Schwartzel, who had a ton of love in the betting community this week, is at 17 under and clearly playing some great golf right now. K.H. Lee, who nearly won the Waste Management Phoenix Open in February, is just one back at 19 under. Alex Noren, a 10-time European Tour winner in search of his first PGA Tour victory, is among the group at 17 under. Doc Redman, Rafa Cabrera Bello and Harris English are all lurking, too. Burns is red hot and definitely the favorite, but just about anything could happen Sunday.
Weather wreaking havoc on TV schedule, Pray 4 Golf Twitter
If you're looking for real entertainment Sunday, skip the golf and scroll Golf Twitter when the golf should theoretically be on TV. Bad weather in the forecast forced the tour to move up tee times, meaning coverage will start at 10 a.m ET on Golf Channel and end at 11:45 a.m. It will then move to CBSSports.com and PGATour.com for streaming at noon—which rarely sits well with the vocal minority on social media. Of course, all it takes is one tech savvy person in your home to figure out how to get it on your big screen, but that can often be a rather large obstacle for some. Hey, don't say we didn't warn you.