Takeaways
Henley creates separation, a forgotten rising star re-emerges and Matt Kuchar finds his beach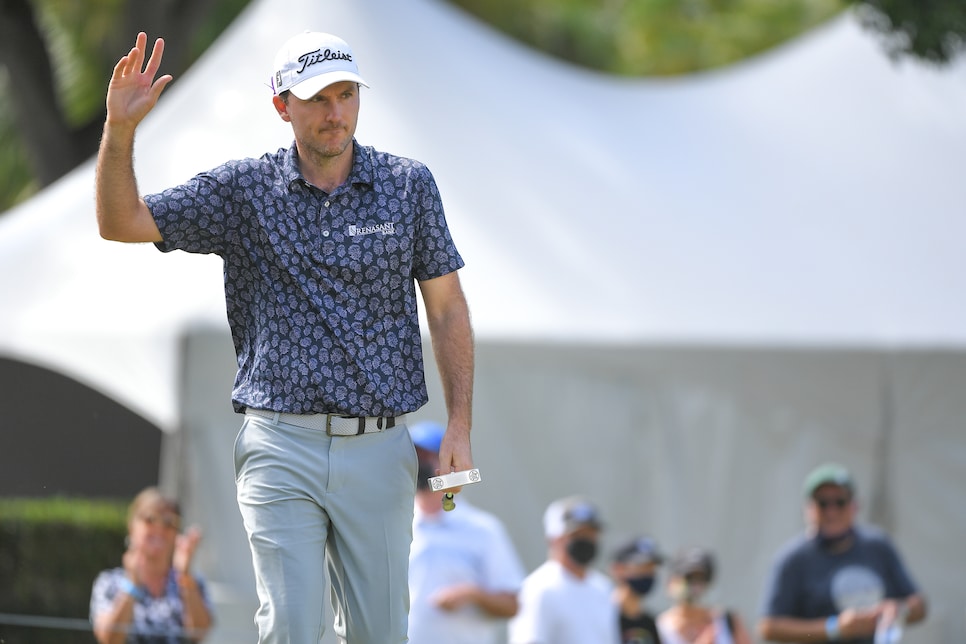 Russell Henley waves on the ninth green during the second round of the Sony Open.
Ben Jared
If recent PGA Tour history is any indication, a three-shot lead after 36 holes is hardly a comfortable one. If recent Russell Henley history is any indication, it's a gap that could be closed rather quickly on the weekend by those pursuing him.
While that may sound like a knock on the former Sony Open winner, it's also a statistical fact. Of the six 36-hole leads he's had in his career, the 32-year-old has converted just one into a win, per Oddschecker's Tom Jacobs. That instance came at Waialae in 2013, when the then-rookie led by two after two rounds and eventually won by three over South Africa's Tim Clark. Since then, he's 0-for-5.
The most recent non-conversion surely left a sour taste in Henley's mouth. This past August, he led by four through 36 at the Wyndham Championship, and still led by three after 54 holes. On Sunday, he reached 17 under for the week on the 11th hole, only to play the final seven holes in three over, missing out on a seven-man playoff by one shot in a tournament he appeared to have in the bag. Even more painful was the fact that two months earlier, Henley held the 54-hole lead at the U.S. Open, only to shoot a Sunday 76.
In other words, the scar tissue is there. But for now all Henley can do is control what he can control. At 15 under, the three-time tour winner will be the final one to tee off on Saturday, when he'll look to erase some poor recent memories of owning the solo lead.
"I think I've started to learn a little bit what my tendencies are with my swing when I get a little off [on the weekend]," Henley said. "So knowing how to work on that, put the time in on the range with that.
"And I don't think there is really any secret or anything you really change. The more you're there the more you can be comfortable with it. Still got a long way to go, but obviously just looking to keep believing in my game for the next two days."
Henley's been there plenty of times of late, a lot like his Georgia Bulldogs, who were able to get over the hump on Monday night in the National Championship football game. It would be fitting, then, if Henley were able to get over his recent hump on Sunday evening, too.
A forgotten rising star re-emerges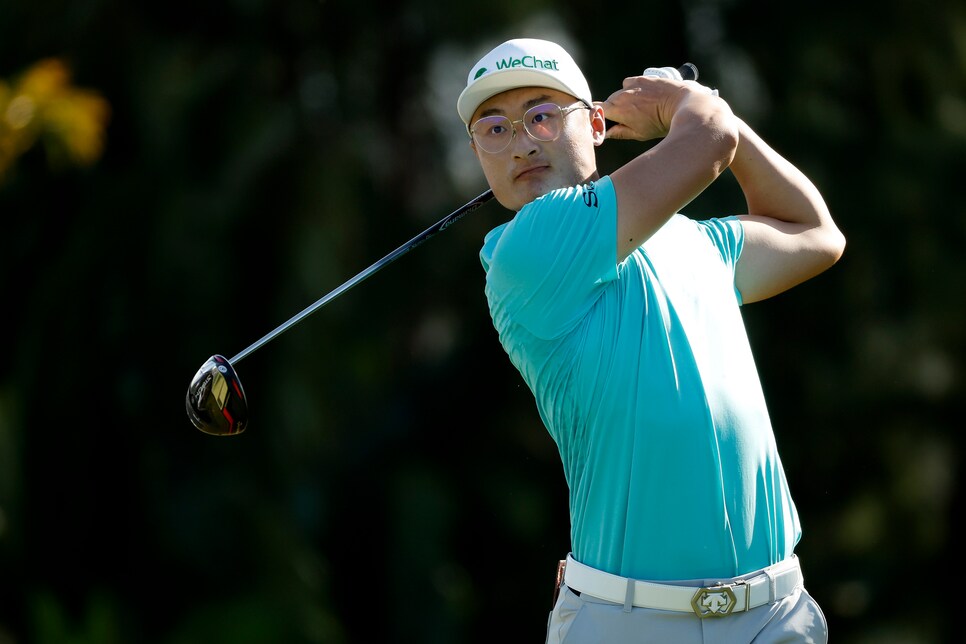 Haotong Li plays his shot from the fifth tee during the second round of the Sony Open in Hawaii.
Cliff Hawkins
It seems silly to call a 26-year-old a "forgotten rising star," but that might be the best way to describe China's Haotong Li. As fast as he burst onto the scene, his game deteriorated at the same rapid clip. Less than two years ago, Golf Twitter fell in love with Li after his elongated range session at the PGA Championship at TPC Harding Park. At that point, he was still a top-100 golfer in the world, one with a pair of DP World Tour wins, including a one-stroke victory over Rory McIlroy at the 2018 Omega Dubai Desert Classic. He'd also collected three top-20 finishes in majors, one of those a solo third at the 2017 Open Championship.
Now, Li sits at a distant 460th in the world, a stunning freefall that featured 14 consecutive missed cuts on the DP World Tour in 2021. Seven weeks after his 14th straight MC, he seemingly snapped out of it, tying for 14th at the Alfred Dunhill Links Championship. Eleven weeks later, a runner-up finish at the Volvo China Open served as the latest positive sign. And now comes a 63-65 start at Waialae, which has put him just three off the lead of Henley and in Saturday's final group. Here's hoping it's not just a brief flash and more of a reminder of the player Li can still potentially become.
Matt Kuchar has found his beach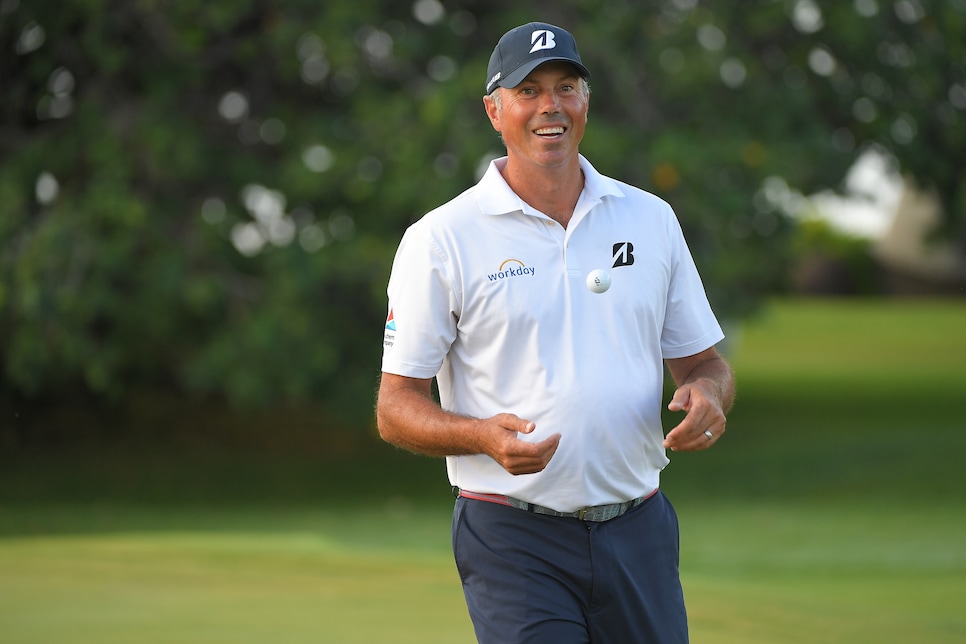 Matt Kuchar smiles while walking off the 11th green during the second round of the Sony Open,
Ben Jared
It wasn't quite a freefall similar to Li's, but Matt Kuchar's last two seasons on tour were decidedly un-Matt Kuchar like. This human ATM machine went from backdoor top-10-ing regularly and mixing in the occasional win to barely eeking out top-30s in the PGA Tour's COVID era.
This week, though, Kuchar has found his beach, literally. The 43-year-old has taken up part-time residency in Hawaii, though even if that wasn't the case he'd be playing in this tournament anyway.
"Love the golf course. Love the environment. I can't recall last time I've skipped Sony Open," said Kuchar, who won here in 2019. "It's one I look forward to every year. Mainly the golf course, but you throw in the state of Hawaii as well. Just kind of me it's a paradise and always excited to come here."
That might explain Kuchar's hot start. He backed up Thursday's 64 with a second-round 65, putting him at 11 under, four back of Henley.
"We love it. The boys love it," he said of Hawaii. "They stay busy, stay in the water and on the land doing every activity you can hope for. It's a place we think so fondly of, and try to spend as many days as we can here."
Should Kuchar go on to pick up Sony win No. 2 this weekend, he may never leave.
Nakajima shining in second career PGA Tour start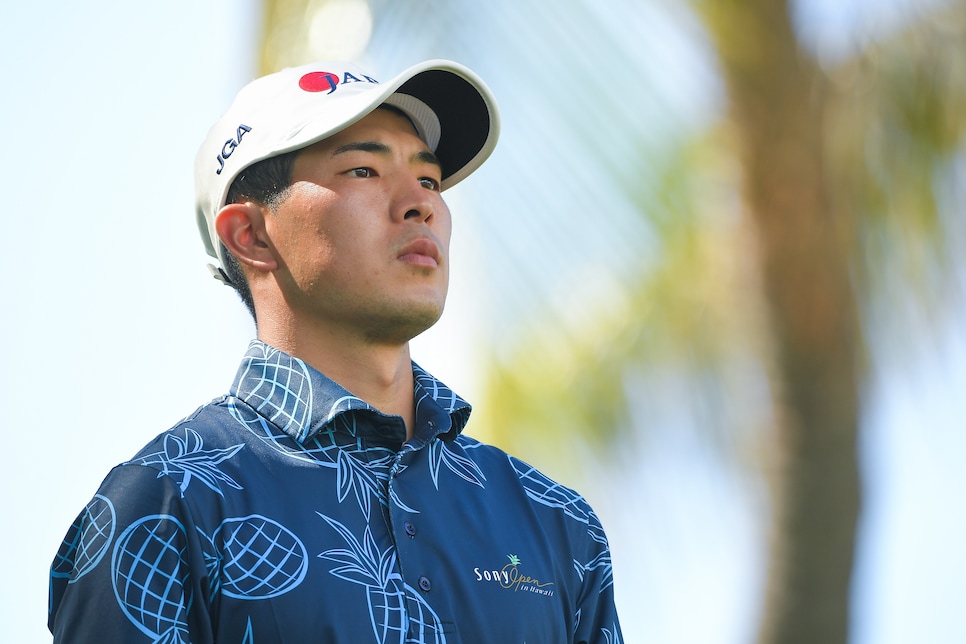 Keita Nakajima walks off the seventh tee box during the second round of the Sony Open.
Ben Jared
The name Keita Nakajima was not supposed to be fully on everyone's radar just yet, but the 21-year-old No. 1 ranked amateur in the world is already looking to change that in Hawaii. Through two rounds he's at nine under, just six off the lead in his second career PGA Tour start. Nakajima was due for plenty of face time later this season, as he already earned invitations into the Masters and the Open Championship thanks to his victory at the Asia Pacific Amateur Championship. He's also exempt into the U.S. Open via winning the Mark H. McCormack Medal as the No. 1 men's amateur in 2021. So yeah, he's kind of a big deal, though not nearly as big of a deal as fellow countryman Hideki Matsuyama ... yet.
"He's a superstar in Japan. I want to catch up to Hideki," Nakajima told the PGA Tour's Ben Everill. "I can only imagine all sorts of pressure he must feel to being the first Japanese to accomplish anything. To have that weight on his shoulders and still overcome that to accomplish a feat like winning the Masters is really cool."
He's got a long way to go to catch up with Hideki, but a win this week would certainly draw comparisons between the two. Nakajima is not thinking that far ahead.
"I think I will enjoy this great course and this moment," he said, "and honor to attend this event."