News
Sergio Garcia contending with unconventional putting method and four other takeaways from Day 2 of the Sanderson Farms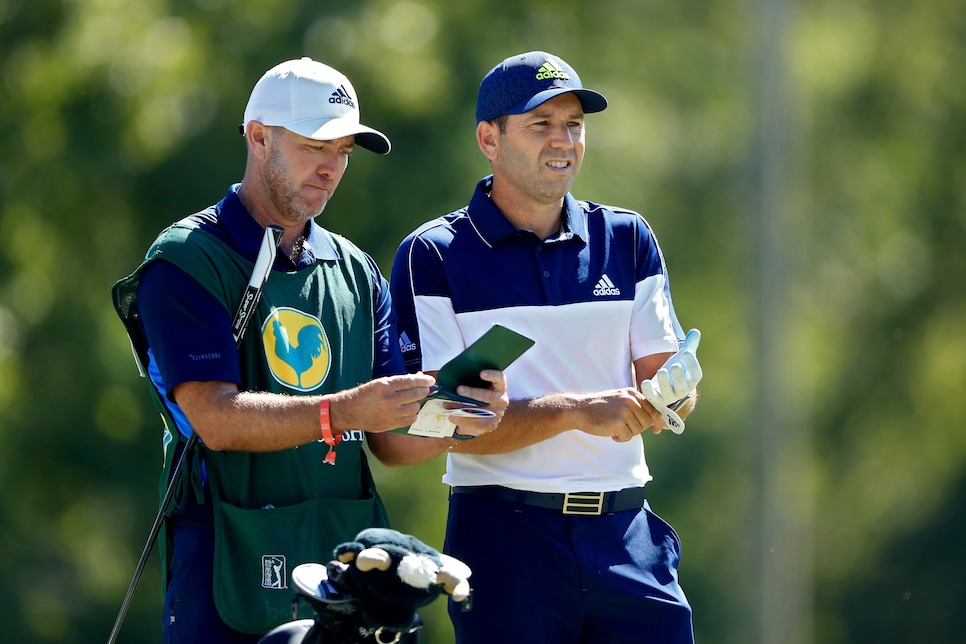 Sergio Garcia of Spain contemplates a shot on the fourth tee during the second round of the Sanderson Farms Championship,
Sam Greenwood
Unlike last week's Corales Puntacana Resort & Club Championship, the Sanderson Farms has a decent amount of star power, which is always a plus. A bigger plus is when perhaps the most decorated player in the field is in contention through two rounds, and he may have a very unconventional putting method to thank.
Here are our five takeaways from Round 2 at the Country Club of Jackson.
Sergio closes his eyes and finds himself in contention
When you putt like Sergio Garcia has for the last two decades, you're bound to try anything. Now that Garcia is in his 40s, it appears he's reached that point. Early in his second round on Friday, the Spaniard was seen closing his eyes before rolling a 16-foot birdie putt, which he made. It was assumed this was the first time he was trying it, making it all the more shocking that it was working. He finished with a four-under 68, putting him in contention at eight under heading into the weekend.
But something far more shocking happened after his round. Garcia claimed he had been doing this for three years, including during the biggest victory of his life at the 2017 Masters. Wait, what?
"Would you believe me if I told you I've been doing it for about three years?" Garcia asked a reporter, who responded by asking him on what putts does he do it. "Anything," he responded.
"Usually. I've gone on and off, but like Augusta I won it playing with my eyes closed every single putt and some of the other wins, too. I feel like it gives me a little more freedom to feel the stroke instead of kind of—sometimes we get too focused on trying to make it perfect and kind of following with the eyes and everything. So this way I feel like I just feel it and I just let my natural ability kind of take over instead of telling myself what to do."
We're not throwing around accusations here, but this seems ... odd. Garcia's been doing this for three years, including during the biggest tournament of the year that has by far the most eyeballs on it and no one noticed until Friday morning at the 2020 Sanderson Farms? It doesn't add up. But hey, it's working, and if it continues to, Garcia can tell us all to take a hike. He gained 0.005 strokes putting in his first round and 0.540 in his second, which doesn't sound like much but for Garcia it's a LOT. Good for him. If it can work for a notoriously bad putter like Sergio, there's hope for all of us.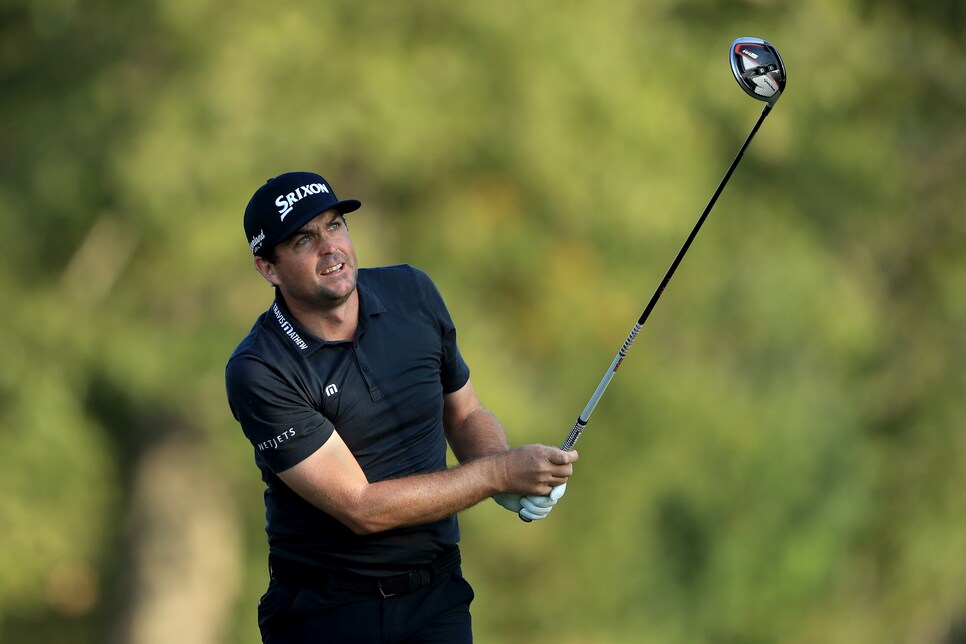 Keegan Bradley plays his shot from the 18th tee during the second round of the Sanderson Farms Championship.
Sam Greenwood
Keegan Bradley loves to randomly pop off
When Keegan Bradley first burst onto the scene, it felt like he'd be a guy that would win at least once or twice a year. Much like Garcia, a balky putter has kept him from that type of production. Also like Sergio, all he needs to do is have a decent week of putting and he can contend because of his strong tee-to-green play.
Through 36 holes, the former PGA champ's putter has been better than "decent." He ranks second in the field in strokes gained/putting, having gained 2.6 or more strokes on the greens in each round, posting 66-65 to take the solo lead at 13 under. When that happens, he can randomly pop off, just like he did at the 2019 Travelers Championship (runner up) and at the 2018 BMW Championsip (win). This is already feeling like a randomly pop-off week for Keegs.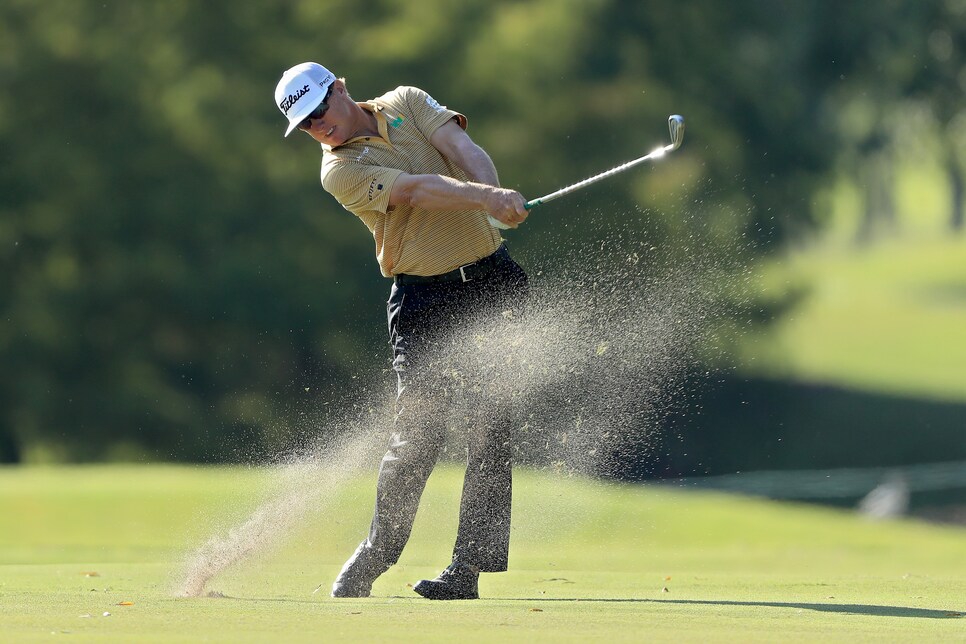 Charley Hoffman plays his shot on the sixth hole during the second round of the Sanderson Farms Championship.
Sam Greenwood
Charley Hoffman is far more than a Thursday player
It's probably only a "thing" because Golf Twitter has made it a "thing," but there's a narrative that Charley Hoffman always plays well in the opening round. He has been at the top of the leader board quite often on Masters Thursdays, only to fade on the weekend, so there's some vailidity to it. But let's not forget, this is a four-time PGA Tour winner who has seven top-25s in 33 major starts. He's far more than a Thursday player, which he proved Friday at the Sanderson by backing up his opening-round 64 with a 69 to pull within two shots of Bradley. He hasn't felt the heat of contention in quite some time (just two top 10s since April 2019), but based off his history, we don't think he'll shy away this week.
Can Denny McCarthy finally put it all together?
If you're not into gambling on golf or you're not a straight up stats nerds, you've either: a) never heard of Denny McCarthy, or b) are asking yourself why he's getting "he's about to put it all together!" treatment. Let's get you up to speed: McCarthy is one of, if not the, best putters in the world. This is not an opinion, it's a statistical fact. The former Korn Ferry Tour winner ranked first on the PGA Tour in strokes gained/putting in each of the last two seasons, which added up to a grand total of zero wins and six top 10s, only one of which came outside the fall swing. What gives?
Well, a closer look at the stats would show you just how bad McCarthy has been in virtually every other area, particularly on approach. It's nice to make a bunch of putts, especially on the PGA Tour, but if you're not striking it well off the tee or with your irons, it won't make much of a difference. This week, McCarthy is doing it all well, and it's added up to scores of 68 and 67, putting him at nine under. Halfway decent play in his approach game and with the driver on the weekend should lead to him seriously contending for the first time. As for the putter, that will probably show up like always (McCarthy has had just 25 putts each day).
"It's just the strength of my game. It's the best club in my bag," McCarthy said. "Funny enough, I've actually kind of struggled the last couple months with my putter, and I've started to hit it really, really nice the last few months, and the putter has kind of been lagging behind. That's just kind of how golf works sometimes. But these greens are so pure, I really enjoy putting on these greens. I'm just having fun out there."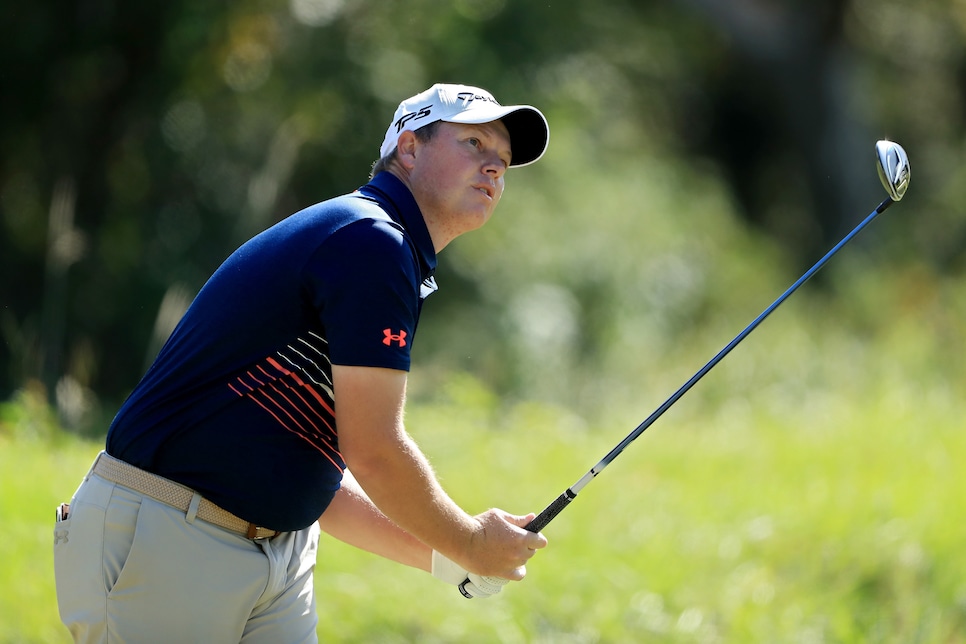 MJ Daffue plays his shot from the 16th tee during the second round of the Sanderson Farms Championship.
Sam Greenwood
A Monday qualifying legend may not have to Monday qualify again any time soon
Before he was the controversial star he is now, Patrick Reed was once known for being a Monday qualifying legend. South Africa's MJ Daffue has had similar Monday Q success, getting through nine of his 14 Monday qualifiers for PGA Tour or Korn Ferry Tour events. This past Monday was one of those nine, and now Daffue is 10 under through 36 holes in Mississippi thanks to rounds of 65 and 69. What's the secret to all the Monday Q success and his success this week so far?
"I think if you can get your putting into a way where it's good, then that's the recipe, I guess," he said. "When you get into a playoff you can't just make a par. You've got to make birdies and get through. I guess every round to me, I just take it as a Monday qualifier."
There's a lot of golf left, but the 31-year-old has positioned himself nicely to make Monday qualifiers a thing of the distant past (though they seem to be working for him).