Rocket Mortgage Classic
Cameron Young nails Presidents Cup audition, a leaderboard staple returns and Adam Scott's intriguing admission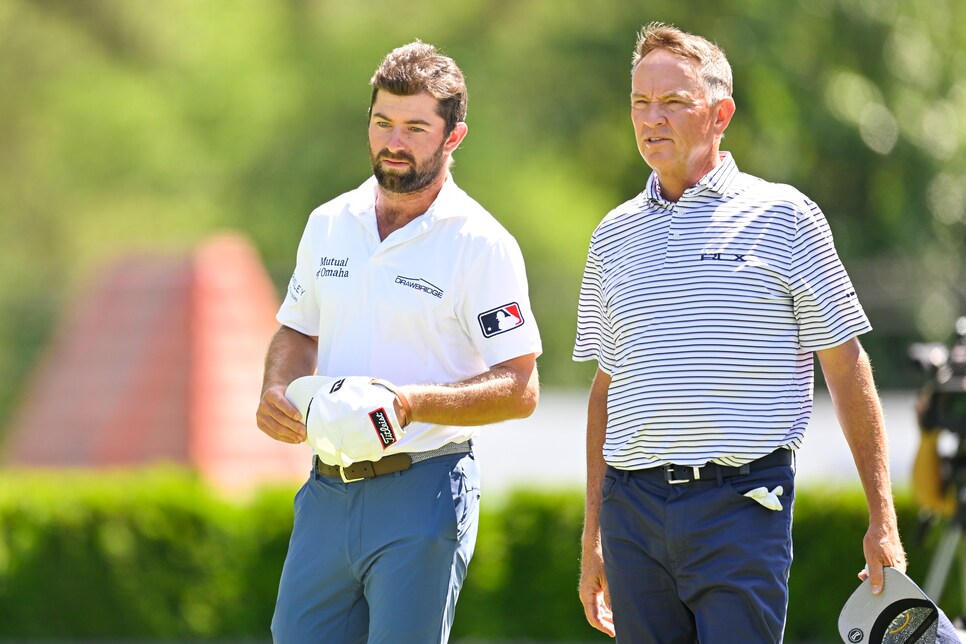 Cameron Young and Davis Love III finish their rounds on the ninth green during the second round of the Rocket Mortgage Classic.
Ben Jared
If Cameron Young was auditioning for a movie on Friday, he would have earned the lead role with his performance, and he would have earned it in an effortless manner.
Alas, Young was not auditioning for a film but rather the Presidents Cup, the Wake Forest alum having played alongside U.S. team captain Davis Love III over the first two days at the Rocket Mortgage Classic. If spots on the American squad were given out for one round alone, he'd have promptly been put on the roster.
Young's nine-under 63 on Friday, which matched the 18-hole tournament record, certainly impressed Love, but he currently checks in at 13th in the U.S. squad standings, seven spots back of an automatic bid. There are, however, six captain's picks, and Young's first two rounds with Love, in which he shot 10 under to be T-4, will go a long way in helping his chances of being selected with one of those six.
"I didn't know Cam at all," Love said afterward. "So it was a good week."
Helping Young's case even more was the fact that the third member of the group was fellow Demon Deacon Will Zalatoris, who sits at 10th in U.S. Team standings. Zalatoris and Young roomed together at Wake, and they remain very good friends. Love could see them becoming the Red, White and Blue's next dynamic duo for years to come.
"If they made the team, they're a natural," Love said. "It's like Xander [Schauffele] and Patrick [Cantlay], they're like peas in a pod. The only thing I asked them, you know, we've had guys before that hang out together all the time and do everything together but they don't really want to play together. I said, 'Do you want to play together or ... ' No, no, no, we do everything together."
Young has again again positioned himself to contend for his first win, knew what was at stake when he saw that he'd be paired with Love and his college buddy. Safe to say, he was able to overcome whatever nerves this trial run came with.
"A little bit," Young said when asked if it felt different playing with Love. "I mean, you obviously have kind of some idea why he's there. I don't know what I'm on on the points list for Presidents Cup, but I think that I'm probably somewhere that I could get picked. Anytime you get to be around someone like that, with his resume and then obviously his presence in the world of golf, it's a lot of fun. Obviously I'm glad I played well for a lot of reasons, but glad to do it in front of him as well."
Considering the direction the U.S. team seems to be going—younger, longer, wise beyond their years, etc.—it's a good bet that both Young and Zalatoris will be on the team, and that they'll be paired together. The prospect of that, naturally, has the 25-year-old rising star giddy.
"It would be very special.," Young added. "I've been a part of a couple teams throughout my life and it's just very fun. Anytime you get to put on red, white and blue is a special experience and I think this would be on a little different level for me. But yeah, I think obviously nice to play well in front of him and good just to spend some time around him. He's an awesome guy and has been around the game a long time, so it was a lot of fun. "
Look who is creeping up the leader board again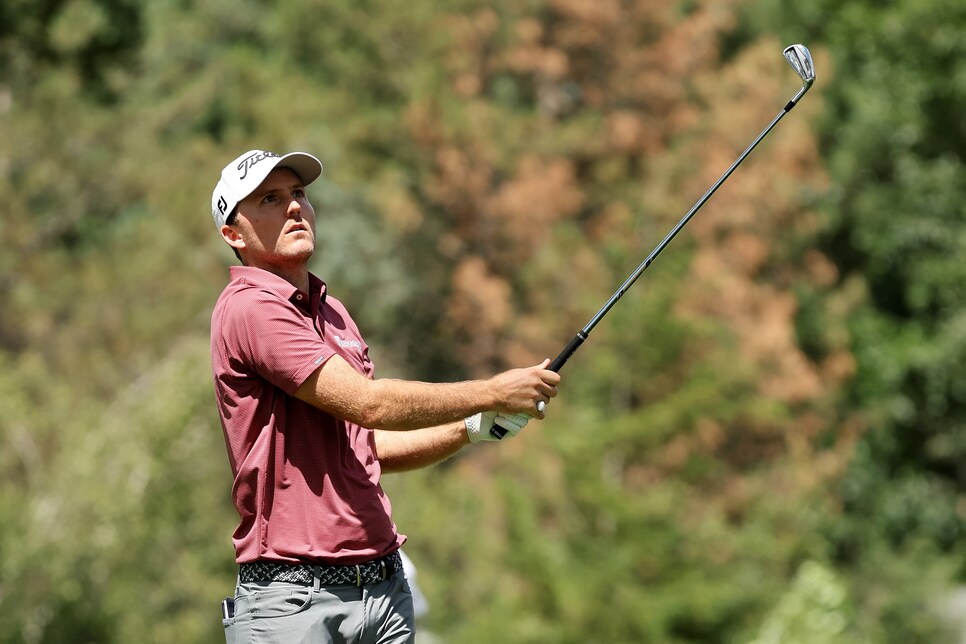 Russell Henley plays his shot from the ninth tee during the second round of the Rocket Mortgage Classic.
Gregory Shamus
It's unfair to throw the S-word around as liberally as we do (rhymes with pump), but that is seemingly what happened to Russell Henley after he failed to close out the Sony Open in Hawaii all the way back in January. Last season, and the early portion of this one, the former Georgia Bulldog was a lock to be in the top 10 or top 20 almost every other event he teed up in. Since that crushing runner-up at Sony, he's failed to post a top-10 finish in 12 straight events.
But the last four months in particular is where Henley's struggles have been most noticeable, a product of an ice-cold putter and the fact he's played only sparingly from April on. Of his last six events, four were majors, none of which he finished any higher than 30th (the Masters).
On Friday, Henley returned to a place he'd been living for quite some time—the top of the leaderboard. A seven-under 65, which did not feature a single bogey, vaulted him to 10 under after 36 holes, which has Henleytied for fourth just five shots off the lead of Taylor Pendrith. Through two rounds he leads the field in SG/tee-to-green, and ranks top six in both approach and around-the-green play. The putter is still chilly, Henley ranking 118th in that category, but that should only scare the rest of the field. If he keeps up the tee-to-green play and a few putts start to fall, Henley might be able to avenge the tough recent losses at Sony and last year's Wyndham Championship, where he'll return next week at the regular season finale.
Adam Scott says the quiet part out loud
Speaking of close calls at the Wyndham Championship, Adam Scott was one of the six players who chased down Henley last year at Sedgefield and earned a spot in a sudden-death playoff. Like Henley, though, he walked away crushed when Kevin Kisner finished the job on the second playoff hole, and Scott's been unable to get that seriously close to a win since. He's now gone two years and five months since his last victory, a fact the 42-year-old is well aware of.
"For me like the last couple years have been a bit of a blur," said Scott, whose six-under 66 has him in a tie for seventh in Detroit. "There's been a lot going on I guess for everyone with COVID, but the travel, the international travel and everything, and also, you know, we've had another young kid.
"I don't know if it feels long [since his last win] or just a wash," he said. "But it was a year ago next week that I was in that playoff at Wyndham and had the putt to win. I'd love to get back in that position over this weekend. I think generally everything has settled down for me and my game and everything is moving a good direction. So if it's not this week, it would be a good goal to try and win an event by the end of this season."
Scott realizes he simply hasn't been playing well enough to win on the PGA Tour in 2021-22. Just ... OK. It was that realization that led him to make an interesting admission on Friday afternoon.
"I don't think I've played badly at all, to be honest," he said. "I generally play consistently OK, but that kind of sucks on the tour."
Charles Howell III might disagree, but Scotty has a few more wins, and some big-time wins, than CH3. Just OK sucks for the great ones, which Scott very much is. But a T-14 in the U.S. Open, a T-15 in the Open Championship, plus a solid start this week, are signs he's coming out of the just-OK funk and ready to contend again.