News
Brooks Koepka's year from hell ends with missed cut at Mayakoba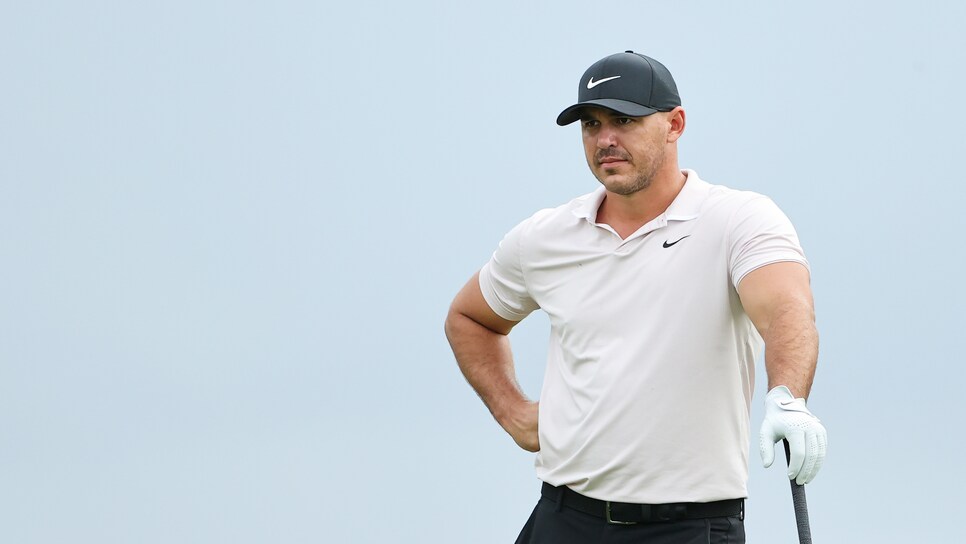 Brooks Koepka looks on from the 16th tee during the second round of the Mayakoba Golf Classic.
Hector Vivas
By Brooks Koepka standards, 2020 was not a good year for Brooks Koepka. For anybody else, four top 7s, including one at the Masters, plus a legitimate chance to win the PGA Championship, would be a pretty solid output in 16 starts. Not so much for the four-time major winner.
"I don't know if I could say that without getting fined," Koepka said Wednesday when asked to sum up his 2020. "Pretty bad."
Injuries, which caused him to miss significant time, certainly played a role in Koepka's year from hell, which came to an end on Friday. Koepka shot a second straight even-par 71 at El Camaleon Golf Club, putting him one shot off the cut line and sending him packing. It marks his fifth missed cut of 2020—the most he's suffered in a calendar year since 2014.
He'll now gladly turn the page to 2021, though we won't see him in action until late January at the earliest. Koepka's victory-less 2020 means he did not earn an invite to the Sentry Tournament of Champions, so he won't get his 2021 underway until the West Coast Swing. We speak for everyone when we say we hope we get peak Brooks again very soon, and considering he had back-to-back top 10s before this week, we expect it.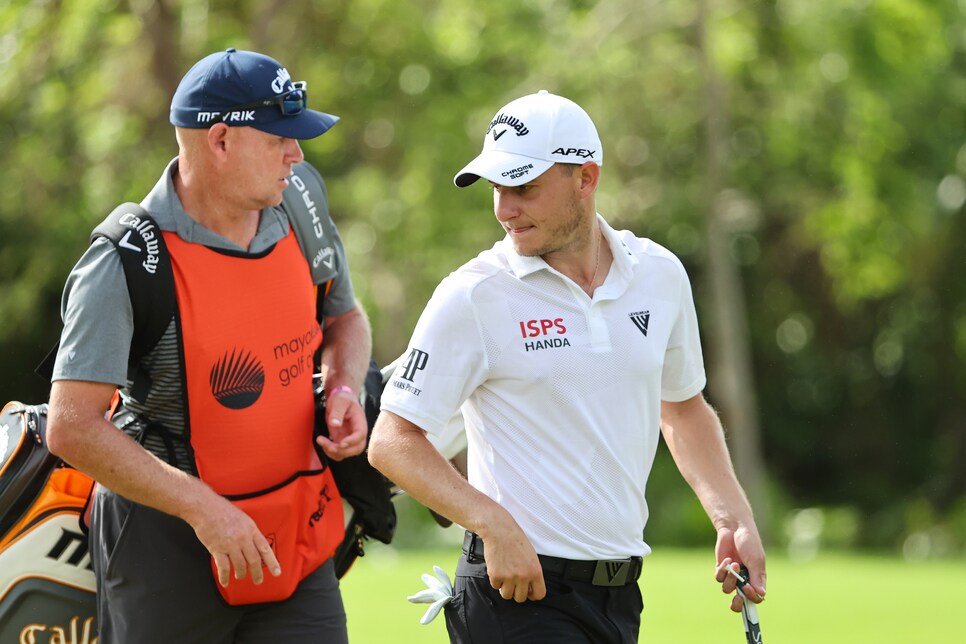 Emiliano Grillo talks with his caddie on the first green during the second round of the Mayakoba Golf Classic.
Hector Vivas
The wet conditions are playing right into Emiliano Grillo's hands
Outside of Byeong Hun An, there may not be a more frustrating player among the golf gambling community than Emiliano Grillo. His consistently elite iron play should be enough to put him in contention every time he tees it up, and yet, he has one PGA Tour victory and is currently ranked 171st in the world. To steal a fantasy football phrase, Grillo is the ultimate "boom or bust" player.
Why? This may shock you, but, like An, he's a notoriously bad putter. In four of the last five seasons, the 28-year-old Argentinian has ranked outside the top 100 in strokes-gained/putting. A great way to mitigate that for an iron player of his caliber is soft conditions, which allow guys like Grillo to fire at flags and leave themselves short looks for birdie. It's plenty soft this week in Mexico, and it's only going to get softer on the weekend with more rain in the forecast. Grillo, who shot 63 in the second round and leads by four strokes at 13 under, must be salivating at the thought of a second career win.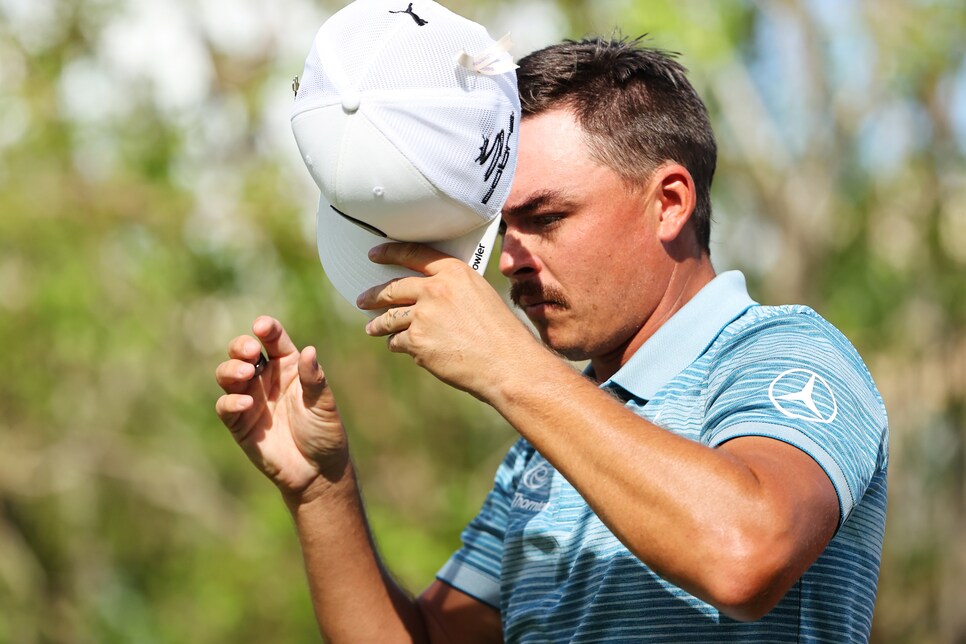 Rickie Fowler walks on the sixth hole during the second round of the Mayakoba Golf Classic.
Hector Vivas
Rock bottom for Rickie Fowler?
Let's be clear: There is no such thing as rock bottom for Rickie Fowler, who is practically swimming in money like Scrooge McDuck. But if we're just talking about his play on the course, Friday may have been Fowler's lowest point in a long time. His week couldn't have gotten off to a better start, Fowler going birdie-birdie on Thursday to vault to the top of the leader board. He followed it up with a quadruple bogey, also known as an "other" on the scorecard, which has become an all-too-common occurrence for the five-time tour winner.
To his credit, Fowler scratched and clawed his way back to one under in one of the craziest rounds of his career. But he couldn't carry over the momentum into Friday, as he shot a one-over 72 to miss his eighth cut in 20 starts in 2020. Two reasons that's bad for Fowler: 1. He will likely drop out of the top 50 of the OWGR for the first time since February of 2014; 2. Because of that, he does not yet have an invite into the 2021 Masters. This is a player who has finished T-12 or better in five of his last seven trips to Augusta National, a player who was ranked seventh in the world less than 24 months ago. What the hell happened?
The easy answer is Fowler has gone through some serious swing changes, which he'll eventually work through and return to his old self. But he's also putted quite poorly of late, which is normally the best area of his game. Like Koepka, he can't wait for 2021 to get here, but it's not going to happen overnight. He's still got a lot of work to do with his swing, with the putter and, most importantly, he needs to stop making "others," which almost always kill your chance of contending, let alone winning.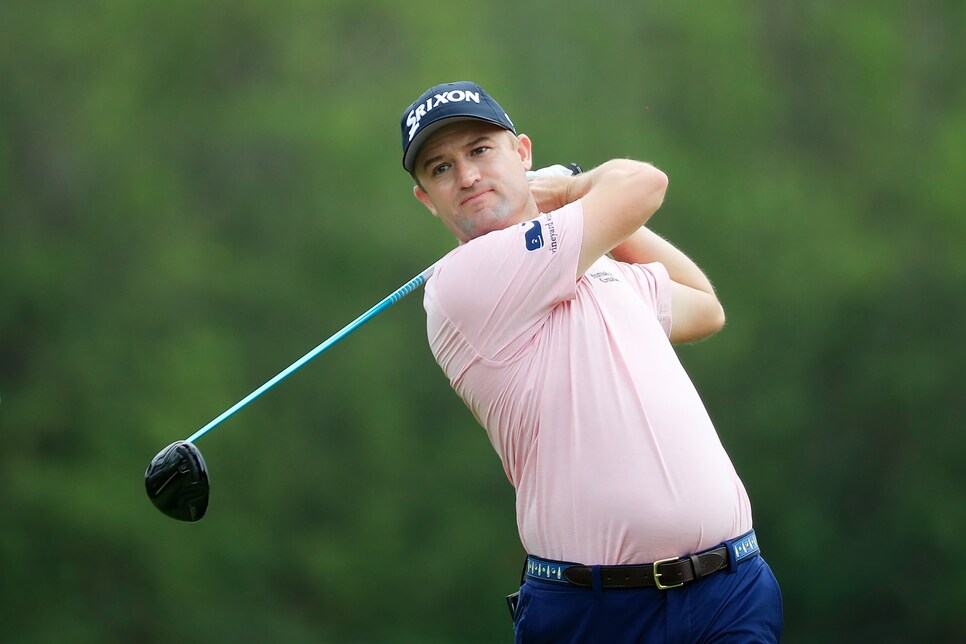 Russell Knox plays his shot from the sixth tee during the second round of the Mayakoba Golf Classic.
Cliff Hawkins
Russell Knox really missed the wind on Friday, and that makes him a madman
A common refrain you'll hear watching golf coverage is that if there is no wind, these tour pros are bound to go low. The opposite could be said for Russell Knox, who not only thrives in the wind, he embraces it.
It's one thing to say that, though, and another to actually prove it. The 35-year-old Scotsman proved it on Thursday, shooting a six-under 65 in blustery conditions. On Friday, there was virtually no wind, and Knox played worse as a result. "Worse" being a two-under 69 that has him in contention at eight under.
Unfortunately for Knox, there isn't much wind in the forecast on the weekend in Playa Del Carmen, just a whole lot of rain. By the sound of it, that doesn't bode well for Knox.
"I hate it, to be honest," Knox said when asked what it was like to play without wind on Friday. "I love it when there's wind because I feel like I can use the wind, hold the ball up or let it ride. Sometimes when there is just not much, I struggle to kind of see a shot."
What a madman. Yes, sometimes the wind can help, but to go as far as saying you "love" it? That's sicko stuff. Credit to Knox for getting to the point where he uses a thing most players have a lot of trouble with to his advantage. He's not the only great wind player on tour, but he has to be the first to ever say he "loves" it.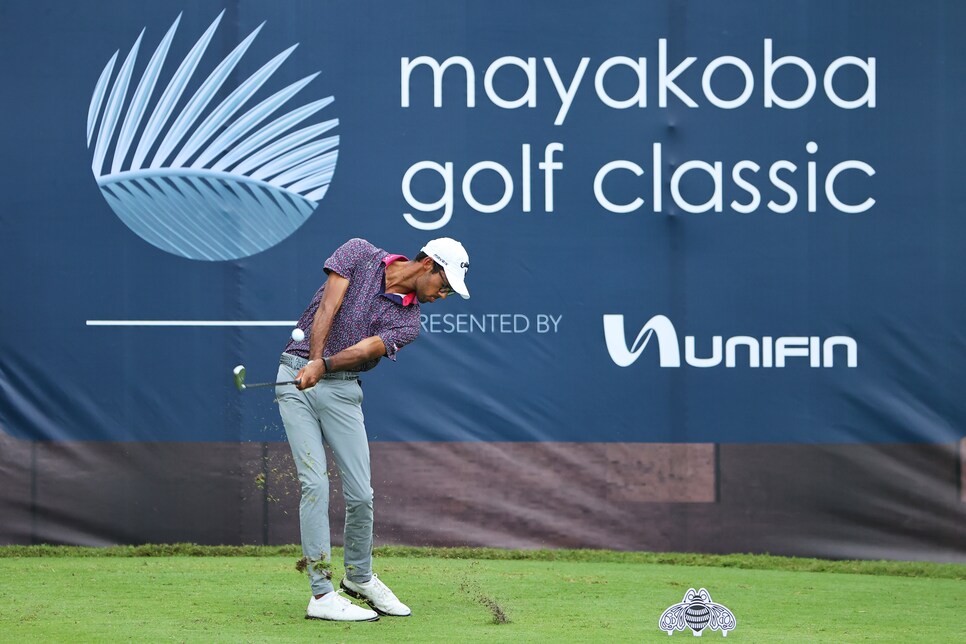 Akshay Bhatia plays his shot from the 15th tee during the second round of the Mayakoba Golf Classic.
Hector Vivas
At this point, the PGA Tour is overflowing with young studs. It's as if there aren't enough wins to go 'round. If the first 36 holes at Mayakoba are any indication, there are more coming. Akshay Bhatia and Andy Ogletree, who is making his pro debut this week, are six under and seven under, respectively. Their combined age? 40. 40! These two make Knox (35), Fowler (31) and Koepka (30) look old. Does the PGA Tour have TOO many good young players? Just kidding. This is great for the sport, but not so great for the geezers who are still trying to hang (just don't tell that to Stewart Cink).