Takeaways
The studs start slow, Kodaira can't miss and who broke Tony Finau?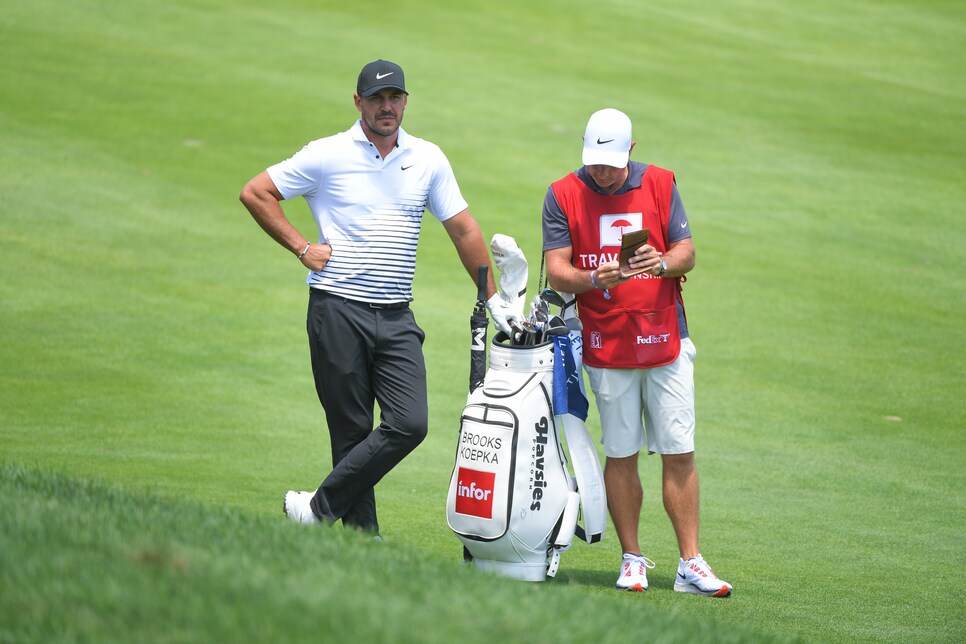 Between the cross-country travel, getting beat up by Torrey Pines and the overall intensity of the U.S. Open, a natural letdown was to be expected for the big boys in the Travelers Championship field. Brooks Koepka, Bryson DeChambeau, Dustin Johnson, etc. Of course, we rarely hear tour pros actually admit to such a theory.
"Yeah, I'm awful the week after a major," Koepka said on Thursday evening. "Especially U.S. Open, because it takes so much out of you."
The blunt honestly is hardly surprising, though it wasn't like Koepka played that bad. He started off very slow, yes, going out in one-over 36 without a birdie, but came home in two-under 33, posting a one-under 69 that gives him a chance to shoot a good one on Friday and get back in it.
"But still should have played better. No excuse. I mean, I'm kind of tired. I am going to enjoy getting to bed tonight."
Johnson, who played alongside Koepka, has more work to do in Round 2, having shot an even-par 70 that has him seven off the lead. He has not won since the Saudi International in February on the European Tour. It's hardly a drought, but he did see Jon Rahm take his spot atop the World Ranking last week. And its noticeable enough to wonder when Johnson will return to the form we saw late last summer and into the early fall, a scorching stretch that began with a victory in this event.
And finally there was DeChambeau, who recovered from his catastrophic back-nine 44 on Sunday at Torrey Pines with a one-under 69 in Connecticut. The week is far from over for this trio of studs, but the true "are they still hungover?"/"do they even want to be here?" test comes on Friday, when they can either go for the weekend or have the PJ warm and ready for some much-needed R&R.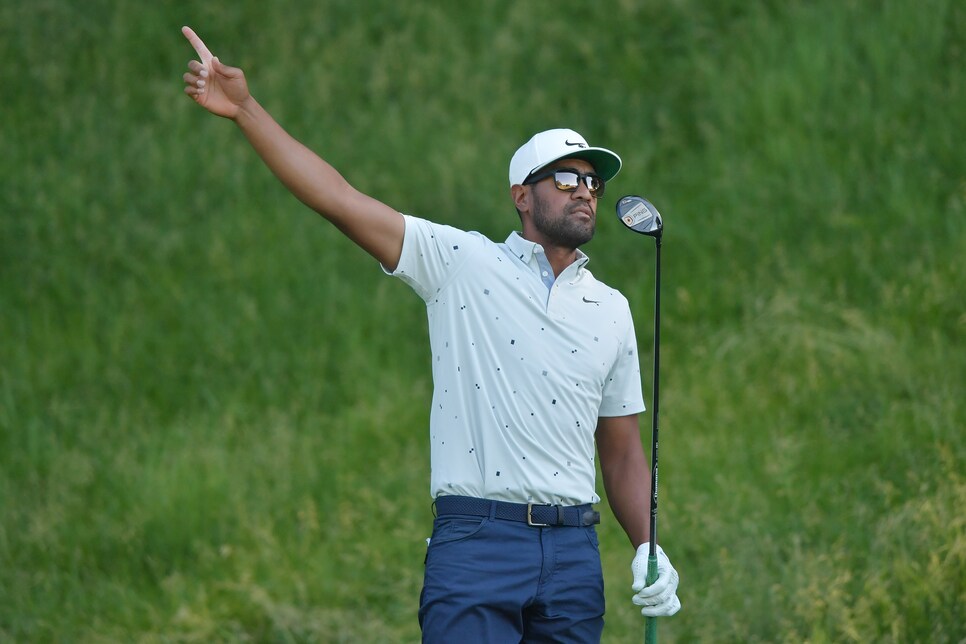 Speaking of studs still nursing a U.S. Open hangover, Tony Finau was downright dreadful in the opening round at TPC River Highlands, shooting a six-over 76 that has him in a tie for 150th. The difference between him and the trio mentioned at the top? He did not make the U.S. Open cut, so he shouldn't be nearly as hungover as them.
And that's the thing, he's probably not, he's just not playing very good golf right now, and hasn't since losing in that playoff to Max Homa at Riviera back in February. This top-10 machine has just two top-10s in nine starts since then, and, impressively, they both came in majors (Masters, PGA). Even after MCs at the Players, Valero and Wells Fargo, though, he seemed to quietly begin rounding back into form, with a 20th and a 32nd at Colonial and Muirfield Village, the only thing holding him back being a balky putter.
At Torrey, however, the putter was the only club that showed up, with Finau losing strokes in every other significant area, including -5.2 tee-to-green. Thursday was more of the same, and this time the putter was missing again, too. Finau lost strokes in all six measured areas in Round 1, a shocking sight for a player of his caliber who is so consistent. For now, we'll chalk it up to two bad weeks. He's way too good for this to continue.
Satoshi Kodaira's putter is SCALDING hot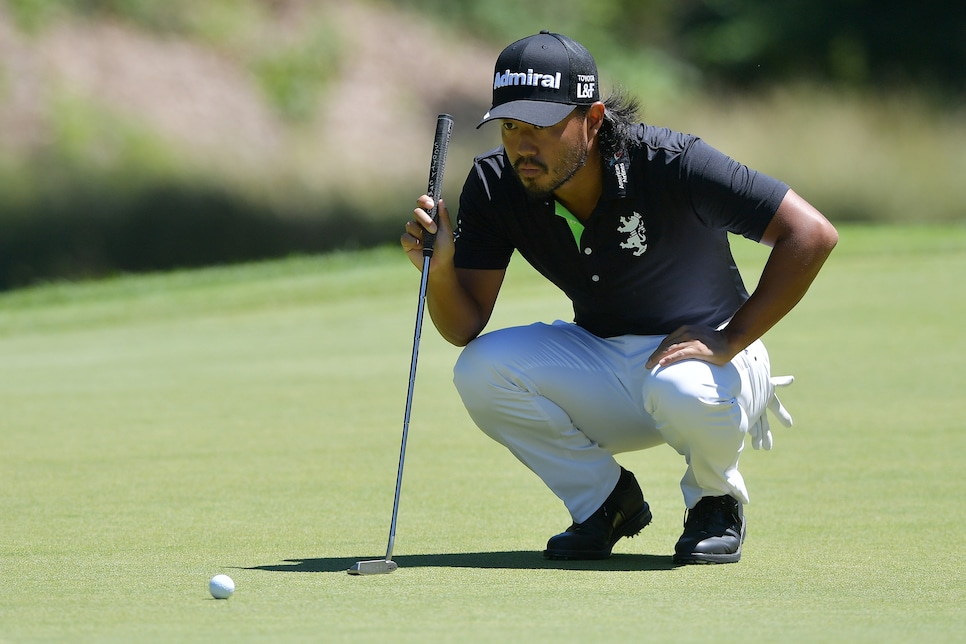 Normally, Kodaira would be a prime candidate to disappear on Friday and Saturday and end up tying for 33rd Sunday afternoon after his seven-under 63 to start. That might be selling he, and his red-hot putter, short right now.
Kodaira, who shares the first-round lead with Kramer Hickok, actually has begun to cook as of late, particularly on the greens, where he's gained +6.5, +4.2 and +5.6 in his last three starts, all while striking it solidly, too. In turn, he's had three consecutive finishes inside the top 19, and if Thursday is any indication, he's on pace for a fourth. At one point, Kodaira was eight under par through 12 holes, bringing #5958watch into the picture, He almost gained four strokes putting in the first round alone, a difficult number to back up but one he'll no doubt attempt to. If so, perhaps a second win is on the horizon. His last win came at the 2018 RBC Heritage at Harbour Town, another Pete Dye course.
Bubba? In thie mix? At the Travelers? Not in this lifetime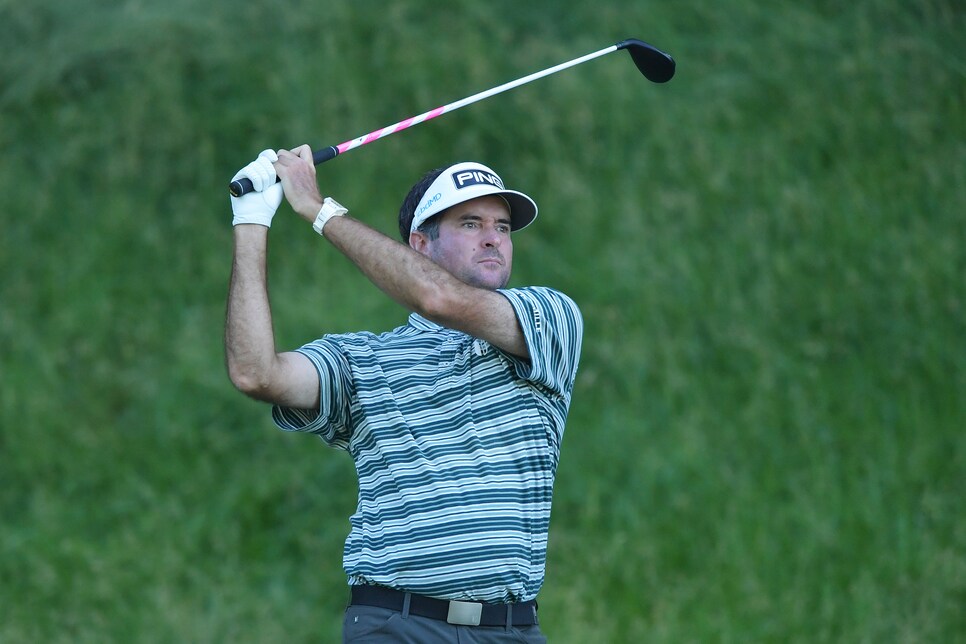 Hopefully, your sarcasm detector is on. The three-time Travelers champ almost always plays well here, and Thursday was no different. A tidy little four-under 66 to get him in contention for a second straight week. Of course, we know how last week turned out, but the U.S. Open at Torrey Pines is a far different beast than TPC River Highlands, where Watson should feel all warm and fuzzy for, hopefully, the next three days.
Gooch, McNealy ready for breakthrough?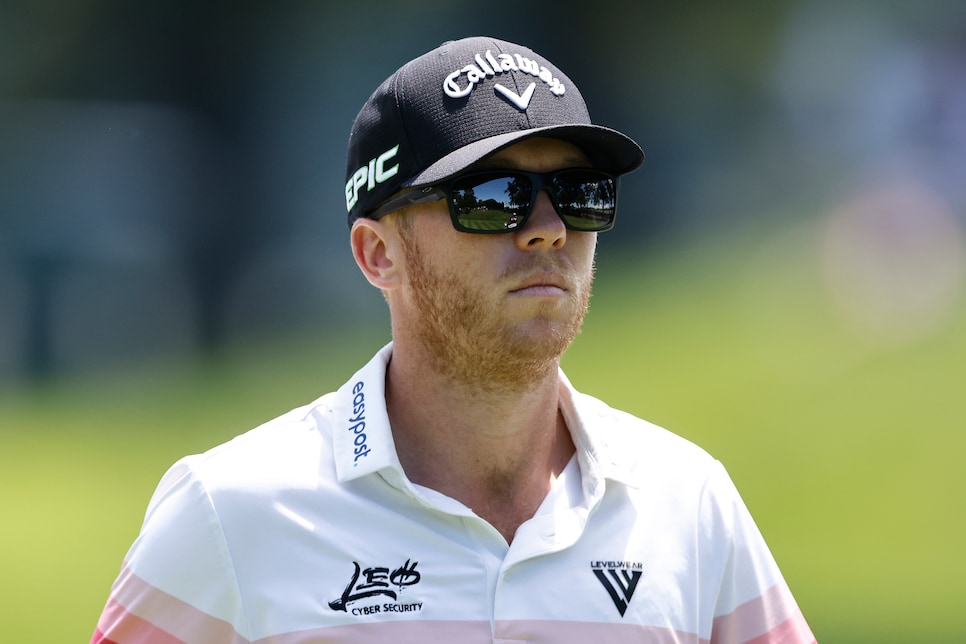 It's only Thursday. We know, we know. But these two former college studs turned pros turned struggling pros turned consistent leader board staples do seem ready to bust down the door. Gooch (above), who is in solo third following a six-under 64, has made nine of his last 10 cuts, picking up four top-20 finishes along the way, including a fifth at the Players (Pete Dye anyone?!). McNealy, who shot a five-under 65, has had an equally strong 2021, with a runner-up at Pebble Beach, a fourth at Harbour Town (PETE DYE … ANYONE?!?!) and a 20th at Colonial. Hey, if the studs we mentioned at the top all fade on Friday, the weekend stage is there for the taking for guys like Gooch and McNealy to grab win No. 1.