Phil The Thrill
Phil Mickelson makes 100+ feet of putts in back-to-back holes, follows with flubbed chip, remains human highlight reel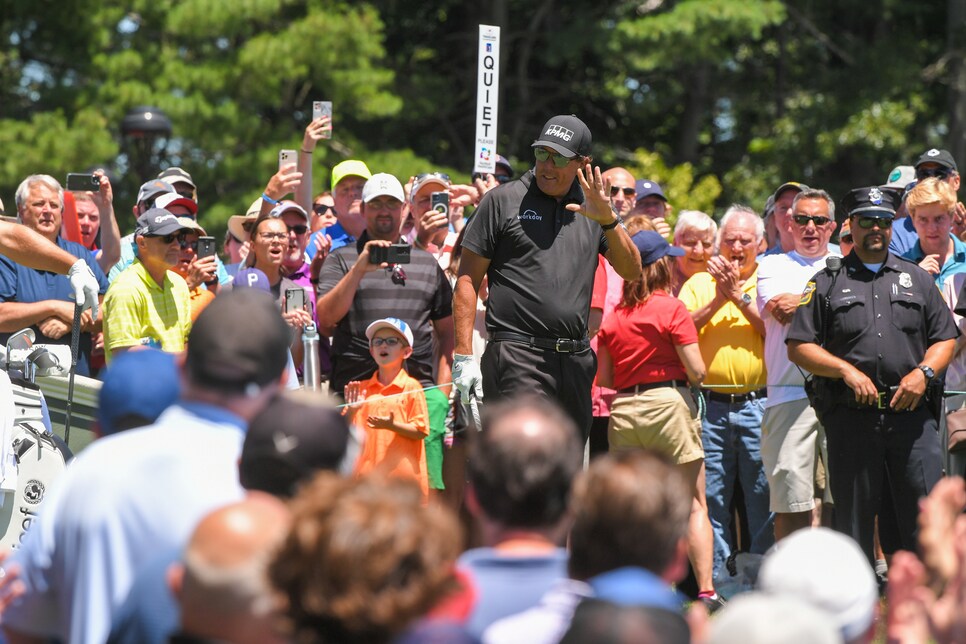 Phil Mickelson could be excused for coming to Cromwell, Conn. on an empty tank. Mickelson is still wrapped in the golden aura of Kiawah, and entered the Travelers Championship off an emotional week in front of his hometown crowd against a tournament that has been his career nemesis.
But, energized or not, Mickleson is golf's human highlight machine. And that is a machine that can't be turned off.
Mickelson proved this was the case Thursday at TPC River Highlands. The 51-year-old first dropped a 63-foot birdie putt at the par-4 ninth, and in case you think that's a typo, let us repeat: a 63-foot birdie putt:
It is Mickelson's second-longest putt of the Shotlink era (2003) and just his third putt over 60 feet in the last two decades.
Now, the putt was a thunderbolt to the gallery that engulfed Mickelson, yet even us mere mortals accidentally run into the hole. But Mickelson showed on the 10th that the ninth was no aberration, this time draining a 40-footer for par:
That, my friends, is getting it done.
Of course, this is Phil Mickelson we're speaking of, meaning there has to be some stumble to offset the shines. That stumble came on the par-3 11th, when Mickelson flubbed a chip next to the green. But no matter; Thursday was the latest page in his ever-growing book that, on both sides of the spectrum, Phil continues to thrill.