Takeaways
Jim Furyk turns back the clock, Kevin Na's title defense starts strong and a struggling pro sees hard work pay off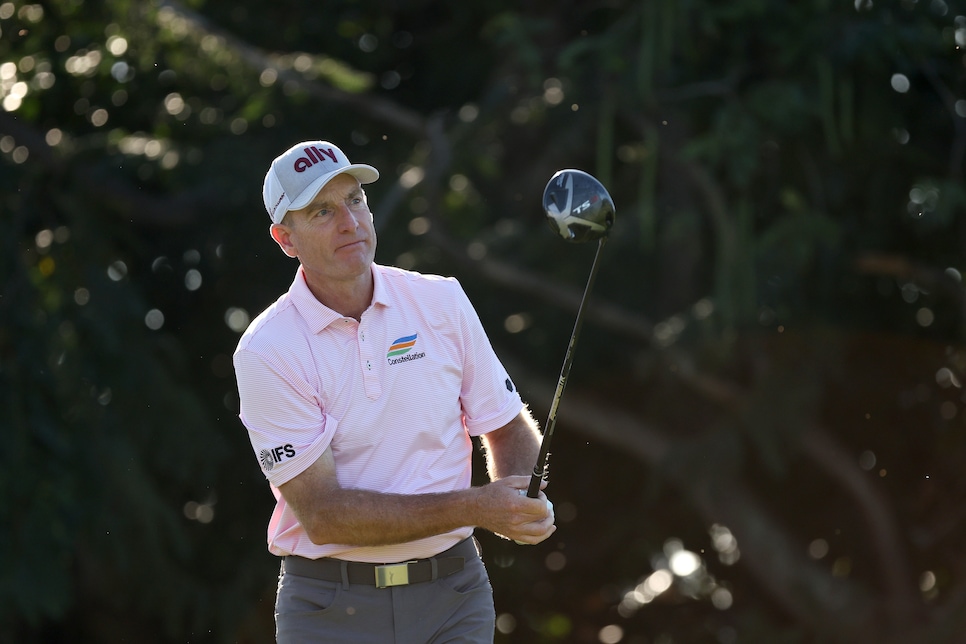 Jim Furyk watches his shot from the fifth tee during the first round of the Sony Open.
Gregory Shamus
Of the major professional sports, golf is supposed to be the only one where the old guys can still hang. It's the sport where a 50-year-old Phil Mickelson can win one of the schedule's biggest events, where a 48-year-old Stewart Cink can somehow put together one of the best seasons of his long career.
But there's no denying that the game is becoming increasingly younger and increasingly longer, which has pushed aside many of the geezers who, unlike Mickelson and Cink, can't find that extra bomb-and-gouge gear in their old age. Jim Furyk, now 51, has no problem admitting that fact, which is why he now spends the majority of his time on the PGA Tour Champions.
But at Waialae Country Club, a course that prioritizes accuracy off the tee, laser-like focus on your second shots and the ability to roll in putts, Furyk can still hang. It helps, too, that his strokes gained/vibes are off-the-charts high when he steps foot on the Seth Raynor design. One of his 17 career PGA Tour wins came in this event in 1996, and he's been coming back to stack top-10 finishes in Honolulu ever since. On Thursday, in his first PGA Tour round since the RBC Heritage last April, Furyk shot an eight-under 62, highlighted by a birdie-birdie-birdie-ace-par finish.
"I've always loved being here. I love Sony," Furyk said. "It's a place I had a lot of success. I think I lost in a playoff in 1997. Had a lot of top-10s here. Love the course. I feel like I'm not hitting the ball far enough to compete out here on a regular basis on a lot of the golf courses. But Waialae is a place I still feel I can get around and shoot under par pretty well. Places I've won—Valspar, Heritage—those are courses I can still compete on. Once in a while I'll dip out here, but I'll predominately play on the Champions Tour, and having Hualalai next week, I'm grateful Sony gave me an exemption and a chance to come over here for two weeks in Hawaii."
Of course, Furyk was inadvertently reminded earlier this week that, even though he can still shoot 62, he's getting up there in age.
"Played a practice round with a guy that called me 'sir,'" Furyk said, referring to Korn Ferry Tour pro Brett Grant. "And later on he [Brett] asked me what I liked most about the Champions Tour, and I said, 'No one calls me 'sir.'"
Perhaps still being able to hang with the young guys ain't all it's cracked up to be.
Kevin Na's title defense off to running (or walking?) start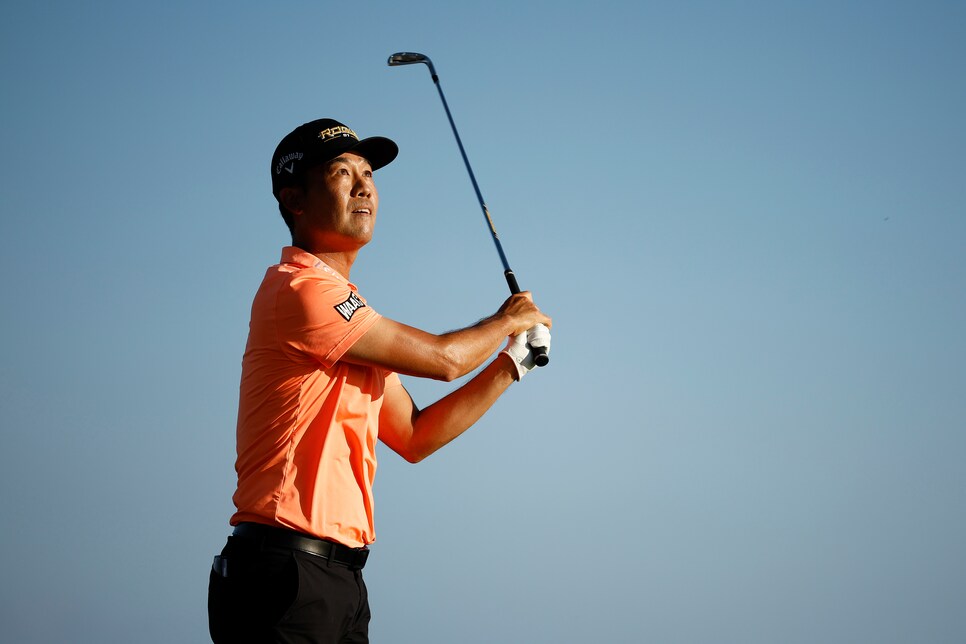 Kevin Na watches his shot from the 17th tee during the first round of the Sony Open in Hawaii.


Cliff Hawkins
Two things can be true: 1. Kevin Na walking in putts is getting to be a bit much; 2. He, and the walk-ins, do not appear to be going anywhere.
Following a respectable T-13 finish last week at the Sentry Tournament of Champions, Na rolled the momentum over to Thursday and went out in 29 at Waialae, walking in literally everything he looked at on the greens. There was decidedly less walking in on the back nine, but not for lack of opportunity. He just couldn't get one to fall, right up until the 18th, where he got up and down from a greenside bunker for a closing birdie for 61, giving him the solo lead in the tournament he won a year ago. What more could you ask for? A bigger lead, which Na knows he had a prime chance at.
"I tell you what, I had a chance for a 59. I gave it all I could," Na said. "I'm a little disappointed my putts didn't fall, some of the good putts that I hit didn't fall."
He'll need a few more to fall on Friday, especially if last week is any indication. Anything less than two or three under (or even three or four under) is losing ground on today's PGA Tour, and that's not even factoring in when a 51-year-old is throwing up 62s.
"What an incredible round and how good he [Jim Furyk] is, still is, at age 52, is it? 51?" Na said. "That's incredible. I hope some day to be that good when I'm 51. But yeah, it just shows you that it's out there."
Kevin Chappell, who is running out of starts, sees hard work pay off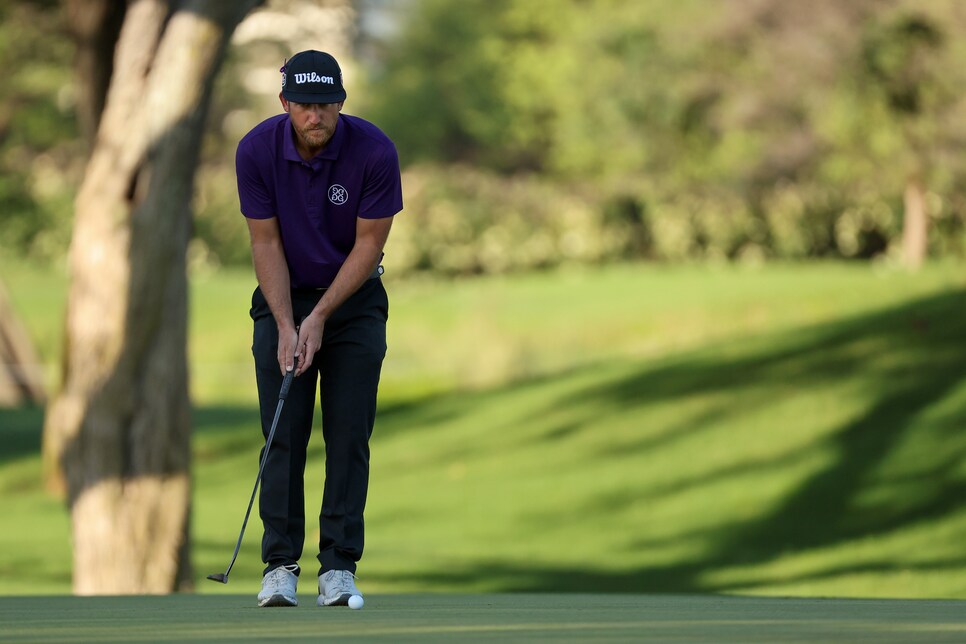 Kevin Chappell prepares to putt on the fourth green during the first round of the Sony Open in Hawaii.
Gregory Shamus
Kevin Chappell is by no means a prolific winner on the PGA Tour, but his lone victory at the 2017 Valero Texas Open—a one-stroke win over some guy named Brooks—was a rather impressive one. That same season, Chappell, then 29, racked up five top-10s and made more than $3.1 million. He made the victorious 2017 U.S. Presidents Cup team and was as high as 23rd in the Official World Golf Ranking. I think you know where this goes next.
Chappell has since fallen on tougher times, through no fault of his own. Discomfort in his back had been plaguing him for years, but he played through it. Finally, in late 2018, he decided he couldn't take it any longer. He had at one point lost feeling in his right leg, affecting his ability to walk. After consulting with doctors, he had surgery and was able to return to golf in late 2019 at The Greenbrier, where he shot a second-round 59. Unfortunately, there had been few highlights since for the now-35-year-old.
That changed on Thursday in Hawaii, where Chappell shot a first-round 63 that has him just two off the lead and, more importantly, in a solid head space again.
"Got off to a weird start, I'll be honest," he said. "Was a little nervous coming into today for some reason. It's been a little while since I felt like I was myself on the golf course."
Chappell, a former NCAA champion at UCLA, went on to explain that there were still some lingering effects from the surgery last season, one in which he played just 12 events and missed five cuts. After a T-36 at the Travelers Championship in June, he made the call to shut it down for the time being.
"I wasn't good physically, I wasn't good mentally and I needed to take some time. And so I did," he said. "The tour has been phenomenal with that supporting me and I did that. Really dove into the mental side and believe it or not, the better I got mentally, the better my back got.
"It's been a lot of hard work but it's been great."
There's more hard work ahead for Chappell, who has just five starts remaining on his major medical extension. Chappell needs a top-four finish this week (nine-way tie for second, four-way tie for third, solo fourth) to earn 128.577 FedExCup points and satisfy his Medical extension to be able to play the rest of the 2022 season, or a top-20 finish would move him into the No. 126-150 category.
What happens on the course seems of little concern to him, though. "What's meant to be, will be," he said. "If I'm not meant to play this game any longer, that's fine with me. I'm going to put my head down and play the best I can the next five events."
Jim Furyk's not the only old guy still hanging around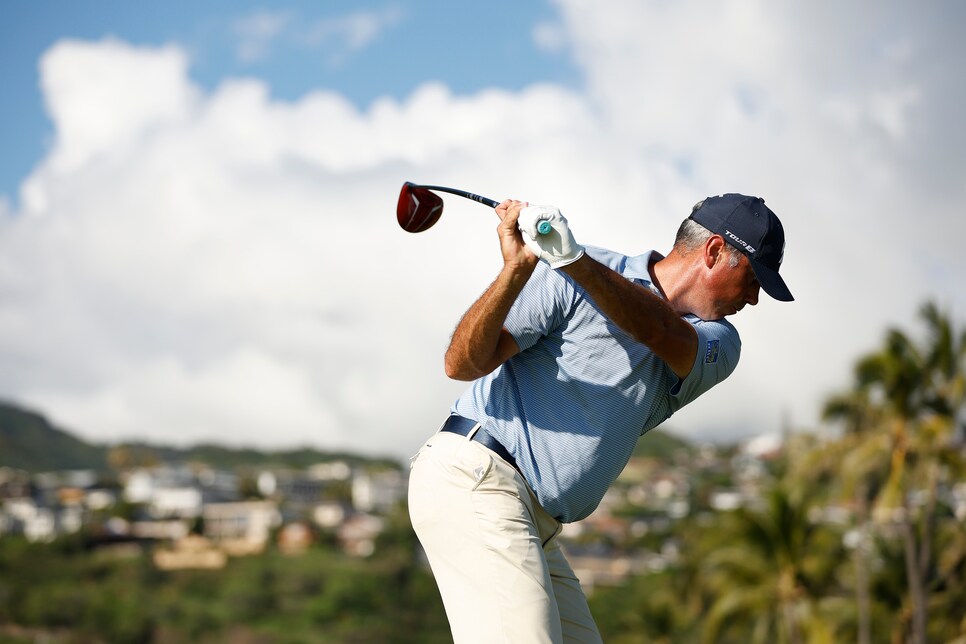 Matt Kuchar plays his shot from the 14th tee during the first round of the Sony Open in Hawaii.
Cliff Hawkins
At 43, Matt Kuchar is still a long way from PGA Tour Champions/Jim Furyk territory. But after a pair of winless, down seasons for the former Players champ in 2020 and 2021, the thought of "can I still hack it out here?" had to have crossed Kuchar's mind at some point. Enter Waialae, which seems to be a fountain of youth, especially for former winners of the event, of which Kuchar is one. The Sony is the site of his last victory in 2019—one that came just two months after his eighth career tour win at Mayakoba.
He'll need more than just a first-round 64 to return to glory this week, but the strong start served as an I-can-still-do-this-at-the-right-course gut check round for Kuch, who echoed some of Furyk's sentiments.
"This golf course, it's totally unique," Kuchar said. "We don't see many that play like this. It's reminiscent of Hilton Head and Colonial, and you know, it's tough on the normal day, and this year, with the rough up, it's really penalizing. So finding fairways is a big part of having success around here."
Ahhh, the lost art of fairway-finding. More obsolete than the mid-range jumper in the NBA. Difference is, in golf, the mid-range jumper can still be the go-to a handful of times per year.