News
Peter Malnati sounds extremely confident and three other takeaways from Thursday in Bermuda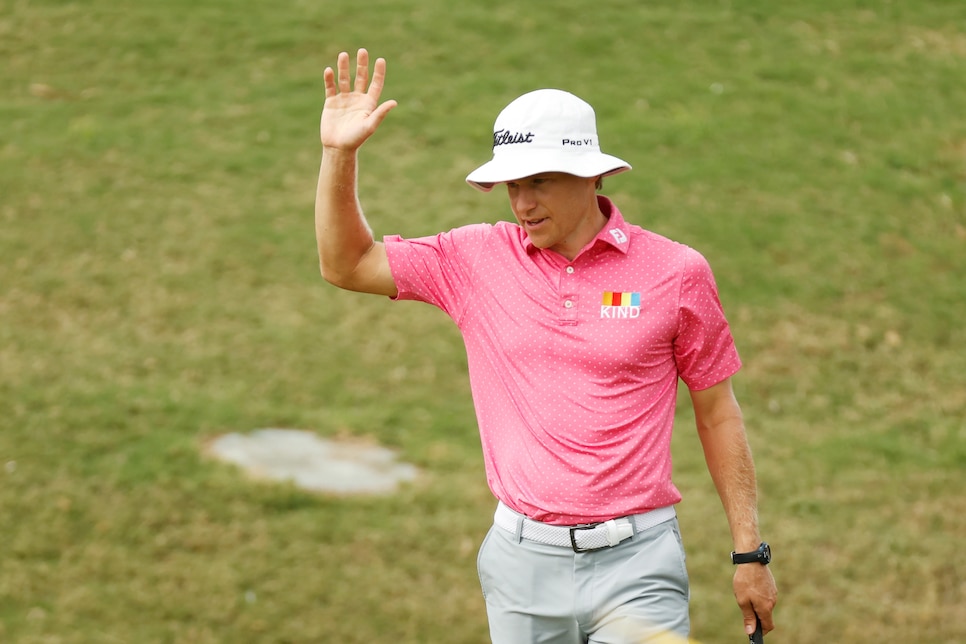 It may look like a laid-back affair on television, but make no mistake, there is a lot on the line for many players competing at this week's Bermuda Championship. You're going to hear "a good finish here could set (insert player) up for the rest of the season" this week, which is absolutely true.
Here are our takeaways from Day 1 in Bermuda.
Peter Malnati sounds extremely confident
Self-belief is a prerequisite to make it on the PGA Tour. Peter Malnati has plenty of it right now. Understandable given the run he's on. Since the final round of last month's Sanderson Farms, where he wound up finishing in solo second, the 33-year-old has gone 63-66-62-71-66-63 on tour. The 66 helped him post a second-straight top five, at the Shriners, and the second 63 came on Thursday at the Bermuda Championship, which he leads alone after 18 holes. The 2015 Sanderson winner says he's had stretches like this in the past, but they've been few and far between. This latest run of form, however, feels different than the others.
"When I finished second in Jackson, and then fifth the next week in Vegas, those both felt awesome and fantastic. But it didn't feel at all exceptional," Malnati said. "It felt like, this is what I've worked to do to develop this. So that feels pretty good, I feel like I can still keep building."
When asked if Port Royal, this week's host site, fits his eye, that's when Malnati started to sound really confident in himself.
"Right now you could put me anywhere and I'd feel good, I'd feel like the course would suit my game," Malnati said. "We talk a lot about horses for courses, but the reason Tiger was a horse on so many courses was because any course suited him, you know what I mean? Playing like this, any course could suit me."
Much work still to be done for Malnati, but he sure sounds like a guy ready to win again, five years after getting his first victory.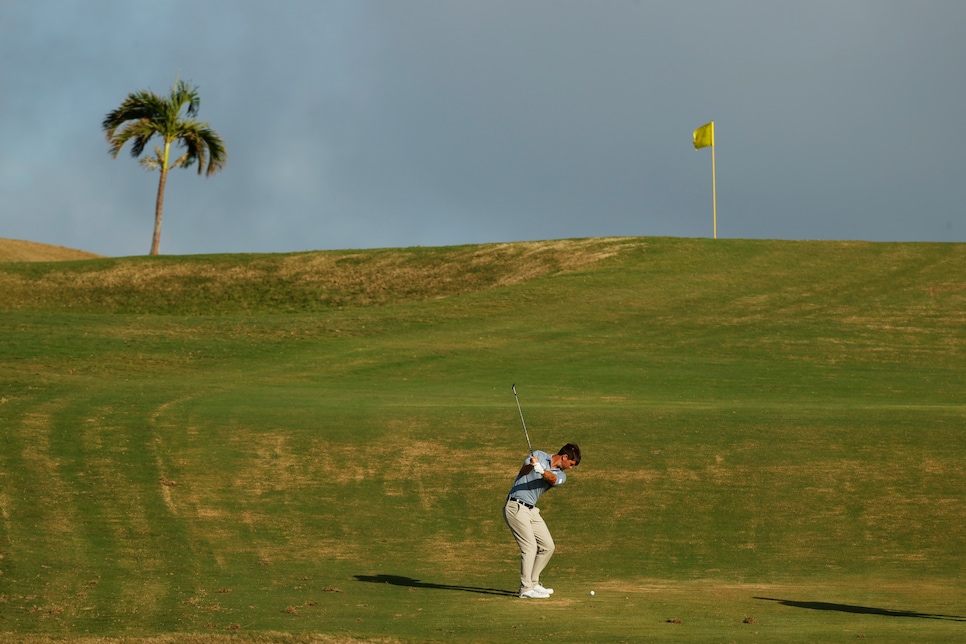 Ollie Schniederjans plays a shot on the ninth hole during the first round of the 2020 Bermuda Championship.
Gregory Shamus
Pair of former top-ranked amateurs are in the hunt
Back when they were in college, Doug Ghim and Ollie Schniederjans were both highly touted amateurs. They each reached the top of the World Amateur Golf Ranking, Ghim in 2018 while at Texas and Schniederjans in 2014 at Georgia Tech. In addition to a laundry list of impressive amateur achievements, Ghim earned low-am honors at the 2018 Masters, which he earned an invitation to via his runner-up at the U.S. Amateur. Schniederjans, No. 1 in the amateur ranking for 41 weeks, collected five top 10s, including a third and a second, in his first full season on the PGA Tour in 2017. Both players were expected to produce right away, and they seemed to be doing just that.
But the tour-pro life has a way of bringing some guys down to earth rather quickly. Plus, with all the other young talent making their mark quickly, it's easy to forget about guys like Ghim and Schniederjans. It doesn't help that both have struggled, Ghim failing to post a top 10 in 30 career PGA Tour starts and Schniederjans having to go to the Korn Ferry Tour after a lean season on the PGA Tour in 2019.
This week presents an opportunity for both to reintroduce themselves to the golf world, and they're off to good starts. Ghim opened with a bogey-free, seven-under 64, while Schniederjans posted a five-under 66. Would be good to see them build on their strong Thursdays over the next two days, and perhaps get themselves in contention on Sunday.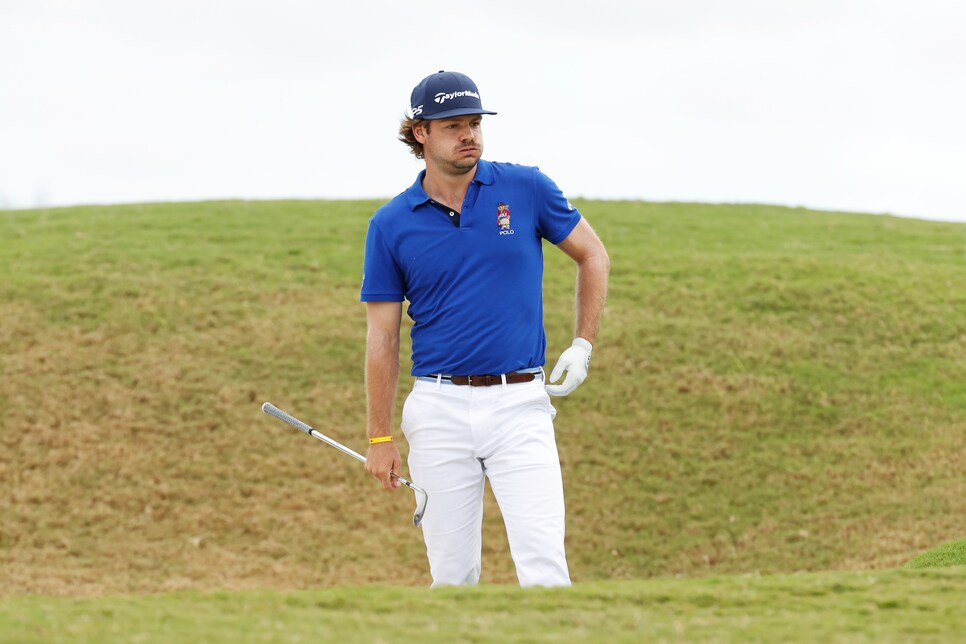 Doc Redman opened with a 65 at Port Royal as he aims to win his first PGA Tour title.
Gregory Shamus
Speaking of former top amateurs ...
Doc Redman, the guy who actually won that U.S. Amateur over Ghim, is in the mix as well thanks to a first-round 65 that featured an opening-nine 29. Any talk of a 59 watch was quelled with a bogey at the par-3 third, his 12th, but Redman did well to keep his round together, finishing with six straight pars. Based off his recent close calls, and his overall game, a lot of folks were high on the former Clemson Tiger pre-tournament. It's far too early to spike the football, but he's making the prognosticators look good so far.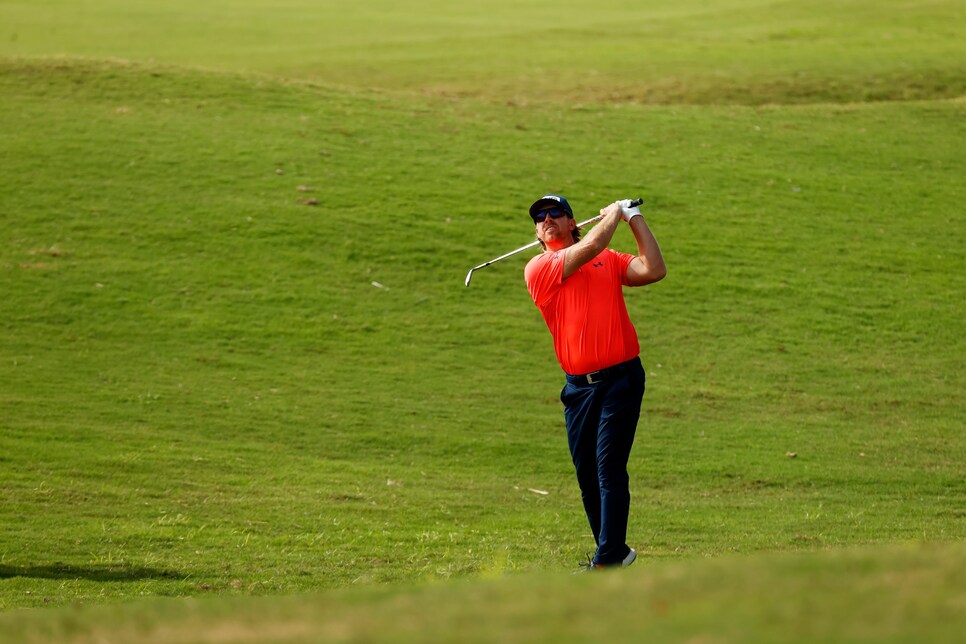 A five-under 66 from Hunter Mahan in the opening round of the Bermuda Championship was his lowest score in more than 14 months in a PGA Tour event.
Gregory Shamus
Hunter Mahan? Yup. Hunter Mahan.
If you're looking for a redemption story—which events like the Bermuda Championship often provide—boy do we have some good news for you. Hunter Mahan, yes, THE Hunter Mahan, the Hunter Mahan who has six PGA Tour wins and was once as high as No. 4 in the OWGR, was tied for seventh at the completion of Round 1 on Thursday. The 38-year-old (he's 38?! Man I feel old) shot a five-under 66, his lowest score since the second round of the 2019 Wyndham Championship.
Coming into this week, Mahan had missed the cut or withdrew in 14 of his last 16 PGA Tour starts, with a high finish of T-45 in one of the two cuts he made. Since August 2015, he has one—ONE—top 10 on tour. It's the slump of all slumps, the drought of all droughts. That's actually putting it kindly. He's looked completely finished the last five seasons. But one good week in Bermuda can erase all the bad memories of the last half decade. For a player who was once among the best in the world, it has likely been a very difficult stretch both mentally and physically. To not root for him to come out of it is just plain cruel. Go, Hunter, Go.