Don't adjust your glasses or rub your eyes out, folks. It's not 2017. It's 2021, and Rickie Fowler—yes, THE Rickie Fowler—is tied for the lead in a PGA Tour event.
Fresh off a final-round 65 at the Open Championship, Fowler brought some positive momentum back home to the U.S., shooting an opening-round seven-under 64 Thursday at the 3M Open. It marks the first time Fowler has shot consecutive rounds of 65 or better on the PGA Tour since the first and second round of the 2020 American Express, where he tied for 10th. Since then, he's posted one top-10 on tour, a T-8 at the PGA Championship at Kiawah Island.
"Coming off Sunday at The Open, a lot of good stuff there, drove it a lot better," said Fowler, a five-time tour winner. "That was something that was kind of holding me back from making birdies, moving forward last week. I drove it very poorly Friday and Saturday. It was not my driver's fault."
Fowler hit 10 of 14 fairways in the first round at TPC Twin Cities and gained just under 0.8 strokes off the tee. Where he really improved though, and has been improving for some time now, was on the greens. Formerly a wizard with the flat stick, Fowler's putting stats took a noticeable dip during his prolonged slump. On Thursday, though, he finished second in the field in strokes gained/putting, gaining 4.234 on the day.
"It wasn't that putting wasn't getting the attention," Fowler said. "There's time where you go, kind of get hot and cold, and I was in too long of a cold spell. And putting's something I've always been able to rely on. I felt like I was hitting good putts, sometimes it was either a little bit off on the read or speed was a little off. There's so many variables out there. Trying to eliminate as much as possible and think more about making it and not focusing too much about [being] on line and stuff like that. I've been hitting good putts, but it's nice to see the result of the ball disappearing or not lipping out or sliding on by."
It's only Thursday, yes, but for one day, Rickie Fowler—and his putter—looked like Rickie Fowler again. Which leaves him tied for lead, another rather large baby step in his comeback process.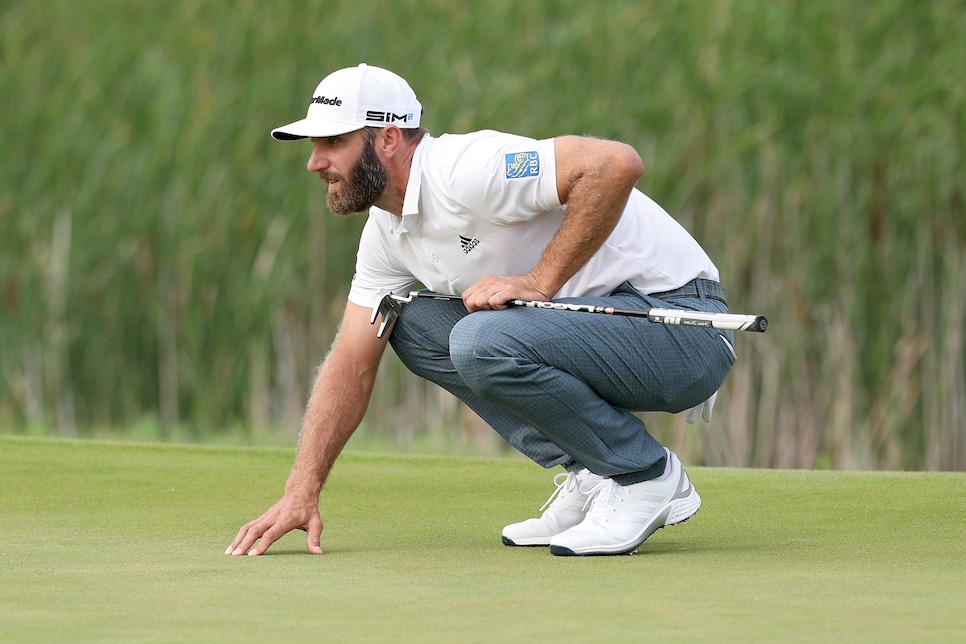 Dustin Johnson starts slow, remains as unfazed as ever
Despite some Saturday struggles, Dustin Johnson came out of the Open Championship feeling very good about his game, a scary thought for the rest of the tour as we close in on the FedEx Cup Playoffs, where DJ feasts. Even after a slow start at the 3M Open—and by slow we mean one-under 70—he still feels good, another scary sign that he's close to another late-season explosion.
"I played really good," Johnson said. "Did not roll the putter very well, especially through the first 16 holes. I did make two putts there on 8 and 9, which was 17 and 18 [for me], but other than that I didn't make anything. Other than that, yeah, I'm hitting it very well, just need to tighten up the putter a little bit."
Johnson was without his full-time caddie and brother Austin, who is out after a positive COVID-19 test. Surprise, surprise, that didn't faze him much, either. "He's doing fine," Johnson said. "He'll be fine for Memphis, my next tournament." All is right in DJ's world, even when things are slightly off.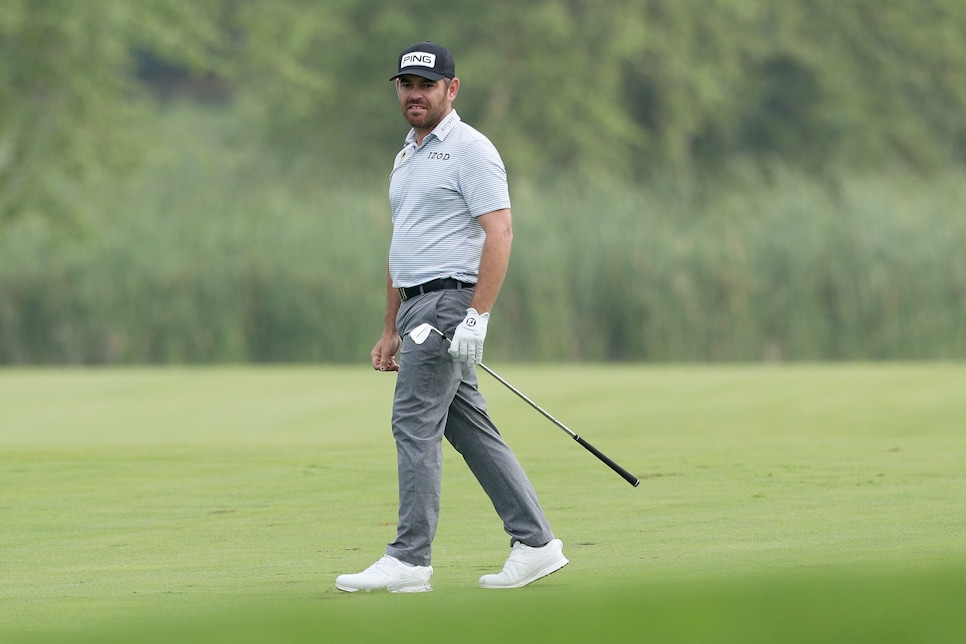 Louis Oosthuizen's quick bounce back
Credit to Louie O for even showing up this week. He could have easily hopped on the tractor for the next two weeks and hid out for awhile. But this man is now in the thick of a FedEx Cup race, a race that features a very large prize at the end that could buy you a LOT of tractors.
Extra credit, then, for Oosty going out and playing well again Thursday, opening with a three-under 68 at TPC Twin Cities. The South African is scalding hot right now, having posted eight finishes of T-11 or better in his last 11 starts. Why not keep playing? Ride the hot hand, especially at ninth in the FedEx Cup standings. Oosthuizen has all but locked up a spot in the Tour Championship, and the better he plays, the bigger chance he has of winning the whole shebang. Wouldn't that be something, though, Louie winning the FedEx Cup (while sporting a UPS logo, mind you) and NOT winning his second major.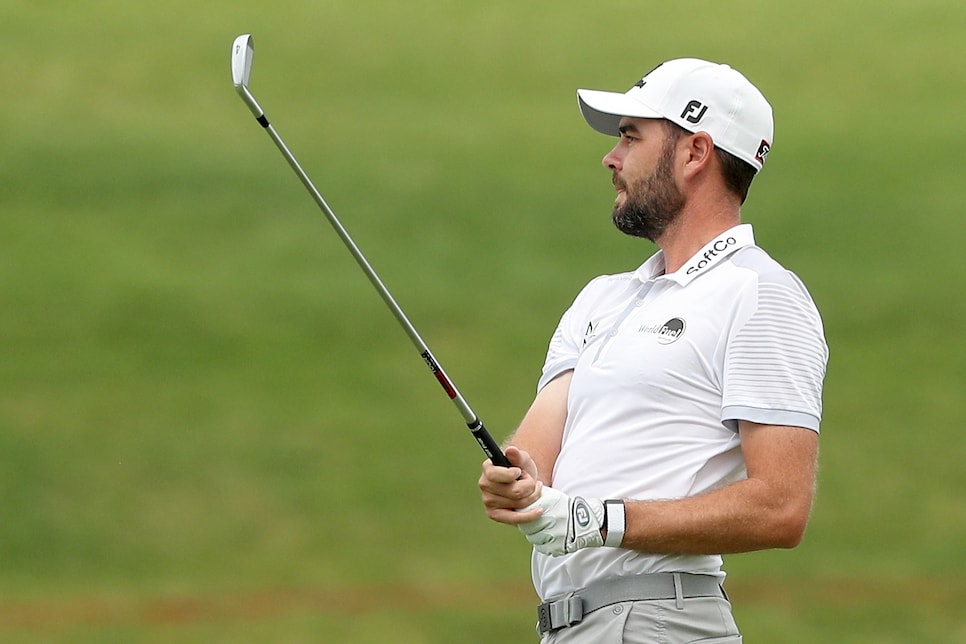 Troy Merritt continues to COOK
After a really nice mid-summer run, Troy Merritt appeared to hit a snag his last two starts, going MC-MC at the John Deere and the Open Championship. But Thursday, Merritt looked like the same guy that took Cameron Davis to the fifth sudden-death playoff hole at the Rocket Mortgage Classic. His first-round 64 ties him for the lead with Fowler.
"I've seen this golf course now for about 20 years," said Merritt, who was born in Iowa but moved to Minnesota when he was in high school. "Came to watch the seniors play when I was in high school and got to play it once or twice. It's just a lot of fun. It's great for the players, it's great for the fans, you can make a lot of birdies, the scoring's usually really low. So if you like shootouts, this is the golf course for you and you're going to get another one this week."
If anybody loves a shootout, it's Merritt, whose two PGA Tour wins have come at 18 under and 23 under. Man's not afraid to go low.
"That's what you've got to do around this place, you've got to make a lot of birdies and try to avoid the little mistakes that aggravate you and we were able to do that today for the most part."