Tiger Watch
Rickie Fowler says Tiger has been 'getting after it' with his post-crash rehab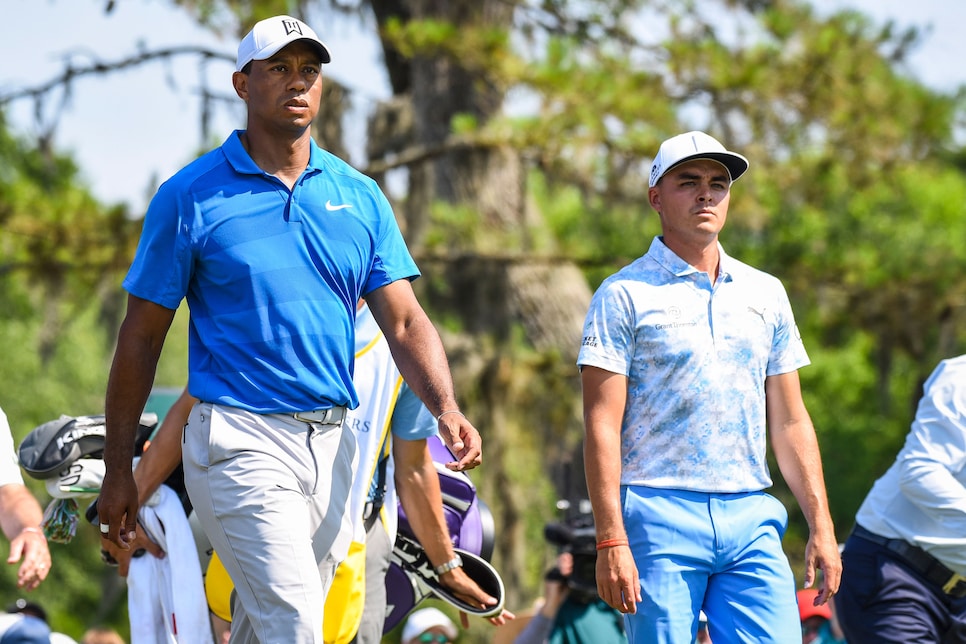 Rickie Fowler has good news for Tiger Woods fans.
"I know he's been getting after it as far as rehab goes—that takes up most of his day," Fowler said Wednesday ahead of the 3M Open. "I know as kind of stubborn as he is, being as big of a kind of golf nerd as all of us are, he's putting the work in. … I know it's been tough. It's a long road till now, he's got a long road ahead, but he's putting the work in."
It's not the first time Fowler has provided a glimpse into Woods' activities since Tiger's single-car accident near Los Angeles on Feb. 23. Fowler shared that he and Woods watched the Masters together in April, with Woods sidelined because of the injury and Fowler missing his first major since 2010 due to a poor run of play. (On Thursday, Fowler shot a seven-under 64 to share the early 3M clubhouse lead.)
"[We were] both disappointed that we're not out there playing," Fowler said. "But he's not lacking any fire in there right now. He never has."
Woods' injuries included comminuted open fractures to both his tibia and fibula bones in his right leg. Those required immediate surgery at Harbor-UCLA Medical Center before he was subsequently transferred to Cedars Sinai and, finally, back to South Florida in mid-March to continue his rehab from home.
Woods told Golf Digest in May that he was not thinking about a potential return to golf but instead focused on a more immediate goal.
"My physical therapy has been keeping me busy," he said. "I do my routines every day and am focused on my No. 1 goal right now: walking on my own. Taking it one step at a time.
"This has been an entirely different animal," Woods said of the post-crash injuries. "I understand more of the rehab processes because of my past injuries, but this was more painful than anything I have ever experienced."
Since then, a video surfaced showing Woods putting some measure of weight on his right leg at an airport in Los Angeles. He has not provided an update on his recovery since speaking with Golf Digest.