The Loop
Take that Lorena (while you can)!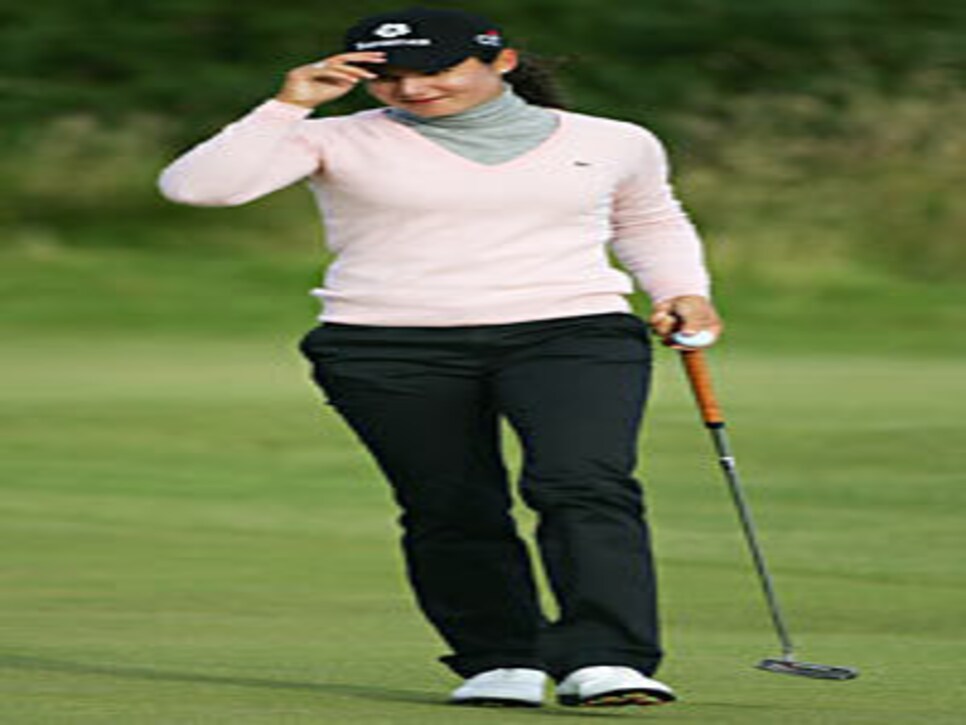 ST. ANDREWS, Scotland - Take of picture of that 67 by Lorena Ochoa. There won't be another one of those this week at the Ricoh Women's British Open. The Old Course played about as benign as it ever plays on Thursday morning, and the forecast for the next few days will make a lot of Dorothys feel like they aren't in Kansas anymore. The prediction for Friday is for winds gusting to 35 mph with off-and-on rain throughout the day.  And then it gets bad. On Saturday, the sustained winds are supposed to be 20 to 30 mph with gusts hitting 40 at times. Right now the prediction for Sunday's finish is for 10 to 20 mph breezes. All that makes the 10-15 mph breezes when Ochoa played Thursday morning a downright day at the beach. Asked how she expected to follow up her six-under-par round, Ochoa said: "When you get up in the morning and open the curtain you just hope for no rain and no wind. That determines everything."
It certainly was a goose-bump moment when the tee announcer said, shortly before 6:30 a.m.: "Welcome to the home of golf," and introduced Nikki Garrett who, for the historical record, split the fairway with the first drive hit by a woman in a professional competition at St. Andrews. Also for the record, fewer than 100 people were on hand to witness the historic event. Among those in attendance were Sir Richard George, the former head of Weetabix and a member of the Royal & Ancient Golf Club who worked hard to get the Women's British Open to the Old Course. Also present was LPGA commissioner Carolyn Bivens and most of her senior staff.
The British press is making much of the fact that Tiger Woods has given Annika Sorenstam his yardage book from when he won the 2005 British Open at St. Andrews. But while that is an extremely nice sentimental gesture it probably is of very little real value. Even though the men play the Old Course 500 yards longer than the women are tackling it this year it is unlikely many of the ball positions of Sorenstam and Woods would be the same. Sorenstam, who is staying in a house that is pin-high of No. 18, says she has three focuses for the week: "Listen to my caddie, trust my swing and make some putts." Her ball striking continues to improve as she can increase both her practice sessions and her workout sessions as she puts her ruptured neck disc behind her. Sorenstam got ready for Thursday's opening round by dining on take-out Thai food Wednesday night.
The seven double greens at St. Andrews make for some interesting etiquette situations -- and some pace-of-play issues. When the threesome of Cristie Kerr, Natalie Gulbis and Ai Miyazato came onto the 13th they first had to stand aside and wave Paula Marti, Sarah Lee and Brittany Lincicome to hit onto the fifth green before they could putt. And then it was a matter of coordinating who among the six players on the green putted when. "I felt like we were on that green for a half hour," Gulbis said to her caddie Greg Sheridan as they walked to the 14th tee. "That's because we were on that green for a half hour," Sheridan said.
The even-par 73 by Michelle Wie could have been a lot better -- and it could have been a little worse. Wie got to the par-5 14th hole -- a birdie opportunity -- at two under par but fanned her second shot wide right into the deep stuff and made a bogey. She three-putted No. 16 for another bogey and had a three-putt par on No. 17, the great par-4 tragically turned into a par-5 for this event. On the closing hole Wie drove within 20 yards of the green, chipped over, chipped back to 18 feet and rolled it in to save par. So, standing on the 14th tee at two under par with three birdie opportunities in front of her (Nos. 14, 17 and 18), she finished at even par. That's the problem closing out rounds  she had displayed frequently. Michelle was followed all the way around by her entourage which includes mother Bo, father B.J., William Morris agents Jill Smoller and Greg Nared and coach David Leadbetter.
The irony of ironies here is that the British press, on a week that should be celebrating women's golf, is bashing it in a way that shows some old attitudes die hard. With headlines like: "Babes in the Bunkers" the tabloids are dragging out every cheesecake photo they can of LPGA players. And even the Times of London, the once-proud broadsheet that is now part of the Rupert Murdoch stable of papers, greeted the opening day of the Women's British Open with a story that says the women's tour is hurt commercially by the presence of lesbians. Didn't that all get put to rest when CBS fired Ben Wright for his sexist comments more than a decade ago? The only thing worse that bad journalism is irrelevant journalism. The Times story was about as irrelevant as it gets.