Take A Swing ForeBatten
How you can play Michael Jordan's exclusive private club and many other top courses by entering an auction for a great cause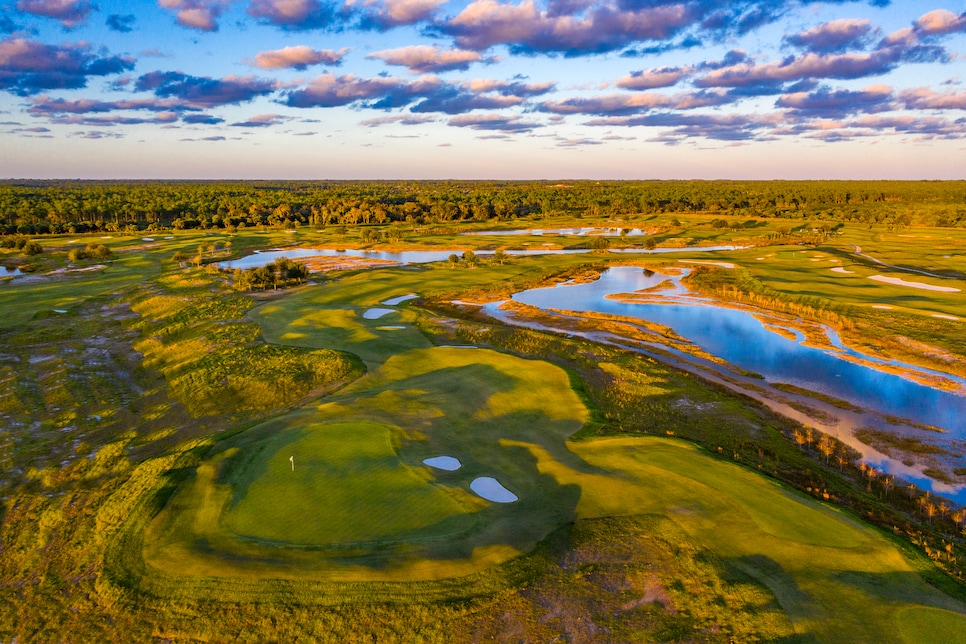 One of golf's most anticipated and successful charity auctions begins Sept. 27 and runs through Oct. 11. Up for silent bid are rounds at dozens of America's 100 Greatest and Second 100 Greatest courses, weeklong getaways with luxury accommodations and day experiences with celebrities, athletes and golf architects. With such rare and limited prizes, the "Take A Swing ForeBatten" auction, sponsored by the ForeBatten Foundation, is a time of optimism and excitement for golfers, but tempered by the tragic cause that underlies it.
This will be the fifth ForeBatten auction supporting the fight to treat and someday ultimately cure CNL3, juvenile Batten disease, but the first since Spring 2021. The auction was founded by golf course architect David Kahn and wife, Karen, after their twin daughters were diagnosed with Batten disease. A rare neurological disorder, Batten disease is fatal and strikes its victims in unfathomably cruel and painful ways, first taking away motor skills, then causing dementia, seizures, insomnia and blindness. As the disease intensifies as they get older, afflicted children eventually require total support. Life expectancy is usually just a matter of years.
The Kahns and their daughters, Makenzie and Amelia, along with David's parents Stan and Marlena Kahn, relocated to North Carolina from Scottsdale to be close to Karen's extended family. Though the health of Amelia and Makenzie, who are 12, is in an inalterable state of decline, they had each found temporary, or at least relative, stability. Despite her blindness, onset of dementia and other disabilities, Makenzie had remained "full of life and fun," as Stan Kahn puts it. Amelia, meanwhile, lives almost entirely inside her own mind, and sits on the floor or in her wheelchair "talking to her hallucinations," says David. "But she's calm and her screaming episodes have all but vanished. It's hard to hear yourself say that that's better, but when your child just expresses fear all day long, it is. That gets you."
Recently, however, Makenzie's condition has taken a severe turn. She stopped eating and drinking, and over the last several weeks has lost 25 percent of her body weight, according to David. As of this writing, she's been hospitalized and is undergoing surgery to insert a feeding tube into her stomach to provide her life-saving nutrients.
"It's really hard watching her—she's still aware and vocalizes how scared she is," David says. "That's the toughest part. There's no roadmap, no answers [for Batten disease]. There's just managing symptoms, and some days with some symptoms, there's no management either. Sometimes all we can do is hug them tight and help them go to sleep. and hopefully they wake up in a slightly better headspace."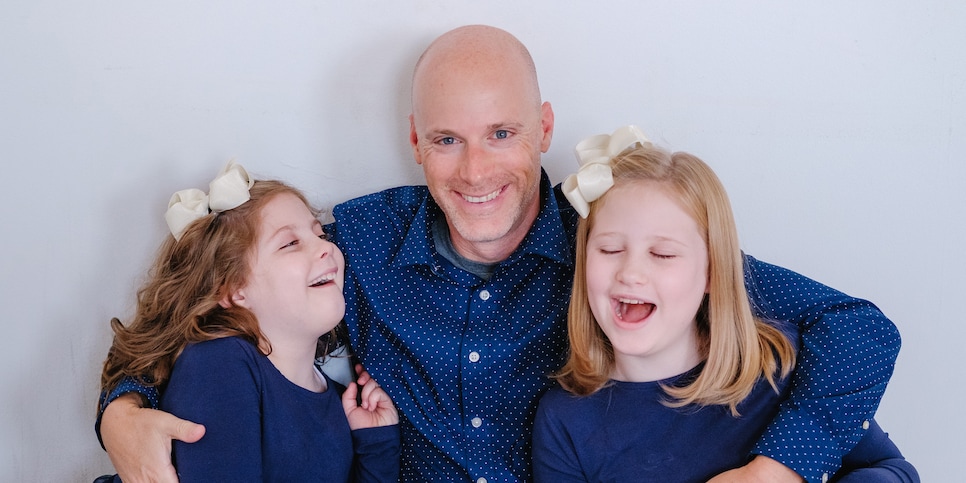 Golf course architect David Kahn with daughters Makenzie (left) and Amelia.
All proceeds raised by the ForeBatten auction go directly toward research into the cause and potential treatments of Batten disease. Each event, which Stan Kahn organizes, has raised more money than the year before. The 2021 auction earned over $1.2 million, nearly double that of the first year. Every dollar matters, but because the disease is so rare and not well understood compared to some other genetic disorders, hope for a cure is still distant.
"We're not foolish enough to think we might possibly save our girls, they're just too far progressed," Stan says. "But hopefully the research we're funding will someday make a difference. If one family calls up and says, 'Thank you,' it's worth it."
"We're just trying to get to the place where we know that we've done everything we can to help her," David says of Makenzie's current hospitalization, but also generally of the condition of her and Amelia. "Ultimately, we realize there's going to be a point where we can't help, we just have to hug her and ride it out."
The auction has done more than virtually anything else in the medical field to raise awareness of CNL3, juvenile Batten disease, even if it's primarily within the golf community. The prestigious auction items Stan Kahn has secured through donations attracts a broad range of interest, from everyday club members to well-known golfers, celebrities and sports figures. Merely engaging in the auction brings bidders into direct contact, often for the first time, with the reality of Batten, the story of the Kahns and of other families who suffer similarly.
"Last year we had thousands of unique bidders, and I'm sure many of them had never heard of the disease before," says David. "And now, through golf and through the auction, they do."
So far, nearly 140 different courses and clubs have donated rounds or stay and play packages, including courses ranked inside the top 25 of Golf Digest's 100 Greatest ranking, such as Sand Hills (No. 10), Merion (sixth), Friars Head (16th), The Country Club (17th), Riviera (22nd), Oakland Hills (21st) and Crystal Downs (14th). Other prestigious clubs like Ballyneal, The Valley Club of Montecito, Old Town Club, Philadelphia Cricket Club, The Estancia Club, Tobacco Road and Baltusrol are up for bid. A foursome at Michael Jordan's exclusive Grove XXIII is expected to earn top dollar, as are trips to Maui, Puerto Rico, a conversation with conservationist Jane Goodall, and day experiences with Jack Nicklaus, Jason Kidd, Dan Quayle and architects Gil Hanse, Tom Doak and Andy Staples.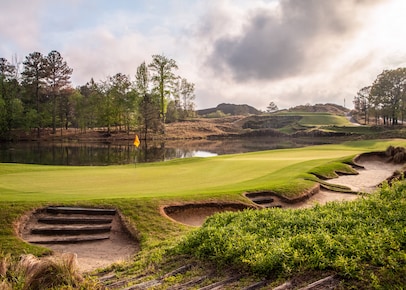 Tobacco Road took every idea that Strantz had been developing to that point in time (1999) and put it all in one place, specifically an old mining site of sand and pine 25 miles north of Pinehurst. The property is the secret star—yes, there are Strantzian trademarks like boomerang-shaped par 5s, greens and fairways notched blindly behind dunes, dramatic risk/reward shots played over deep chasms and putting surfaces stretched into stringy silly putty shapes. But without the elevation changes, depressions and contrasting textures of the rugged sand barrens, this would be True Blue 2.0. It's much more than that: a master class in decision-making and composition that sits just inside the top 50 on the Golf Digest America's 100 Greatest Public Courses ranking, a placement that's at least 20 spots too low, at least in the mind of this editor.
View Course
"Last year my biggest celebrity package, which was really a surprise to me, was Alex Lifeson, the guitarist from the band Rush," Stan says. "The winning group paid $20,000 to play golf with him. He was so happy with how much he helped raise that he even took the guys out to dinner the night before, which wasn't part of the package. They called me afterward said, 'This is the greatest thing ever!' "
Typically, the weeks leading up to the ForeBatten auction build in excitement as new donations come in and buyers begin to scan the items and create chatter. Friends and people in the industry often text David to express interest and enthusiasm about the various lots. Stan says he recently landed some "big stuff, so I'm going to need some big buyers."
It's a "really cool" time of year, David says. "People have really responded to (the auction), way more than I thought they would. It's because of the cause, obviously, but a big part is the quality of the items and experiences that so many people have donated."
"Obviously the people who win the items or donate directly to the ForeBatten Foundation help tremendously with the research, but even the people that don't win, they're helping to raise that bar. And that's awesome. It really leaves me speechless."
Balancing care for Amelia and Makenzie, with Karen, and his job designing and building golf courses with partner Tim Jackson has left David little time to breathe, especially with the escalation of golf course development and renovations since the COVID pandemic.
"We're incredibly busy, busier than we ever have been," he says. "So that's great, but it means a lot of travel and time away from home."
In addition to numerous ongoing club consultations, Jackson-Kahn are completing the renovation of Conway Farms near Chicago (they reworked one of the club's nines last year). Their remodel of Eugene Country Club, ranked No. 171 on Golf Digest America's Second 100 Greatest Courses, reopened earlier in the spring. A new short course built for a private owner in Louisiana is underway, as is a continually evolving project for Johnny Morris at Big Cedar Lodge, something Morris describes as "fairy tale" golf.
Most of us are lucky that golf provides a sense of escape when we play, and occasionally delivers a kind of fairy tale experience on certain golf courses. That's the promise of the ForeBatten auction, that we might be fortunate enough, with the right bid, to be granted entrée to a time or place we might never have the opportunity to go otherwise.
The golf community will have to hold that enthusiasm aloft—on Tuesday, David and Karen will be with their daughter to help her get through this terrifying period. They want to bring Makenzie home and see the return of her spirit and happiness. The rest of us can help by channeling that enthusiasm of golf and concern into this year's ForeBatten auction, or direct donations. Hopefully, soon, future families will no longer have to helplessly witness their children suffer from this disease.