Courses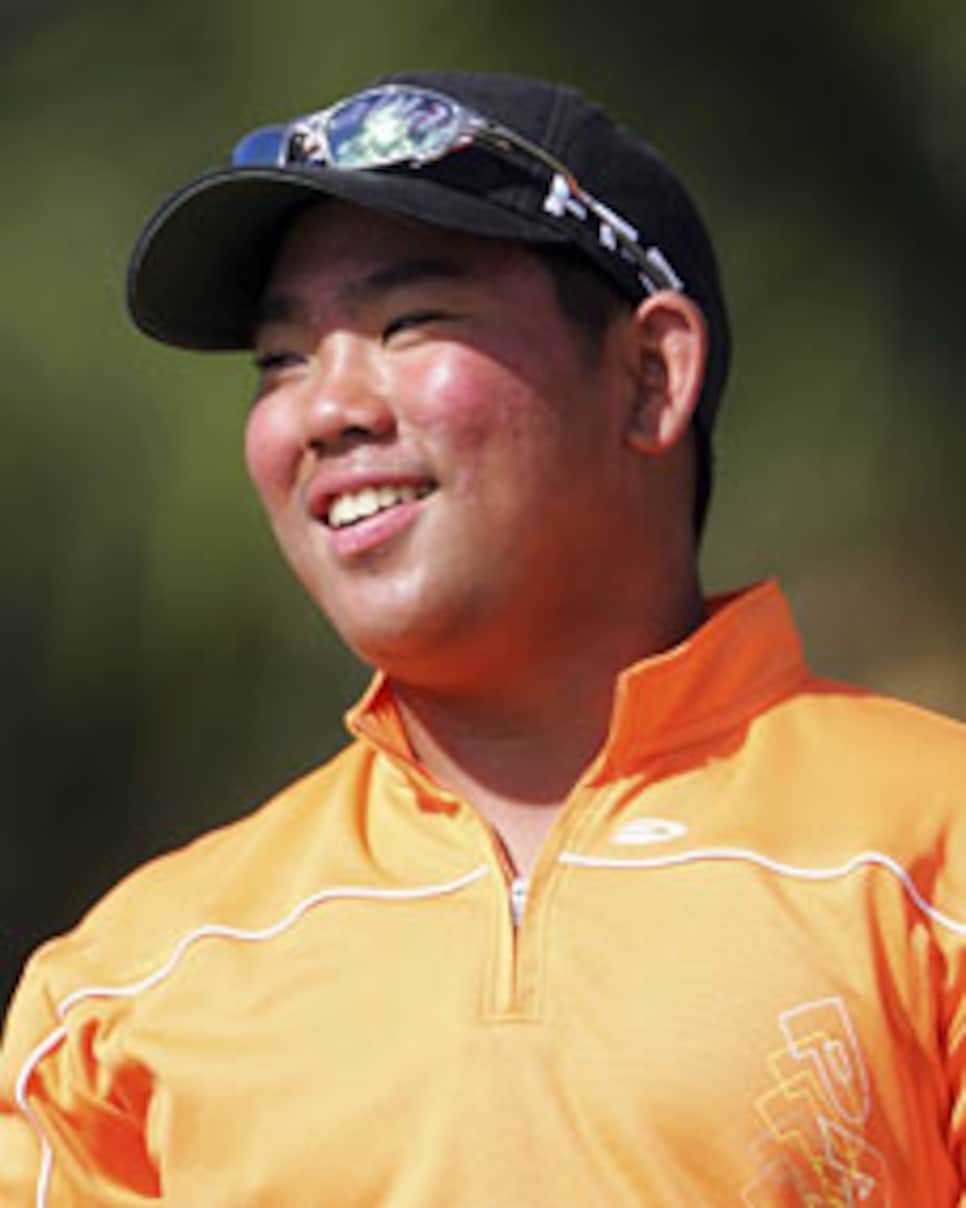 Tadd Fujikawa qualified for the U.S. Open at the age of 15, finished 20th at the Sony Open in his home state of Hawaii last year and turned pro at 16. Now 17, he has already made four holes-in-one and an albatross.
In a hotel room on Sea Island in Georgia.
Are you staying at the Lodge or the Cloister?
Oh, no--I wish. [Laughs.] I'm staying at a Quality Inn place.
Are you working with Todd Anderson there?
I'm working with Todd Anderson, Mike Shannon and Randy Myers. I'm working on everything. I'm excited about playing. My game is looking a lot better; I'm feeling confident about it.
What's the biggest improvement you've made?
I think consistency. I was able to hit the shots before, but not on a consistent basis. I'm feeling really confident about my game.
Any tips for traveling to Hawaii?
I've lived in Hawaii all my life, but I haven't really thought about it that way. When people come over, they enjoy it, but I can't think of anything they definitely have to see.
No. I've done it a few times. It's fun, but it's hard. Surfing isn't bad, but paddling out is tough.
What's your favorite course in Hawaii?
A course on the big island--Hokulia. I'm not sure why it's my favorite course. It's really tough. Conditions are always really nice. Scenery is really nice.
Any tips on playing in the wind?
Learn how to hit the same shots. Being able to control the ball flight and control your spin is really important. I'm still trying to learn that.
Talk about some of the disadvantages about being based in Hawaii.
It's really tough traveling from Hawaii. It's so far away from every place I have to go. It's hard, but I really like it there. For now, anyway. I'll finish school first. I like the people in Hawaii. They've all been really supportive. I plan to stay there for the next year or so, and we'll see what happens from there.
Did the high costs of living and traveling from Hawaii play a factor in your decision to turn pro?
Yes, it did. A lot. My family is not well off. We don't have the money to travel wherever we want to go and not worry about it. For me, to play in the tournament, and go to lessons in Georgia, where I want to go and where I'm improving, for me to do that, we'd have to get some kind of help with money issues and stuff. I think by turning pro it's going to help that a little bit. And when I get some endorsements, that should help. My game is looking good, and I'm really excited about it. To play out here on tour, on any tour, on the Japan Tour, the Nationwide Tour, or the European tour, it's a lot of fun to experience it. I'm ready to go out there and win. It's always been a dream of mine, so I'm going to do my best to do that.
Was your family talking you into turning pro, or vice versa?
I think it was mostly me. This is something I always wanted to do. I couldn't do it by myself. The only way I could do it is with the help of my family and their support. It's nice to have that.
Professional golf highlights?
I had a hole-in-one in Boise, Idaho -- at Hillcrest. It was about 135 yards. I saw it go in the hole. It was pretty exciting.
No -- it was my fourth. My first was at Doral.
No--I wish. One of the other courses when I was playing junior golf. The other two were in Hawaii.
In 2007, the third round of the Sony, you had a stretch of being six under for 10 holes. What's it feel like to be that hot?
It's a good feeling. You never really notice it. You're really in a zone, and you don't think about anything other than getting it in the hole. Hopefully in the next year I can have more stretches of holes like that.
You qualified for the 2006 U.S. Open at Winged Foot at the age of 15 by way of the Hawaii sectional. I hear the Hawaii sectional no longer exists. Is that true?
It's tough. The year I qualified was the last year they had it. I'm not sure if they're going to have it this year. It's tough to travel to different places, and I don't think the USGA understands that, but they have to do what they have to do.
Of all your playing partners since you've turned pro, who has given you the best advice?
All of the tour players have been really great. They've given me so much support, always encouraging me. It's nice to see, and it makes me a lot happier. Jerry Kelly has been really great. He's given me some advice. Also, Fred Funk has been nice.
Any one piece of advice that stands out?
To have fun. Not to take it as a job or a business. Go out, do your best, and if it doesn't work out, then do better next time. I think that's all you can do in anything you do. I think that's the best advice anyone has given me.
What's the favorite place that you've visited?
I really enjoyed Switzerland. It was amazing. A small town on top of a mountain. It was really nice. The people were accommodating. We didn't speak much French, German or Italian, so it was hard the first few days, but once we met the tournament director, he helped us out a lot.
How does a Hawaiian handle the weather in Switzerland?
It wasn't too bad. I've played in cold weather before, but everyone I talked to said it was going to be 60 degrees. It was nice the first few days, and then the temperature dropped to freezing cold. It was windy--it was miserable. We had to buy some clothes and get some stuff shipped to us. It's always nice to be prepared, and now I know to make sure I bring some warm stuff.
I hear you like the food in Japan.
Me being Japanese, it's my favorite food, for sure. I hadn't been to Japan for eight years or so. I ate so much and I got so fat for some reason that, by the time the tournament came, I couldn't swing. I wasn't really noticing it, but after, when I looked at pictures, I was like, "Oh my gosh, I have to go on a diet." I'm definitely going to try to cut down on the food next time I go.
As you travel around the world, do you sign a lot of autographs?
More so in the U.S. and Japan. Not so much in Europe.
Have you had any travel troubles?
So far everything has been pretty good. I think we lost a bag, but the golf clubs have always come. That's the main thing. The other things aren't that important.
Have you flown on a private jet yet?
No. I'm waiting. I've heard it's pretty cool, so maybe after I win my first, or, maybe my first 10 or 12 tournaments, then maybe we can fly private.
What's your favorite course in the world?
I really enjoyed Winged Foot. It's long and tough. The rough was long. The greens were fast. It was the U.S. Open, so that's what you expect, but it was a good experience to see how my game compares to other pros, and what level of play I need to be at. I think that experience helped me get to the next level.
Does a hard course play to your strength?
I definitely like tough courses. I'm not sure that fits my game the best, but I like them the most. I like when the winners are shooting two or three under and not 20 or 25 under. I think it really shows who the best player is, and it's a better test of golf.
How many sponsors exemptions can you accept this year?
On the PGA Tour it's seven. The Nationwide Tour is unlimited. The European tour is six. The Japan Tour is six.
How are you going about picking your spots on each tour?
I think it's a combination of a lot of things. On the PGA Tour, it's playing in whatever I can get for now. On the Japan Tour it's more scheduling. If you look at the best players in the world, they can play on any course. It doesn't matter if it's a long or short course, tough or easy, they can play it under any condition. That's what you need to do to be the best, and that's what I'm trying to learn.
Do you have any thoughts on college?
I'm not sure where or even if I'm going to go, but I think it would be good for me to experience that and see what it's like. I'd like to go for a few years and get some education. It's still a possibility.
Honestly, I don't have one.
Who's your ideal foursome?
I think Tiger Woods. You always have to have Tiger in there. Probably Jack Nicklaus and Arnold Palmer.
Yeah, not bad. Jack is a legend and Arnie is a real nice person. I've heard so many great stories.
Have you met any of them yet?
No. Not yet. I'm waiting but hopefully soon.
Your mom says you've met some television and movie stars?
Kevin James. George Lopez. Samuel Jackson. It's pretty cool. You wouldn't think that you would meet them on a golf course. They're such nice people. They're easy to talk to.
I'm sure you're tired of this question, but what are your thoughts on Michelle Wie?
Right now she's getting back into it. She went through a tough time last year. It was tough on her and on golf in general. That's just the way life is. You go through ups and downs, and the best people do the best that they can and really grind through it. I think she'll get back into it. This college thing will be good for her. I'm pretty sure she'll do well in the next few months, and hopefully she can get back on top of her game.
Who's longer off the tee -- you or Michelle?
I don't know. I've never watched her hit any.
You haven't played with her yet?
They should stage that match in Hawaii.
That would be fun, right?
That would be interesting.
Any Tadd Fujikawa travel tips?
Trying your best to sleep on the plane is very important. That's what I try to do. I drink a lot of water and before I go on the plane. I try to stretch, especially on long flights; it's really tough to just sit down for seven or eight hours.
Do you fly coach or first class?
Not first class. Either business or coach, depending on where we're going.
Have you ever been upgraded because a flight attendant recognizes you? Have there been advantages to being famous?
I guess the advantage to being 5-1 is that even in coach, you always have plenty of legroom.
That's the only thing good about it. I can be in coach and it doesn't bother me at all. My legs are never scrunched.
I read that if this golf thing doesn't work out, you fit the height requirements to be Mickey Mouse at Disney World?
[Laughs.] Exactly! I'm the perfect height. They said to be Mickey Mouse you need to be 5-feet to 5-2, and it just so happens that I'm 5-1, so I guess if this golf thing doesn't work out, I can be Mickey Mouse.