What The ... ?
This is it, this is the most preposterous putting grip we've ever seen
To reach the highest levels of professional golf—the PGA Tour, DP World Tour or *gulps* the LIV Tour—you have to be a pretty damn good ball-striker. Everybody from World No. 1 to World No. 333 can get it around OK from tee-to-green. What separates the good players from the great ones is what takes place on and around the greens.
That's why, last week for example, we saw Gary Woodland using the claw grip while putting, the one where you hold the top of the grip with your left hand like normal, but then instead of putting your right hand underneath, you place your four fingers on top of the grip and your thumb underneath. Here's a world-class driver of the golf ball and one of the better iron players on tour in Woodland trying literally anything to get some putts to drop.
Enter Sven Maurits, the 2,188th-ranked (!) player in the world who is in the field this week at the DP World Tour's KLM Open. If not for this batsh-t insane putting style, we'd probably continue never knowing who the Dutchman was. But the way he's gripping the putter stopped everybody in their tracks on Thursday:
"That's interesting, just when you think you've seen it all." Yeah, we'd say so. We like to exaggerate just as much as the next guy on this here internet, but I truly don't believe I've ever seen this putting grip in my life.
Turns out, it has been done before, as the commentator referenced, by former European Ryder Cup captain Thomas Bjorn. Here's Bjorn's version from the 2018 Nordea Masters: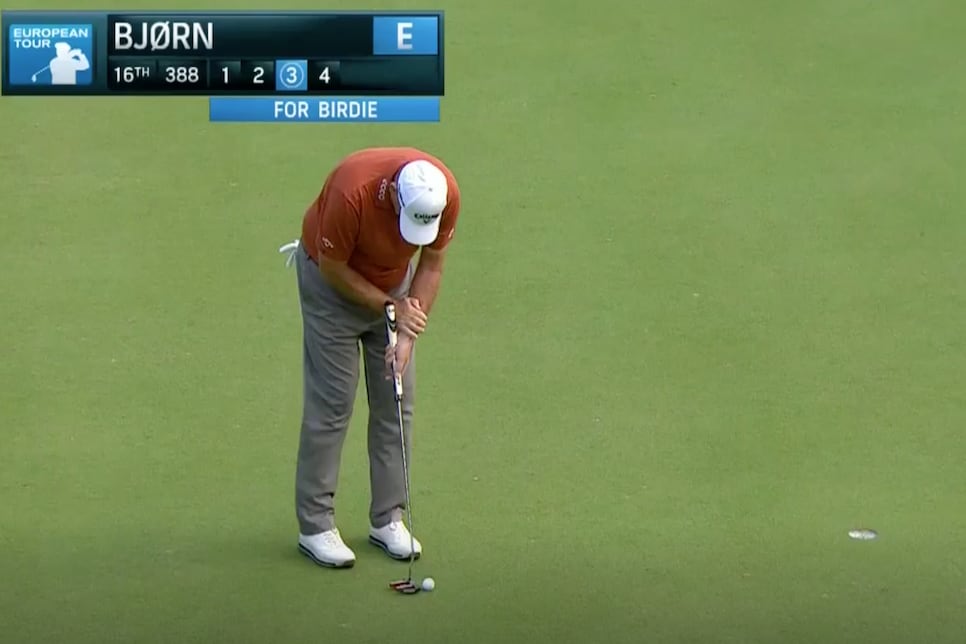 So it's been done before, but hasn't quite caught on like the claw. Bjorn took notice on Twitter:
It seems like we don't have a name for this putting style yet. Perhaps "The Bjorn" could work. "I've literally exhausted all other options and will do anything to make a 10 footer" might be a little too long.