Brandel bites back
Brandel Chamblee releases 538-word retort to Claude Harmon's bashing of anti-LIV critics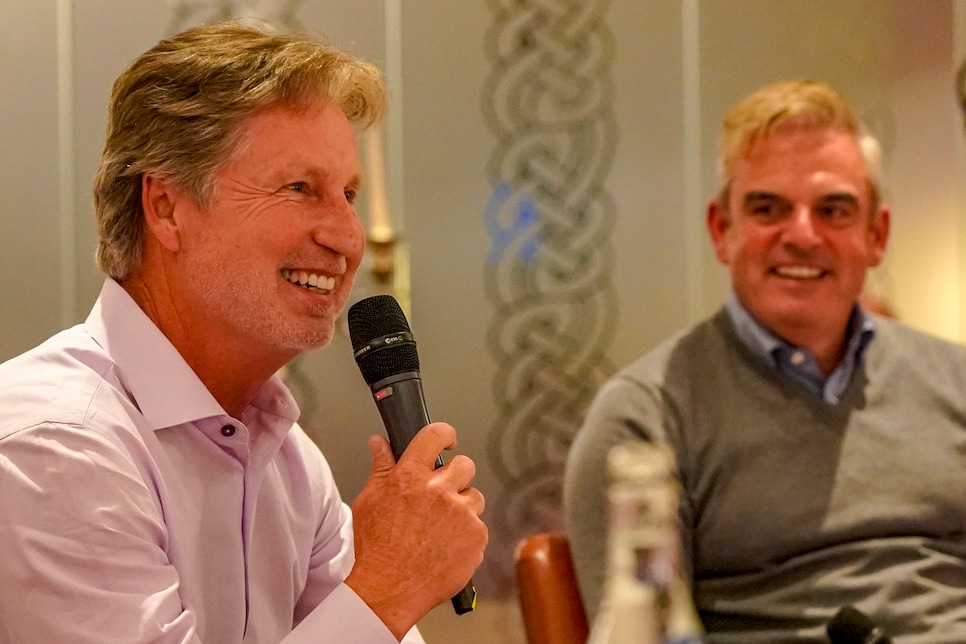 When you accuse someone who talks for a living of having an agenda and being a "paid actor" it shouldn't be a surprise when that person punches back.
In this case, Brandel Chamblee had plenty to say.
The Golf Channel and NBC analyst posted a 538-word response on Twitter Wednesday, refuting comments made a day earlier by Brooks Koepka's coach, Claude Harmon III. Boiled down, Chamblee insisted that no one he works for has ever attempted to influence his opinions.
Chamblee and fellow analyst Brad Faxon had a lively debate Sunday on Golf Channel's "Live From the PGA" where Chamblee said he didn't believe that LIV players should be included in the Ryder Cup later this year. Faxon disagreed and the discussion reached an awkward point where there was silence as they stared at each other. (Parts of it can be viewed here.)
Harmon, son of legendary instructor Butch Harmon, spoke to Golfweek on Tuesday and clearly had enough of what Chamblee had to say, while also continuing to pump up his man, who just won his fifth major championship in the last six years.
Harmon contends Koepka's victory "goes a long way to debunking the LIV myth, which is 'everybody got paid, you're not going to care, and if you get paid, you're going to phone it in.' Nobody thinks that way with Lamar Jackson, with Dak Prescott, with the NBA. Why is golf different? Why do we want golf to be not like everything else? That's what I fundamentally don't get."
Koepka's coach then jumped on Chamblee and Golfweek columnist Eamon Lynch—both of whom have been strongly opposed to LIV, starting last year when the Saudi-backed circuit launched. Lynch often appears on Golf Channel as well.
"Brandel is a paid actor by NBC and Golf Channel," Harmon told Golfweek. "All he's trying to do is get his lines and shows for the Golf Channel. He's just trying to get lines for Brandel. … And I mean, I love him, I think Eamon is a fantastic writer, but for Eamon Lynch and Brandel Chamblee, who worked for NBC Golf Channel, to utter the words 'sports washing' when the company they work for televised the last two Winter Olympics in Russia and China with the same leaders that they've had. It's not like they were good leaders back then. It's not like Putin was a good guy, right?" (Read more of Harmon's comments here.)
Chamblee's response: "The accusation that I am just a proxy for the opinion of my employer is a curious one to me, and while the natural back and forth with colleagues certainly informs my opinion, no one for whom I work with or for has ever tried to influence what I am going to say. I'd like to think that they trust whatever opinion I have, whether it agrees with theirs or not, I've done the research to back it up. Which is more than I can say for those who suggest that because there is evil everywhere, all evil is relativized and unless all of it can be addressed at the same time and in the same way, it should all be ignored. (Read Chamblee's complete tweet above.)
"Especially, as in the case of the person who called me a paid actor, if they can somehow profit from the evil. This is where the debate crashes headfirst into the nexus of politics, sports and narcissistic greed. Where those who want to escape it most often cloy at whataboutisms, to stop the discussion with a pejorative accusation because they don't want their motives to be discovered."
Chamblee then got more into Koepka and even mentioned Michael Block, who was the talk of the golf world last week with his Sunday ace while playing alongside Rory McIlroy and a 15th-place tie as a PGA club professional.
"While Brooks Koepka's win at the PGA Championship was impressive, it should not distract us from the simple fact that LIV players are being used for the benefit of some very bad people and to the detriment of a great many more good people. That LIV Golf, with its inability to develop stars and seeking to buy them like high performance cars, is undermining the dignity intrinsic in golf.
"Dignity that was most profound in watching the play of Michael Block, the club professional who stole the show at the PGA Championship with his gratitude and joy and of course with his incredibly sharp game. He was a stark reminder of what is missing in LIV Golf and even what will be missing in the PGA Tour's no cut, small field, designated events next year.
"Because golf has always been and hopefully will always be, more about hope than heroes."