News & Tours
Claude Harmon compares PGA Tour to 'Truman Show' while scolding critics of Brooks Koepka, LIV Golf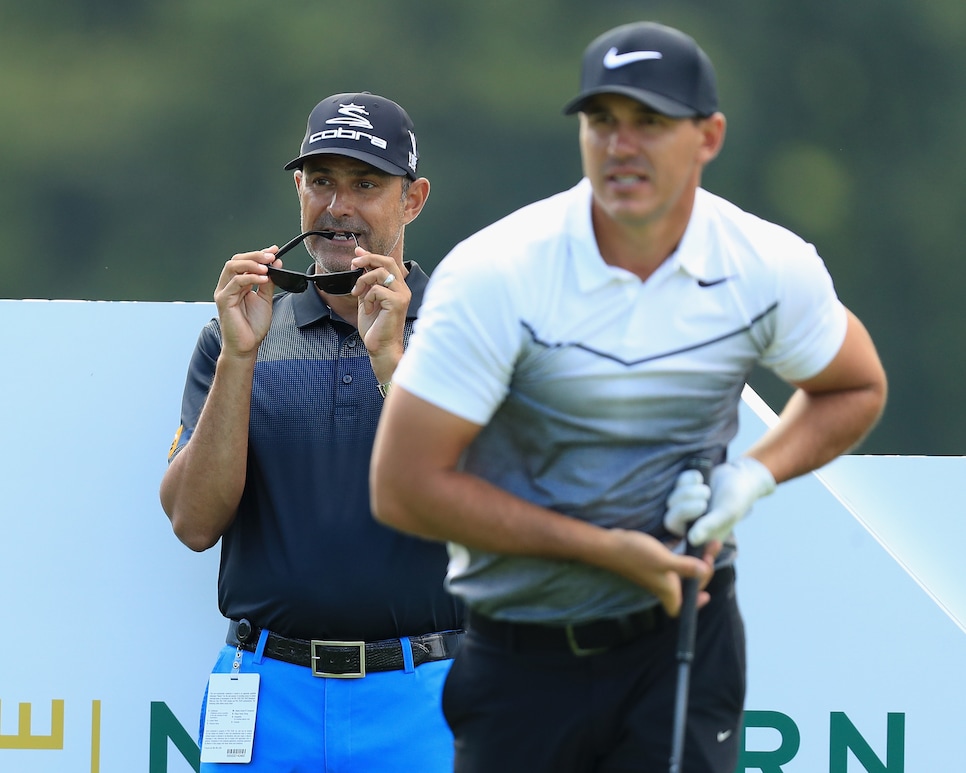 Claude Harmon and Brooks Koekpa.
Andrew Redington
There are people in every pro golfer's inner circle who privately mourn the losses and setbacks and celebrate the triumphs. Some do it more privately than others. In the case of golf instructor Claude Harmon III, he grabbed the microphone presented him with both hands and belted out his thoughts on numerous fronts after his pupil, Brooks Koepka, won the 105th PGA Champonship on Sunday.
Speaking to Golfweek during the final round and after it, Harmon let loose on his perceptions about the greatness of Koepka, Brooks' treatment by the media and the ongoing battle between the PGA Tour and LIV Golf—the latter of which Koepka became a member in 2022 after he initially and publicly pledged his allegiance to tour on which he'd previously spent his entire career.
For Claude Harmon, the son of renowned instructor Butch Harmon, Koepka's PGA triumph was his eighth as a coach—five with Koepka, two with Dustin Johnson and one with Ernie Els. Harmon has never been shy about sharing his opinion, and he's done it for a living as a Sky Sports commentator and host of his own podcast.
In gushing out his opinions to Golfweek, it was as if Harmon was waiting for the perfect opportunity to go off. It doesn't get much better than your guy winning his fifth major to become the 20th all-time to reach that mark.
"There couldn't be anyone that got more grief for doing the LIV thing than Brooks," said Harmon, though Phil Mickelson might disagree. "He got a big dose of the anti-LIV hate. And he got a big dose of 'he's a bum, he's washed up.' Listen, he's a generational talent. He's not like everyone else. Brooks is Aaron Rodgers. He's a franchise quarterback in the NFL. In other sports terms, he's a starting pitcher who just threw another no hitter, won another World Series, won another Cy Young. That's who he is; he's a player. He's Kevin Durant. He's one of those athletes that everybody in sports is saying get him on my team I don't care how much I have to pay to get him. That's the type of athlete he is … "
Harmon contends Koepka's victory "goes a long way to debunking the LIV myth, which is 'everybody got paid, you're not going to care, and if you get paid, you're going to phone it in.' Nobody thinks that way with Lamar Jackson, with Dak Prescott, with the NBA. Why is golf different? Why do we want golf to be not like everything else? That's what I fundamentally don't get.
"In 2023, we still want golf to be this bulls--t 'Truman Show.' We want this Deane Beman-Tim Finchem 'we're not the NBA or NFL for our sponsors.' There's no transparency, nobody has any issues, nobody has any problems and if they do, we're not going to talk about it, we're going to pretend it doesn't exist. It's the 'Truman Show.' It's 'Leave it to Beaver.' And that's not the reality."
Harmon took rips at the media as a whole and NBC and Golf Channel commentator Brandel Chamblee and Golfweek columnist Earmon Lynch—both of whom have been strongly opposed to LIV.
"Brandel is a paid actor by NBC and Golf Channel," Harmon told Golfweek. "All he's trying to do is get his lines and shows for the Golf Channel. He's just trying to get lines for Brandel … And I mean, I love him, I think Eamon is a fantastic writer, but for Eamon Lynch and Brandel Chamblee, who worked for NBC Golf Channel, to utter the words 'sports washing' when the company they work for televised the last two Winter Olympics in Russia and China with the same leaders that they've had. It's not like they were good leaders back then. It's not like Putin was a good guy, right?"
Harmon insisted that he wants to see LIV succeed because he thinks golfers should get guaranteed money that is commensurate with their talent, and cited one of LIV's biggest detractors.
"I don't think Rory McIlroy should go anywhere in the world without somebody paying him, including Memphis and Memorial," Harmon said. "That's how good he is. Jon Rahm, Scottie Scheffler, if you're in that category, you shouldn't be going anywhere without being paid because it's how good you are."