The Loop
Surprised by Fred Couples? Don't be
Fred Couples doesn't have gray hair when he comes to Augusta National GC. He doesn't have a putting stroke that can flinch. He doesn't have a lower back that spasms more than the financial markets.
Well, he really does have those things, but being on his favorite golf land mitigates the negatives, the reality of being a 53-year-old on a young man's course. Rae's Creek is a fountain of youth, the Hogan Bridge a span to good memories, the green jacket that he gets to slip into every April a talisman of possibility.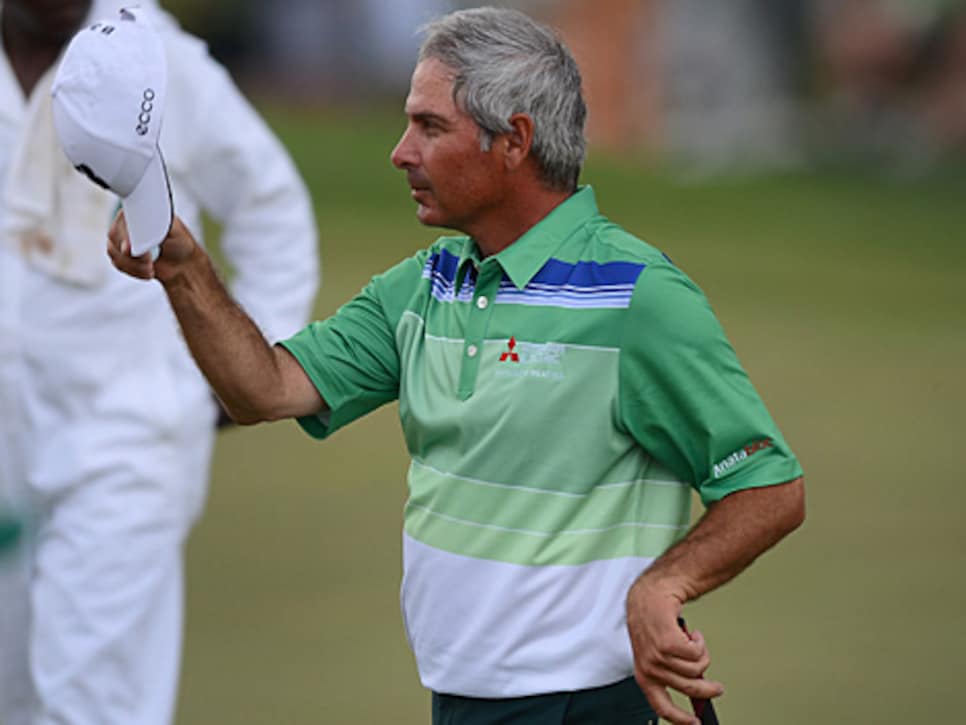 Golfers play well at places they embrace, and the 1992 Masters champion loves returning to the scene of his finest hour. "There are courses that fit his eye," said Couples' caddie, Cayce Kerr, "and he's so happy to walk the grounds. It's exhilarating."
Despite a bunker-to-bunker bogey on the 18th hole Thursday afternoon, Couples had reason to be buoyant after completing his 109th round in the Masters. He shot a four under 68 and is in a six-way tie for fourth place heading into the second round. For the fourth consecutive time since turning 50 years old, Couples is in the mix at the tournament -- and the course -- he most loves.
"Did I think I was going to shoot 68? No, but I felt I could play a good round," said Couples, who finished sixth, T-15 and T-12 the last three years at Augusta National. "Tomorrow, if I play like this, I'll be right there."
Couples was the old bomber in a grouping that included a young bomber, Dustin Johnson, who bettered Fred by a shot and provided him some positive vibes. "I fed off him a little," Couples said of Johnson. "He was five under, so I got to see a lot of good shots. I like the way he plays. I certainly don't hit 9-iron from 185 yards -- I'm hitting a 7-iron or a 6-iron. It was nice to see someone else make eagles and birdies."
Although not as long as Johnson, who averaged 317.5 yards off the tee, Couples held his own with a 301-yard driving average. Couples wasn't sharp during practice rounds, his shots having "no compression," according to Kerr. But something clicked during a 40-minute Wednesday afternoon practice session after the Par-3 Contest.
"I get fired up [coming to the Masters], but I have to drive it really well," Couples said. "I stepped up on 1 today and hit a really good one. And I hit a good one on 5 and a good one on 7. And I hit a good one on 8. They are all good driving holes. People think this place is wide open, but drive it to the right on 7 and see how many pars you're going to make. I used my length, and it just makes the course play easier for me. Tomorrow, if I can come out and feel good and pound my driver, it'll make tomorrow feel easier too. I know how to play this course."
Couples called the first round 73 shot by 14-year-old Tianlang Guan "phenomenal stuff." The same can be said of a 68 by a 53-year-old who definitely didn't act his age either.