The Loop
Sunday at Chambers Bay presents the latest major opportunity for Dustin Johnson
UNIVERSITY PLACE, Wash. -- Late in Saturday's round, with a helping breeze blowing along the Puget Sound on the 394-yard 16th hole, Dustin Johnson pulled out his driver. He sauntered to the ball with a lazy swagger, sliced the air with a practice swing, and launched a missile toward the green. "Boom!" shouted four or five voices in unison -- another brilliant plan executed to perfection -- and nearby an impressed girl lost herself in hysterical laughter.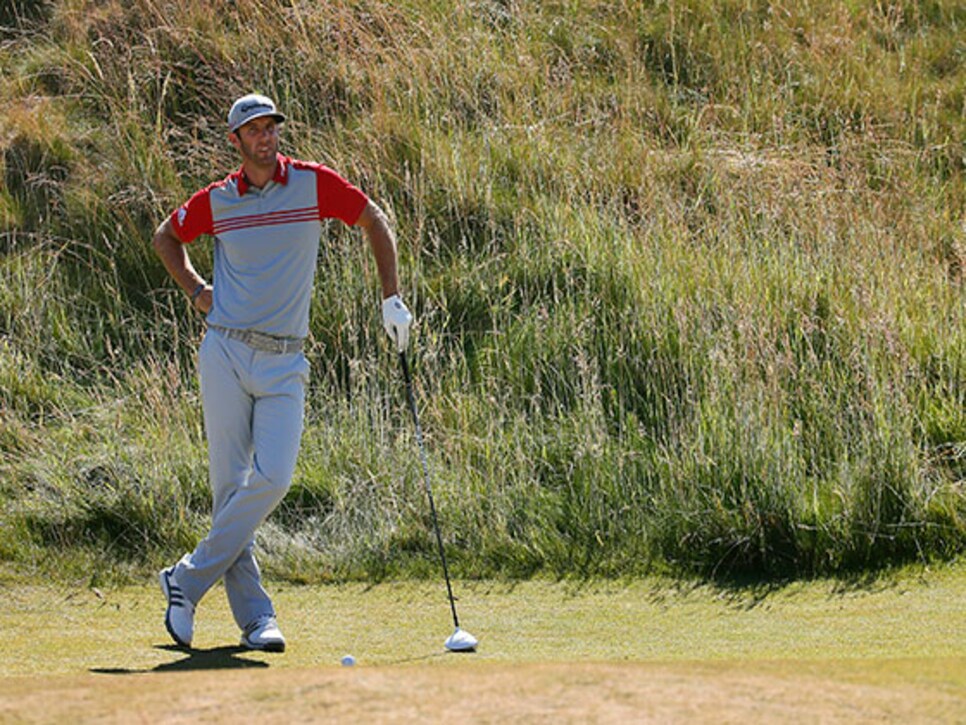 The ball disappeared in the sun, but the cheers from the grandstands ahead presaged what he'd see when he made his way down the fairway -- the shot had run past the pin, barely staying on the back edge of the green, giving him a long chance at eagle. If he made it, he'd move to six under, two shots ahead of the field. A cheer rose behind us -- Spieth's tee shot on 15, which would produce a birdie. But DJ seemed not to hear it, and soon only the drone of the Goodyear blimp could be heard as he approached his ball.
On the green, he walked back and forth between his ball and the hole, and at one point he stepped into the setting sun where it made landfall after tracing a bright, coruscating path along the water. At that moment, he was pure silhouette, and it was the kind of perfect form you'd expect to see on a logo -- tall, slim, powerful, sharp. It was the shape of the man who might be golf's greatest natural talent, and, at the moment, the greatest player without a major. The story of his troubled past is well told by now, but he's still young enough that any concerns are overshadowed by the pure potential he carries with him.
The crowds love DJ -- he's their prodigious younger brother, the insanely talented, somewhat dopey kid who can't help but stumble his clueless way into greatness. They bellow his name, deep and comical, the way you'd hear frat brothers shout to one another across a quad at the beginning of a long night. He greets them with the perfect kind of slow grin, eyes dimly amused, as the long strides carry him away effortlessly.
On 16, he tried to lag his eagle putt onto a small ridge and let it filter to the hole, but it was only moderately successful.
"You or me, man?" asked Branden Grace, his playing partner.
It was still Dustin, and he waited out a small Amtrak passenger train running on the tracks by the water. His birdie putt, which would still have put him one shot clear of Spieth, Grace, and Jason Day, veered to the right and skirted past the hole. The groans rose, and DJ threw back his head in a brief show of dismay. It didn't last long. He just grinned at his misfortune and moseyed on to the 17th as another train -- a freight train this time, with red and green boxcars -- rumbled by in the opposite direction.
This is the kind of person you can believe when he says that losing the 2010 PGA Championship because of a brutal penalty on the last hole didn't bother him too much. He's the kind of person you can believe when you ask him about the troubles of his distant past -- like the time in high school when he helped steal a gun that was later used in a murder -- and he looks at you with mild surprise, saying he hadn't really thought about it in a while. This is the kind of person who seems, on the face of it, perfectly suited to win a major championship, if only because the concept of nerves might not register inside the closed fortress of his mind.
But it's more complicated than that -- in his first big chance at a major victory, in the 2010 U.S. Open, he shot a Sunday 82 to lose a three-stroke lead over Graeme McDowell. He fared better at the PGA, but a tricky bunker proved his undoing, and since then he's notched five top tens without breaking through, all in the midst of absences allegedly related to failed drug tests. At age 30, he's not quite Sergio Garcia or Lee Westwood, but time passes and seasons change, and the longer he goes without a major, the more the whispers will rise -- is the pressure getting to him in ways we can't understand?
His iron held up on the 17th green -- but then again, the entire course is like one big green, or is it all fairway? -- before two-putting for par. He launched another perfect drive on 18, and he and his brother-slash-caddie AJ were all smiles as they paced up the long last hole, where he missed another birdie putt to remain at four under. In the end, the fact that he tapped in for his par before Branden Grace put him in the final group with Jason Day, while Grace and Spieth will be chasing them from a group ahead.
The post-round interviews presented a series of personality contrasts that bordered on absurd. Patrick Reed came first, seething after his 76, speaking like a boy whose mother was forcing him to apologize, against his will, to a kid he bullied at school. Spieth was last, and the more he appears, the more he blossoms into a personality that is effusive, biting, humorous, cynical, earnest, intelligent, and veering between stoic and manic. Between them, DJ held court with his unbroken monotone. Believe me when I tell you that none of his quotes are worth repeating, except for the time he said he was "excited" for Sunday -- a word that was funny only because of its aggressively dull intonation.
Chambers Bay is almost ideally suited to Johnson's game. With his long drives, his high approaches, and his level putting, the course won't scare him the way it scares some of his competitors. Sunday, he'll be paired with a golfer who has spent the last two days staggering around with vertigo, mostly hoping to keep his feet. Behind him is a relatively unknown South African and a the boy wonder who wears the green jacket and hopes the mental advantage of owning a major title will pay dividends against three golfers chasing their first. It's an odd cast of characters, and he'll have to solve the riddle of his own mind in order to win. How do you keep that useful laid-back attitude, but not be overcome by the pressure of what will be, one way or another, a career-defining round?
Last year, DJ's agent told me that he will be the best golfer in the world the minute he chooses to fulfill that destiny. I'd heard the same sentiment from others, but I was never sure if there was truly a choice, or if he was doomed to repeat what had become a pattern -- nearly reaching the mountaintop before plummeting back down. Tomorrow, at some point, he's going to eye the peak again. He'll be propelled upward by the talent that makes a major title his destiny, and he'll be pulled down by the gravity of all the peripheral troubles that he's trying to escape.
Which force will be greater? On some unconscious level, he'll have to ask himself that question. And on a very public stage, he'll have to answer it.