Reinvention and reaffirmation are the themes of Golf Digest's Best New Course winners for 2018. The Black Course at Streamsong Resort, the third 18 at the hugely popular central Florida golf mecca, prevails in the Public Course category. This Gil Hanse design introduces a new concept to American golf, the jumbo-size green, and the surprising manner in which that idea came about is a big part of its story.
This is Hanse's third Best New win, after Rustic Canyon in 2002 and the remodeled TPC Boston in 2007. Streamsong Black won in a close contest over Mammoth Dunes, the second 18 at another extremely popular golf resort, Sand Valley in central Wisconsin. This David McLay Kidd design features huge fairways, some 100 yards wide, all edged in sand, an idea he introduced five years ago at Gamble Sands in eastern Washington. In third place is the __Craddock Course at the Retreat & Links at Silvies Valley Ranch__ in east-central Oregon, one 18 of a reversible design by architect Dan Hixson. Its counterpart companion, the Hankins Course, routed in the opposite direction with a couple of alternate holes, finished fourth.
In the Private Course category, the winner is Congaree in southeast South Carolina, yet another in a line of Best New victories for veteran golf architect Tom Fazio, reaffirming that the 73-year-old, recently rumored to be retired from the business, is still a force in course architecture. This is Fazio's record 16th Best New Course award, dating to Wade Hampton in 1987, covering courses in 13 states. Congaree prevailed by a healthy margin over Trinity Forest Golf Club, the firm-and-fast Bill Coore-Ben Crenshaw layout that is the host of the PGA Tour's AT&T Byron Nelson. Another Dallas-area design, Maridoe Golf Club, by architect Steve Smyers, built on the site of the old Columbian Club, finished third. Vestavia Country Club, a Lester George replacement design on the site of a well-established Birmingham, Ala., club, finished fourth.
Our Best New Courses are determined by evaluations from our national panel of experts, nearly 1,500 low-handicap male and female golfers who played candidate courses during the past 12 months and evaluated them on seven criteria: Shot Values, Design Variety, Resistance to Scoring, Memorability, Aesthetics, Conditioning and Ambience.
Keeping the golfer engaged
The commission to design and build a third layout at Streamsong Resort was a daunting challenge for Hanse, given that the resort already has two courses ranked among Golf Digest's top 200, the Red Course by Coore and Crenshaw and the Blue Course by Tom Doak. Hanse, now the busiest course architect in the world, knew when he started at Streamsong in 2015 that his work would be compared to those two stunning 18s, so he wanted to deliver something distinctive on the largest piece of property—more than 300 acres—he has been given to work with. What's more, Hanse says when he got the job, he was told by officials of The Mosaic Company, the mining concern that owns Streamsong—the complex is a phosphate strip-mine reclamation project—to produce a course worthy of championships. The company wanted the Black to be its tournament venue, should the PGA Tour or other entities ever show interest.
What Hanse and design partner Jim Wagner came up with is a bit curious as a tournament venue. For one thing, it doesn't have returning nines—the ninth green is about a thousand yards from the clubhouse—which complicates matters when trying to start rounds on the first and 10th tees. But Bethpage Black (site of the 2019 PGA Championship), Pebble Beach (2019 U.S. Open) and Torrey Pines South (2021 U.S. Open) don't have returning nines either, so that's by no means a fatal flaw.
Also, Hanse and Wagner designed Streamsong Black as a par 73 (7,331 yards from the tips) with five par 5s, including three on the back nine, unusual for a championship test, but it's conceivable that in competition the tee markers on the 548-yard 10th could be moved up and played as a par 4.
Finally, there are the Black's greens: humongous, glorious, over-inflated putting surfaces. They average 13,000 square feet, more than twice the size of normal greens. In competitive golf, the only comparable set is at the Old Course at St. Andrews, where 14 of its 18 contain two flags and serve two holes playing in opposite directions. No such double duty occurs at Streamsong Black. Each green is its own massive island of grass, protected by deep, artfully shaped bunkers and occasional stretches of man-made sand dunes peppered with plants. (The par-4 13th has alternate greens, one high right on a ridge, the other low left in a hollow, but even those are bigger than normal.)
Here lies the secret of Streamsong Black: What exists today are not the greens that Hanse originally designed. He intended something far more conventional: standard-size putting surfaces surrounded by chipping areas. But those have morphed into enormous, unconventional greens.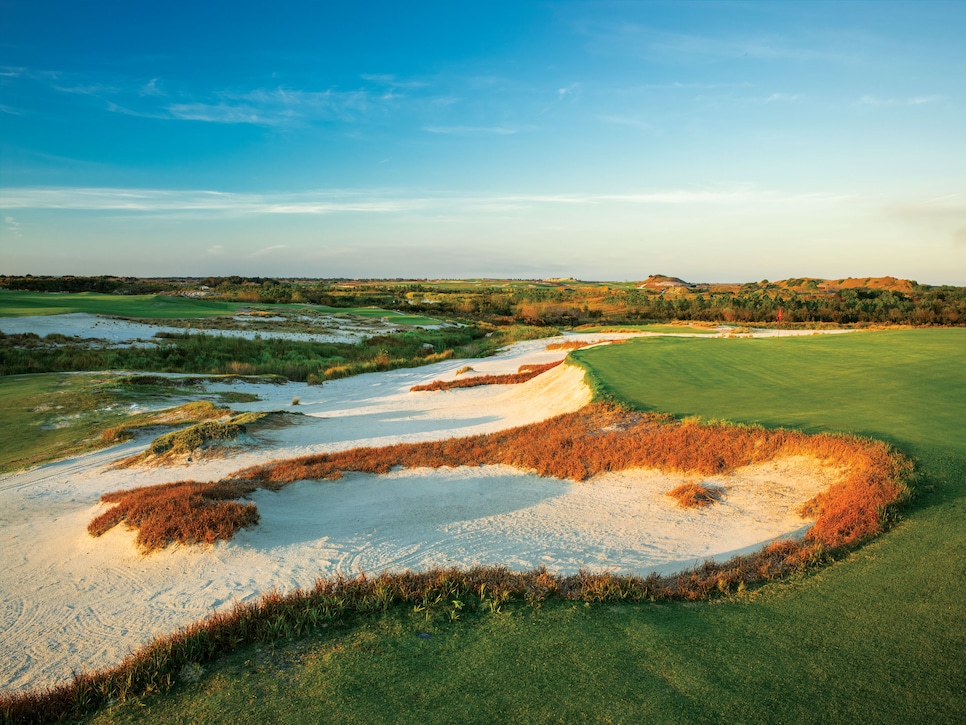 "We had discussed how to make the course difficult for tour players yet keeping it playable for resort golfers," Hanse says. "They [Mosaic officials] suggested making severe contours around the outsides of the greens, to provide some difficulty in recovery shots [with more benign hole locations available for resort players].
I liked that idea. It's what Mark Parsinen had preached when we were building Castle Stuart together in Scotland: Keep the golfer engaged."
The greens were to be planted in Mini Verde hybrid Bermuda, same as Streamsong's Blue and Red Courses (a choice over rival Champion hybrid Bermuda originally made by Crenshaw, who said he didn't like the way Champion putted). Director of Agronomy Rusty Mercer suggested to Hanse that the green surrounds—the chipping areas—contain the same Mini Verde grass as the putting surfaces, cut at a slightly higher height, to provide a seamless transition for balls bouncing onto greens or being chipped, pitched or putted from around them.
Hanse liked the idea, which is as old as the oldest courses in Scotland, really, where everything is mostly fescue turf mowed at a variety of heights. But it's a relatively new concept in America.
Doak and Jim Urbina championed it during their restoration of Valley Club of Montecito in California about a decade ago. That impressed architect Jay Blasi, who in his massive 2016 redesign of Santa Ana (Calif.) Country Club grassed his new putting surfaces and their surrounds in a single bentgrass known as Pure Distinction. Blasi took it a step further, shaping the surrounds not simply as gentle chipping swales but as knobs and dips and humps and hollows. On the outside edge of one green, Blasi created mounds reminiscent of the bosomy shapes of Alister MacKenzie's famed Sitwell Park green in England which had been abandoned long ago because it lacked hole locations. By incorporating it as part of the green surrounds, mowed slightly higher than the putting surface, Blasi reasoned, it had the effect of being an extension of the green without the concern for actual hole locations.
Hanse was unaware of Blasi's experiment when he and Wagner began shaping Streamsong Black, but they did much the same thing, grading putting surfaces with sufficiently gentle slopes to accommodate hole locations suitable for championship green speeds, then shaping the perimeters of those greens with bold mounds, kick slopes, kettle holes and trenches. They perched the second green atop a ridge to look like a miniature aircraft carrier surrounded by a heaving sea of grass and sand. The ninth green was cradled in the bottom of an enormous earthwork resembling a punchbowl of melted plastic.
All of it was turfed in Mini Verde, and when play began in late 2017, the height of cut between greens and surrounds was so slight that golfers couldn't tell whether they were on the green or off (for purposes of marking and cleaning balls), and workers began cutting cups far too close to edges, in areas never intended to hold pins. Why not raise the height of cut on the surrounds a bit more? Because Mini Verde tends to get puffy and bumpy when cut at that higher height, defeating the purpose of a seamless transition from off the green.
So Mercer began painting blue dots around the perimeter of each intended green, mostly as landmarks for his employees to keep flags well away from edges, but it was a silly spectacle for such a high-class operation. So Mercer suggested just cutting the surrounds at the same height as the greens, in essence extending the putting surfaces out and over those mounds, slopes, kettle holes and trenches.
"I was initially opposed to the idea of one height of cut everywhere," Hanse says. "I didn't want us to be considered to have a crazy set of greens."
Hanse countered with a suggestion of letting the fairway grass, Celebration Bermuda, eventually take over the Mini Verde in the surrounds, but that was impractical because it would take years and then would require intense labor to keep it from invading the greens. Mercer gave Hanse a pep talk, reminding him that the original concept of greens that engaged golfers' attention was worth preserving. Hanse finally agreed, and overnight, the size of Streamsong Black's greens mushroomed.
They're now the biggest targets in golf, easy to hit, if one is willing to accept a far-corner pocket as still being on the green, given the 100-foot putt that awaits. They're also some of the scariest greens in golf, because bunkers now eat in from the edges of greens, making certain approach shots, recovery shots and putts feel like stepping along a high wire without a net.
But they are, surprisingly, exceedingly fun to play. Approach shots can be aimed 25 yards away from the flag, using contours and a dependable green speed to funnel the shot toward the hole. You can be putting up a slope that's taller than you, you can have a triple-breaker, or you can have an up-and-over, letting the ball stop on the crest before gravity guides it down to the hole.
One unintended consequence of the sudden expansion in the size of Streamsong Black's greens is that sprinkler heads are well inside the putting surfaces, 15 or 20 feet or more inside the edge, and thus occasionally in one's desired putting line. But the Rules of Golf allow adoption of a local rule to move a ball with no penalty to avoid an irrigation head within the confines of a putting surface, and although the local rule is not noted on the scorecard, the golf shop assures us that Streamsong has adopted it.
These aren't a crazy set of greens. They're brash and bold and different from what's found elsewhere on the resort and in the country. Such is the evolution of golf-course architecture. Sometimes it happens quickly, unintentionally, but can work out beautifully.
Keeping the golfer guessing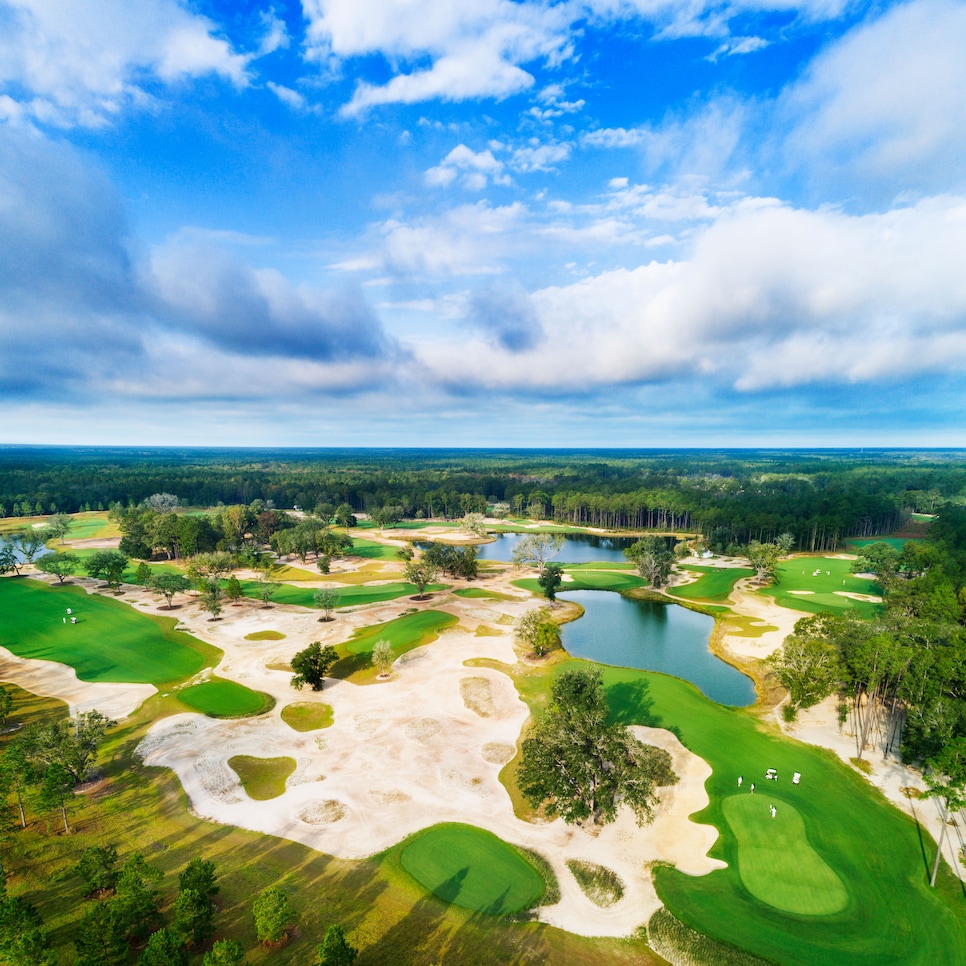 When Tom Fazio recently described Congaree as a lowcountry version of his famed Shadow Creek, it seemed like an exaggeration, given that the hilly, forested Shadow Creek was carved from a desolate desert patch north of Las Vegas, using massive amounts of money and earthmoving equipment, and Congaree seems located on a superb piece of golf ground, the gently rolling Davant Plantation outside Ridgeland, S.C., an hour inland from Hilton Head Island. But a close examination of Congaree, as well as aerials before the course was built, confirms the land was extensively reshaped to accommodate golf.
There are hills, ridges and lakes at Congaree that didn't exist in 2014, before the project got started. Construction crews created them, and in the grand tradition of minimalist architecture, the hills and ridges are massive enough to look natural. Fazio is not usually considered a minimalist (that's normally the purview of Doak, Hanse, and Coore and Crenshaw), but it's hard to deny the philosophical underpinning of Congaree was to fool us into believing that Mother Nature had blessed this site with golf holes just waiting to be discovered.
Consider the enormous old live oaks whose umbrella branches extend above fairways and in front of greens, posing strategic options and puzzling dilemmas. These gigantic oaks leave the impression that Fazio and his chief design associate on the job, Blake Bickford, expertly routed the course to take advantage of many a tree's sentinel location. Turns out, the holes were routed and constructed on open ground, then trees were transplanted to their locales, a massive undertaking requiring extensive tree-transplanting equipment.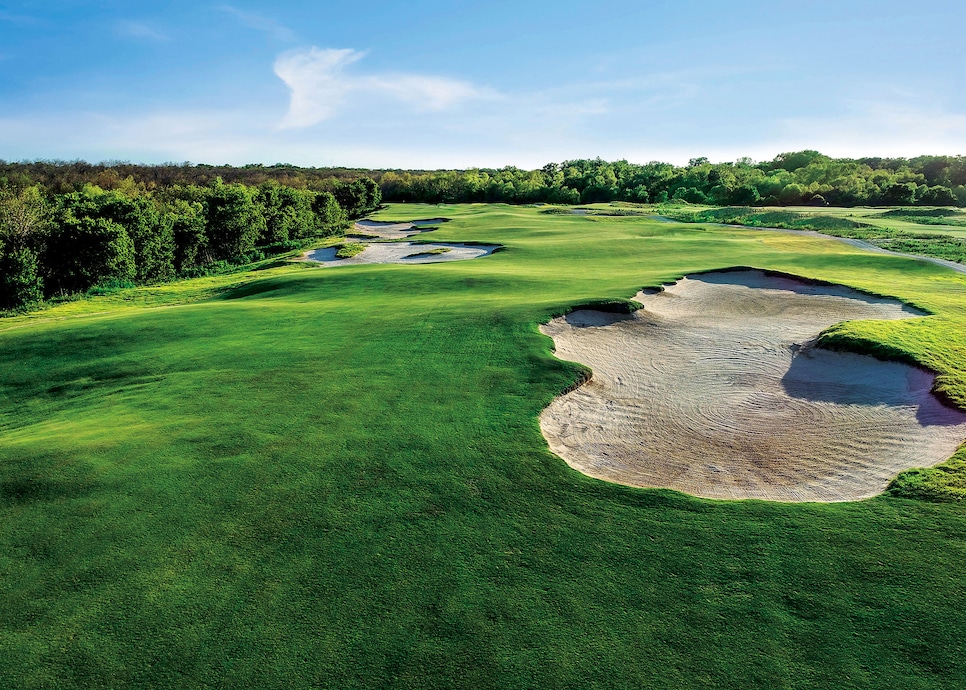 That's what occurred 30 years ago at Shadow Creek, where they dealt with spindly pines maybe 15 feet tall. At Congaree, most of the oaks are well over a century old and 40 feet or higher. Skeptics who don't believe such enormous hardwoods could be moved from spot to spot like so many pegs in a pegboard should examine the base of such trees, each secured into the ground with thick cables connected to anchors.
Fazio didn't transplant just three or four oaks; he had 75 of these monsters pulled from positions elsewhere on the plantation and repositioned to ideal spots. There are big oaks somewhere on every hole, including some that serve as distance targets for tee shots on half a dozen drives. Plus, there are smaller oaks, pines and flowering trees transplanted on these holes. It is an audacious display of tree-spade architecture that leaves golfers in delighted disbelief and other architects extremely jealous.
But there's more. Surrounding every graceful, flowing, TifGrand Bermuda fairway and girdling every smooth Champion Bermuda green are wide belts of exposed sand, most of it found in place, beneath scrubby pines and underbrush since removed. Some stretches were mined from other parts of the plantation and trucked over. Most fairway bunkers have a back edge that merges into sandscapes hand-planted with wiregrasses. The only imported sand is in bunkers around greens; it's a bit coarser and easier to hit from.
Fazio has designed courses with roughs of exposed sand before, starting with Wild Dunes near Charleston, S.C., his breakthrough layout in 1980, as well as the Seaside Course at Sea Island in Georgia, the Pine Barrens Course at World Woods in Florida and the River Course at Kiawah on the South Carolina coast. But it has never been quite as elaborate or as dramatic as at Congaree. Some of the sand is in deep gouges that extend well into fairways, turning gentle doglegs into abrupt turns and posing genuine risks for those cutting corners. There's a mammoth two-level fairway bunker on the inside corner of the dogleg-right par-4 17th so prominent it's badly in need of a ladder or staircase.
At Congaree, everything green is tightly mowed. Everything else is sand, except, of course, for lakes in play on half the holes and wetlands in play on five others. In a sense, Congaree is an amalgamation of two clubs where Fazio has long been a consultant, Pine Valley and Augusta National. Congaree does the latter one better, in fact, as it sports not one but two "Magnolia Lanes" leading to its clubhouse. At Congaree, the lanes are flanked by live oaks, not magnolias, and they weren't transplanted. They've been "Oak Lanes" since the plantation started sometime before the Civil War.
Congaree is South Carolina lowcountry rearranged to improve on nature. At 7,700 yards, par 71, officials hope to someday host a Walker Cup. A course this splendid and spectacular costs money, of course, which is partly why Fazio compares it to Shadow Creek. In the late 1980s, it cost at least $45 million to build, an unfathomable amount in those days. Officials at Congaree won't talk money, but it's a good bet that this course cost at least as much as Shadow Creek.
This is a billionaires' club with two member-owners, Dan Friedkin, who also owns Diamond Creek in North Carolina, ranked 90th on Golf Digest's list of America's 100 Greatest Courses, and Bob McNair, owner of The Golf Club at Briar's Creek, a nearby Rees Jones design that won Golf Digest's Best New Private in 2002. McNair also owns the Houston Texans football franchise and once owned a racehorse called Congaree, which finished third in the 2001 Kentucky Derby and Preakness. (Congaree is also the name of a local river and a now-extinct Native American tribe that once occupied South Carolina.) The two men purchased the 3,000-acre Davant Plantation in 2014, renovated some buildings, built the golf course, then invited select individuals to join, not as members but as "ambassadors," who are assessed annual dues of $12,000 and are encouraged to make a healthy contribution each year to the Congaree Foundation. It funds a Global Golf Initiative that operates a two-week golf camp each June for selected high school students from around the world, instructing them in golf, academics and life skills and providing assistance in obtaining academic and athletic scholarships.
We're told General William Tecumseh Sherman burned nearly all of Davant Plantation during his march around the South during the "war of aggression." Only two buildings were spared. One was a kitchen, which was subsequently remodeled into overnight lodging. In the early 1990s, actress Julia Roberts stayed in it while filming several scenes for a movie on the plantation, so the old kitchen is now called the Roberts Cottage. The 1995 movie was called, "Something to Talk About."