Golf Bags
Stitch's popular SL1 golf bags are now completely customizable
*All products featured on Golf Digest are independently selected by our editors. However, when you buy something through our retail links, we may earn an affiliate commission.*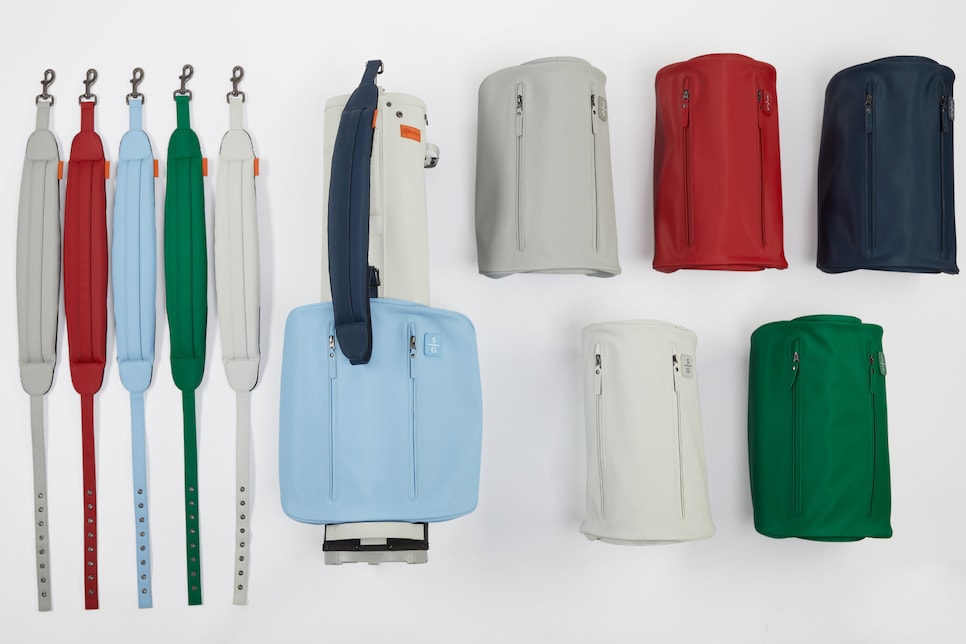 Stitch Golf is known for its stylish leather golf accessories, specifically their popular single and double strap golf bags. Inspired by vintage motorsports, Stitch employs minimalistic-yet-practical designs that give golfers an elevated look. The brand's newest release, however, takes things up a notch. The MIY (Make It Yours) SL1 Golf Bag is Stitch's first fully customizable bag. Stitch's classic SL1 and SL2 bags allow customers to personalize their purchases with their initials, but the MIY has even more customization options.

When picking out a MIY bag, golfers will first choose what color they'd like the "saddle" (the wraparound pocket compartments) of the bag to be. Stitch's new customizable bag model includes detachable features that can be mixed-and-matched and swapped out as desired. Six color options are available for the saddle: green, light gray, navy, red, light blue, and white. Since this side pocket wrap is detachable, golfers have the option of unzipping it after their round. The pockets attach to the bag with a magnet and two zippers fasten the attachment securely to the backside of the golf bag, near the bottom of the kickstand. This unique feature comes in handy for golfers who store their bag at the course—you'll never accidentally forget your sunglasses or wallet in a side pocket again.
There are also six color options for the saddle that golfers can choose to match or contrast with the custom pocket saddle. The SL1 is a single-strap golf bag, making it a great option for golfers who frequent caddie courses and walk 18 holes once in a while. The newly-developed strap included with the MIY model has extra cushioning and is detachable. As a final touch, Stitch customers can add their initials to their personalized single-strap bag in the "Initials Ingot," a square-shaped addition to the bag at the saddle compartment.
More from Stitch:
The bag itself has a single divider and holds up to 14 clubs. It weighs about 3.5 pounds and is made with a durable leather-like material that is both stain- and water-resistant. The MIY bag is available now on the Stitch website starting at $398.