U.S. Amateur
Stewart Hagestad, who assures you he's 'old,' can't stop beating the young kids at the U.S. Amateur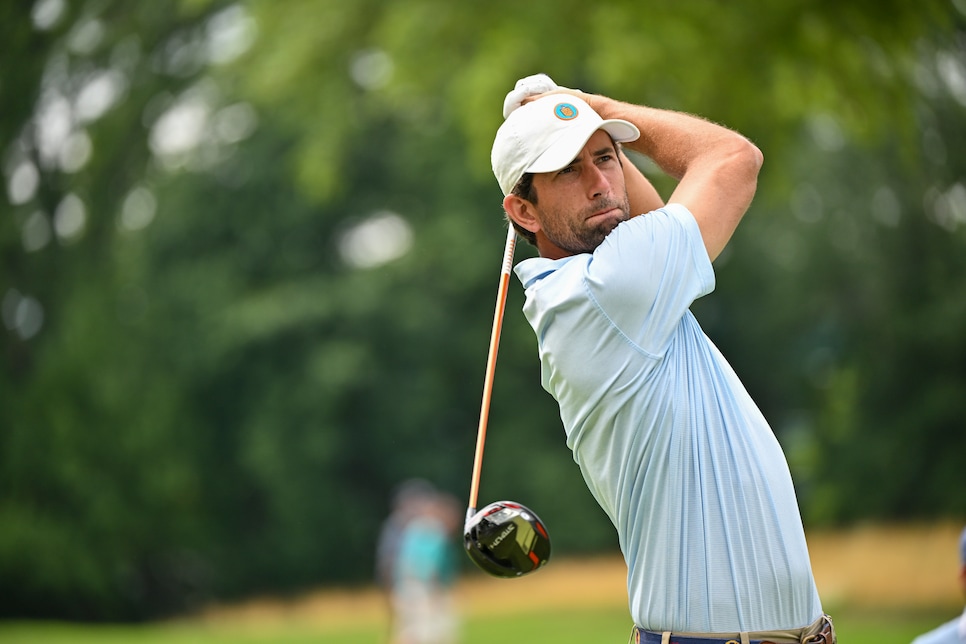 PARAMUS, N.J. — At 31, Stewart Hagestad is at least 19 years away from actually being considered "old" (apologies to those who have hit or crossed the half-century mark). But here at the U.S. Amateur, which is a who's who of college studs and a 15-year-old stud who made the quarterfinals, Hagestad might as well be the old man yelling at everyone to get off his damn lawn.
Over the first four days at Ridgewood Country Club, however, Hagestad is playing like a teenager who doesn't know what he doesn't know, which couldn't be further from the truth. He's quickly become one of the more decorated amateurs in recent memory, winning the 2016 and 2021 U.S. Mid-Amateurs, and playing in two Masters and four U.S. Opens. He's been here before. He knows the deal.
Of course, that doesn't make it any easier. Experience only goes so far in this game. After tying for 21st in the stroke-play portion of the event on Tuesday, Hagestad drew 24-year-old Sam Bairstow in the Round of 64, who is only the No. 7-ranked amateur in the world and the highest-ranked amateur from England. All Hagestad did Wednesday was beat Bairstow, 3 and 1, closing him out with back-to-back birdies at the 16th and 17th holes. On Thursday morning, Hagestad dusted Benjamin James, a top-ranked junior who just graduated from high school, 6 and 4.
Next up was Hayden Hopewell, a 20-year-old Australian who sits at 41st in the World Amateur Golf Ranking. He was Hagestad's toughest test, refusing to go away with a late birdie that extended the match to the 17th hole. But after Hopewell found the rough off the tee and then failed to hack it out back into the fairway, Hagestad laced a long iron from 240 yards out in the fairway and found the par-5 green in two. It was curtains, Hagestad securing his second trip to the U.S. Amateur quarterfinals in the last three years.
"Great. Really great," said Hagestad when asked how he was feeling afterward. "I'm a little tired. But yeah, feels great. Excited to be playing golf tomorrow."
His next opponent is Sam Bennett, the No. 3 ranked amateur on the planet who could have earned a Korn Ferry Tour card via the PGA Tour University rankings had he not decided to go back to Texas A&M this fall. Like Hagestad, Bennett has had quite the run himself, beating three of the top 27 amateurs in the WAGR en route to the quarters. Hagestad was quick to point out his path has been just as unrelenting.
"I've had a tough draw. I played the No. 1 kid in Great Britain and Ireland, then I played the No. 1 junior in the country. I thought we were going to get Sargent. Hayden was great. Yeah, it's all about Sam," Hagestad said, tongue-in-cheek. "I don't want to hear it. I'm 31. I'm old.
"None of them are [easy]," he said. "They're all good. All the kids are good."
Hagestad is pretty good, too, and one could argue that at 31, he's actually in his golfing prime. Still, it's impressive to see him run through the young guns in the fashion he has. When asked what it says about himself and his game that he's been able to hang with the pups, he gave a fascinating answer.
"The dumb answer here is nothing," he said. "But for the sake of answering the question in a more polite way, I feel very lucky and fortunate to have qualified for a handful of USGA events, then obviously to have been exempt and to have played a bunch of USGA events. I'm not saying I'm an expert by any stretch of the imagination. You're certainly continually surprised by how good the college players, juniors, amateurs are. Look at Andrew [Von Lossow] from yesterday; he took down Mike [Thorbjornsen], and, until yesterday, until the playoff, outside of Spokane, Wash., his close friends, I hadn't heard of him, but apparently he was an Old Hickory champion. The point is there's great players everywhere.
"I think I know how to prepare a little bit better," he added "I kind of know what to expect a little bit better. I know what it feels like to be in those pressure situations. But then I also think part of being older is obviously, if I play great this week, that would be amazing. That would be an incredible accomplishment. To even get to the quarters is a pretty impressive accomplishment.
"But for lack of a better term, I don't think my life changes that much. That's like the most arrogant way if you want to read it that way in print thing you could say, but I think it's nice to maybe not be like a younger side where like it's not a product of like what I don't know. I've played in the Masters. I've played in the U.S. Open. Of course I would like to play it again. It would be an amazing, amazing accomplishment, and I'd be blown away. But you've got to beat one kid tomorrow and we've got to beat a kid on Saturday if we get that far and so on. I think it's an honor to have made it this far and to keep playing, but I don't think we at this point in the game need to read much more into it than that. There's a lot there to try to put something that my mom would be proud of for saying."
Considering what he's accomplished not only in golf but in life, not to mention his other impressive qualities, Hagestad's mom has more than enough to be proud of.