News
Stewart Hagestad replaces stolen clubs, resumes Walker Cup quest at U.S. Amateur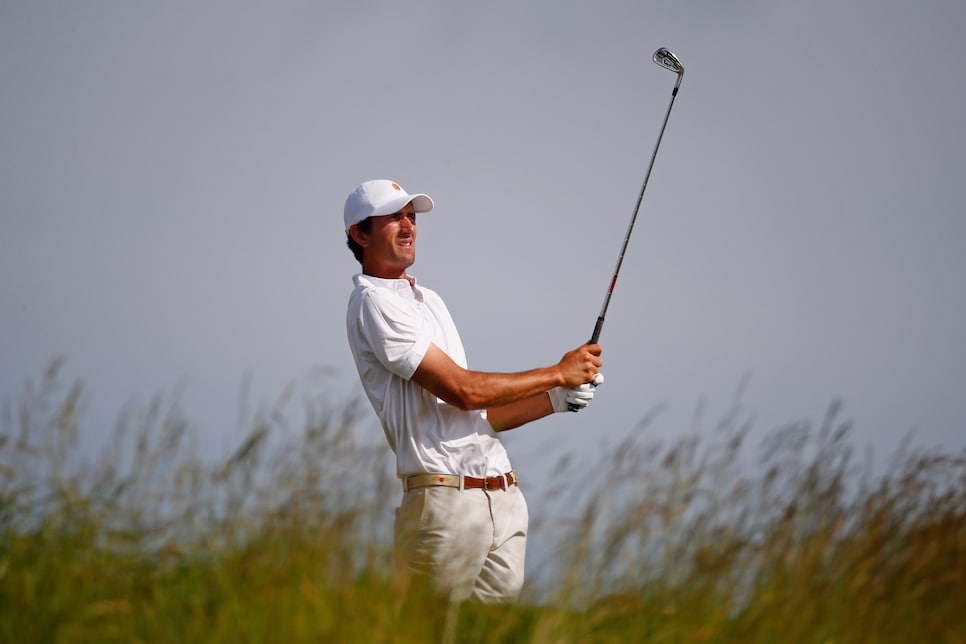 PACIFIC PALISADES, Calif. — Presumably, a guard-gated community, given the inherent obstacles presented by a gate and a guard, in a Newport Beach, Calif., neighborhood of multimillion-dollar homes featuring their own elaborate security systems, would seem an unlikely place for a thief to attempt to conduct his business.
Stewart Hagestad, 26, is a prominent amateur golfer on the threshold of perhaps the most important few weeks of his summer, who left his golf clubs in his car parked in the driveway of his father's home in the tony Big Canyon Country Club neighborhood in Newport Beach when he returned from the Western Amateur on Aug. 4.
The following morning he discovered his clubs had been stolen.
"I filed a police report, but there's no cameras or anything," he said. "What are you going to do?"
Hagestad's concern has less to do with the fact that the clubs were stolen than the timing of the heist, two weeks before the U.S. Amateur Championship that begins at the Riviera Country Club on Monday. The Amateur for Hagestad represents the gateway to the Walker Cup that will be played next month at Los Angeles Country Club, where he is a junior member.
But elite golfers -- professional or amateur -- tend to have intimate relationships with their clubs and the ability to detect minute differences even with similar sets. A week before an important event is no time to try to dial in a new set.
Hagestad spent last Monday at TaylorMade Golf's facility in Carlsbad, Calif., working at getting a replacement set as close to identical to the one that he was hoping would turn up on eBay or Craigslist. He also went about getting a replacement for the two Scotty Cameron by Titleist Kombi Long putters that are likely worthless to any golfer shorter than the 6-foot-5 Hagestad.
"I'm pretty particular about my equipment," Hagestad said. "You try to get an exact replica, and on paper they're exactly the same, but until you get out on the course, you don't know."
His equipment issues have intruded on his preparation for a week and a month that set up perfectly for Hagestad. He played college golf for USC, and Riviera was one of the Trojans' home courses. It also gave him the opportunity to acquaint himself with Bel-Air Country Club, which will host one of the two medal play rounds in the Amateur.
"I've probably played Riviera 40 times," he said. "I've probably played Bel-Air 15 or 20 times. I'm pretty familiar with both."
Hagestad, meanwhile, was one of 16 amateurs invited to a U.S. Walker Cup team practice session at Los Angeles CC last December. His challenge in the Amateur is to keep at bay thoughts of making the Walker Cup team.
"It would be a pretty cool opportunity to represent myself, my dad, who's a member [of Los Angeles C.C.], too, to represent the club and everyone who has put so much work into the event," Hagestad said. "We're really trying to make an effort to host bigger events to show off the club. Also the club and the Southern California Golf Association, to represent them and to help the team in the process by virtue of my course knowledge.
"Of course, [the Walker Cup's] going to be the elephant in the living room. You're always thinking about it. But I'll try to do the exact same thing I did for the Masters — try to get as analytically and process-oriented as can be. Theoretically I can make the Walker Cup and can end the discussion pretty quick if I have a nice long week."
Hagestad, incidentally, experienced food poisoning before the Trans-Miss Amateur in July and pulled a muscle in his back at the Western Amateur. Throw in a thief in the driveway and an elephant in the living room and it adds to a mission more complicated than it should have been.