News
Forget soaking up the experience. U.S. Mid-Am champ Stewart Hagestad took down a jinx at the Masters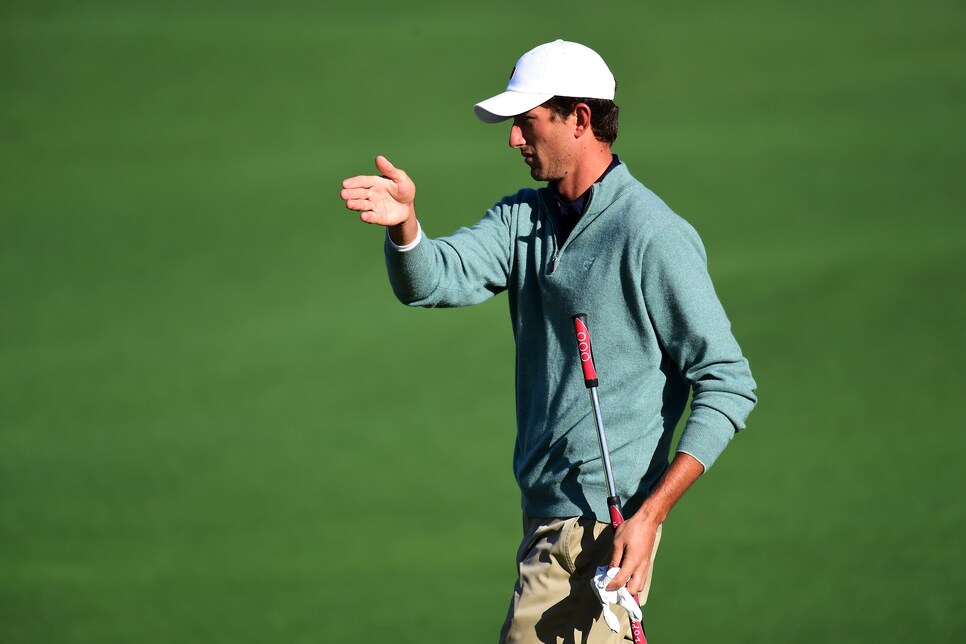 AUGUSTA, Ga. — The U.S. Mid-Amateur champion is traditionally the player with whom the patrons most identify. He's older, he works for a living, his swing speed is comprehensible, and his experience at Augusta National isn't to be defined by what he shoots.
Stewart Hagestad just turned all that on its head.
With towering high cuts that bounded well past the drives of his professional playing partners Larry Mize and Brian Stuard, the 25-year-old financial analyst and member at Long Island's Deepdale Golf Club carded 74-73 to become the first Mid-Am champion to make the cut in the Masters since the invitation was extended beginning in 1989. Nathan Smith, four-time U.S. Mid-Am champ, missed the weekend by a shot in 2004, but usually the purpose of the mid-am has been to "soak up the experience." Or what we'd all do if given the opportunity to play here. But Hagestad is too confident for that.
"During the practice rounds I heard some guy say like, 'Enjoy the ride,' and it kind of ticked me off a little bit," Hagestad says. "And I'm like, shoot, man, I feel like I'm generally a pretty decent ball‑striker, like it's not that hard, it's just a golf course, come on, go out there and show them what you can do.
"And it's pronounced HAG-i-stad," notes his sister. "I think people are afraid to say 'hag.' "
If the wheels ever appeared to be shaking from their rails, it was on the 10th green on Friday. Coming off a bogey at the ninth, Hagestad faced a 50-footer for par. It curled in. He raised his long putter, given to him one night by a good friend at their Sigma Chi fraternity house at University of Southern California, in 2010.
That friend, Sam Feigeles, cheered greenside from among a pack of young males in matching gray jumpers with "SH-AUGUSTA '17" stitched on one sleeve and "The Press Shop" on the other, the hands protruding from said sleeves wielding either a beer or cigar, or both. The Press Shop is a sandwich joint at Bleecker and Broadway in New York City that Feigeles owns. One fraternity brother is a sales rep for Johnnie-O, and so "Stew's Crew" was able to put a handsome uniform together.
In a show of generosity and wisdom, this week Stewart's father has rented one house for his son's friends and a separate house for his son and family to get proper rest.
Hagestad, who was given considerable leave by his employer, Oaktree Residential and Management, to prepare, doesn't really consider himself a mid-amateur. He satisfies the minimum-age requirement on the nose, but acknowledges his life is in a very different place.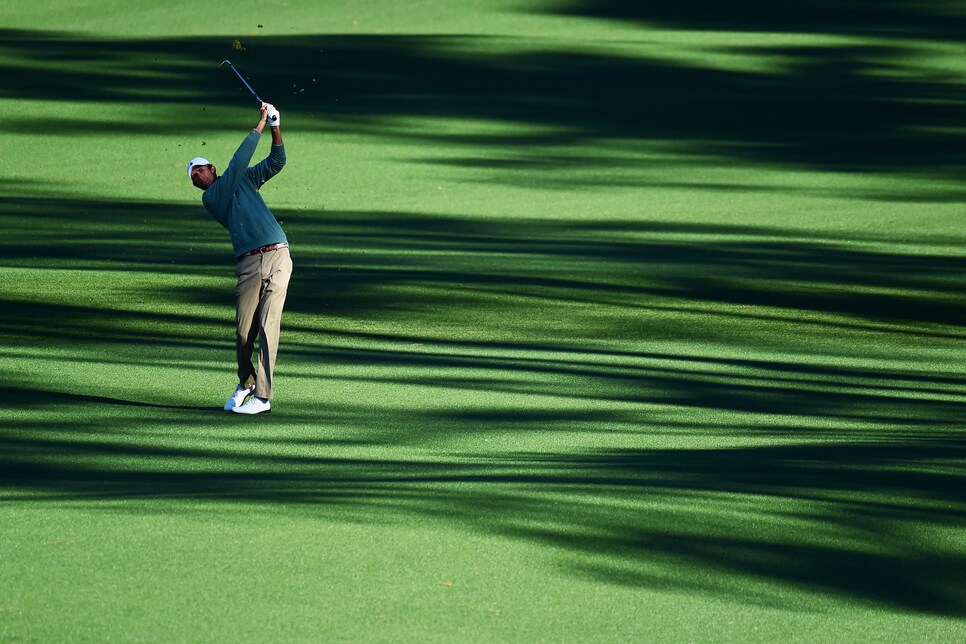 "Not to throw a bunch of the other Mids under the bus, because I have a tremendous amount of respect for them … with the family and the other obligations like work and just everything that those guys have to put up with, I'm in a very, very unique spot, that I have the opportunity to play. I'm trying to go get my MBA next year, it's a unique kind of timing thing."
He's spent much of the spring in his native California practicing at Los Angeles Country Club and has made several trips to Augusta, staying and playing for days at a time.
While younger amateurs—like the winners of the U.S., Latin America and Asia-Pacific Amateurs—may dream this week id not the pinnacle of their golfing life, Hagestad is adamant he will not turn professional. "No. Absolutely not." He's more excited by the opportunities that could come his way by merging his newfound golf profile into his real-estate business. And making this year's U.S. Walker Cup team.
Which should be a lock considering he now owns a piece of history that was 28 years in the making: The U.S. Mid-Amateur champion will play the weekend at the Masters.
"I'm fired up to get to share the moment with my family and my friends that are staying here," says Hagestad, who takes a three-shot edge on U.S. Amateur champion Curtis Luck in the weekend's showdown for low-amateur honors.  "I'm just excited to go home and hang out with everyone."
Which is exactly what all of us Walter Mitty's might say.